Our Ultimate Chocolate Impossible Pie recipe might seem, well, impossible – but with these easy recipe instructions, you'll have it ready to eat in no time at all!
This impossibly tasty treat is the second in our four part air fryer dessert recipe series. You can view the full series of recipes right here – and, if you're looking for an excellent air fryer for your home, you can shop our range of Philips Air Fryers here.
Prep 10 mins
Cook 25 mins
Serves 4
The Ultimate Chocolate Impossible Pie Ingredients
40g (¼ cup) plain flour
2 tablespoons cocoa powder
140g (2/3) cup caster sugar
60g (2/3) cup desiccated coconut
2 eggs, lightly whisked
250ml (1 cup) milk
85g butter, melted
1 teaspoon vanilla extract
Whipped cream, to serve
Toasted flaked coconut, to serve
Chocolate Sauce Ingredients
100g dark chocolate, chopped
80ml (1/3 cup) thickened cream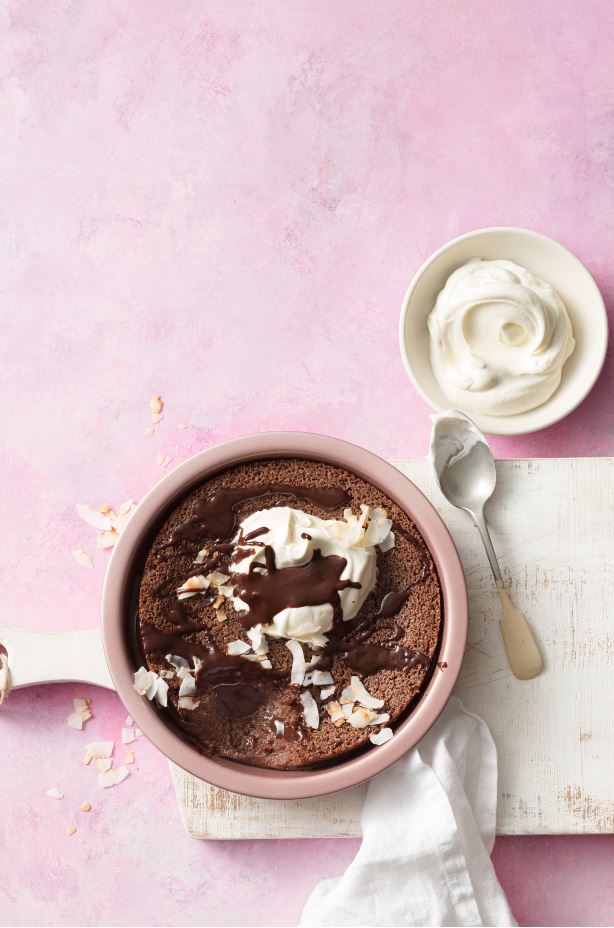 Method
1. Grease a 3.5cm-deep, 18cm round (base measurement) cake pan.Preheat a 7-litre air fryer to 160C.
2. Sift flour and cocoa into a large bowl. Stir in sugar, coconut, egg, milk, butter and vanilla. Pour into prepared pan. Gently place pan into the air fryer basket. Bake for 20-25 minutes or until top is just firm and centre wobbles slightly. Stand for 5 minutes.
3. Meanwhile, make the chocolate sauce. Place chocolate and cream in a microwave-safe bowl. Microwave on high, stirring every 30 seconds, for 1-2 minutes or until melted and smooth.
4. Serve pie topped with cream and toasted coconut, and drizzle with chocolate sauce.
More Air Fryer Dessert Recipes
• Inside Out Apple Crumble Recipe
• Condensed Milk Bread and Butter Pudding Recipe
• Passionfruit Self-saucing Pudding Recipe
Plus, shop Philips Air Fryers here!