There's something about this Tomato, Basil and Fetta Pie recipe that's just so satisfying. It could be the homely comfort of homemade pie, or the delectable combination of fetta, basil and tomato. Whatever it is, you've got to give it a try!
Serves 6
Prep 20 minutes (plus cooling time)
Cook 1 hour 20 minutes
Tomato, Basil and Fetta Pie Ingredients
450g orange sweet potato, peeled, cut into 2cm pieces
1 red capsicum, chopped
1 tablespoon extra virgin olive oil
8 eggs
2 tablespoons milk
1/3 cup chopped fresh basil leaves
4 green onions, cut into 2cm lengths
1/2 frozen peas
100g fetta, crumbled
200g tomato medley mix, halved
2 tablespoons pepita and sunflower seed mix
Fresh basil leave, to serve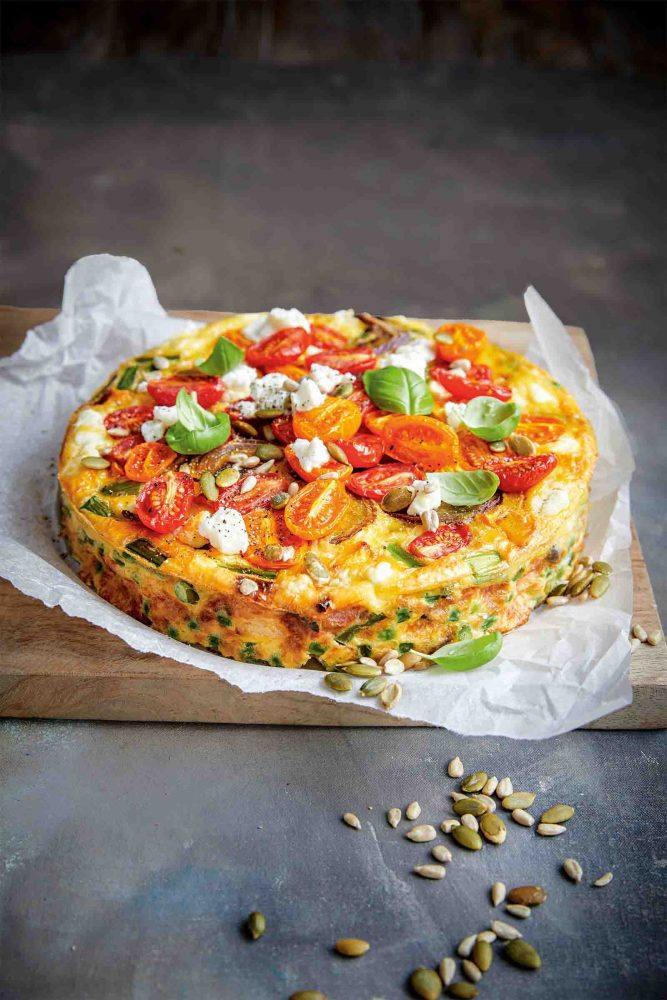 Method
1) Preheat oven to 200°C/180°C fan-forced. Line a large baking tray with baking paper. Place potato and capsicum in a large bowl. Drizzle with oil. Season with salt and pepper. Toss to coat. Transfer to prepared tray. Bake for 30 minutes or until tender. Stand for 30 minutes to cool.
2) Whisk eggs and milk together in a large bowl. Stir in basil, green onion and peas. Season with salt and pepper.
3) Reduce oven to 180°C/160°C fan-forced. Grease a 20cm round cake pan. Line base and side with baking paper. Place vegetable mixture and ¾ of the fetta in pan. Pour over egg mixture. Top with tomato and sprinkle with seed mix.
4) Bake for 45 to 50 minutes or until set. Set aside for 15 minutes to cool. Carefully transfer to a serving board. Top with remaining fetta and extra basil leaves. Serve.
More Recipes For You To Create!
Are you always on the lookout for fresh, inspiring recipes? Check out more of our delicious recipe ideas!