Celebrated chef Christine Manfield's distinctively bold flavours are influenced by her travels around the world, and in the most recent episode of Cooks Co-op she joined Martin Boetz to bring you this fragrant curry.
Once you've mastered this recipe, Christine encourages you to mix it up and make it your own with the addition of pumpkin, chicken or fish.
Serves 4-6
Ingredients
200g raw chickpeas, soaked overnight 300g potatoes, peeled, diced
400g whole ripe tomatoes
2 tbsp vegetable oil
1 onion, diced
3 cloves garlic, crushed
1 tbsp grated ginger
1 tbsp grated fresh turmeric
2 cinnamon sticks
1 tbsp ground cumin
1 tbsp ground coriander
½ tsp Kashmiri chilli powder (see tip)
1 tsp ground turmeric
500ml vegetable stock (or water)
3 tsp sea-salt flakes
100g baby spinach leaves
2 tsp lemon juice
Greek yoghurt, to serve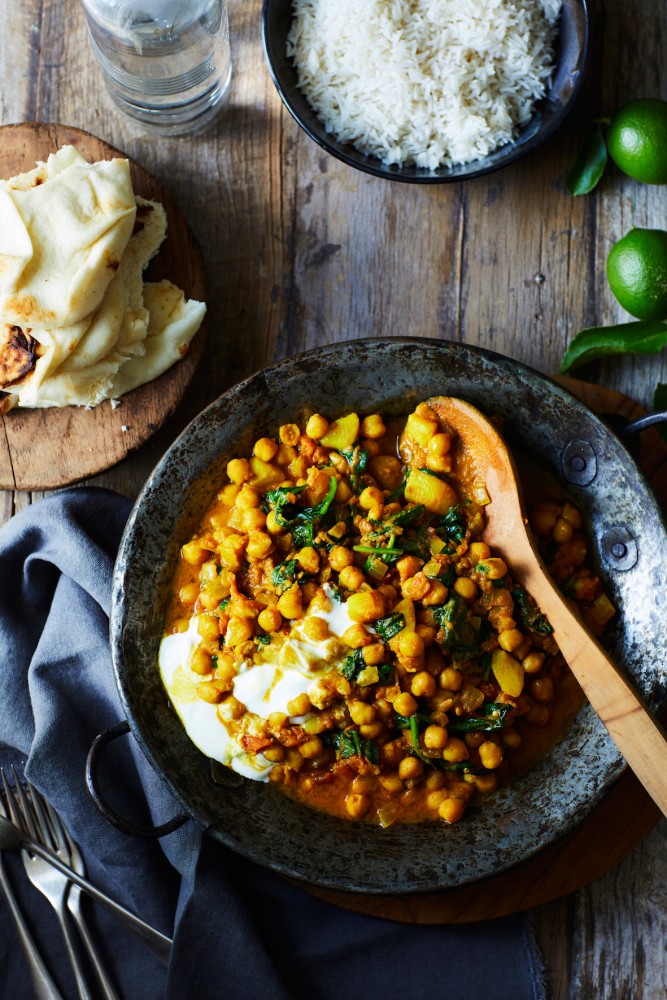 Method
1 Cook chickpeas in a large saucepan of boiling water until tender. Drain.
2 Cook potatoes in a large saucepan of boiling water until just tender. Drain, cool slightly in cold water.
3 Cut a shallow cross in the base of tomatoes. Place in a heatproof bowl and cover with boiling water. Allow to sit for about 1 minute or until skin begins to lift. Drain and refresh in cold water. Peel and discard skin. Chop tomatoes.
4 Heat oil in a large, deep frying pan over a medium heat. Add onion, garlic, ginger and fresh turmeric and cook, stirring to soften, not colour.
5 Add spices and stir to combine, then add chopped tomatoes and stock and bring to simmering point.
6 Stir in chickpeas, potatoes and salt and simmer for 15 minutes. Add spinach leaves, fold through until wilted then remove pan from the heat.
Stir in lemon juice. Drizzle with yoghurt to serve.
Cook's tip: Kashmiri chilli powder is available from Indian grocery stores; substitute with hot paprika and a pinch of cayenne.