Featured originally on Home Beautiful as part of Cooks Co-op, this recipe from chef Martin Boetz is the perfect antidote for cold winter evenings. Rich, robust and full of hearty flavours, these ribs are best paired with your favourite greens (broccolini for me) and a dollop of creamy mash – be it sweet potato, celeriac or regular spuds.
Wondering which beef rib works best for this recipe?
Martin told us: "With Gerry coming to lunch, I used his 6-score Wagyu beef ribs. But any kind of short rib beef is fabulous."
Serves 6-8
Ingredients
2L beef stock
6 cloves garlic, peeled, plus 2 cloves garlic, finely chopped, to serve
2 small brown onions
2 carrots
2 sticks celery
4 ripe tomatoes
60ml olive oil
1 stalk rosemary
½ bunch thyme
1 cup white wine
Salt and cracked black pepper, to season
1 piece beef short ribs (2kg)
2 tbsp tomato paste
1 cup flat-leaf parsley leaves, chopped, to serve
Zest of ½ orange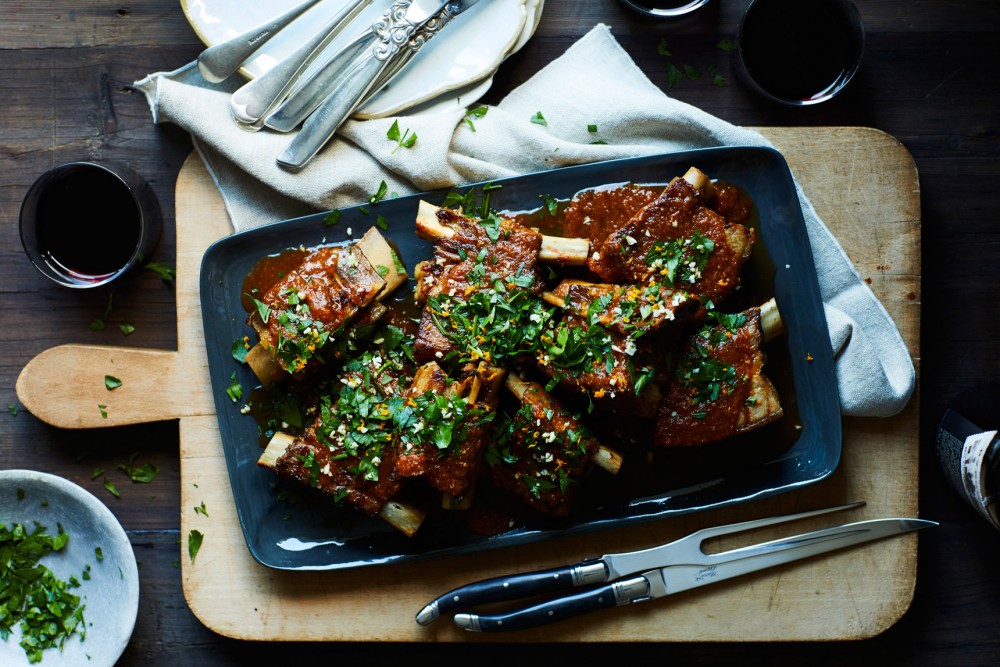 Method
1 Preheat oven to 180C. Bring beef stock to the boil in a large saucepan.
2 Chop peeled garlic, onions, carrots, celery and tomatoes into uniform-size pieces. Heat oil in a large, heavy-based pot over
a medium to high heat. Add vegetables to pot. Caramelise the vegetables, stirring continually.
3 Stir in rosemary and thyme then deglaze pot with white wine. Add hot stock and bring to the boil. Season with salt and pepper.
4 Place ribs in a deep roasting pan and pour over stock and vegetable mixture. Cover with a large sheet of baking paper and foil. Braise for 2 hours or until meat on ribs is tender. Remove
ribs from liquid and set aside to cool.
5 Mouli the liquid and vegetable mixture over a large saucepan (see tip). Place over a medium heat and bring to the boil. Cook, stirring occasionally, for about 45 minutes or until reduced to a rich sauce. Add tomato paste to give it a good tomato kick and richness.
6 Cut the ribs into pieces. Grill them on a barbecue or hot oiled chargrill plate until well caramelised. Place ribs on a serving plate and pour over rich sauce. Finish with chopped parsley, chopped garlic and orange zest sprinkled over and serve.
Cook's note: A mouli is a hand-operated food mill that is used to puree or grate food and can sit over a bowl or saucepan. They're available from kitchenware stores and online.
Tools of the Trade:
Get your ribs caramelised to perfection with this beautiful BBQ from Harvey Norman:
Everdure by Heston Blumenthal FORCE 2-Burner Gas BBQ with Stand