Everyone's got their own fun and unique Christmas traditions, but when it comes to food, one of our favourite ways to celebrate has to be with a slice of this delightful Vanilla and Passionfruit Celebration Cake.
Serves 20.
Prep 2 hours (plus cooling time).
Cook 1 hour 20 minutes.
You'll need a candy thermometer for this recipe.
Ingredients
3 1/2 cups self-raising flour.
1 1/4 cups plain flour.
500g butter, at room temperature.
2 1/3 cups caster sugar.
2 teaspoons vanilla extract.
16 egg whites, at room temperature.
200ml sparkling white wine.
Vanilla meringues, fresh raspberries, edible gold leaf, and edible fresh flowers, to decorate.
Swiss Meringue Buttercream
300g chilled butter.
1 cup caster sugar.
5 egg whites, at room temperature.
Violet gel food colouring (optional, see notes).
2 tablespoons fresh passionfruit pulp.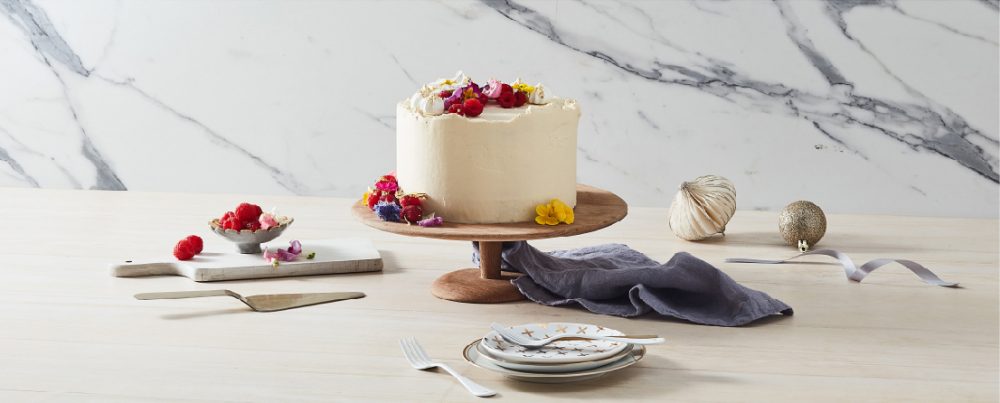 Method
1) Preheat oven to 180°C/160°C fan-forced. Grease two 6cm-deep, 20cm round (base) cake pans. Line base and sides with baking paper.
2) Sift flours into a large bowl. Using an electric mixer on high speed, beat butter, sugar and vanilla in a separate large bowl until very pale and creamy. Reduce speed to medium. Gradually add egg whites and flour mixture alternately in 3 batches, beating well after each addition and scraping down the side of the bowl as necessary.
3) Divide mixture evenly between prepared cake pans. Smooth surface. Bake for 1 hour and 10 minutes or until a skewer inserted into the centre of each cake comes out clean. Stand cakes in pans for 10 minutes. Turn, top-side up, onto baking paper-lined wire racks to cool completely.
4) Make Swiss Meringue Buttercream. Cut butter into cubes. Whisk sugar and egg whites together in a large heatproof bowl until combined. Place over a saucepan of simmering water. Whisk continuously for about 8 minutes until the mixture reaches 70°C on a candy thermometer or is hot to the touch. Transfer mixture to a large clean bowl of electric mixer. Beat on high speed for 10 minutes or until mixture has cooled and almost at room temperature. Reduce speed to medium. Gradually add butter, 1 cube at a time, beating well after each addition, until mixture is smooth and creamy (see notes). Transfer 1 1/2 cups mixture to a small bowl. Set aside. Add a tiny drop of violet food colouring, if using, to the remaining buttercream. Beat until well combined and the buttercream lightens in colour, adding a little extra colouring, if needed. Add passionfruit to reserved buttercream, beating with a wooden spoon until well combined.
5) Using a serrated knife, level tops of cakes. Cut each cake in half horizontally. Place one cake half, cut-side up on a cake stand. Spread with 1/2 cup passionfruit buttercream. Repeat layering with 2 more cake halves, spreading 1/2 cup passionfruit buttercream between each layer. Top with remaining cake half, cut-side down. Reserve 1/4 cup of white buttercream. Using a palette knife, spread remaining buttercream over the top and side of cake (see Cook's notes). Refrigerate for 30 minutes.
6) Spread a little of the reserved buttercream on the base of the meringues and arrange on top of cake. Repeat with raspberries, using the buttercream sparingly so that it isn't visible. Using a pastry brush, gently brush the tops of the meringues with a very thin layer of buttercream. Press the gold leaf gently on the meringues where you have applied the buttercream. Add some touches of gold leaf to the raspberries and the edges of the cake (be sure that the cake edges are firm and cold before doing this). Decorate with edible flowers. Serve.
Cook's Notes
The violet food colouring is added to the buttercream to offset the yellow colour of the butter which will produce a whiter buttercream. Use sparingly otherwise your buttercream will turn grey in colour. You can omit this step, if preferred.
The butter must be added very slowly, 1 cube at a time, at least to begin with. If the butter or the meringue mixture happens to be too warm, you may find that the mixture "collapses" and becomes liquid looking once you start adding the butter. If this happens, place the bowl in the fridge for 20 minutes to chill, then continue.
You could also use a cake scraper or plastic ruler to create a smooth edge.
Buttercream can be made 1 week ahead. Store in an airtight container in the fridge. Soften at room temperature before using.
Cake can be assembled, iced and decorated up to 3 days ahead and stored in the fridge. Decorate with edible flowers just before serving.
Celebration Cake Tools of the Trade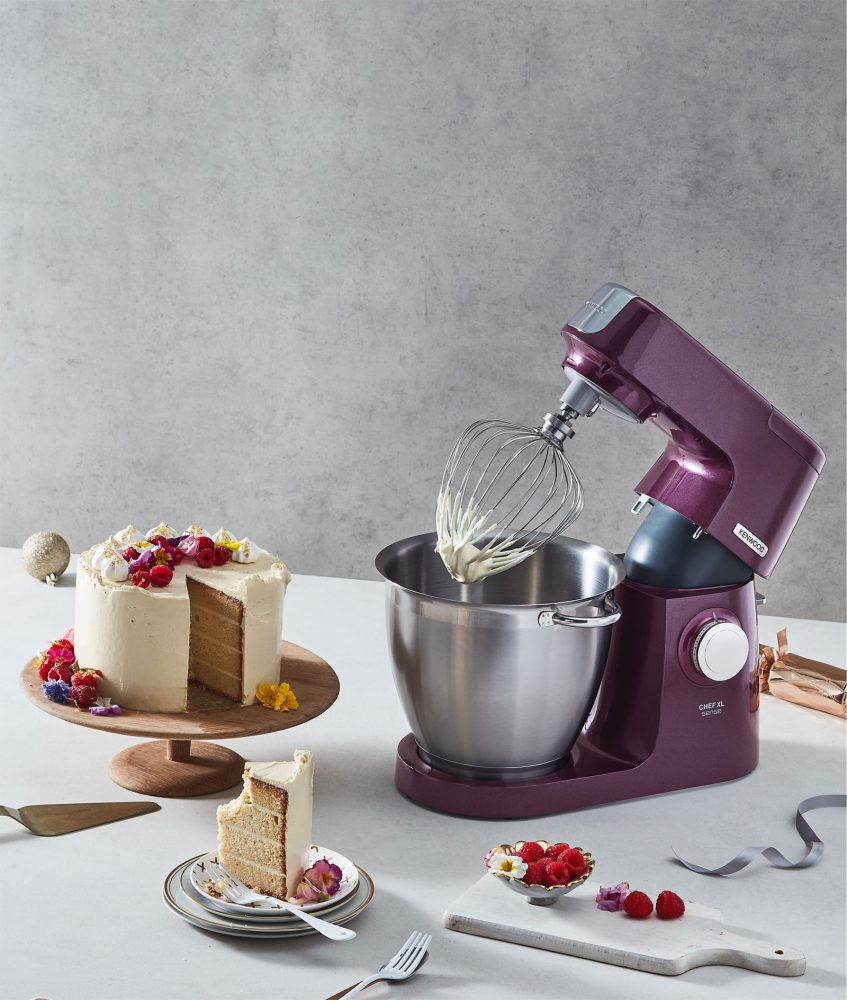 Ready to cook up a whole lot of Christmas fun? It's easy when you've got your own little helper – and we're not talking about Santa's elves! We're talking the Kenwood 'Chef' XL Mixer, available now at Harvey Norman.
Christmas Recipes
Looking for more great Christmas recipe suggestions? How about this mouth-watering Bourbon, Maple and Mustard Glazed Ham with Peach Chutney and Sides Recipe or, perhaps, one of our 12 Days of Christmas Recipe suggestions:
▶ Day 1: Coconut and Raspberry Layer Cake
▶ Day 2: Caramel, Hazelnut and Praline Affogato
▶ Day 3: Sparkling Champagne Cocktail with a Grapefruit Twist
▶ Day 4: Mini Chocolate Orange Puddings with Gold Leaf Oranges
▶ Day 5: Five-Spice Maple-Glazed Ham
▶ Day 6: Six Herb, Pea and Avocado Dip with Sliced Radish and Mixed Micro Herbs
▶ Day 7: Lemongrass-Cured Salmon with Coriander Blinis and Lime Crème Fraiche 
▶ Day 8: Fig, Raspberry and Meringue Trifles
▶ Day 9: Sloe Gin Turkish Delight and Coconut Jellies
▶ Day 10: Parmesan and Potato Rösti Nests with Rare Roast Beef
▶ Day 11: Berry, Chocolate and Coconut Ice Cream Log
▶ Day 12: Sour Cherry and Brownie Truffles