Get ready to entertain this Christmas with our six part Christmas recipe series…
To celebrate the end of a special day, treat everyone with this White Chocolate and Berry Pavlova Wreath.
Serves 12
Prep time 45 mins
Cook 1 hr 15 mins (plus cooling)
Ingredients
6 egg whites
1½ cups caster sugar
1½ tsp white vinegar
2 tsp cornflour
1 cup watermelon, diced
125 gm strawberries, halved
125 gm raspberries
100 gm white chocolate, melted
Gold leaf, to decorate
Strawberry rose syrup
⅓ cup caster sugar
2 tbsp (15gm) freeze-dried strawberries, crushed, plus extra to serve (see note)
2 tsp lemon juice
2 tsp rosewater
Mascarpone cream
300 ml thickened cream
2 tbsp icing sugar
250 gm mascarpone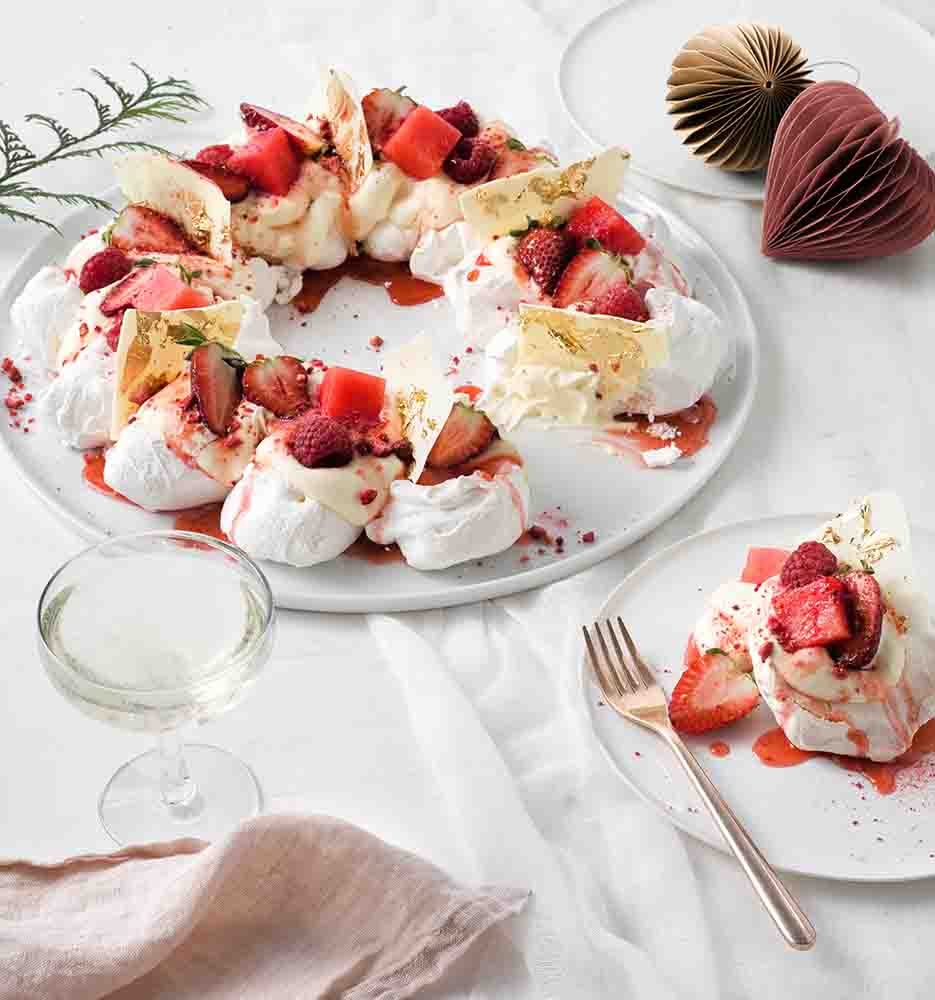 Method for White Chocolate and Berry Pavlova Wreath Recipe
1. Preheat oven to 150° Trace a 23cm-diameter circle on a large piece of baking paper and place pencil-side down on a lightly oiled baking tray.
2. Whisk eggwhites and a pinch of salt in the KitchenAid Stand Mixer Bowl with the whisk attachment on high speed to soft peaks, then, with motor running, gradually add sugar and whisk until firm and glossy. Whisk vinegar and cornflour together in a small dish and fold into meringue to just combine.
3. Place 12 heaped spoonfuls of meringue around circle to form a ring. Place in oven, reduce to 120°C, and bake until crisp but not coloured (1¼ hours). Cool completely in oven with door ajar.
4. Meanwhile, for strawberry rose syrup, combine sugar, strawberry powder, lemon juice, rosewater and ¼ cup water in a saucepan and stir over high heat until sugar dissolves. Bring to the boil, then reduce heat to medium and cook, stirring continuously, until reduced and syrupy (4 minutes). Chill.
5. Line a tray with baking paper. Pour melted chocolate onto paper and spread out into a thin layer with a palette knife. Refrigerate until firm (15 minutes). Apply gold leaf to chocolate with tweezers and a small clean brush, then break into shards.
6. For mascarpone cream, whisk cream and icing sugar in the KitchenAid Stand Mixer Bowl with whisk attachment on high speed until soft peaks form, then reduce speed to low and mix in mascarpone until just combined.
7. To serve, spoon mascarpone cream over pavlova wreath and scatter with watermelon and berries. To assemble, gently place gold-leaf chocolate shards around rim, then drizzle with strawberry rose syrup and sprinkle with freeze-dried strawberries.
Note Freeze-dried strawberries are available from The Essential Ingredient (theessentialingredient.com.au) and select delicatessens.
Christmas Recipe Series
► Cucumber and Finger Lime Gin Frappé + White Peach Aperol Spritz
► Salmon and Avocado Roulade with Wasabi Cream
► Grilled Lobster and Steamed Kipfler Salad with Furikake-lime Mayonnaise
► Gingerbread Cake with Spiced Rum Buttercream
► White Chocolate and Berry Pavlova Wreath
► Espresso and Dark Chocolate Mousse