Planning your next summer soiree? A showstopping dessert, such as a multi-layer cake with chocolate drips is a must. Don't panic, thinking it's too hard to achieve! As the editor-in-chief of Taste.com.au magazine, Brodee Myers-Cooke would tell you that a spectacular celebration cake can be surprisingly easy if you let your imagination run wild!
A good quality mixer such as the Smeg 50s Style Stand Mixer from Harvey Norman will make your baking experience even more pleasurable!
Serves 12
Ingredients
200g white chocolate, chopped
90g unsalted butter, chopped
1 cup (250ml) buttermilk
1 cup (220g) caster sugar
3 eggs
1 tsp vanilla bean paste
1 cup (150g) plain flour
½ cup (75g) self-raising flour
½ tsp bicarbonate of soda
½ cup (160g) raspberry jam
Meringue Cream Icing
4 egg whites
1 cup (220g) caster sugar
300g butter, at room temperature, cubed
Dark Chocolate Drizzle
60g dark chocolate, chopped
⅓ cup (80ml) thickened cream
To Decorate
Macarons, decorated with gold leaf
Freeze-dried raspberries, lightly crushed
Chopped pistachios
Gold sugar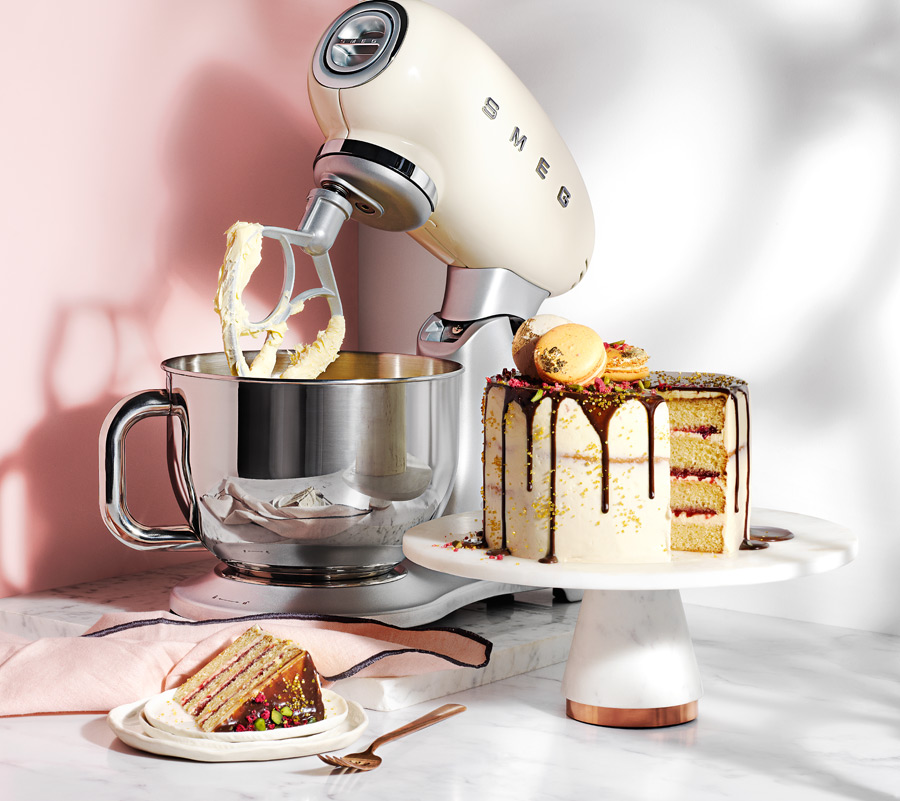 Method
1 Preheat oven to 150°C. Grease and line 2 x 18cm round cake pans.
2 Combine chocolate, butter and buttermilk in a medium saucepan over low heat until smooth. Transfer to a large bowl and cool for 10 minutes.
3 Whisk sugar, eggs and vanilla bean paste into chocolate mixture. Whisk in sifted dry ingredients until mixture is smooth and glossy.
4 Divide mixture between pans. Bake for 50-60 minutes. Stand cakes in pans 5 minutes, before turning onto wire racks to cool.
Meringue Cream Icing
1 Combine the egg whites and sugar in a heatproof bowl. Place the bowl over a small pan of lightly simmering water. Gently stir with a wooden spoon until sugar has dissolved. Be careful not to scramble egg.
2 Transfer egg white mixture to the bowl of a Smeg 50s Style Stand Mixer. Beat on high until mixture forms soft peaks.Add one piece of butter at a time, beating well after each addition. Continue until all the butter is added and the mixture is thick and creamy with a silky texture.
Dark Chocolate Drizzle
1 Combine chocolate and cream in a heatproof bowl.
2 Microwave on high for 1-2 minutes, stirring every 30 seconds, until melted and smooth. Cool for 30 minutes.
To Assemble
1 Trim the domes from the top of each cake, then cut each cake into 2 horizontal layers.
2 Place 1 layer on a cake board or serving plate. Spread with a thin layer of the meringue cream icing (about one-third cup). Gently spread over 2 tablespoons jam. Top with another layer of cake, then the icing and jam. Repeat the layering and finish with the final layer of cake. Chill until firm. Cover the top and sides of the cake with the remaining icing. Chill for 30 minutes.
3 Pour chocolate drizzle over cake, working quickly with a palette knife to spread to the edges and allow drizzle to slowly drip down.
4 Stand until set slightly before decorating with macarons, raspberries, pistachios and gold sugar.