BlueParrott's headset range has arrived at Harvey Norman – and for the team here at Harvey's HQ, they couldn't have come soon enough!
Over the past few months, our bloggers have been working from home on an off-again, on-again basis, meaning there has been a whole lot of phone calls and Zoom meetings taking place. And in those meetings, I reckon the phrase "sorry, I'm having trouble hearing what you're saying" has been uttered roughly one million times.
Featuring noise cancelling microphones that block out background noise, BlueParrott's range of highly durable, IP rated headsets stood tall as the solution we'd all been waiting for.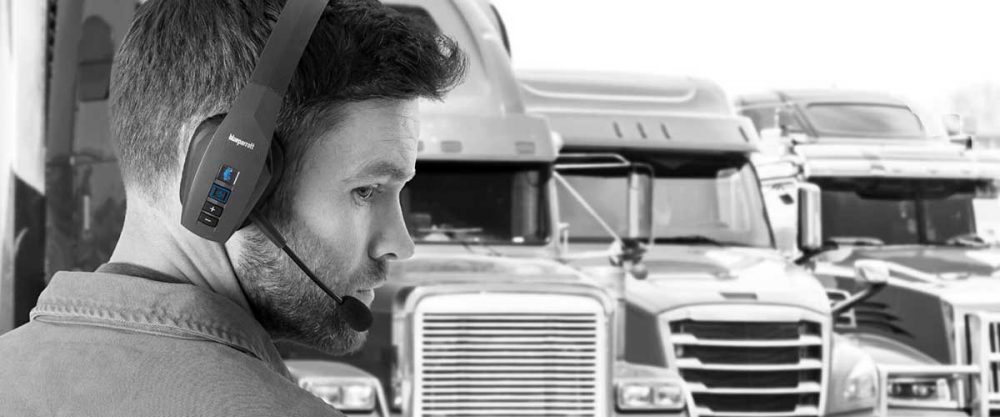 Immediately upon the release of the BlueParrott noise-cancelling headsets, a few of the guys here got straight to work in trialling the new technology.
Joseph sought out the BlueParrott B450-XT Headset.
Isaac experienced the BlueParrott B550-XT Headset.
David took home the BlueParrott C300-XT Headset.
And Matt tested the BlueParrott C400-XT Headset.
To learn more, read on for each blogger's BlueParrott headset review.
BlueParrott B450-XT Headset Review
Written by Joseph
Upon making my first call with the BlueParrott B450-XT headset, I was immediately impressed with its noise-cancelling design. With 96% noise cancellation*, not only was the person on the other end of the call able to hear my voice, but I was too! It made it so much easier to maintain a conversation.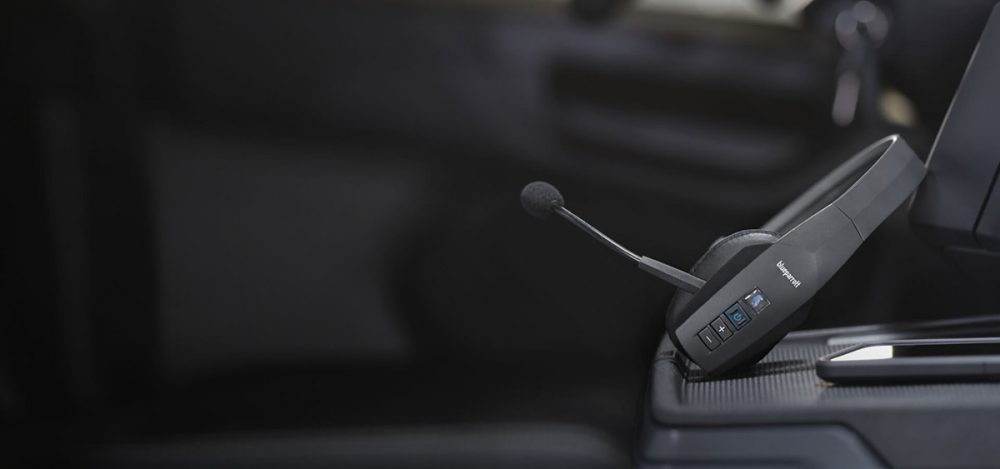 Not only was this great for human-to-human conversations – but for human-to-machine chats as well!
Case in point is my ongoing battle with my phone's smart assistant feature while in the car. It's often incredibly difficult to get it to even start listening, let alone do anything other than tell me it couldn't understand what I was saying.
That all changed with the BlueParrott B450-XT! As though suddenly blessed with new ears, my smart assistant could now understand me even at 110km/h.
Pressing the BlueParrott B450-XT's unique Parrott Button made it super easy to interact with the smart assistant, as well as allowing me to check battery, dial a contact or mute the microphone.
If you are someone who's in the car all day and relying on their phone, such as a tradie or rideshare driver, I can see how this Bluetooth headset with mic would make your day not only a lot less frustrating, but safer too.
With the earpiece and microphone both adjustable, it was easy to find a very comfortable fit. Working from home and the office, I left the hands free headset on for hours at a time, and forgot it was even there after a while.
The BlueParrott B450-XT headset looks stylish too. Being a little camera shy, I let our resident office model sit at my desk for a photoshoot with this wireless office headset.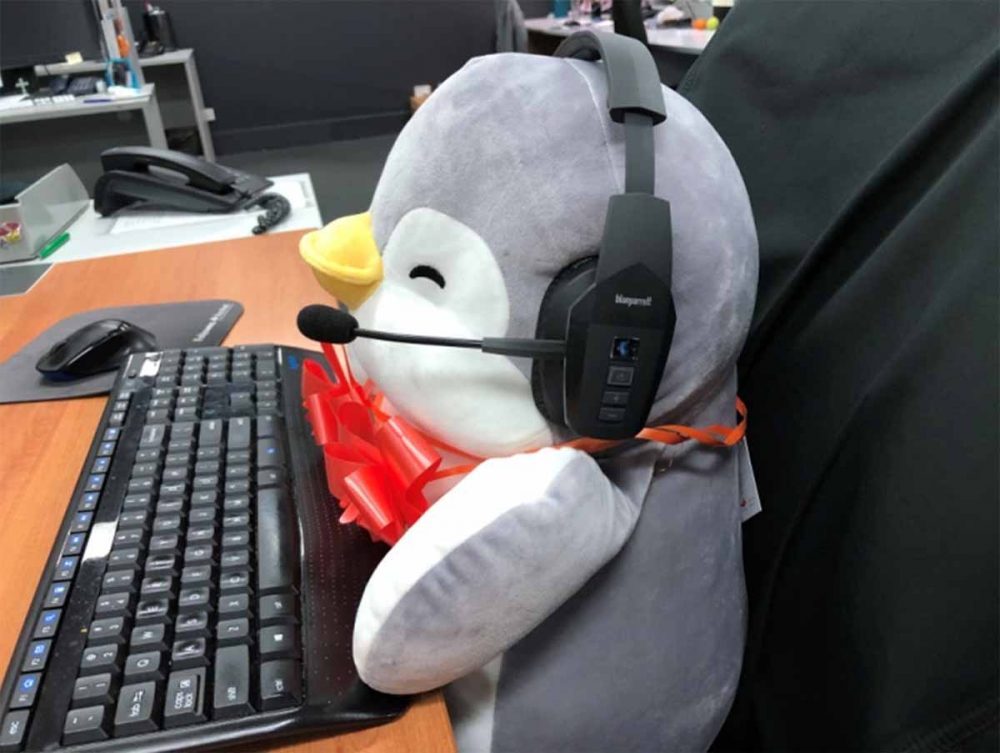 In the five days I spent testing this Bluetooth headset, the battery indicator did not move away from full until the last day. Should it ever run flat, charging is easy with a USB cable that just plugs into your computer.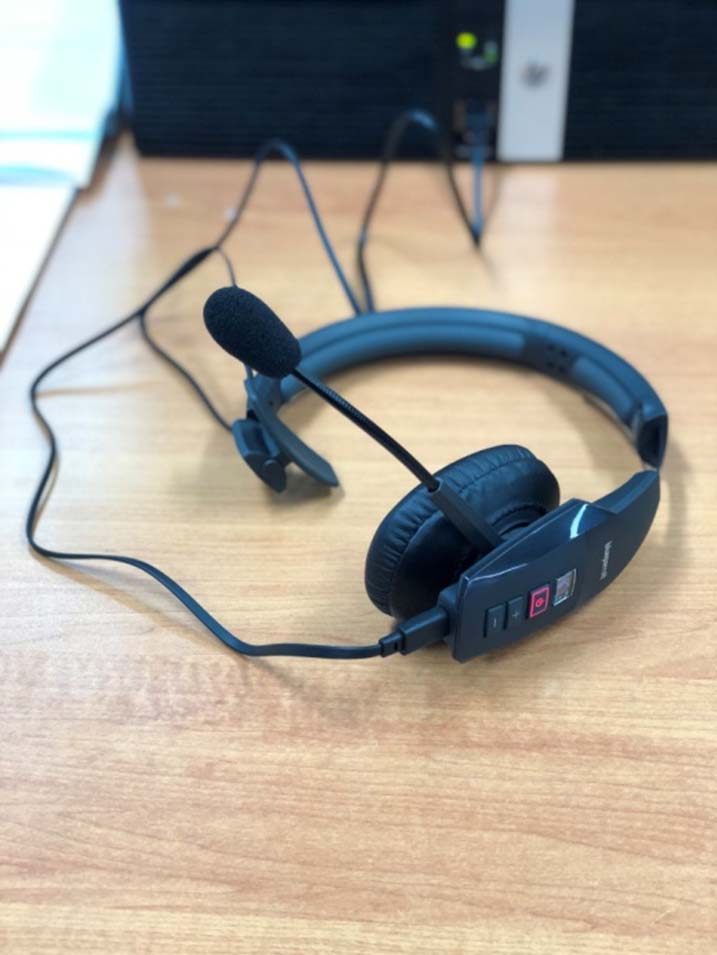 BlueParrott B550-XT Headset Review
Written by Isaac
This week, I had the opportunity to test out the most advanced wireless headset in the BlueParrott range. My experience working from home has taught me just how valuable clear and smooth communication is – and some of the challenges that remote work can pose – so I was keen to give it a try.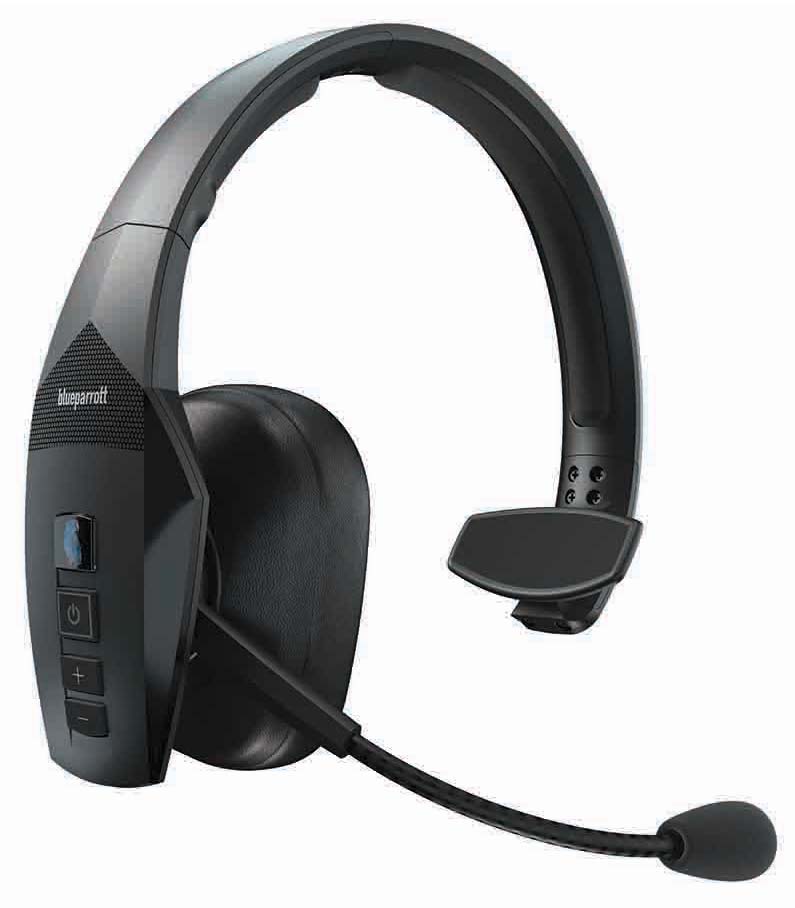 With an earpiece that delivers strong, crisp audio and a microphone that blocks out 96% of background noise*, the BlueParrott B550-XT is a noise cancelling headset designed to perform in even the loudest work environments – perfect for truck drivers, warehouse and construction workers, and bloggers like me!
OK, while my suburban home office is not quite as high-decibel as other worksites, between constant lawn mowing and occasional vacuuming, the B550-XT's noise cancelling features did get a bit of a workout, and the absence of the familiar refrains of "Sorry?" and "Excuse me?" was a welcome change.
To really put it to the test, I walked to a busy intersection while discussing ongoing jobs with a colleague. Afterwards, he not only told me he didn't have any trouble hearing me, but that he hadn't even noticed I'd left my desk!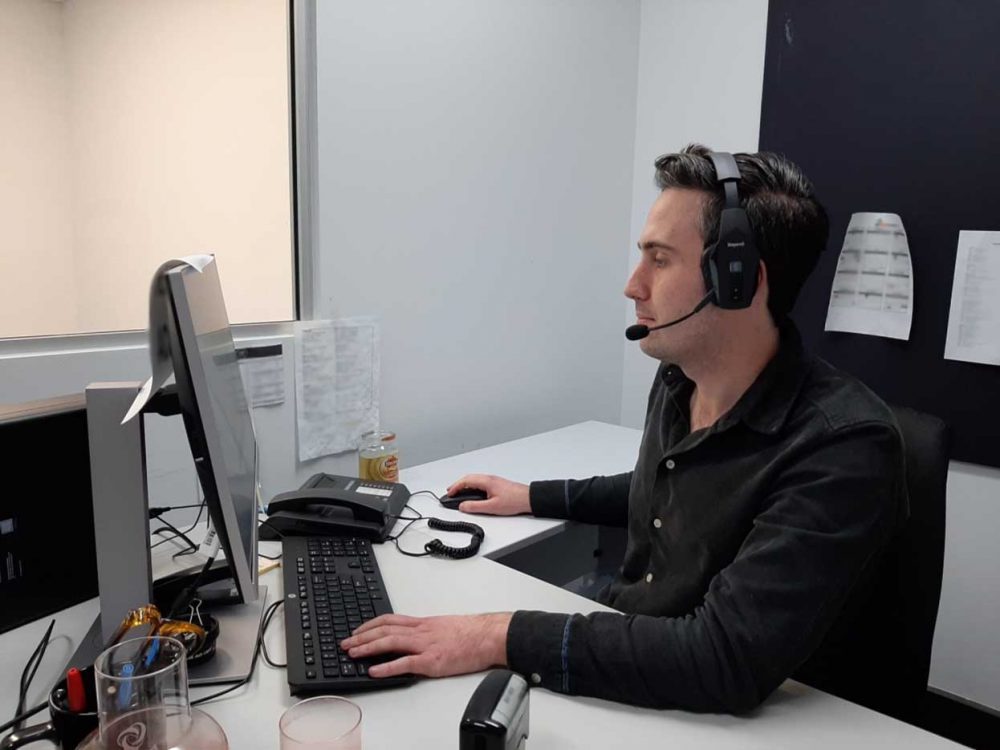 The B550-XT stands out from the pack as the first hands free headset that can be 100% voice-controlled.** Simply saying "Hello, BlueParrott" activates a built-in voice assistant with a range of commands including "check battery," "redial" and more.
This feature will be particularly valuable for people like drivers and warehouse workers who need to communicate while their hands are preoccupied. Even as a writer, I've found this hands free headset to be a great help whenever I'm required to work and talk at the same time, and a huge step above my phone's dodgy speakerphone setting.
For such a feature-packed model, I also found the BlueParrott B550-XT to be surprisingly lightweight. Combined with a choice of leatherette or foam ear cushion (I preferred the leatherette), this made for a comfy wireless office headset that I never grew tired of wearing, even after a long day's work.
BlueParrott C300-XT Headset Review
Written by David
I wanted to review the BlueParrott C300-XT Bluetooth headset not just because it seemed ideal for working from home – but because the BlueParrott noise-cancelling headset range is also an obvious choice for drivers. And these days I find myself spending a lot of time on the road.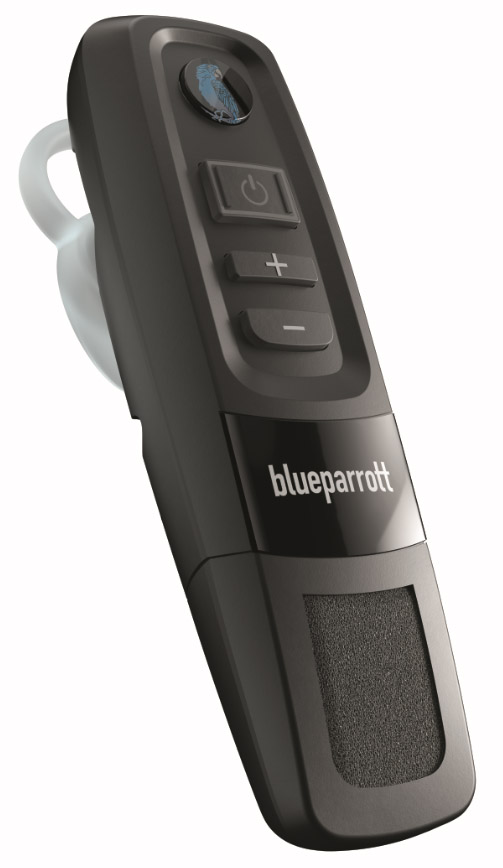 A number of years ago, I had a Bluetooth hands-free headset that hooked over one ear, but I never really became comfortable with it. The ear hook wasn't particularly ergonomic, which made the whole thing feel like it was sitting heavy on my ear.
Fortunately, the BlueParrott C300-XT doesn't just rely on you wearing it on-the-ear, it also comes with attachments that mean you can wear it over-the-head or behind-the-neck – the last one being the option I went for. And I'm glad I did, as it redistributes the sensation of wearing the headset more evenly, can work with wearing a hat, and the leatherette ear cushion makes the headset feel like it's floating on my ear.
The BlueParrott C300-XT is billed as being professional, powerful and discreet – and compared to the other models it certainly feels less pervasive. The compact design is one of the main drawcards here, as it gives you all the power of a headset without the bulky feel you would expect.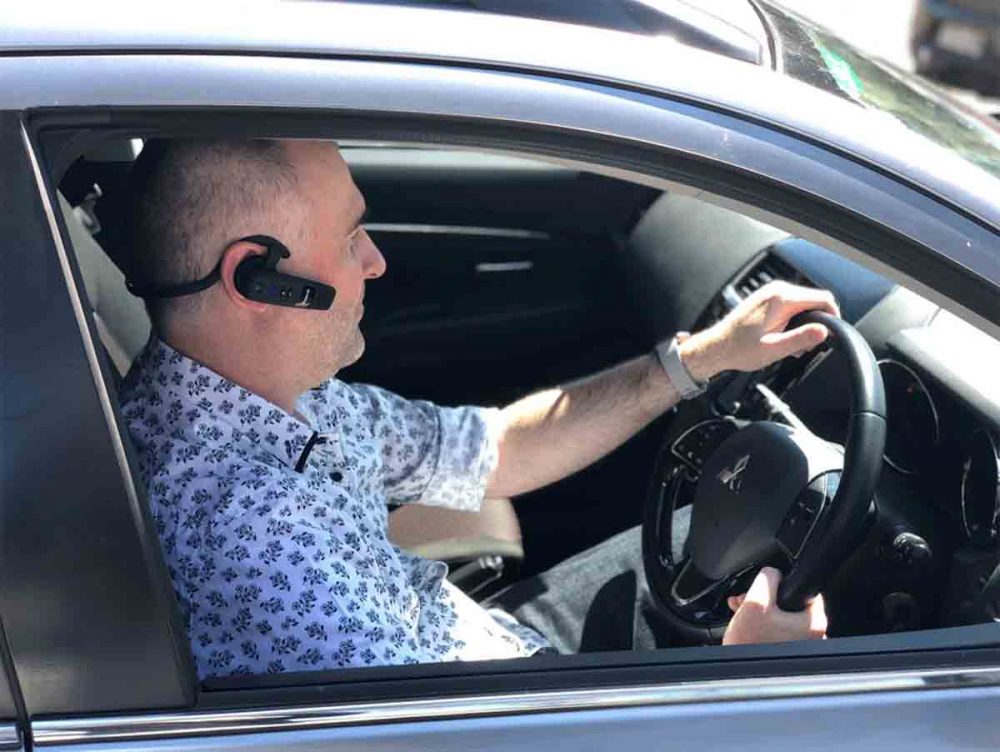 It was a remarkably simple process to pair the BlueParrott C300-XT headset with my phone, and the VoiceControl™ functionality meant I could keep my hands firmly on the steering wheel while driving.
The sound quality was great, coming through clear and crisp and not at all bothered by the sounds of the car engine or any ambient noises.
When combined with the knowledge that the headset can connect with two devices at once, and the fact that a charge can last for up to 10 hours of talk time, it's clear why it's a great solution for someone who is on the road for a living.
There's also a C300-XT MS variant of this model that has the added feature of working with Microsoft Teams Walkie Talkie – perfect for work collaborations.
BlueParrott C400-XT Headset Review
Written by Matt
I find that some headsets and headphones can press on my ears – not sure if this happens to you – but after a while my ears start to hurt. Not so with the behind-the-neck, over-the-ear BlueParrott C400-XT headset attachment, however. The soft leatherette ear cushion sits beautifully on the ear, as opposed to squeezing against it.
With no painful pressure being applied, after five minutes I almost forgot I was wearing it!
The BlueParrott C400-XT headset also features a flexible microphone boom that can be adjusted for further comfort, as well as for maximum voice recognition.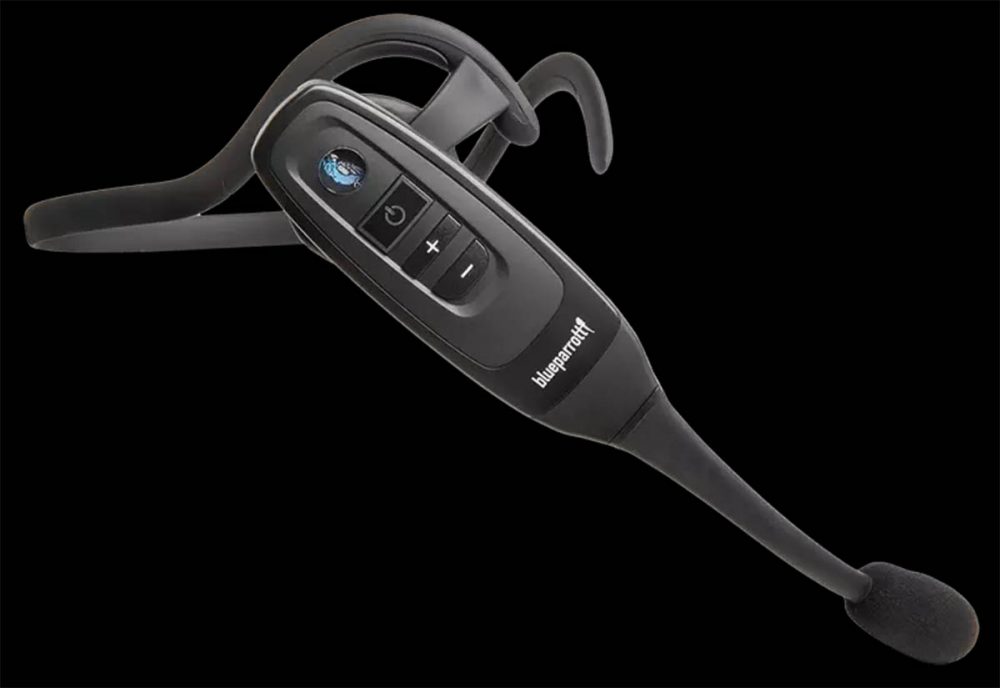 While it felt super comfortable, I did wonder how the BlueParrott C400-XT headset would perform.
It turned out that setting up a connection with my phone was easy – just as Bluetooth connectivity should be. Once con­­nected, however, the real quality of the BlueParrott C400-XT began to show.
The convenience of the hands-free headset design was backed by a superb sound quality that I found myself thoroughly enjoying in conversations over the phone. Not only that, but the people on the other end of the call were able to hear me crystal-clear thanks to the noise-cancelling microphone.
While using the BlueParrott C400-XT on one of my days in the office, even the usual background chatter, sometimes a downright roar, didn't interfere with the call at all. I was able to carry out conversations as if the person on the other end was standing in front of me.
Overall, I would say the BlueParrott C400-XT Headset is a comfortable, convenient and functional solution for any high-noise environment.
Where to Shop BlueParrott Bluetooth Headsets
Whether you work from home or drive for a living, there's real benefits to owning one of BlueParrott's noise-cancelling headsets. You can shop the range online or at your local Harvey Norman store, where the friendly, expert staff will happily show talk you through all the innovative features available.
*Independently verified by the CJS Labs of San Francisco, CA.
** July 6th, 2018. See facts on www.blueparrott.com/comerical-claims