You can tell the PAX first-timers apart pretty easily. They're the ones with their mouths hanging open and their eyes sparkling with child-like wonder.
That was me on Saturday morning upon entering the Melbourne Convention Centre.
Having never previously attended PAX, I was in for a real surprise. The sheer size of the event is enough to leave you reeling, with every conceivable type of game available for every kind of gamer.
There were rows and rows of tables set up for the tabletop players, with everything on offer from classic card games like Magic: the Gathering to role-playing games such as Dungeons & Dragons and everything else in between. There were huge free-play areas for consoles and PCs, as well as an entire area dedicated to old-school arcade games and pinball machines.
Then there was the expo hall, where all the leading brands in gaming had their own booths. Each booth was totally different, from the hyperactive Nintendo booth to the hardcore MSI stage, designed to both entice convention-goers into checking out the latest in technology, and to reflect their brand's personality.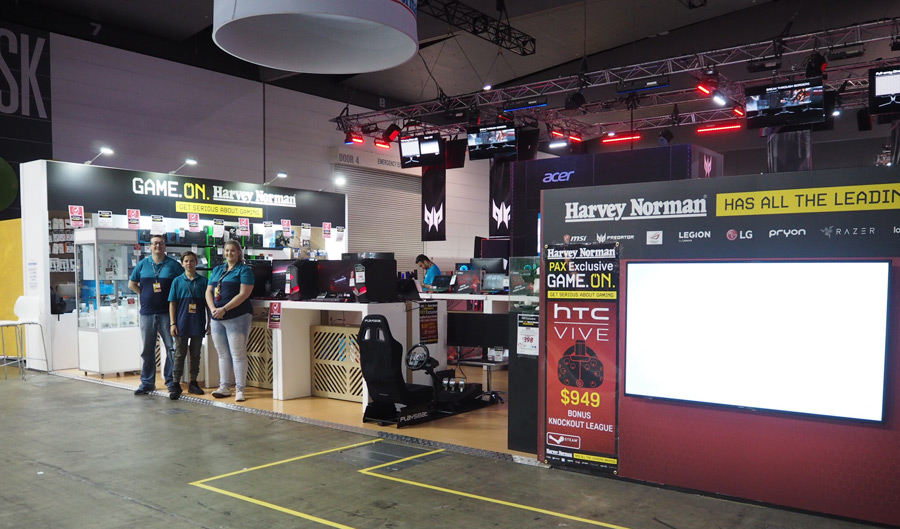 My first stop was the Harvey Norman stand to catch up with the rest of the team. I was introduced to Harvey Norman Springvale's proprietor, Tripper, and his tech-savvy team.
This was Tripper's third PAX event, and he said that it was an awesome experience to be a part of.
"When we first started out our stand was a little bit small," laughed Tripper. "Now we've more than doubled the size of the Harvey Norman stand and we've also added a Virtual Reality and a Mixed Reality setup.
"The size of the stand means we can display more products than before, and the overall feedback we've been getting from customers has been really positive."
After meeting with the team, I was let loose to go and check out everything that PAX had to offer.
Here's what I learned over two massive days.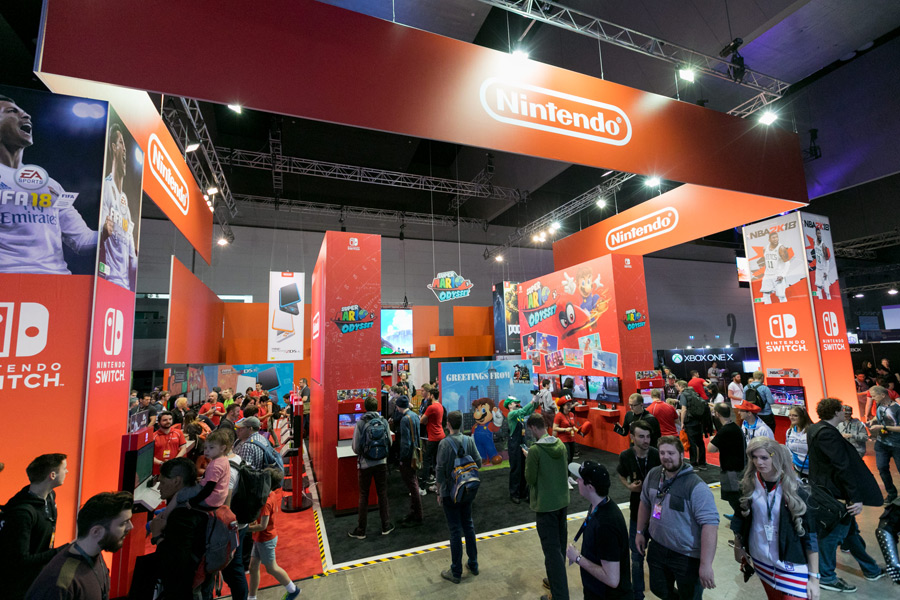 1.    I need a lot more training to become a Jedi Knight
I'll admit it: I am all about the Empire. I know the Sith code off by heart, and Alderaan was totally asking for it.
But I was still super keen to try out the Lenovo Star Wars Jedi Challenges for myself. What self-respecting Star Wars fan could possibly pass up the opportunity to wield an augmented reality lightsaber?
In Lenovo's revolutionary new augmented reality Star Wars Jedi Challenges game, you train as a Jedi, honing your skills against enemies like Darth Vader and Kylo Ren.
In addition to this, you can also test your tactical skills by commanding troops on the battlefield or playing a round of Holochess.
The great thing about Star Wars Jedi Challenges is that it's so easy to set up. The kit itself comes with a lightsaber controller, a Lenovo Mirage headset and a tracking beacon. The only thing you need to bring to the party is a compatible smartphone and you're ready to take on the galaxy's biggest baddies. Within minutes, you can be set up and swinging a lightsaber at Kylo Ren – which is exactly how I started my Sunday morning at PAX.
I was happy to find that the augmented reality headset fit easily and comfortably over my glasses (which are the size of jam jars). Then, I simply calibrated my lightsaber, adopted (what I assumed was) an appropriate fighting stance, and the next thing I knew, Kylo Ren had appeared out of the shadows and was menacingly coming towards me!
My first attempt at Jedi Challenges was pretty lacklustre, to say the least. Kylo Ren managed to get more than a few shots in, so much so that red cracks appeared across the screen of my headset!
But my second attempt was much faster and better, and I felt that, with a bit more practice, I would soon be on my way to becoming an all-powerful Sith Lord Jedi Knight.
Now, the only question left to answer is: will Lenovo be releasing a Star Wars Sith Challenges? Here's hoping!
2.    Super Mario Odyssey offers a whole new gaming experience for players
Super Mario Odyssey is one of the most highly-anticipated Nintendo Switch games of the year, and it's got a lot of people excited – big and little kids alike!
Super Mario Odyssey is a 3D sandbox style game much like the beloved Super Mario 64. However, most of the similarities end there. Odyssey is an exciting new step forward for Nintendo, as it enables players to explore brand new kingdoms that are nothing like anything previously seen in a Mario game, and it also introduces a new character in the form of Cappy – Mario's magical hat.
I stopped by the Nintendo booth on Sunday morning to see for myself if Mario Odyssey was worth all the hype, and if it could compare to my nostalgia-tinged memories of sunny Saturday afternoons spent inside, glued to the television playing Super Mario 64.
I spoke to Nintendo rep Kirsty to find out a little bit more about the game before trying it out for myself.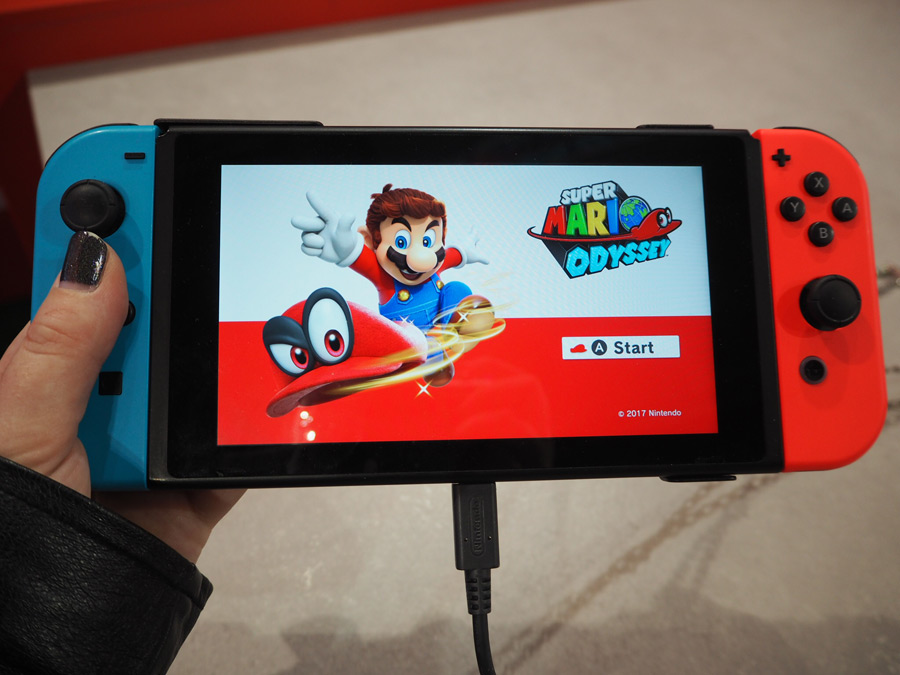 My first question was about Mario's now-sentient cap. Or, specifically: "What's with the hat?"
"Players are now able to use Cappy to capture enemies and objects, which allows you to interact with the world in a very different way [to past Mario games]," answered Kirsty.
Simply throw Cappy towards an object or a creature, and, depending on the function of that thing, you can use it to help you complete different stages of the game. You can control everything from a spark of electricity, to a T-Rex, to a rocket ship.
When asked what was behind the idea to include a gameplay mechanic like Cappy, Kirsty replied:
"We all know Mario – he runs, he jumps… all that kind of thing. But introducing Cappy means [giving players] a whole new gaming experience. It's new, it's fresh, and it's something different."
The Nintendo Switch is a handheld device that also doubles as a console. The side controllers are removable, so you can sit back in your favourite gaming chair and play your Nintendo Switch games on the big screen at home, or take the device with you while you're out and about.
When I went from the handheld version to big screen, I noticed that there was absolutely zero loss of image quality. The graphics were still beautifully clear and the colours still bright.
And, while I had some misgivings about Cappy, I found that the little guy was actually pretty fun to play once I got the hang of things.
3.    The new Xbox One X has some killer exclusive titles coming out
We've already heard that the brand new Xbox One X is 40% more powerful than any other console out there. Thanks to its incredible graphics processing power, you really see your games at their full potential. Plus, with its awesome draw distance, you can see more objects further off, while things up close appear sharp and richly textured.
The fact that it also combines 4K streaming, HDR and Dolby Atmos® support means you get the absolute best experience out of your games and movies.
But what kind of exclusive titles does Microsoft have up its sleeve for the Xbox One X?
I spoke to Mitch at the Xbox booth to get the latest scoop.
"Kicking off in line with the launch of the Xbox One X we'll have a patch for Forza 7 available. So if you have an Xbox One X and a 4K TV you can play Forza 7 in 4K," revealed Mitch.
"We also have a really cute family game coming out called Super Lucky's Tale."
The 4K capabilities of the Xbox One X work wonders with the gorgeous artwork seen in Super Lucky's Tale, which features vivid colours and enchanting scenery.
 "Three of the other really big games coming out in the next half include Crackdown, Sea of Thieves, which is a pirate MMO, and State of Decay 2, which is a zombie survival game."
State of Decay 2 is famous for its unforgiving 'permadeath' feature, which adds a whole new level of intensity to the game (as if flesh eating zombies weren't enough). If your character dies, they stay dead. You then have to pick another survivor to continue your story with.
"It's heart-wrenching," said Mitch, "If you die, you then you have to go to another survivor in your group and start working on them."
Keep your eyes peeled for these exclusive titles coming out early next year!
4.    A gaming router will make all the difference to your gaming experience
A reliable gaming router is the cornerstone of your network. Whether you're a PC user or console gamer (or both), it's absolutely critical that your router can handle whatever you throw at it. Most run-of-the-mill routers just don't cut it when it comes to online gaming.
For a long time now, gamers have been clamouring for a dedicated gaming router that is capable of providing them with the kind of performance and reliability online gaming demands.
Introducing the Linksys WRT32X AC3200 Gaming Router – the revolutionary router designed specifically for gamers.
This incredible router features a dual-core processor and four antennas. But what gamers will love most is the Killer Optimization Engine and the super user-friendly interface.
I was lucky enough to sit down with Vince La Duca himself, the mastermind behind the development of the WRT-32X. Stay tuned for our next upcoming blog to read the entire interview and get all the insider details on this awesome gaming router.
5.    For the best experience, you need the best gear
This may sound like a bit of a no-brainer, but if we're talking serious gaming gear, you need to go all out.
The Playseat racing chair was on display at the Harvey Norman stand over the weekend, complete with Logitech gaming wheel, pedals and shifter.
I asked Tripper, who's been selling racing seats for almost 30 years, what his opinion was on the Playseat.
"The Playseat is awesome," Tripper enthused. "It's compatible with PC, Xbox and Playstation 4, and the quality is amazing."
Another one of the bonuses with the Playseat is that in addition to using it with your gaming wheel and pedals, you can also incorporate a shifter to really get the most out of your favourite racing games.
"Overall, it's about the experience," said Tripper. "Of course, you can buy gaming wheels that you screw onto your desk. But when you're trying to race around those tight corners, guess what? It's going to lift up. With a racing seat, you definitely don't get that."
I had a go in the driver's seat myself, and was amazed by the comfort and quality. This wasn't any old arcade racing chair setup – the Playseat made it feel like I really was behind the wheel of a race car. Along with the Logitech Gaming Wheel, it's a must for serious racing game fans.
6.    HP Omen gaming laptops have been given an upgrade
I stopped by the HP Omen truck and chatted to Paul, HP's National Products Training Specialist.
Paul was more than happy to answer all my questions about the range of Omen laptops, and it was clear that it was something he was totally passionate about.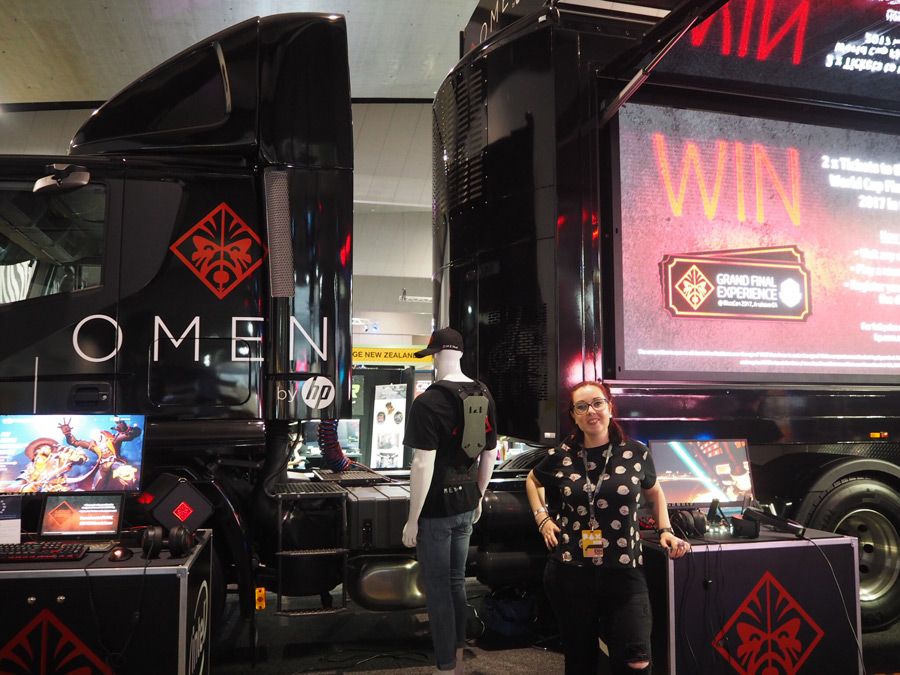 "The whole HP Omen laptop range has been reinvented from last year, and we've really been focusing on our gaming community," he began.
"These gaming laptops really come with the best of the best [hardware], but we really wanted to make this a two-part experience.
"First of all you've got the 26-key anti-ghosting, anti-rollover keyboard, so you can really go to town on it without worrying about those errant key presses, and there's a good amount of weight and travel on each key."
And let's face it, when you're in the heat of battle, you need to know that your keyboard isn't going to crack under pressure.
"Then you've got the screen, which is G-sync certified to give you buttery-smooth gameplay. We listened to our community on this one and got rid of the touch panel, got rid of the glass and the glossiness, and put a matte-finish display in there… which is 120hz on the Full HD variant."
If you don't have a chance to check out the HP Omen truck any time soon, you can always get into your local Harvey Norman store and see for yourself just what these awesome gaming laptops are capable of.
7.    Logitech's wireless technology is better than wired
Yep, you read that right. The latest range of Logitech LIGHTSPEED gaming peripherals have been proven to be marginally faster than some of their wired counterparts, which dispels the popular myth that wired is always faster than wireless.
I spoke to Marco at the Logitech stand, who was happy to talk about this awesome new technology.
Holding up the Logitech G903 LIGHTSPEED Wireless Gaming Mouse to demonstrate, he said, "LIGHTSPEED is the wireless technology we use in our gaming mice and receivers. By using this technology, we're able to get rid of any lag that could otherwise be an issue."
Marco turned the G903 mouse upside down and showed me the specialised PowerPlay receiver located inside.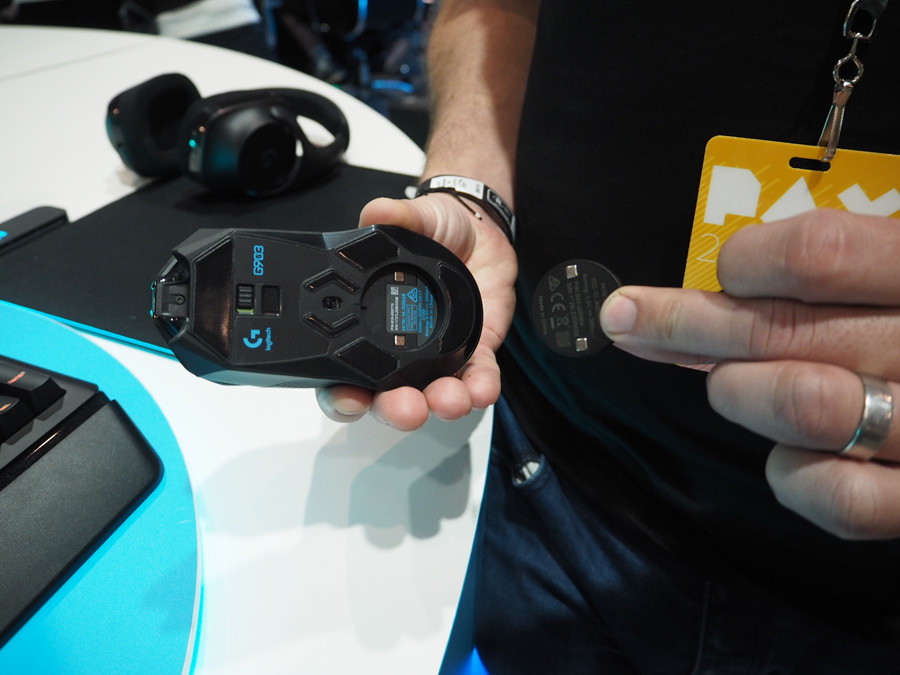 When you use the mouse in combination with the innovative PowerPlay Wireless Charging mousepad, the PowerPlay receiver is what allows you to charge the mouse while you're playing.
"It also connects to the wireless receiver that's in the top of the wireless charging pad, so at all times, your mouse is only about 10cm away from the receiver – which means there's no interference and no lag. Response time is less than one millisecond."
There are also no messy wires to get in the way. When the G903 mouse and PowerPlay mousepad are setup together, it looks clean and sleek. Which is exactly what you want for your killer gaming setup.
 8. PAX is for everyone
At a huge event like PAX, you'd think that only the biggest names in gaming would be on display.
Not so. PAX AUS also gives indie designers a chance to show off their creations in the PAX Rising space. I was excited to check out some of these up-and-comers.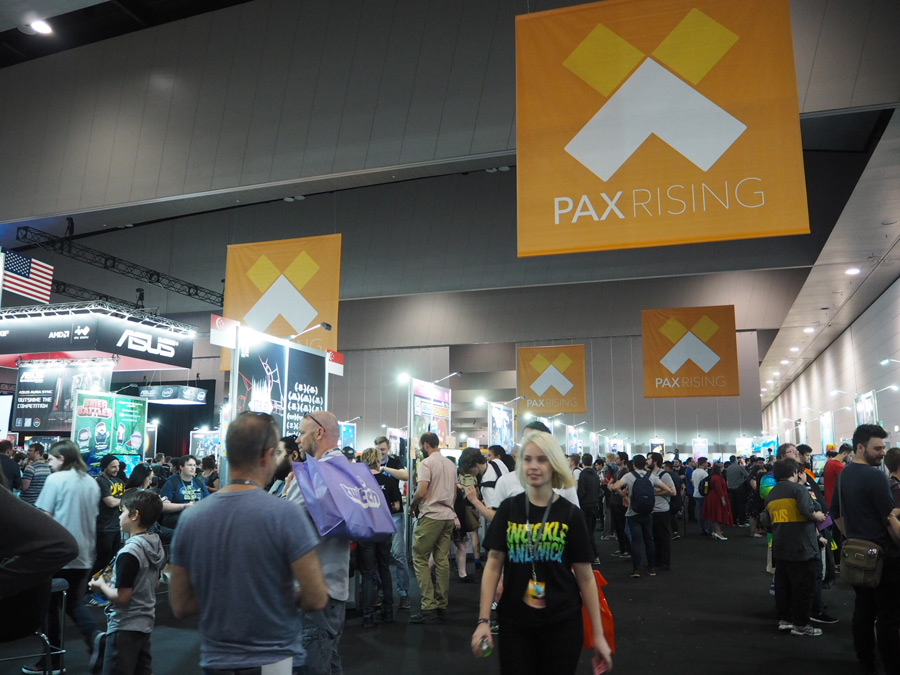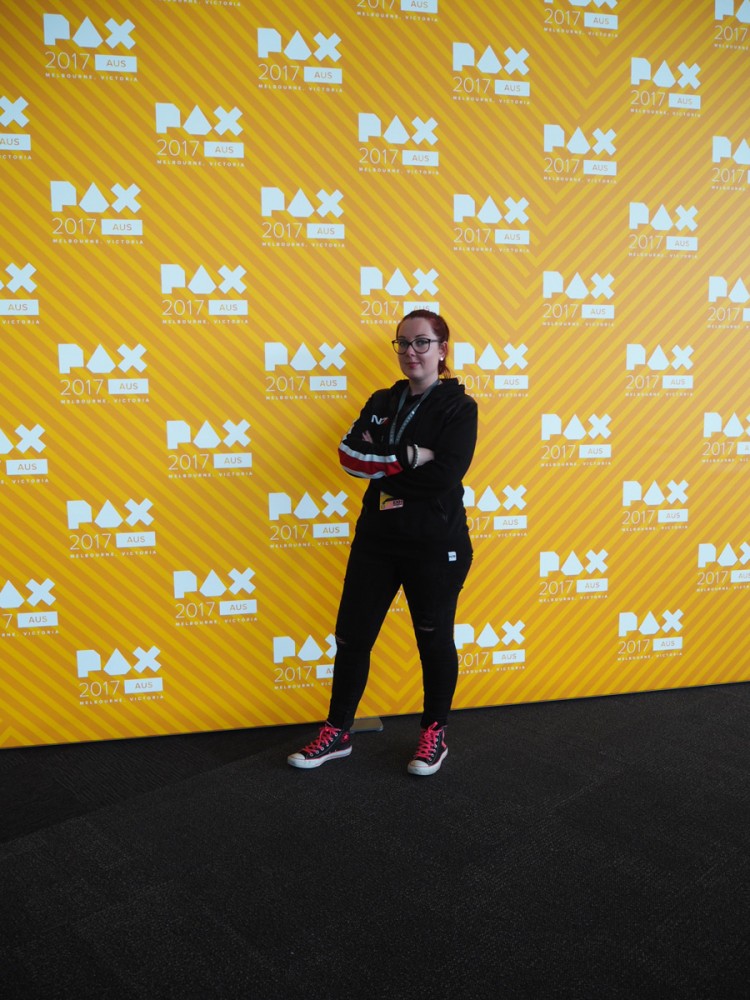 There was everything on display from Necrobarista, an interactive novel set in fanatasy Melbourne where the dead come back for one last coffee, to Virtually Impossible, a virtual reality party game that gives players ridiculous challenges to pass.
I spoke to Cherie Davidson, one of the guest speakers on the Women in Gaming panel.  Cherie is the producer programmer behind Intergalactic Space Princess, an adventure game about a teenage girl trying to find her place in the Universe.
"It is so good being in PAX Rising," said Cherie. "The indie space has grown so much in the past few years, and it is now so normalised to have such a diversity of games on display… [and] it means we can talk directly to our target audience and find out what they love and what they don't like about the game.
"There is an obvious gap in our media where young girls don't get exposed to games that are really for them. So we're trying to make a game that is for them… but what's really amazing is that we've had fathers with sons who are really interested in the game as well. So it stems beyond just who we thought it would be for."
Being able to showcase a game like this at such a well-known event gives these indie games a great opportunity to market themselves to the gaming community at large. Whether they've been around for a few years already, or are a brand new release, PAX gives these indie games a space where they can showcase themselves and connect with their audience directly.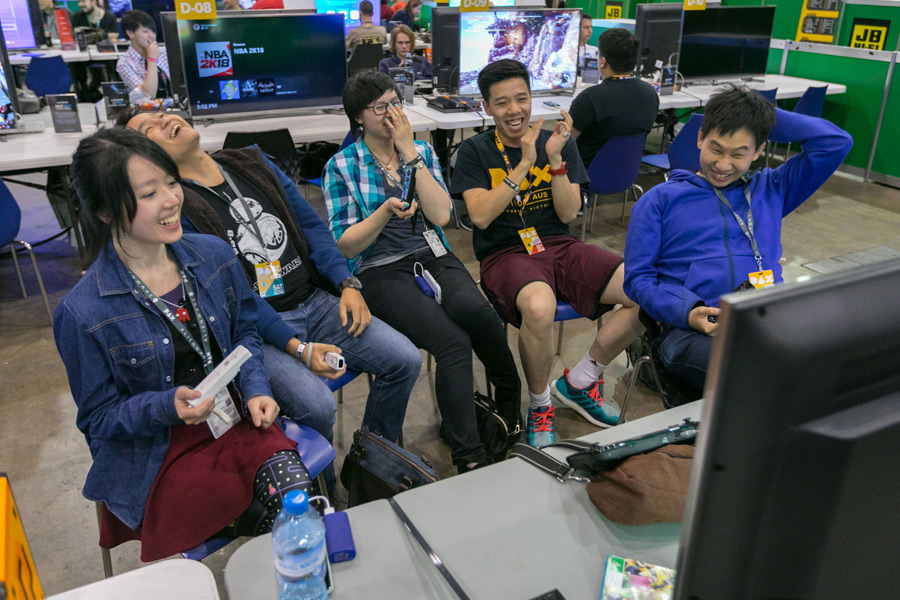 So in two massive days, I learned a lot from my first ever PAX. It was exciting, fun, informative, and I expanded my own knowledge when it came to understanding just what it means to be part of the gaming community.
I spoke to a lot of really talented people, played a bunch of great new games, and got to geek out to my heart's content. For my first ever PAX, it was pretty epic.
Keen to check out some of the awesome hardware and games mentioned? Jump on to the Harvey Norman website and shop online, or you can visit your local store and chat to the knowledgeable members of the Techteam.
Now it's time for me to go AFK and make some coffee.