What Is A Soundbar?
As an alternative to a multi-speaker sound system, a soundbar is an all-in-one audio device ideally positioned in front or under your TV, depending on the model and style you choose. Wider than it is tall, its slimline design works acoustically and aesthetically. Soundbars work using directional sound technology employing multiple speakers. Some can even create virtual surround sound using the walls to reverberate audio and create that "surround sound" aspect.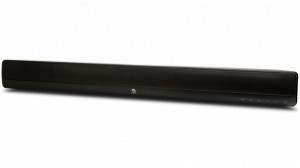 How Does A Soundbar Work?
Most sound bars have a few audio-only inputs which can be used to connect to your television. The simplest way to install a sound bar is to plug all of your equipment directly into your TV, then run a single optical or analogue audio cable out of your TV and into your sound bar. There are two main types of soundbars:
A soundstage soundbar is designed to sit underneath your TV and offers a clean look with minimal clutter. It can be used as a stand which the television sits on.
A traditional sound-bar is a long, thin speaker that is often paired with a subwoofer. The soundbar can be wall-mounted or placed in front of the TV.
Where Do I Use A Soundbar?
Sound-bars are designed to complement your TV and therefore can be used in any room in the house with a television. It's a great option as a basic, uncluttered audio speaker system that can increase your viewing experience.
Why Do I Need A Soundbar?
TVs are becoming slimmer, therefore the speakers are reducing in size and sound quality is being somewhat compromised. A soundbar is perfect for people who are looking to upgrade their current television speakers, plus it's an excellent choice for anyone who wants to minimise their audio equipment or simply has a smaller home area to work with. Soundbars provide good mid-range and high frequency audio, and if there's a subwoofer, this will increase the bass levels of the system.
Harvey Norman is "serious about sound" – we're your number one destination for TV & Home Theatre, with a great range of soundbars from the top audio brands.