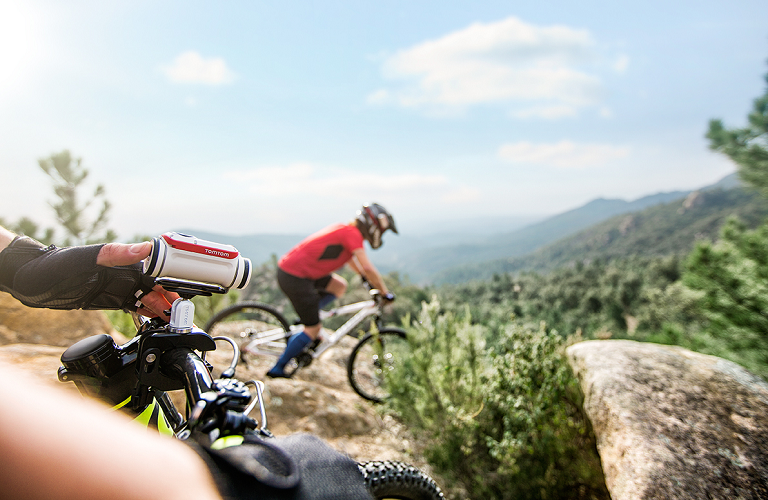 If you're looking for the perfect gift this Christmas, something that will really knock their socks (or Christmas stockings) right off, then look no further than an action camera from Harvey Norman. It's a present that is guaranteed to excite. The latest contenders in the action camera market boast a range of high quality and professional -standard features that cater to all user levels, from technically challenged holiday-makers, to tech-savvy, gadget-loving thrill-seekers.
Built for any condition, environment and terrain, from mountain climbing to skiing and even underwater adventuring – today's action cameras can go anywhere and are designed to let users record, edit and share videos quickly and easily while on the go.
Not just for the action-loving adrenalin junkie, an action camera is a fantastic and extremely user-friendly tool for everyday filming, ideal for capturing all the fun of a day at the beach, a leisurely bushwalk, a family road trip or the little one's dance recital.
Harvey Norman stocks a great range of these impressive little cameras (yes they are small and lightweight – another plus!), from leading brands like GoPro, Sony and TomTom.  We've picked out a few of our favourites to inspire you and help you tick off your gift-list this Christmas. Or you could just keep them for yourself – it's the thought that counts right?
Pop one of these Heroes in the stockings this Christmas.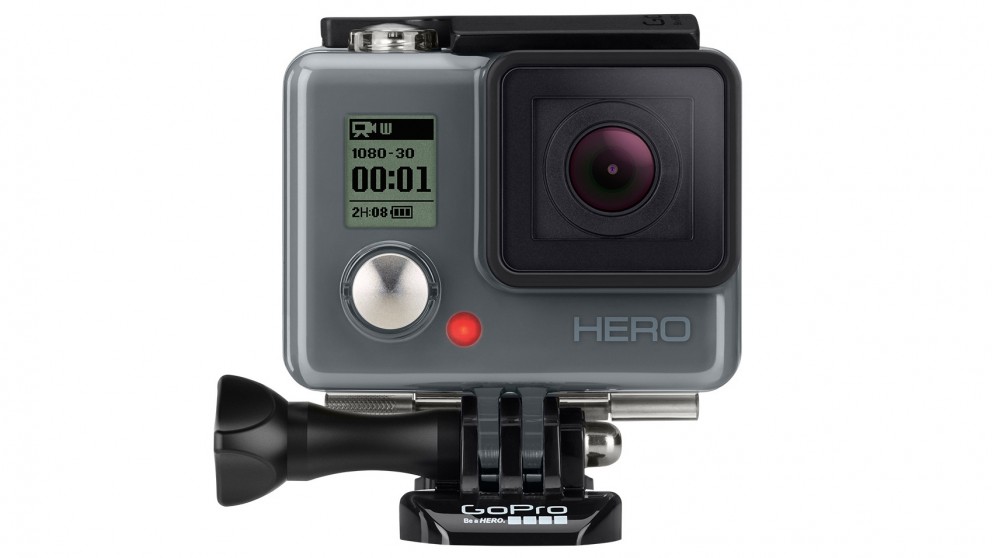 For a great gift at a super price this Christmas you can't go wrong with the lightweight GoPro Hero. Its signature waterproof housing is built to withstand all the dirt and sand you can throw at it on land, and then when you want to get wet this summer it can safely be taken up to 40m under water.
This GoPro features an ultra-wide lens that gives an edgy perspective to your photography, and it comes with a range of user-friendly modes, like QuikCapture for when you want to start recording with the single press of a button, and Burst Photo mode for capturing movement at up to 5 frames per second.
There's also a range of camera accessories (sold separately), such as camera mounts for your car, bike or surfboard, head and chest mounts, extra batteries and a remote control to accompany the GoPro Hero.
Included in the box with the GoPro Hero:
Hero Camera
Standard Housing (40m waterproof)
Skeleton Backdoor
Rechargeable Battery
Curved Adhesive Mount
Flat Adhesive Mount
Quick Release Buckles
USB Cable
When it comes to Christmas morning, you're the Hero of this story.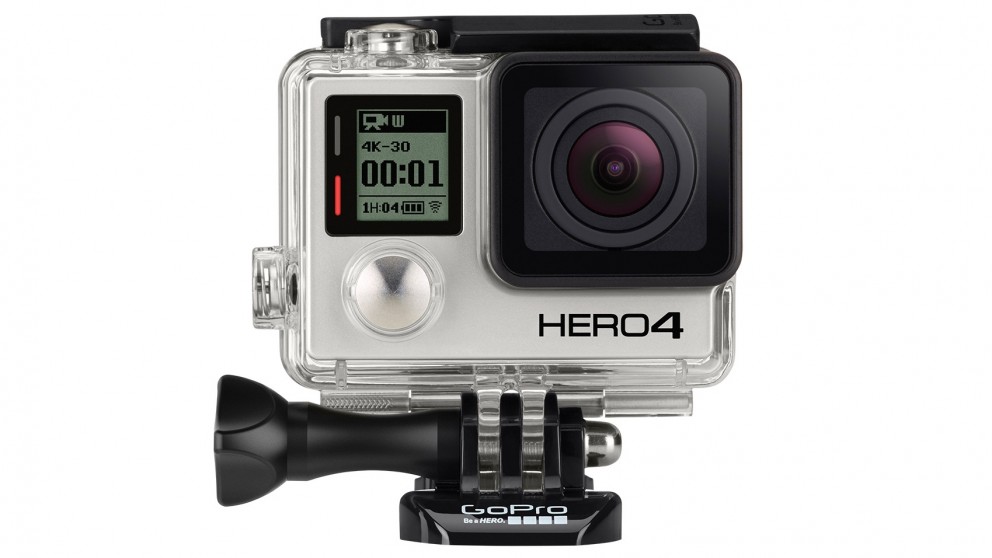 We love the rugged, yet lightweight GoPro Hero4 – Silver Edition, and not just because it's packed with amazing features like built-in Wi-Fi, impressive lens quality and generous battery life. This GoPro Hero4 makes light work of recording, editing and sharing.
Convenience is key with this clever action camera. A user-friendly touchscreen means controlling the GoPro is so super easy, anyone can do it. This built-in touchscreen lets you manage a range of features such as previewing shots, content creation and playback and one-touch editing to name a few.
Of course the GoPro Hero 4 – Silver Edition packs a punch in the specs department too, so when it comes time to unwrap this action camera on Christmas morning you can rattle off a list of impressive features like fast Wi-Fi and Bluetooth, 12 megapixel photos (in up to 30 frames per second), QuikCapture mode and GoPro Studio editing software built-in.
As with all of the GoPro models, there's a range of camera accessories that are sold separately that cover your needs in terms of mounts, batteries and much more.
Included in the box with the GoPro Hero4 – Silver Edition:
Hero4 – Silver Edition Camera
Standard Housing (40m waterproof)
Skeleton Backdoor
Rechargeable Battery
Curved Adhesive Mount
Flat Adhesive Mount
Quick Release Buckles
3-Way Pivot Arm (Mounting Hardware)
USB Cable
Ready, Steady, Record!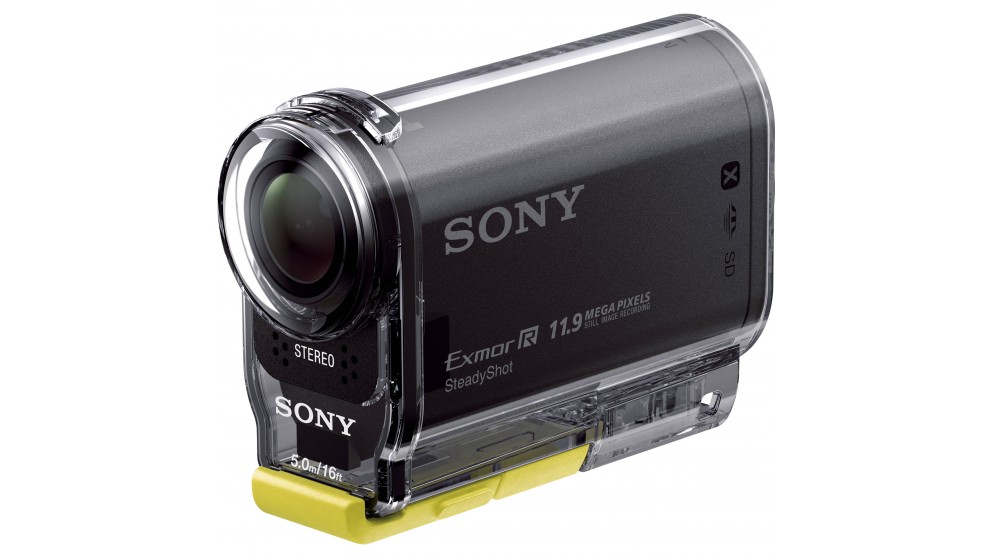 Next on our list is the Sony HDRAS20 HD Video Action Camera, a portable powerhouse of outstanding filming features in a lightweight and easy-to-use body.
Even when the Sony HDRAS20 is faced with less than ideal shooting conditions such as low-light and excessive movement, it rises to the occasion, utilising an arsenal of thoughtful features such as SteadyShot Image Stabilisation and a powerful Exmor R CMOS Sensor, to ensure only the highest quality images and footage are captured.
Sony's Full HD video camera with Wi-Fi capabilities supports full HD recording while an extended battery life provides up to 150 minutes of recording time, more than enough to capture all the highs and lows on the ski slopes, the fast-paced goal action on the soccer field or that fun-filled Christmas Day game of backyard cricket.
Of course there's a range of accessories to go with the Sony HDRAS20 Action Camera including mounts and casing (sold separately).
What's In The Box:
Rechargeable Battery Pack
Micro USB Cable
Operating Guide
Waterproof Case
Adhesive Mount
TomTom's new addition to the action camera market is the feature-packed Bandit Action Camera. This state-of-the-art 4K HD video camera is designed to make editing and sharing videos fast and easy while on the go.  This fantastic little camera performs brilliantly in a variety of environments and action settings, and with a hot new price just in time for Christmas, the time is right to unleash your inner Bandit.
To learn more about this amazing action camera and its innovative range of accessories check out our blog here.
Are you ready to take action and start your Christmas shopping?  Buy online today – you can chat to our friendly Live Chat specialists for expert advice, or visit your local Harvey Norman store.