It's footy season all year round – when the business end of both the NRL and AFL wraps up for the teams that performed strongest all winter, the beginning of a new summer of A-League soccer unfolds. Barrack for the boys as they strive for ultimate glory – you don't want to miss a single minute of the excitement. Set up your home entertainment package so it's the next best thing to being at the game – full high definition and surround sound puts you in the middle of the action. Harvey Norman, the home entertainment specialists, has all your TV & Audio needs covered this football season and beyond. Go team!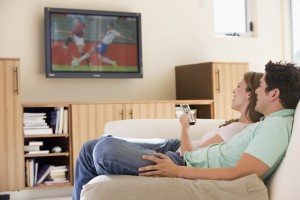 Televisions – Watch It On The Big Screen
For maximum visual impact during the footy aim for the largest screen that fits your entertainment space. Pay attention to matching the screen size with the distance between it and the viewer (known as the "viewing distance"): too close and you'll be overwhelmed by the images onscreen; too far and you'll be underwhelmed.    
Choose from these types of TVs, all of which boast unique advantages:
Plasma – wider viewing angles, so you can get more mates over for the big game. 
LED LCD – superior colour that's almost like you're watching the match live at the stadium. 
Laser Projector – the ultimate in large screen viewing, the LG Laser Display boasts a massive 100" screen.
For fast-paced action, like Aussie Rules, Rugby League and soccer, it's best to watch on a TV with a quick response time and refresh rate – these directly impact the screen's ability to show fast-moving images, well-defined edges and smooth transition from picture to picture.
PVRs – Let's Go To The Replay
Watching the game uninterrupted — or live — just isn't always possible, so PVRs (aka Personal Video Recorders) let you record and watch a replay of it, with some really nifty features to boot:
Electronic Program Guide (EPG): Gives you info about the time, date and classification rating of programs, including the footy.
Timeshift: "Pause" or "record" a live match, then continue watching later from exactly where you left off.
Chase Play: Play back a game while it's still recording, plus skip past commercials and replays.
Picture-In-Picture (PIP): Have one channel playing in a small corner of the screen while watching another, perfect if there are two sporting events on at the same time.
Hard Drive: From 320GB up to 1TB, you can just about record your team's entire season in high definition.
Home Theatre – Realistic Sound From The First Whistle
Add another dimension to your home entertainment experience by creating a "stadium effect", where the crowd sounds like it's erupting around you and the commentators are sitting right next to you. Choose an out-of-the-box solution from a range of Home Theatre Systems or mix 'n' match your own with any combination of AV receivers, speakers and soundbars.