As the National Category Manager (Audio & Special Projects – Technology & Entertainment) at Harvey Norman, one of the perks of Michael Paronetto's job is being exposed to some of the most exciting products in Home Entertainment. And right now, he's most excited about multi-room wireless systems, sounders and sound plates from brands like Sonos, Jongo, LG, Yamaha, Sony, Panasonic and Samsung.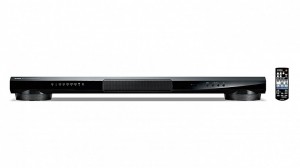 Multi-room wireless systems give you the ability to play music when you want it, how you want it… anywhere in the house. As Michael explained: "You can stream music services — such as Pandora, Spotify and iTunes Radio — or your own music library from devices like smartphones, tablets and laptops to one or multiple speakers using your wireless network infrastructure. So you can have a party at home with all your speakers playing the same track or rock out doing the housework while your better half relaxes on the couch listening to their own music".
On the other hand, a soundbar offers a seamless audio solution for customers with smaller rooms or those who prefer a minimalist home theatre set-up. "As televisions are becoming slimmer, their sound quality is being compromised. Due to the simplicity of soundbars they allow the customer to experience better sound from their TV and offer an easy gateway to a full home theatre system", said Michael.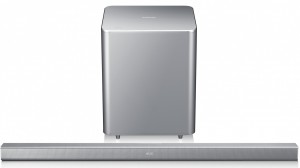 Soundplates are a slight variation on the soundbar, with the TV sitting on the unit like a base-plate; they are uncomplicated as everything is contained in the base, including the subwoofer ports. "Soundbars and soundplates are becoming increasingly popular and this year all brands have a strong line-up with great features and slick designs", Michael offered, "Some brands will be able to connect with their multi-room speakers and soundbar to create a 'wireless eco-system'".