Just when we thought the flat-screen had become the new style standard of television, Samsung has thrown us this curve ball.
So, what is the theory behind Samsung Curved UHD LED TVs? Samsung believes that if our eyes are naturally curved, our TV screens should be, too. 
The innovative, ergonomically-curved screen gives a near 180-degree angle for an immersive, cinema-like viewing experience. As the viewer, you're practically enveloped by the dynamic curvature of the display panel – images come to life thanks to the televisions' "wrap-around" effect. You enjoy a wide field of view with maximum visuals – just like on the silver screen!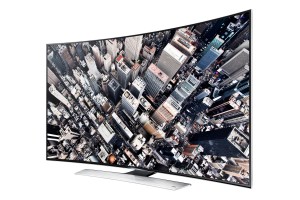 As well as the improved viewing angles, there is some benefit in curved displays not reflecting light behind the viewer at the screen's edges. 
Aesthetically, the smooth, sweeping arc of these Samsung televisions adds visual interest over their flat-screen foes, as well as elegance to any living space. In fact, the curved motif extends to other parts of the TVs too, including the stand and sound bezel.
Technically, Samsung Ultra High Definition (UHD) Curved TVs boast features such as:
A built-in Quadmatic picture engine, UHD Dimming, 1200 Clear Motion Rate and an UltraClear Panel for an awe-inspiring 3,840 x 2,160 resolution picture.
Samsung's Smart Hub web browser, On TV, Multi-Link Screen (Quad) and access to apps.
Voice and motion control, plus built-in face recognition software, which detects who's watching, then recalls apps and other information specifically for that person.
Video upscaling for superior picture quality of TV shows and Blu-Ray discs.
Samsung UHD and 3D audiovisual capabilities for a total home entertainment experience.
We experienced these amazing features for ourselves when we attended the launch of these new Curved TVs at Sydney's Hordern Pavilion. It's not until you compare to other televisions that you truly appreciate the quality and natural richness of the life-like pictures and colours, the crisp quality of the Samsung Sound products – essentially, they create a music network connecting to a range of wireless speakers throughout the home and controlled via apps available for iOS and Android smart devices.
So, where can you get up close and personal with these show-stopping products? Harvey Norman, of course. Samsung Curved UHD LED TVs are on display in selected stores now, so contact your local Harvey Norman store for details. 
Surround yourself with the sensory depth of Samsung Curved UHD LED TV!