Have you ever walked into a computers store or searched for a new laptop online, only to be completely overwhelmed by choice?
It's not easy searching for a new device. Technology moves so quickly, and there are so many options out there, that customers can often be completely bamboozled by the number of choices before them. What laptop is best for me? Do I need dedicated graphics? What's the difference between an SSD and a HDD? How much RAM do I need?
That's where Harvey Norman can help you.
We've hand-picked a selection of laptops that fit into four different categories to suit a variety of needs and lifestyles. Forget the overload of confusing choices – read our laptop buying guide below for the best laptops that meet your requirements.
Under $500
A great all-rounder for families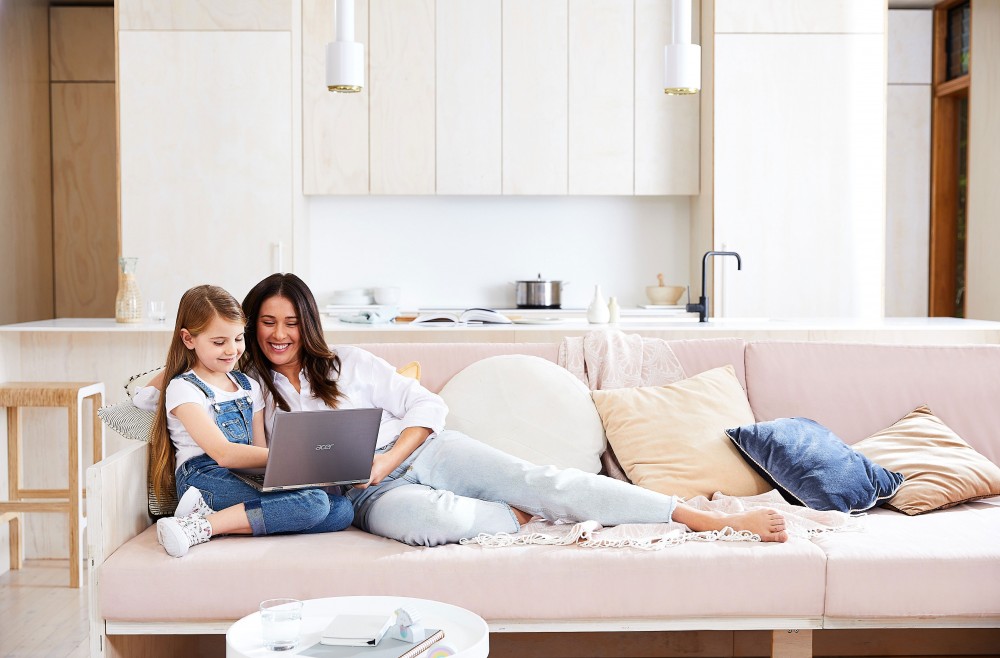 The 'Computers Under $500' category features laptops that represent great value for money. These laptops are a great all-rounder option for families, as they're perfect for surfing the web, researching topics for a school assignment or typing up essays. They include all the features you need and nothing you don't, so you're not paying extra for things you don't need.
Jenny is a part-time medical assistant and a full-time mum.
"When I get home from work, I like searching for fun new recipes on the web, doing a bit of online shopping and helping the kids with their homework, so I need a device that works for everyone in the house. I also need something that lets the kids surf online safely, and protects me when I do any online shopping."
The Acer Spin 1 2-in-1 Laptop is a great choice for Jenny, as it features everything she and her family need in a laptop, and it's great value for money.
Geek speak: Intel® Pentium® processor, 4GB RAM, 64GB storage, shared graphics, 11.6″ Full HD touchscreen, Windows 10 S.
Break it down: The Pentium® processor combined with 4GB RAM can easily handle everyday tasks such as web browsing, streaming YouTube videos, and downloading small files. The processor has often been called the "brain" of the computer, interpreting instructions and data to give you your desired results. If you think of the processor as the "brain", then the RAM is like the computer's "short-term memory". 4GB RAM will be able to handle web browsing and streaming, so long as you don't have 30 or more tabs open on your desktop. Just like a human, if you give a computer with 4GB RAM too many tasks to do at once, it won't do any of them quickly or efficiently. However, if you ask it to perform a few small tasks at once, it will do them perfectly.
This Acer Laptop also features the added benefit of a touchscreen, which makes it a versatile option for using anywhere in the house. Place it on the kitchen bench to display your new-found recipes while you cook; use it like a pad of paper to doodle on; or use it like a traditional laptop and type up an assignment.
But what about security? The benefit of Windows 10 in S Mode is that it offers you a more streamlined and more secure experience, as it only uses verified applications from the Microsoft Store. The sophisticated protection of the Microsoft Edge browser also gives you extra peace of mind when you're shopping online, and it means that you save money by not having to pay extra for expensive security software.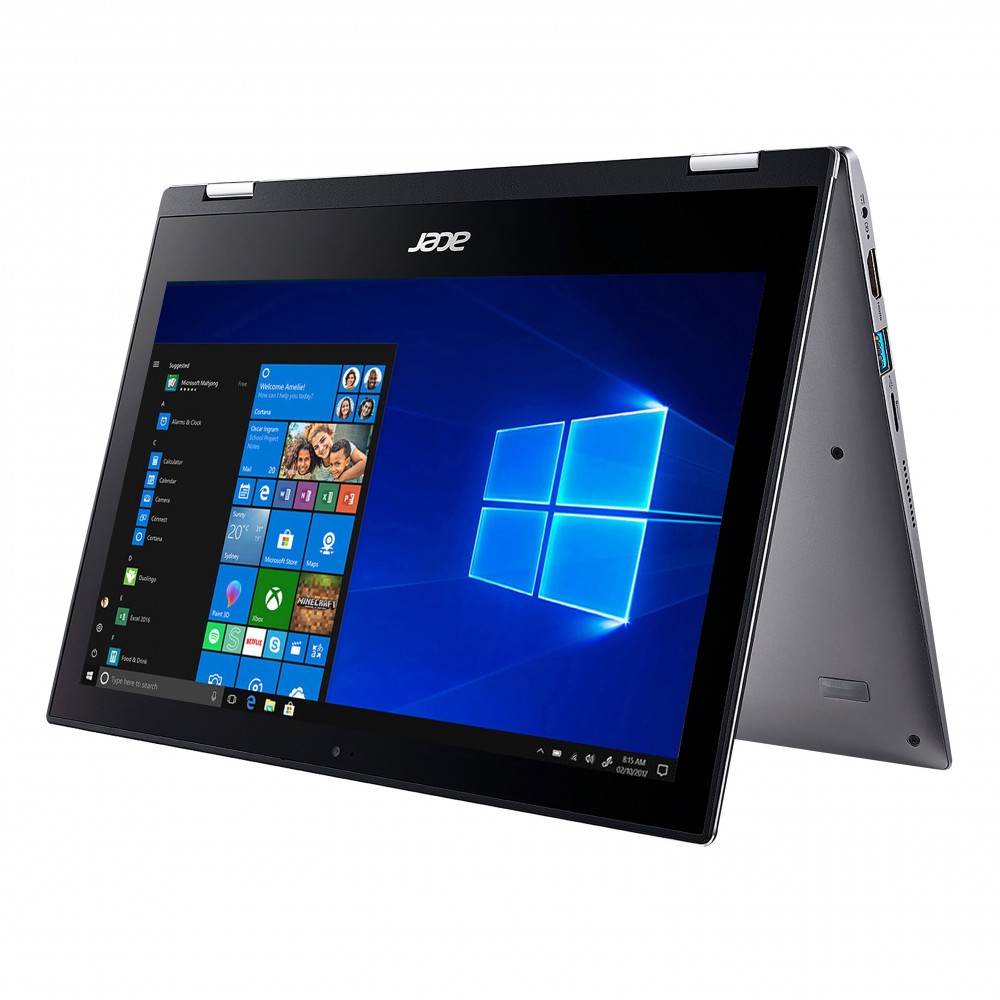 Want more options?
Geek speak: Intel® Pentium® processor, 4GB RAM, 64GB storage, shared graphics, 14" HD screen, Windows 10 S.
Break it down: Like the Acer Spin 1, the Acer Aspire Laptop features a Pentium® processor and 4GB RAM, with Windows 10 S for added security and ease of use. Its point of difference is its much larger 14" screen. The larger screen also means that you get a bigger keypad, which is helpful for those who prefer a traditional keyboard over the use of a touchscreen, or those who know it will primarily be used for typing up school assignments.
Geek Speak: Intel® Pentium® processor, 4GB RAM, 64GB storage, shared graphics, 11.6" HD touchscreen, Windows 10 S.
Break it down: For an easy-to-use, family friendly device for everyday use, you can't go past the Asus 2-in-1. Asus computers are known for their innovative engineering, which always keeps the user experience at the core of their design. With a Pentium® processor, 4GB RAM, versatile touchscreen and lightweight design, this is a great choice for families who need a shared device for use around the house.  Plus, its trendy blue chassis makes it stand out from the crowd.
Modern PC
Perfect for busy professionals or Uni students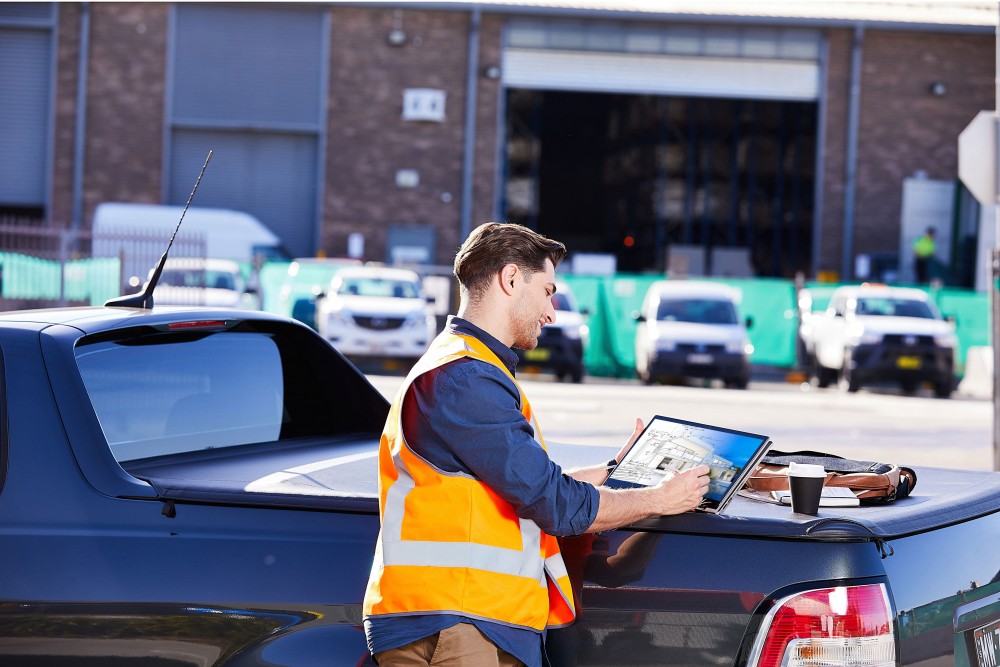 So, what makes a 'Modern PC'?
Think back ten years ago to the type of laptops we were using. They were big, clunky machines that required you to always carry around an equally cumbersome charging cable because the battery life was so short and could barely last you 'til lunchtime.
These days, modern laptops are being built to be thinner, lighter and faster than their predecessors. They also offer a long-lasting battery that's designed to last throughout your busy day, so there's no need to carry around a heavy charging cable.
Sam works as a representative for a large construction company.
"On any given day, I could find myself driving across town to a construction site, meeting with colleagues for a business lunch, and then working from home in the afternoon. I need a laptop that can keep up with my jam-packed schedule and won't let me down when the pressure's on. I need it to be thin and portable enough to fit in my bag, but I also need it to be powerful enough to handle multiple tasks at once."
Sam needs a Modern PC like the HP Pavilion x360 2-in-1 Modern PC. This HP laptop is a great choice for a busy professionals like him, as it hosts some seriously impressive specs beneath its sleek, lightweight exterior.
Geek speak: Intel® Core™ i5 processor, 8GB RAM, 128GB SSD + 1TB HDD, shared graphics, 14" Full HD touchscreen + active stylus, Windows 10.
Break it down: If you want a powerful and responsive processor that can handle just about anything (including 4K content), then look no further than the Intel® Core™ i5. This, combined with a generous 8GB RAM, means the HP Pavilion x360 is a capable work companion that's ready to go whenever you are. Whether you're giving a presentation, downloading a huge stack of files from a client, or maybe even relaxing at home after a hard day and streaming the latest movies, the HP Pavilion will get the job done.
You also get the best of both worlds with a 128GB SSD and a huge 1TB HDD. The SSD (Solid State Drive) gives you almost instantaneous start-ups, and means you won't be sitting around wasting your precious time (or your clients') while you wait for things to load; while the 1TB HDD (Hard Disk Drive) gives you ample storage space for all your photos, files, documents, videos and more.
With its 14" touchscreen, the HP Pavilion is also a great choice for those who like to see the big picture and who like to think creatively. Work however you want, wherever you are, with the added benefit of the intuitive active stylus pen.
Want more options?
Geek speak: Intel® Core™ i5 processor, 8GB RAM, 256GB SSD, 13.3" Full HD touchscreen + active stylus pen, Windows 10 Home.
Break it down: This is a great choice for people who are always on the move. Its 13.3" touchscreen is just the right size for working at the office or while you're out and about, and the 256GB SSD gives you more security than a HDD. An SSD has no moving parts (unlike a HDD), which means it can handle being jostled around in your bag as you hop in an out of cabs and zip between meetings.  While a HDD has more storage capabilities, it does not have the same travel-friendly design of an SSD.
Geek speak: 8th Generation Intel® Core™ i7 processor, 8GB RAM, 256GB SSD, shared graphics, 14″ Full HD touchscreen + active stylus pen, Windows 10.
Break it down: The latest generation of Intel® processors are built for power and speed, and the superior Core™ i7 has been engineered for just that. Your productivity levels will skyrocket once you realise the potential of this powerful processor. Paired with a generous 8GB RAM, the Lenovo Yoga is designed for the demands of modern life.
Gaming
For players of all levels who are serious about gaming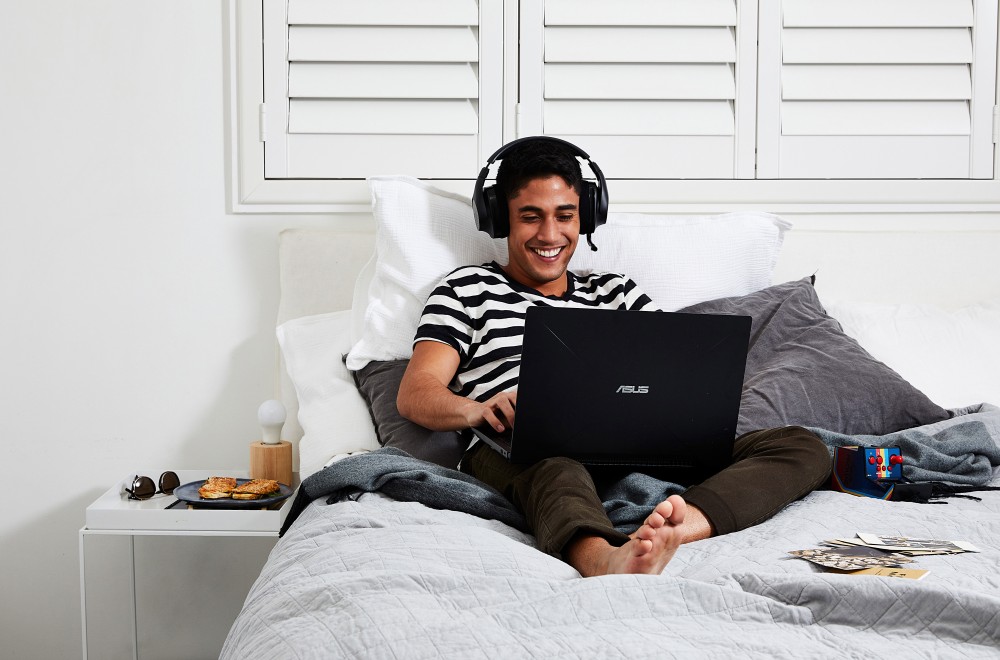 There's a huge range of laptops out there available for gamers. But if you're just getting into the gaming sphere, or perhaps looking to upgrade your device to a serious gaming laptop, where do you start?
How much RAM do you need to ensure lag-free gaming? What size graphics card will give you pixel-perfect visuals? How much do you care about RGB lighting?
Our 'Gaming' category features a huge range of laptops available for players of all levels. One thing's for sure, though – all the laptops in this category are designed to give you the edge you need to crush your competition.
Gav is a full-time student who also balances a casual job. When he's not at Uni, working on an essay or at his part-time job, he likes to spend his time gaming.
"While I don't spend every waking hour gaming, I find it's a great way to relax when I have a little down time, and I love playing online with friends. I want a gaming laptop with dedicated graphics to give me good visuals, and I need enough RAM to make sure there's no sketchy, laggy gameplay if I'm online. Plus, if it's super portable, I can take it with me to my Uni lectures and use it to work on my assignments!"
The ASUS ROG FX503 Gaming Laptop is an awesome choice for Gav, as its host of specs have been engineered for an overall awesome gaming experience.
Geek speak: Intel® Core™ i5 -7300HQ processor, 8GB RAM, 128GB SSD + 1TB HDD, 3GB GTX 1060 graphics, 15.6″ Full HD screen, Windows 10.
Break it down: The ASUS ROG FX503 Gaming Laptop features a swag of impressive specs that make it great for casual gamers and players who want to upgrade their everyday laptop to something with a bit more oomph.
The 15.6" screen is larger than you would find on most non-gaming laptops, which gives you a better view of the battlefield – but it's still portable enough to take with you to a mate's LAN party or to class.
The hybrid storage gives you more than enough space to store all your games, media files, and more, while the 3GB GTX 1060 graphics will give you a more immersive experience than a laptop with shared graphics. You'll notice sparkles on the water, deeper shadows, finer facial expressions, more detailed architecture and overall more impressive cinematic sequences  – among other things.
3GB is considered the minimum size VRAM (Video Random Access Memory) required to play most modern games, but combine this with the overachieving NVIDIA GTX 1060 graphics card and you'll be more than impressed with its performance.
All these features, plus its battle-ready design, combine to make this a formidable weapon of choice for casual gamers.
 
Want more options?
Geek speak: 8th Generation Intel® Core™ i7-8750H processor, 16GB RAM, 128GB SSD + 1TB HDD, 4GB GTX 1050 graphics, 15.6″ Full HD screen, Windows 10.
Break it down: With Intel's latest generation Core™ i7 processor and a whopping 16GB RAM, this MSI gaming laptop is designed to go the distance. The 4GB GTX 1050 graphics offer you fast, crisp gameplay that's unbelievably smooth, while the combined SSD and HDD storage gives you the best of both worlds.
Predator Helios 500 17.3-inch Gaming Laptop.
Geek speak: 8th Generation Intel® Core™ i7-8750H processor, 16GB RAM, 256GB SSD + 1TB HDD, 8GB GTX 1070 graphics, 17.3″ Full HD screen, Windows 10.
Break it down:  You've heard the phrase, "Don't bring a knife to a gunfight". I'm here to tell you there's no better weapon than the Predator Helios when it comes to any kind of fight – guns, knives, whatever.
The 8th Gen Core™ i7 processor and 16GB RAM form a killer combination, so no matter how intense your mission gets, they won't let you down when the pressure's on.
In addition, you have the mind-blowing 8GB GTX 1070 graphics, which can handle even the most graphic-intensive games. Offering unrivalled speed and power, you'll be amazed by just how crisp and clear your visuals become.
Surface
For stylish professionals who need the latest tech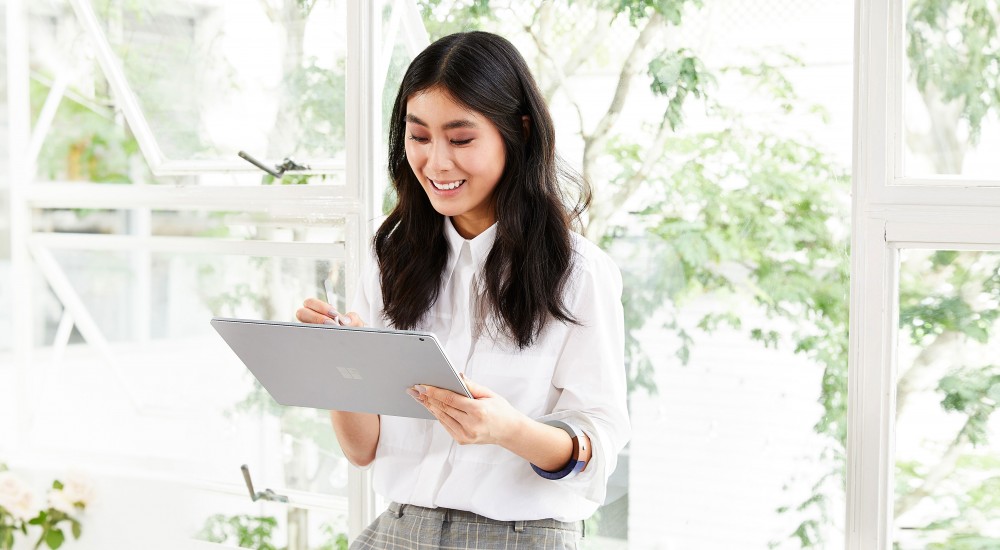 The 'Surface' category features (yep, you guessed it!) the latest Microsoft Surface products. Because there is such a wide variety of different Surface products, they have their own dedicated category.
While the specs of each Microsoft Surface product vary, they all have one thing in common: they're sleek, stylish, and always on-point. It's a true blending of fashion and functionality.
That's why Microsoft Surface makes such a great choice for style-savvy professionals and creatives alike.
Lyn is an interior designer who owns and manages her own business. She often works from home, but is also frequently out and about, meeting clients to discuss ideas. She also likes to get outdoors to find inspiration in nature.
"I want the best and latest technology at my fingertips, but I want something that looks good, too. I like to stay flexible and work on the fly whenever I think of a new idea, so I need something that can keep up with my million-mile-an-hour thought processes, and it needs to give me the flexibility to work however I need to.
"When it comes to the sort of programmes I use in my job, I need to know that my laptop can work at max capacity with no dramas. I can't afford to invest in an unreliable device when I have clients relying on me. I need something that can keep up with me, day in and day out."
The Microsoft Surface Book 2 13.5" is a great option for Lyn, as it combines all the best features of a laptop and a tablet in one, with none of the drawbacks.
Geek speak: Intel® Core™ i5 processor, 8GB RAM, 256GB SSD, shared graphics, 13.5″ touchscreen, Windows 10 Pro.
Break it down: Thanks to its powerful Intel® Core™ i5 processor, the Surface Book 2 is capable of running sophisticated programmes. The 8GB RAM is also more than capable of juggling multiple tasks at once. Stream the latest tunes while you're working on your upcoming project, or download a movie while surfing the web for ideas.
Its 256GB SSD allows for a decent amount of storage, while also giving you lightning fast access to all your files and applications, as well as fast start-ups.
One of the best things about the Surface Book 2 is all the versatile ways you can use it. Unlike other 2-in-1 devices where the keyboard folds back to sit beneath the screen, the Surface Book 2's keyboard actually snaps off, so you can use it just like a tablet. In addition to this, you can also use it in Studio Mode to paint, scribble and sketch with the Surface Pen*¹, edit, create and type in Laptop Mode, or watch videos or make presentations in View Mode.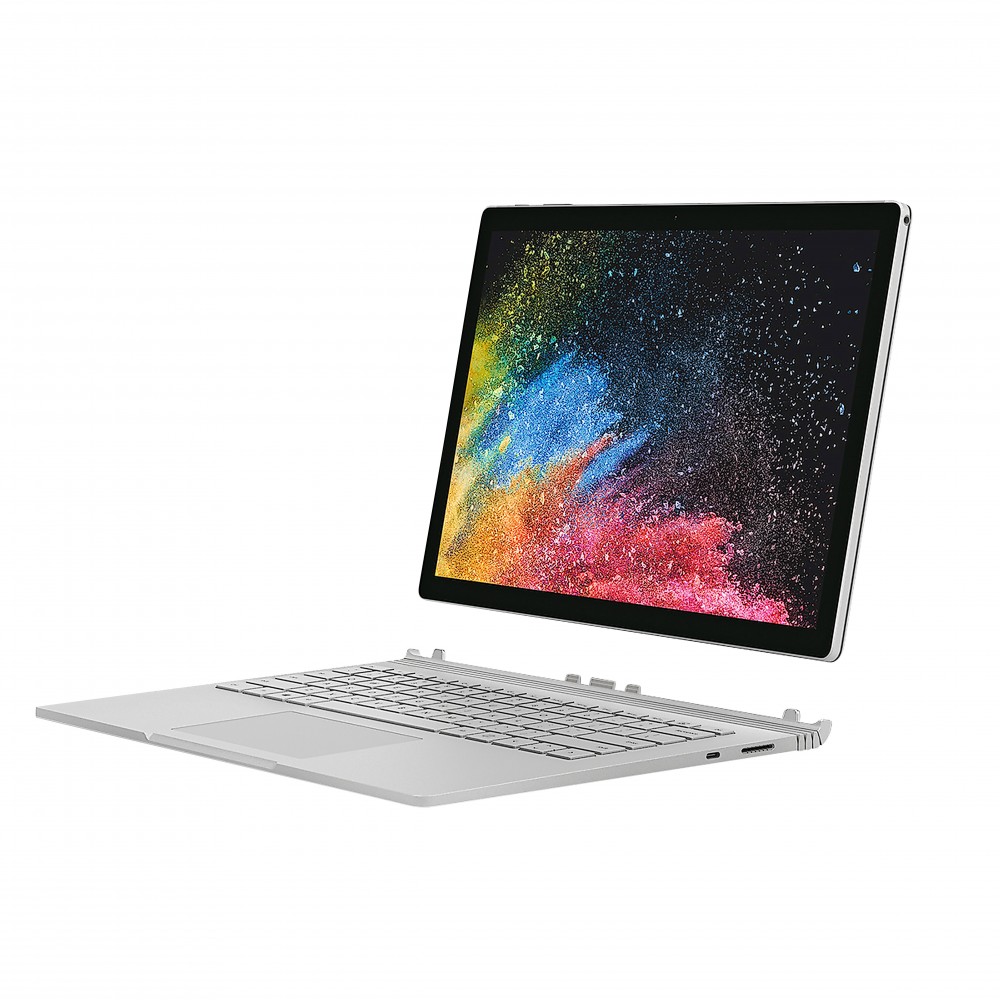 Want more options?
Geek speak: Intel® Core™ i7 processor, 16GB RAM, 256GB SSD, 6GB graphics, 15″ touchscreen, Windows 10 Pro.
Break it down: The Surface Book 2 15" is the big brother to the Surface Book 2 13.5" model. It's not just the screen size that has increased – the 15" model features a massive 16GB RAM, an unbelievably powerful Core™ i7 processor and a dedicated 6GB graphics card.
The extra boost you'll get from the upgraded processor combined with 16GB RAM will be instantly noticeable for those who need to run multiple sophisticated programmes at once. The dedicated graphics will also be a welcome addition for anyone who likes to combine business with pleasure and get a little gaming done on the side when they're away from the office.
Geek speak: Intel® Core™ i5 processor, 8GB RAM, 256GB SSD, 12.3″ touchscreen, 4G connected*² Windows 10 Pro.
Break it down: The Surface Pro with 4G is the ultimate companion for those who need to be connected no matter where they are in the world. Through the Surface Pro's 4G connection*², you can maintain a constant internet connection, even in places with no available Wi-Fi. Whether you're driving interstate for a conference, checking emails in between meetings or updating the latest entry of your travel blog as you watch the sunset over a secluded mountain range, the Surface Pro with 4G will keep you constantly connected.
It's also lightweight and portable, with a 12.3" touchscreen that is the perfect size for travel. But don't let that sleek design fool you – it also features a capable Core™ i5 processor and a 256GB SSD.
Type cover and accessories for the Surface Pro with 4G are sold separately.
Have we made your choice a little easier?
Finding the right device can be a long and arduous process, but we hope we've been able to narrow your choices a little and help you get an idea of what you need!
If you're ready to buy, you can shop online and also see the rest our full range of products; or you can drop into your local store and talk to the friendly Techteam members about finding the right device to suit your needs.
*1. Surface Pen is sold separately.
*2. Data connection through Australian mobile carrier required. Service availability and performance subject to service provider's network. Contact your service provider for details, compatibility, pricing, SIM card and activation. Data charges may apply.