Harvey Norman is your number one destination for cameras. And now you can create photo albums online using your Facebook photos with Harvey Norman's printpix, beginning at just $19.99 and conveniently delivered to you.
Whether it's fluoro, pastel or black and white, capturing colour in your photography is an important skill. Here, the printpix Photography Series presents some tips and techniques you can use when shooting family, friends or landscapes.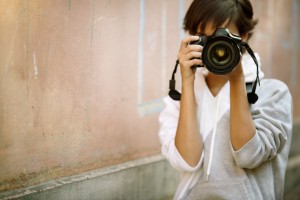 Getting The Colours Right
Digital cameras, especially point-and-shoot compact cameras, will try to auto-correct your photos, but sometimes they just get it wrong.
Colour balance: A digital camera's sensors automatically balance colours in the photo to get them as close to real-life as possible. Check your camera's user manual, learn how to adjust the colour balance and test to see what difference each adjustment makes.
Correct exposure: If a shot is exposed too long, the colours in the photo will appear "washed out".  If the shot isn't exposed long enough, the picture will be too dark. If you take a photo of someone wearing dark clothes against a dark backdrop, your camera's automatic settings will usually over-expose to compensate for what it thinks is poor lighting.
White Balance For Realistic Colours
Lighting can effect the way in which colour is reproduced in your photos. For example:
Fluorescent lighting is very cool, giving off strong green and blue tones.
Incandescent light (also known as "Tungsten"), like that from a light bulb, is very warm and can give strong, yellow tones to your shots, especially if shooting indoors without a flash.
Your camera's white balance feature will help get the right colours in your photos. Most digital cameras have pre-set white balance settings; pick the one that's appropriate to your situation.
The Impact Of Black And White Photography
Black and white photography strips back an image by removing the colours – it's simply about the black, the white and the shades of grey in between. You're forced to concentrate on shapes within the images and for this reason the following aspects become very important in black and white photos:
Form – When you remove colour from an image, shape becomes the focal point in a scene.
Contrast – Shade helps your main subject stand out and adds depth.
Patterns and textures – These appear more prominently once colour is removed.
Lighting – This influences all of the above elements.
Simple Tips For Using Colours
Look out for bursts of colour.
Find complementary or contrasting colours; alternatively, focus on a single colour.
Seek out patterns — such as lines, textures, forms, and shapes — to create a sense of harmony in your photography.
Use natural or other sources of light and try to avoid using your camera's flash where possible.
Don't forget to check out the rest of the printpix Photography Series: