Put together photo albums online using your Facebook pictures with printpix. It's brought to you by Harvey Norman, your digital cameras specialist. Prices for these photo books begin at only $19.99 and they're conveniently delivered to you.
Once you've decided on your subject, setting up the shot properly – by selecting a location, composing the shot and cropping it effectively – is crucial in achieving a fantastic photo, as you'll learn in this chapter of the printpix Photography Series.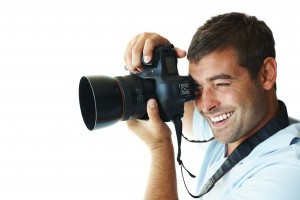 Choose Your Location
You can make a great location anywhere. Find a simple, uncluttered background or move anything distracting from the frame of the photo. The beach, or perhaps a leafy park, is a great starting point for your location photography.
Cropping Effectively
"Cropping" is the act of framing your shot, cutting away unnecessary parts of the photo to help focus the viewer's attention.
When taking a photo of the entire subject, make sure you get the whole of them in the shot. For example, try not to cut off the top of their head.
If you're trying to capture someone's smile, then a tight crop from the top of their head to the middle of their torso will look great.
Everything must be in proportion and well-balanced. For example, a close-up shot of a newborn baby's hand or foot can be a simple yet effective photo.
Be Ready At All Times
Life is unpredictable, so you need a camera that is fast and takes the photo as soon as you press the shutter.
Try following your subject in the viewfinder and snapping the button as they are running along.
Use your zoom lens or move closer to the action so you can fill the frame; a small dot in the middle of a green field doesn't make an interesting photo.
Get down low and shoot from the subject's level to increase the impact.
Take Great Photos Of Kids
Children are honest subjects and they'll let you know if they're hot happy, so the trick is to make the photo session fun. Let them play a little bit, use up some energy and they'll be more relaxed once you introduce the camera. In return, this will allow you time to study the light and think about the photos you want to achieve. It all comes down to being ready and relaxed enough to capture "the moment". Sometimes it will just happen and other times you may have to give it a nudge in the right direction.
Don't forget to check out the rest of the printpix Photography Series: