Starting at just $19.99 and delivered to you, printpix by Harvey Norman — your destination for cameras — takes your Facebook photos and creates wonderful photo albums online.
Whether you're an amateur or have a bit of experience under your belt, these simple printpix Photography Series' tips and tricks are guaranteed to help you take your photography to the next level: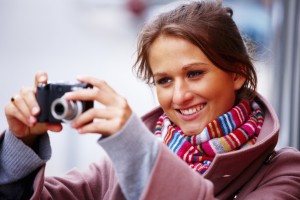 Use a simple backdrop – Before you snap away, have a look at the space behind your subject. A cluttered background is distracting, but a simple one will highlight your subject.
Get down to eye level – Position the camera at your subject's eye level. Even if they don't look directly into the lens, the angle itself will create an intimate mood and a much better image.
Get in close – Use the zoom or move in closer until your subject fills the camera's viewfinder. This way you can get rid of background distractions and focus on the details.  
Stay focused – (1) Lock in the focus to get a sharp picture (2) Frame your subject (3) Press the shutter button half-way down (4) Reframe your picture (don't take your finger off the button) (5) Press the shutter button all the way to take the shot.
Go to the edges – Get your subject to stand off-centre, or simply move the camera to the left or right of your subject, to give the photo some edge. Don't forget to lock the focus before reframing the shot because most cameras focus on the centre.
Let there be light – The right lighting leads to great photos. When photographing people, choose the soft lighting of overcast days and avoid overhead sunlight that casts harsh shadows across faces. For scenic pictures, use the colour of early and late daylight.
Use flash outdoors – Even when you're outside, use the fill flash setting on your camera to improve your pictures. In bright sunlight it'll lighten dark shadows across facial features, especially when the sun is directly overhead or behind your subject. On cloudy days, use the flash to brighten up faces against the background.  
Stay within the flash range – Check your camera's user manual to see what its maximum flash range is. Photos taken outside of that range may come out too dark.
Don't forget to check out the rest of the printpix Photography Series: