From side on, it looks like a sort of modern-day obelisk – it's unlike any other television on the market right now. The unique "Peak" design from Sony is an unbeatable combo of style and substance. It's featured on selected models, including the Sony BRAVIA Peak 55″ LED LCD TV (KDL55W950B), which is available exclusively at Harvey Norman.
So, why the pyramid-like form?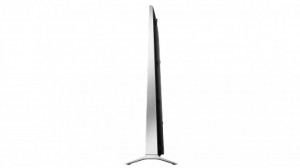 The wide base of the tapered Peak shape offers increased stability thanks to its deeper footprint. Perhaps more importantly, the additional area allows larger speakers to be built into the television for improved sound quality. As a result, you get some very impressive audio features, including:
Magnetic Fluid Speakers – Experience strong full-range home theatre sound.
Long Duct Speaker – Rich, powerful bass for extra punch and depth.
Bass Reflex Speaker – Detailed sounds, from crisp highs to extended lows.
ClearAudio+ – Hear music, dialogue and surround sound effects with greater clarity.  
TRILUMINOS™ Display
The BRAVIA Peak TV features Sony's TRILUMINOS™ Display technology, which delivers extra colours for more organic, life-like pictures. You'll be blown away by the:
Wider colour gamut than a conventional LED TV.  
Vivid and natural colour reproduction.  
Improved deep reds, aqua blues, plus emerald, mid and dark greens.
Heightened sense of depth and realism.  
What can you expect with TRILUMINOS™ Display from Sony? Incredible colour, clarity and detail!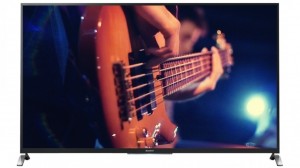 X-tended Dynamic Range™
X-tended Dynamic Range™ technology means the BRAVIA Peak television delivers as much as two times (three times in the case of X-tended Dynamic Range™ Pro) the brightness and contrast range of a regular LED TV. It works by controlling the backlight brightness levels dynamically using a Dynamic Edge LED system dimming the dark areas and boosting brightness in others where needed. What you get is brighter whites and darker blacks with smoother progression in between.
Wireless Subwoofer for BRAVIA 
You should seriously consider the optional BRAVIA wireless subwoofer, too – it gives you extra bass that's deep, responsive and oh so powerful. A 100W digital amplifier and auto EQ adjustments deliver bass that dramatically enhances your movie, music and gaming experience. The stylish and compact subwoofer will fit discreetly in any room of the house. Setting it up is simple and only takes minutes – no cables are needed and operation is easy. The wireless sub is automatically tuned for the best settings, so you have an optimum home entertainment set-up straight out of the box.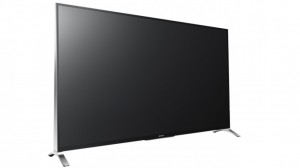 Buy A Sony TV And Score A Bonus PS4!
When you purchase a selected Sony TV — including the BRAVIA Peak 55″ LED LCD TV (KDL55W950B), as well as the BRAVIA 55″ 4K Ultra HD 3D Capable LED LCD Smart TV (KD55X8504A) — between now and 29th June, 2014 from an authorised Sony dealer, you'll score a BONUS Sony PlayStation®4*. To find out more, click here.
Experience the heights of superior sound and vision with Sony's unique BRAVIA "Peak" TVs.