TomTom's fantastic new addition to the action camera market is the feature-packed Bandit Action Camera. This state-of-the-art 4K HD video camera is designed to make editing and sharing videos fast and easy while on the go.
Perfect for a range of users from the action lover and adrenalin junkie, to the professional sportsperson and avid holiday maker, this fantastic little camera performs brilliantly in a variety of environments and action settings.
Want to know why this is the action camera you've been waiting for? Here are ten things we love about the TomTom Bandit that will make recording your next adventure so much easier: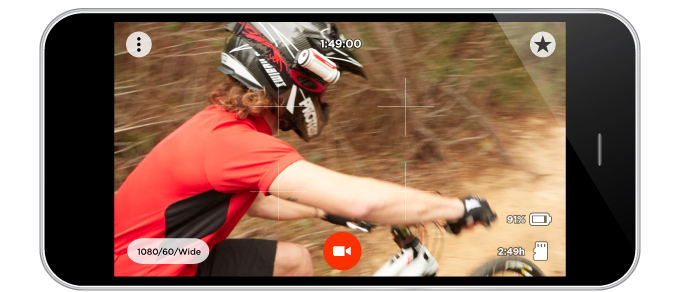 1. QUALITY VIDEO – At the heart of every good camera is excellent video quality, and the Tom Bandit delivers crystal clear, crisp HD 4K video recording with a high resolution performance of 1080p60/720p120, not to mention the ability to shoot stills in outstanding 16MP resolution.
2. DATA VISUALIZATION – Ideal for action sports such as cycling, skiing and snowboarding to name but a few, the TomTom Bandit lets you display your activity including speed, location and altitude, for a quick and easy analysis of your stats to help improve your performance.* *Android and iOS supported. Data visualisation limited to iOS devices. Smartphone shown in picture not included.
3. TIME LAPSE AND SLOW MOTION – TomTom Bandit boasts a range of shooting modes to enhance your footage such as time lapse, which allows for inspiring transition footage like a brilliant sunset or sunrise, as well as slow motion mode which is an effective way to highlight your most impressive moments!
4. WATERPROOF – Waterproof up to 50m without an additional case*, this versatile action camera can capture crystal clear shots underwater. Perfect for that scuba diving, boating or surfing adventure.
*An additional lens cap is required to be waterproof up to 50m.
5. YOU'LL NEVER MISS A BEAT! – Recording the action should never mean missing out on it yourself. There is nothing more important than staying in the moment and TomTom Bandit lets you do just that. In-camera sensors mark and tag the highlights of your adventure so you can quickly and easily find them later, ensuring that you never have to miss an important trick or maneuver.
6. SHAKE TO CREATE AND SHARE – This action camera HD camera is so intuitive that it can edit your footage quickly and easily at a shake's notice. Simply shake your Smartphone and the TomTom Bandit will select the best moments of footage to create an impressive edit that's ready to share instantly! The shake feature, which is utilised via the Bandit app on your Smartphone, is truly a unique feature among HD cameras and sets the TomTom Bandit apart from the rest.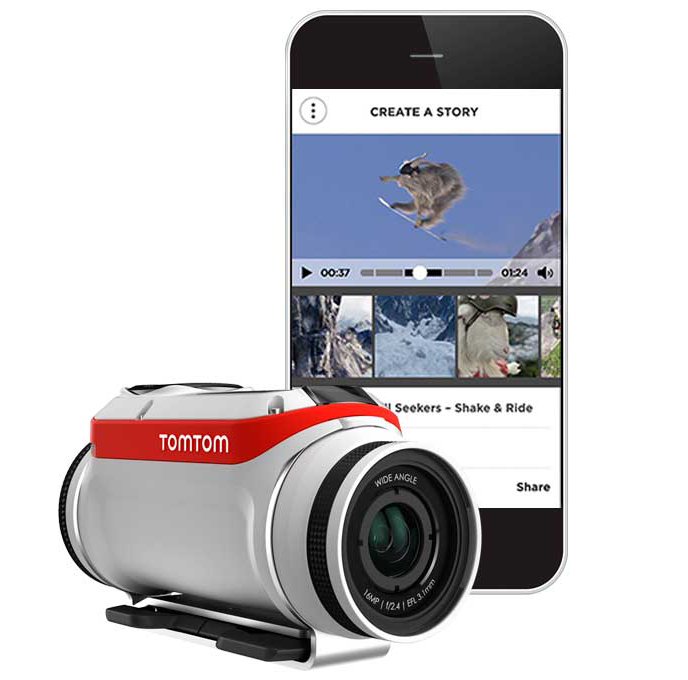 7. UPLOAD AND SHARE WHILE YOU'RE STILL UP THERE – TomTom Bandit is the first ever 4K HD Video Action camera with a built in media server that allows you to edit video without having to download it first. This means you can upload your mountain climbing adventure while you're still at the peak (or halfway up).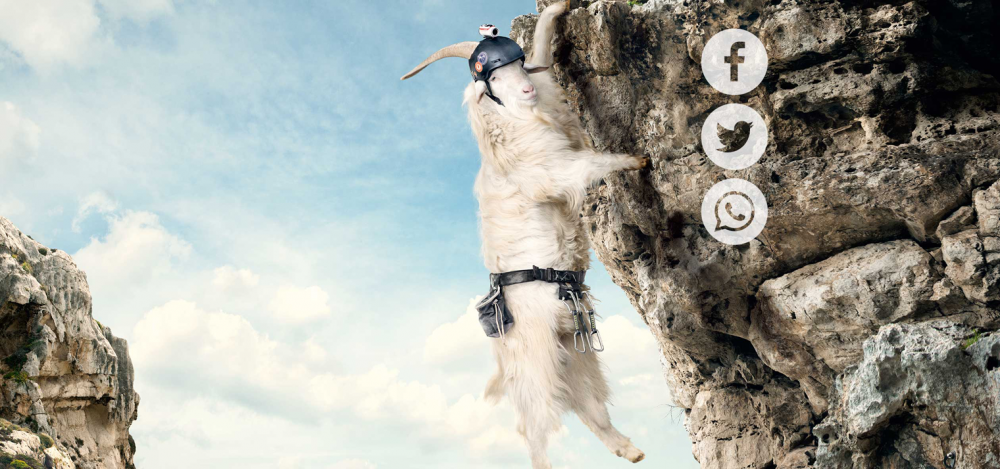 8. NO TIES, CABLE FREE RECORDING – You can record up to a whopping 3 hours of footage without cables via the integrated 1900mAh battery and microSD card. This means you can travel far and wide and still capture all the action. TomTom Bandit also includes the smart and nifty Batt-stick which allows for efficient charging as well as easy transferring of footage onto computer. Simply remove the Batt-Stick and plug it into your PC!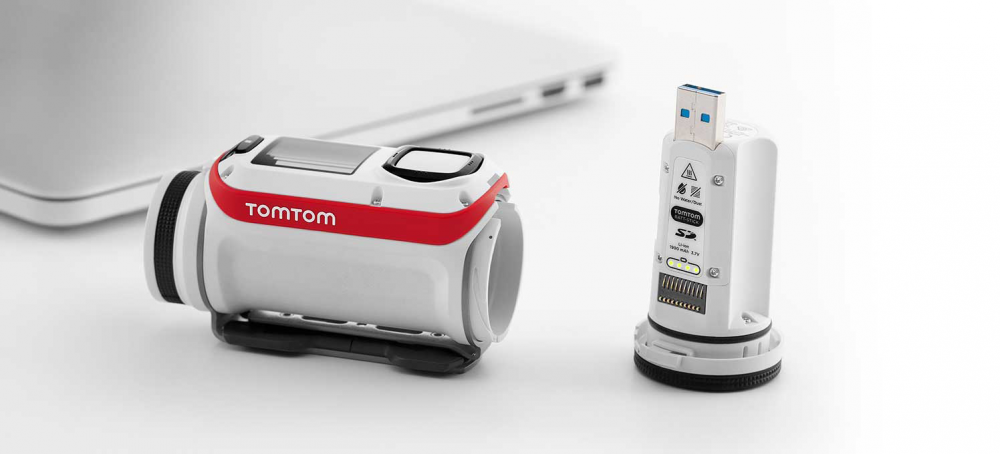 9. WORKS WITH OTHER GOPRO ACCESSORIES – TomTom has ensured that its users can still utilise their existing action camera accessories with the TomTom Bandit. This compatibility is a big plus for computers, and makes for a seamless and user-friendly experience.
10. TESTIMONIALS FROM THE PROS – Who better to judge the performance of the unique and innovative TomTom Bandit Action camera than professional outdoor action specialists? Tried-and-tested by the world's leading extreme sport superstars, the Bandit really is the best action camera on the market! Here's what they have to say about it:
Danny Hart (World Champion Mountain Biker) – "The Bandit is the future of action cams, makes the sharing of my run so much easier!"
Tiril Sjåstad Christiansen (Professional Freestyle Skier) – "This is a revolutionary camera, which makes it easier to film, edit and share!"
Desmond Tessemaker (BMX Racing Champion) – "This camera helps me to create the sickest content and share it in an easy way."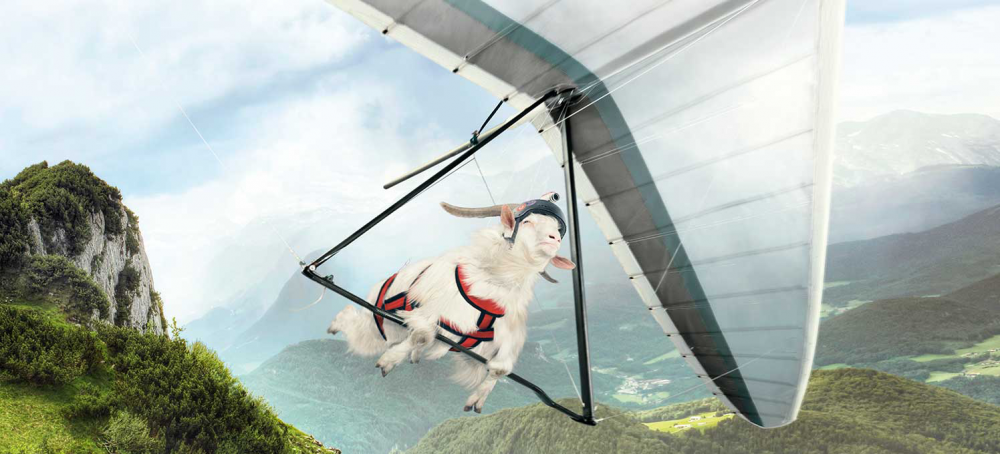 What's in the TomTom Bandit Box?
1x TomTom Bandit Action Camera
1x Batt-Stick (1900mAh)
1x Splashproof Lens Cover
1x Flat Mount
1x Curved Mount
1x GoPro Adapter
TomTom Bandit 4K Action Camera Out Now!
Want to snap up a TomTom Bandit for yourself? Shop online or visit your local Harvey Norman store to grab yours today!