What is Multi-Room?
"Multi-room" is one of the latest technology buzzwords doing the rounds. You might have heard it, but without fully understanding the concept. Well, think of it as your very own radio broadcast that's played through compatible speakers set up in various spaces in your home. Multi-room technology uses a Wi-Fi network to wirelessly stream music from your digital music library to speakers in another room – or even a number of other rooms, simultaneously and in perfect sync.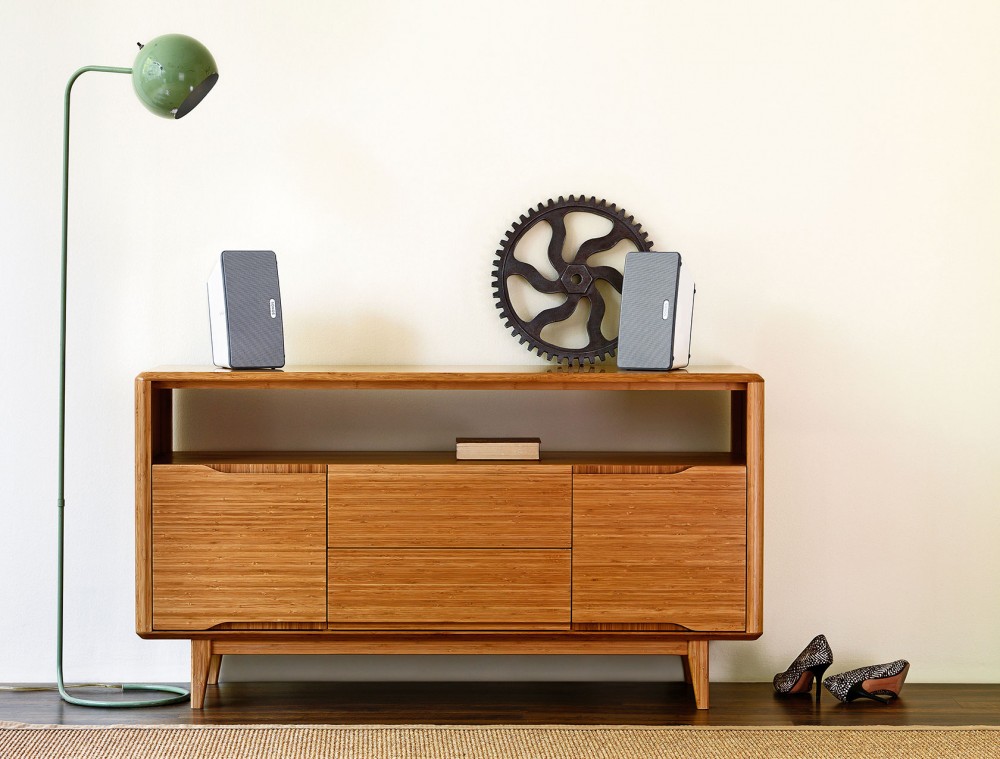 Wireless Simplicity
The best thing about multi-room is that it allows you to say goodbye to the clutter of cables – plus the need to run concealed speaker cabling throughout your home.
Instead, a network of wireless speakers, placed anywhere in the house with Wi-Fi access and a power point. You can place single or multiple speakers in each room, depending on your needs and preferences. The speakers are then controlled by a compatible smart device, which allows you to manage anything from volume and room destination to playlists and sound settings.
Put simply, it's the icing on the cake for any connected home.

Control at Your Fingertips
Your wireless multi-room system is easily controlled by a range of compatible smart devices thanks to a downloadable app. The intuitive controls let you select the songs you want to hear and which speakers you want to hear them through. Set up playlists for each room, change volume levels and audio sources, even turn everything off with a single touch.
Having a party? Speakers placed in different zones – including your outdoor entertainment area – can link together and play the same music, keeping your guests humming along no matter where they are. Or maybe you want your friends to easily share music from their compatible devices? Bluetooth makes this a cinch. You can even play songs from different sources in different rooms at the same time.
"The wireless" might have been around already in your grandparents' time, but wireless multi-room technology gives the word a completely new and exciting meaning.
Modular Flexibility
Want to test the waters first? With packages and expandable systems that range from a single speaker to a fully-integrated wireless multi-room system, you can take a modular approach and start small before expanding your setup. Add more speakers and zones as you explore what this technology can do for you and your connected home. Try starting with the lounge room and bedrooms, then expand into other areas. A multi-room speaker in the bathroom is great for either singing along in the shower or relaxing in the bath. Add one to the kitchen, and suddenly cooking or doing the dishes will seem more like a party than a chore.
The Leaders in Wireless Multi-Room Technology
As you would expect, some of the biggest names in home entertainment are also at the forefront of multi-room technology. Sonos, Denon and Yamaha are innovators in wireless speaker technology and they each provide a great range of quality speakers that allow you to build your own multi-room network of wireless sound. The below is a quick overview of what each brand offers.
Streaming your favourite music to any room (or every room) is made easy thanks to the Sonos system and their simple app controls. Built to work with mobile, tablet and desktop devices, the Sonos app opens you up to a world of music. The range of Sonos speakers all work together to create a cohesive multi-room system that allows you to individually pick the components that are ideal for your home and how you want to use them. Sonos also features Trueplay – making the system even smarter by using your iPhone or iPad to analyse the room then adjust how each woofer and tweeter produces sound. You'll soon be hearing the music you love custom-tuned to the contours of the room you're listening in.
Here's just a sample of the wide range of Sonos speakers and components available at Harvey Norman.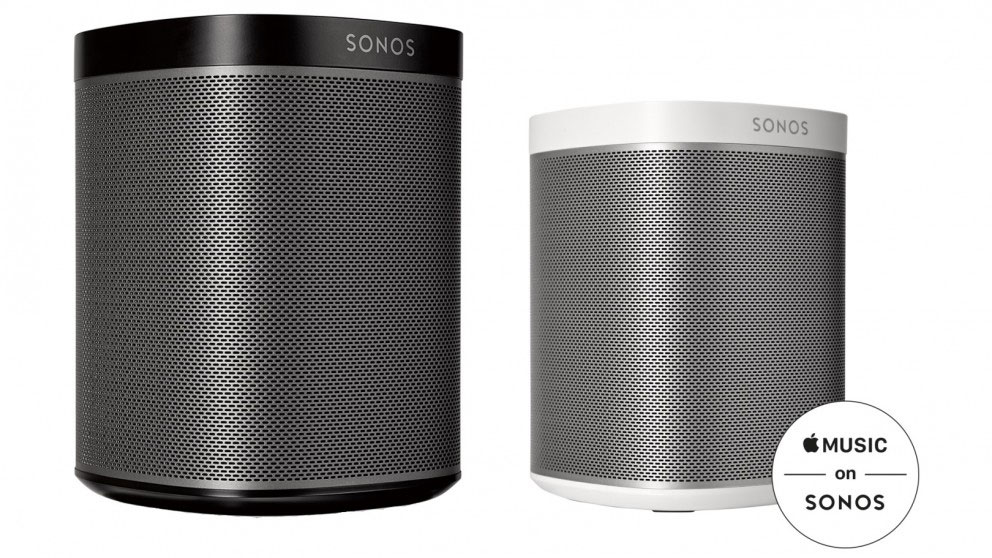 No matter which genre of music you're into, the small yet powerful Sonos PLAY:1 wireless multi-room speakers will provide the crystal clear audio you desire. Featuring two perfectly tuned Class-D digital amplifiers paired with a mid-woofer, the PLAY:1 will deliver superior mid-range vocal and instrumental sound all around the room. The compact tweeter fills out the sound to deliver crystal clear audio without adding any bulk to the package.
Small, sleek and full of power, Sonos PLAY:3 wireless speakers deliver unbeatable sound quality that is sure to get you moving.  Available in White or Black models (like all of the Sonos range), the PLAY:3 uses advanced digital amplifiers individually coupled with three speakers to deliver superior sound around your room, while its bass radiator offers rich and powerful notes for a more complete sound experience. These speakers will fit vertically or horizontally in any small space, while their rubber feet guard your furniture against scratches and scrapes.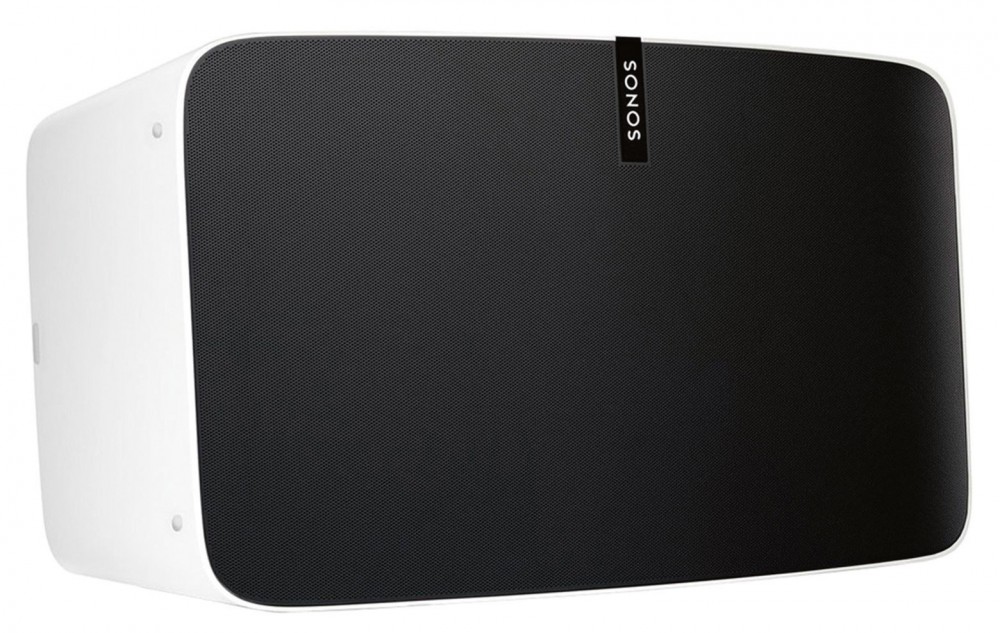 Taking your multi-room system to the next level and want to listen to your favourite playlists while in the shower? The PLAY:5 speakers are designed to withstand high levels of humidity and will provide quality sound for your bathroom. A versatile all-rounder, a PLAY:5 speaker is perfect for use anywhere in your home. Simply pick it up and plug it in wherever you desire. Try combining two together for separate left and right channels or pair with a Sonos PLAYBAR and SUB for a truly immersive audio experience.
The HEOS by Denon system utilises the free HEOS by Denon app to control its range of wireless speakers and devices. Utilising standard home wireless technology, the HEOS system lets you use your existing router – thus eliminating the need for a bridging device and making set-up a breeze. There is a range of HEOS speakers to suit every room in your house, as well as all of your audio entertainment needs.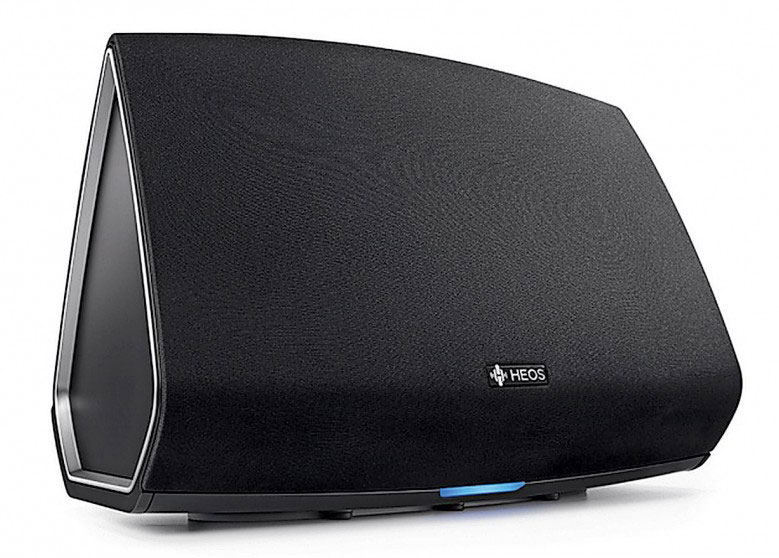 Take the HEOS 5 wireless speaker for example. The HEOS 5 (seen above) is designed for medium to large spaces in the home, such as dining rooms, large bedrooms, a home office or a smaller living room.  The stylish design features two custom-designed tweeters, mid-woofers and a passive radiator powered by four dedicated Class-D amplifiers. Easily portable when you need it to be, the built-in dual band wireless connectivity makes it simple to add on to your wireless network.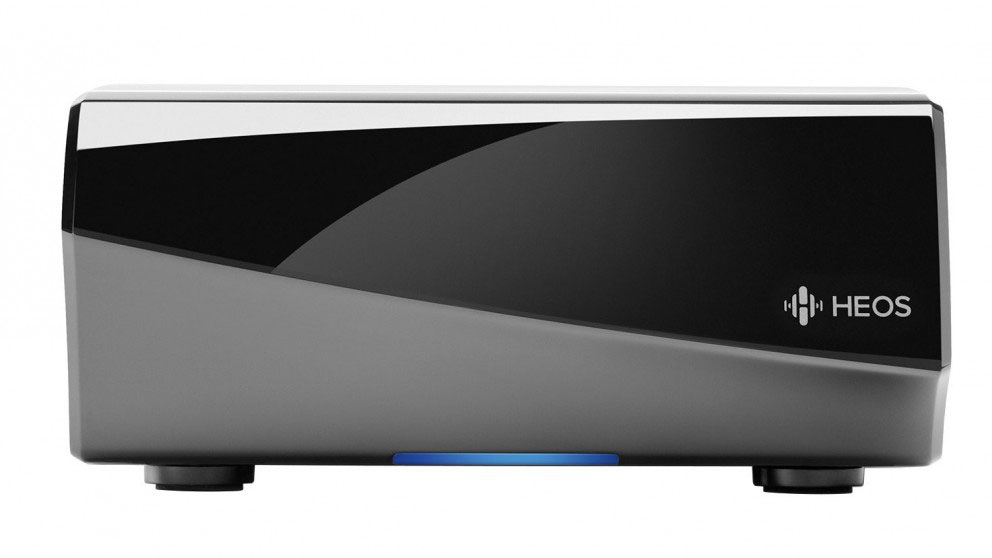 Want to create a separate HEOS zone in another room in the house? Combine a pair of HEOS 5 speakers with the HEOS Link and you'll soon be playing different songs in different rooms. This amplifier delivers up to 100 watts of power per channel with low distortion and features additional connectivity, including a sub output for connection to a powered subwoofer for additional bass.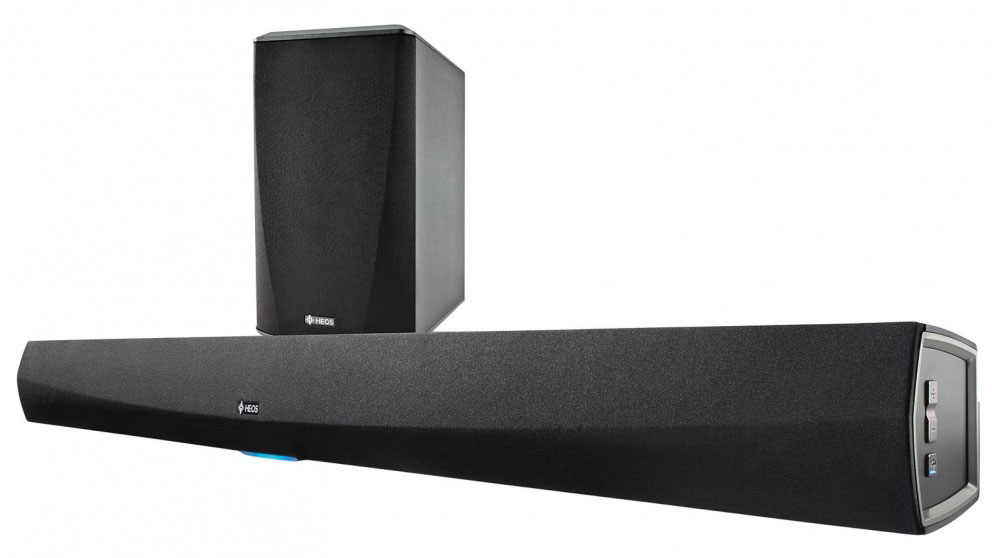 Feel like adding a home theatre system to your network? The HEOS HomeCinema Soundbar and Subwoofer brings cinema-quality sound to your living room, creating a true high-fidelity sound that delivers booming bass, clear mids and detailed highs. The Dolby audio technology provides a truly immersive audio experience. Not just for movie nights, you can also stream any audio entertainment using the free app and your smart device, letting you get the most out of your streaming service subscriptions.
The MusicCast system provides next-level connectivity between the latest Yamaha audio products, giving you the ultimate in home entertainment networking. Use Wi-Fi or Bluetooth to stream your music via AirPlay, Spotify, Pandora and more via your home network.

The Yamaha WX030 wireless multi-room speaker is easily integrated into a home media network to provide the versatile functionality you desire. A built-in 9cm woofer, 3cm tweeter and passive radiator combine in a curved and compact design to offer balanced audio output to faithfully reproduce your music as it was originally recorded. These will be right at home mounted on a wall or on your bedside table.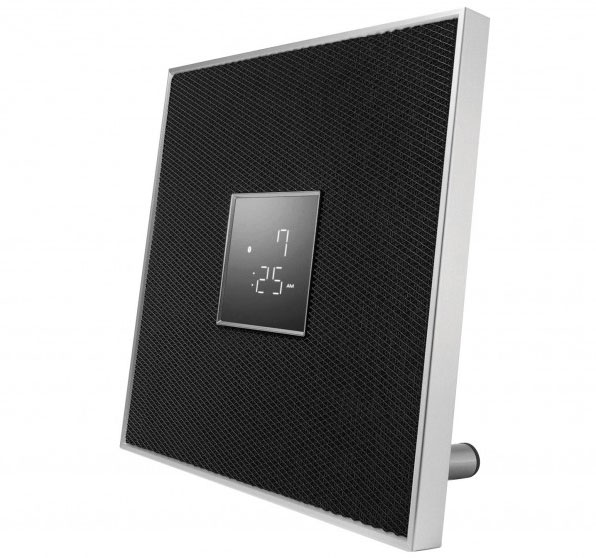 After something different a little different? Turn any wall into a vital part of your sound system with the elegant Restio Frame Speaker from Yamaha. This subtle and cleverly-designed speaker is easily wall-mounted or simply placed on a bookshelf to provide the next-level connectivity of MusicCast.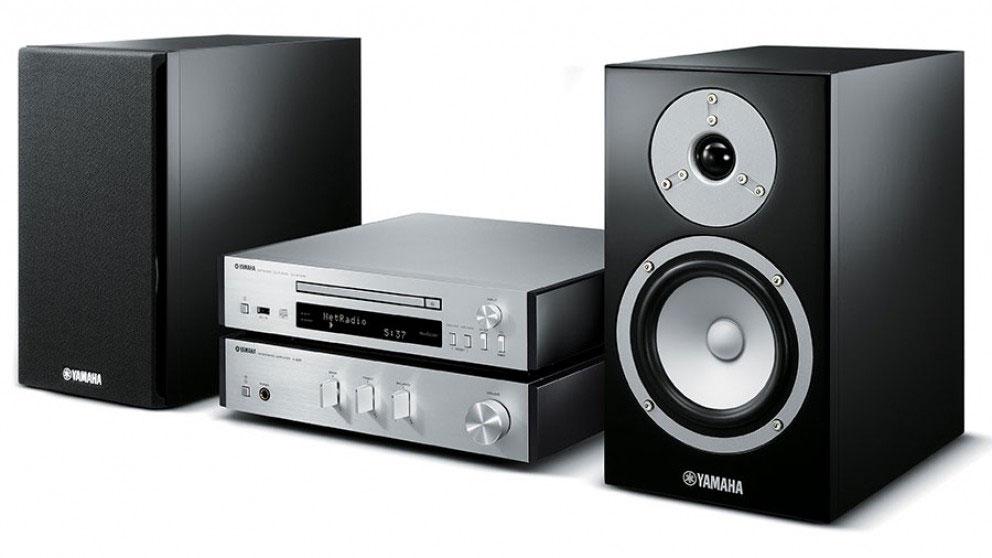 If you love the versatility of an all-in-one sound system, then add the Yamaha MCR-N670 to your MusicCast network and enable playback from your TV and even your old vinyl collection. The speakers in this system feature VCCS (Vibration Control Cabinet Structure) technology that suppresses unnecessary vibration to provide a clear and natural sound that takes advantage of the rich reverberation naturally created in the speaker units.
Want to learn more about how a wireless multi-room system can work for you? Head on down to your local Harvey Norman store and have a chat with our expert staff. They'll help you pick out a package that will bring your home to life with the sound of music!