EXPERIENCE 8TH GEN CORETM PROCESSORS
INTRODUCING 8TH GENERATION INTEL® PROCESSOR*
With clock-speeds as high as 4.7GHz, up to six processing cores and Intel Optane support, Intel 8th generation processors deliver flawless UHD entertainment, sumptuous VR experiences and much more besides.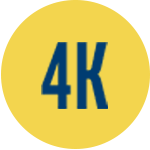 SENSORY-SHATTERING 4K RESOLUTION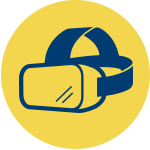 LIFELIKE VR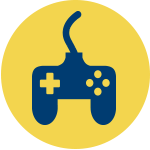 COMPETITION-LEVEL GAMING
POWERED BY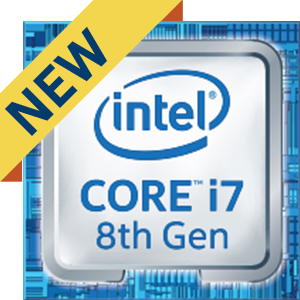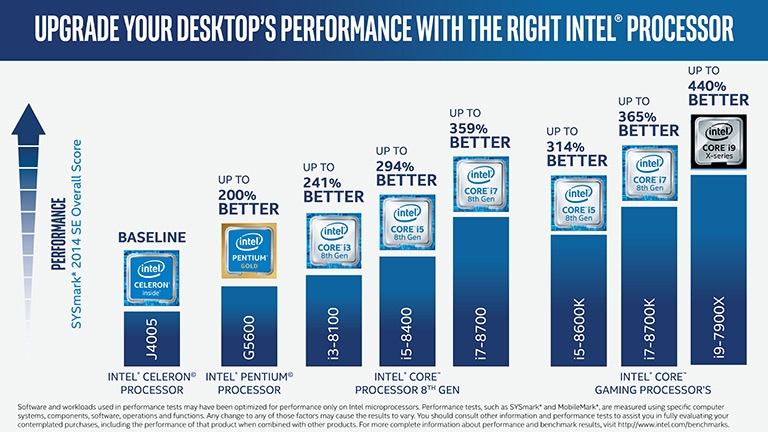 Intel Desktop Processors
Intel Desktop processors offer exceptional innovation in speed, power and functionality. Whether for work, entertainment, creativity or gaming, there's an Intel Desktop processor perfect for your needs.
The Intel Celeron is your entry level processor, offering 2 Cores, full HD streaming and multi-tasking so you can jump back and forth between tasks on multiple applications with ease. The Pentium also features 2 Cores and 4MB cache memory, along with improved UHD graphics and faster processor base frequency.
Intel's new 8th Generation Core i5 and Core i7 processors have even more to offer. Enjoy 4K Ultra HD content through seamless live streaming, immerse yourself in your favourite triple-A games, and experience out of this world VR.
If second place simply isn't good enough, up your game with a Core i9-7900 X-Series gaming processor:
Massive 10 Cores (20 Threads) with 13.75MB Lvl 3 Intel Smart Cache technology
Base Frequency of 3.30 GHz (Maximum Turbo Boost to 4.50 GHz)
Support for Intel Optane (System Acceleration Memory) for blistering performance
DDR4-2666 RAM support allowing up to 128GB of quad-channel memory for seamless multi-tasking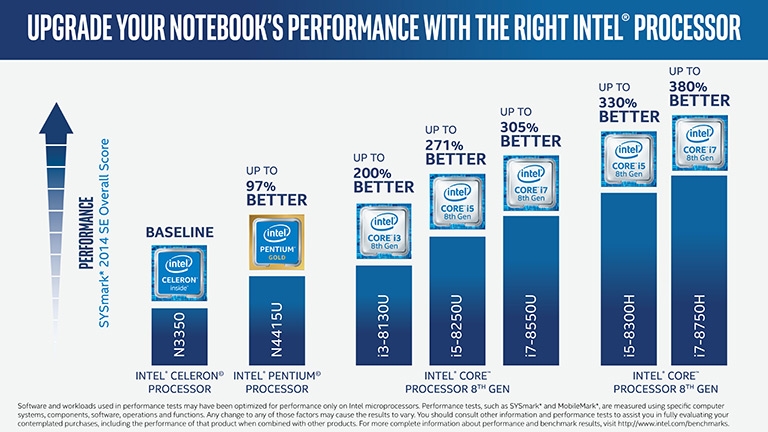 Intel Notebook Processors
These Notebook Intel Processors effortlessly enhance creativity and productivity, by maximising on energy efficiency and allowing you to work on a number of tasks while conveniently on-the-go.
These Notebook Processors are available in Intel Celeron and Pentium, as well as the new 8th Generation Intel Core Processors - with up to 4 Cores and 8 Threads, maximising your notebook's processing times.
4K Ultra HD offers visual brilliance, with fluid, texture-rich graphics ideal for gaming, photos and editing.
Power efficient VP9 and HEVC 10-bit hardware acceleration extends battery life, even during 4K UHD playback.
Data transfer rates at 8GT/s, allowing for speedy data movement and response.
GAME + RECORD + STREAM
WITHOUT COMPROMISE
INTEL'S MOST POWERFUL GAMING GENERATION
SENSORY-SHATTERING 4K RESOLUTION
with Intel® Turbo Boost Technology 2.0
UP TO 2X MORE FPS
vs a 3-year-old Desktop PC
EXTREME UNLOCK CAPABILITES
Maximize overclocking performance utilizing Intel® XTU advanced tuning features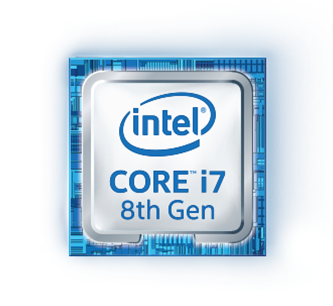 UNLOCKED 8TH GEN
INTEL® CORE™ i7 PROCESSOR
UP TO 6 CORE 12-THREADED PERFOMANCE
Intel® Hyper-Therading Technology Game + record + stream all at once
UP TO 12 MB INTEL SMART CACHE MEMORY
Reduce latency and improve performance
INTRODUCING INTEL® OPTANE ™ MEMORY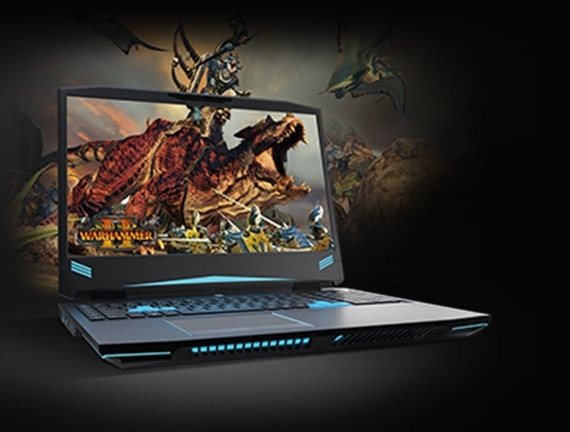 GET IN THE GAME FASTER
MORE BATTLES, IN MORE PLACES

FEATURING INTEL® OPTANE ™ MEMORY

FASTER LEVEL LOADING
than without Intel® Optane™ Memory
© Games Workshop Limited 2018. Published by SEGA © 2018 Intel Corporation. Intel, the Intel logo, Intel Core, and Intel Optane are trademarks of Intel Corporation or Its subsidiaries in the U.S. and/or other countries.
WHAT IS INTEL®
OPTANE™ MEMORY?
Intel Optane memory sits between the processor and slower, SATA-based storage devices to make commonly used data more accessible for a more responsive performance. Unlike RAM, which loses stored data when your device is powered down, Intel Optane remembers data when your computer is off for increased speeds and reduced load times.
DO I STILL NEED
RAM?
Yes, as Intel Optane is designed to complement RAM, not replace it. In fact, adding Optane to your set up will be of greater benefit than increasing the memory. A computer with an HDD, 8GB RAM and 16GB of Intel Optane memory, for example, will be more responsive than a system with the same hard drive and 16GB RAM.