KitchenAid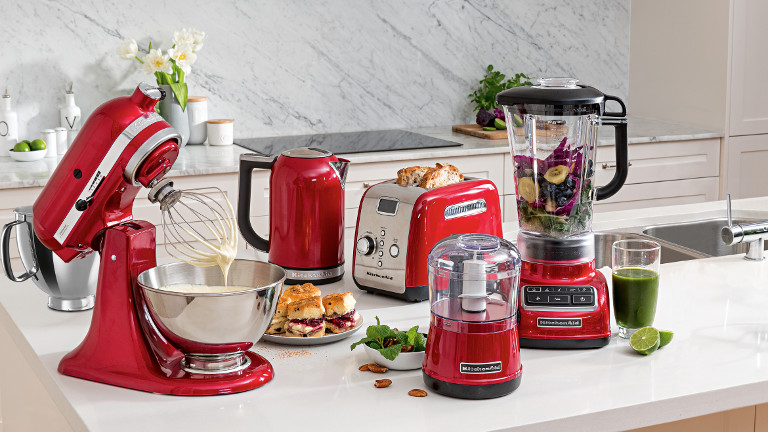 KitchenAid is a world-renowned kitchen appliance brand that offers a wide range of innovative Stand Mixers, Blenders, Food Processors, Kettles and more.
Cordless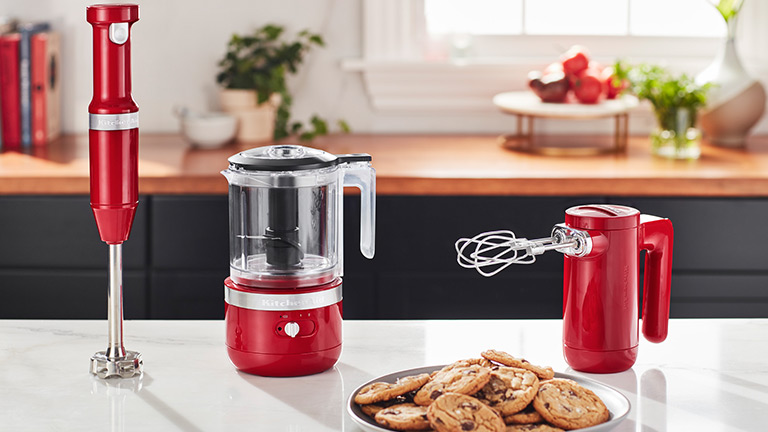 No cord means more power and greater freedom! Introducing KitchenAid's inspiring new Cordless collection.
The new collection's dynamic trio comprises a food chopper, hand mixer and hand blender – essential tools of the trade to help you master every recipe. Utilise variable speed settings to chop, mix and blend with pro-level precision, while a rechargeable lithium-ion battery equips each appliance with powerful performance and optimal run-time.
Efficient, versatile and conveniently compact, KitchenAid Cordless caters to all your culinary creations.
Mixers & Blenders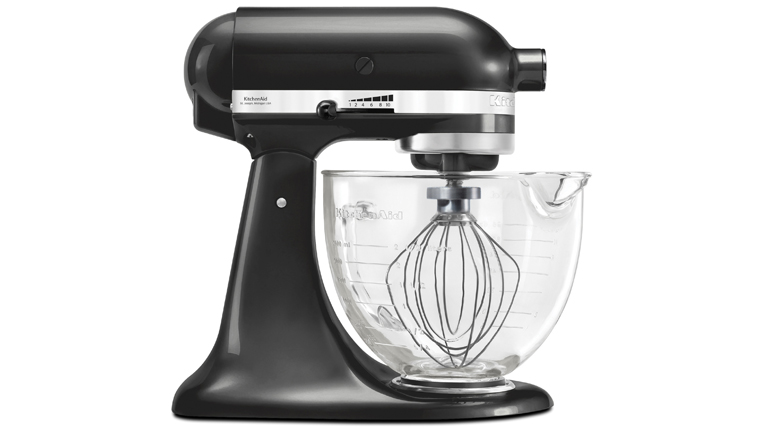 KitchenAid blenders and mixers help you prepare your latest culinary masterpiece with ease and accuracy.
KitchenAid mixers feature powerful and robust motors to create consistent, thorough mixes every time. KitchenAid blenders boast intuitive controls and pre-set programs so you can take the stress and guesswork out of cooking with almost any ingredient.
From stand mixers to hand blenders, KitchenAid appliances offer all the features you need to prepare the dishes you love to perfection.
Stand Mixer Accessories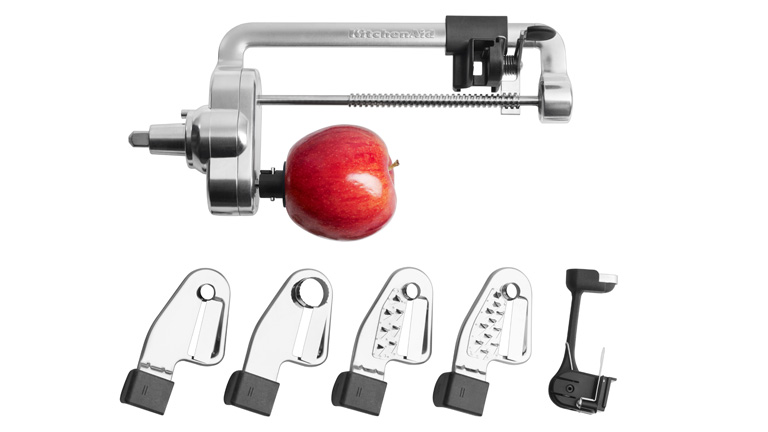 KitchenAid attachments take your cooking skills further.
Accessories such as double-walled ice cream bowl attachments and spiralizers that can peel fruit and veg with such accuracy that you can create the likes of zucchini noodles mean you can try your hand at a whole host of new dishes and develop the recipes you already know.
Easy-to-attach and easy-to-clean, KitchenAid accessories help you get the very most from the time you spend cooking.
Food Choppers & Processors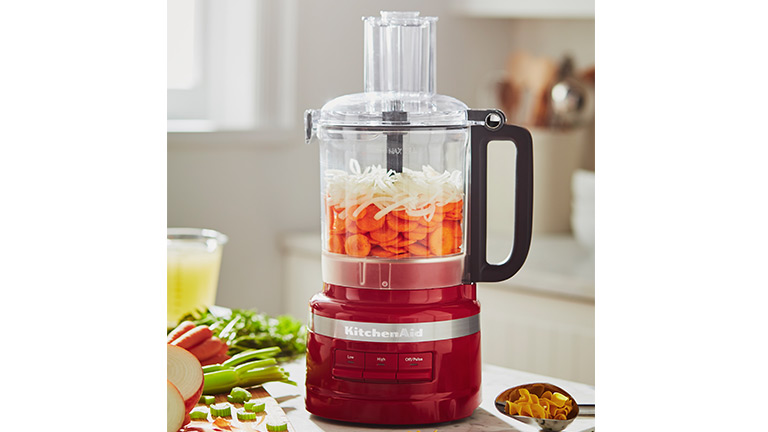 KitchenAid food choppers and processors grant complete control over meal preparation — and don't forget the time they save!
Rustle up recipes from pesto to pie crusts and everything in between with versatile food processors that chop, slice, shred and knead large volumes of ingredients in no time. Be inspired to get creative, and cut prep time in half, with compact, user-friendly food choppers that mix, purée and chop.
Lightweight, ultra-convenient and easy-to-clean, KitchenAid food choppers and processors are the ultimate culinary assistants that help you deliver delectable everyday dishes.
Kettles & Toasters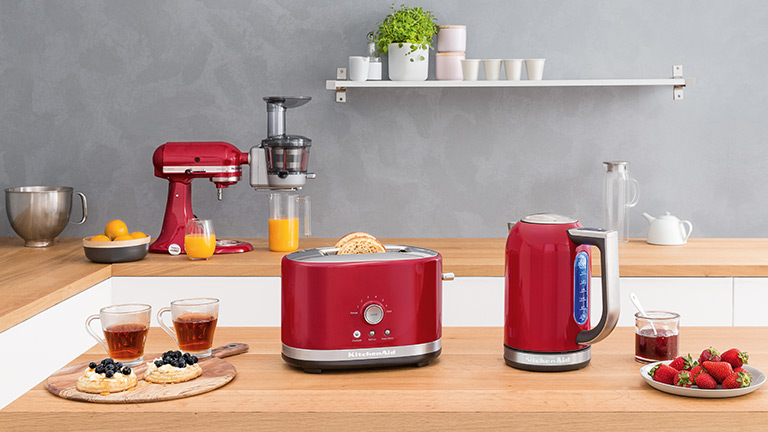 Get the right start to your day with the help of a KitchenAid kettle or toaster.
Packed with innovative ideas like automatic sensors and keep warm functions, KitchenAid toasters brown toast to perfection. KitchenAid kettles offer fast heat up times and features such as an adjustable temperature range so you can set your kettle to make the drinks you love.
Easy-to-use, stylish and durable, KitchenAid kettles and toasters are a welcome addition to any home.
About KitchenAid
About KitchenAid
KitchenAid was founded in the USA in 1919 when engineer Hebert Johnson was inspired to create a stand mixer after watching a baker struggle with a dough mix. The product was so innovative that it bears a very close resemblance to the mixers on the market today.
KitchenAid is, however, just as well-known for introducing a burst of colour into kitchens as it is for improving the way we prepare food. In the 50s, KitchenAid took the tradition of whitegoods and turned it on its head by adding iconic product lines that came in the likes of Sunny Yellow and Petal Pink.
KitchenAid's drive for creating reliable, effective and innovative appliances that help people get the most out of cooking continues to this day. Its range of mixers, blenders, food processors and cookers is painstakingly developed to help Australians create food that is cooked from the heart.