Surface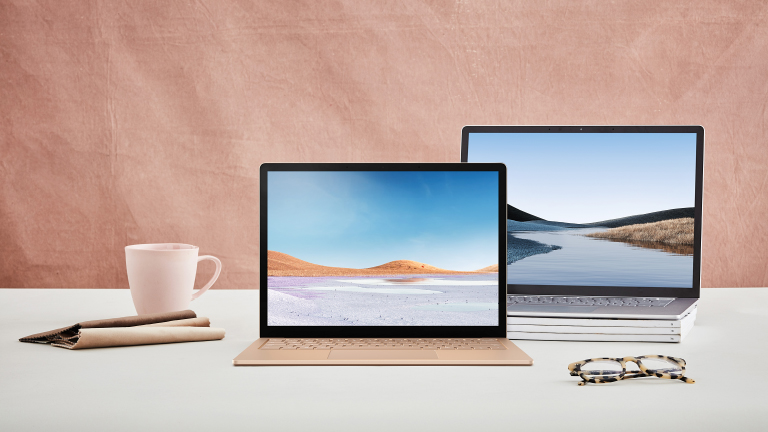 The Microsoft Surface family are game-changing devices that bridge the divide between the functionality of a desktop and laptop and the portability of a tablet.
Surface Laptop Go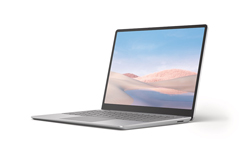 Our lightest Surface Laptop, featuring a 12.4" touchscreen.
Surface Pro X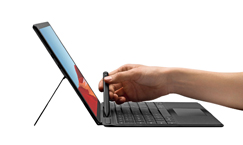 Wherever the day takes you, you'll be ready with the slim and sleek Surface Pro X; featuring edge-to-edge 13" touchscreen and amazing graphics, plus blazing-fast LTE connectivity.
Surface Laptop 3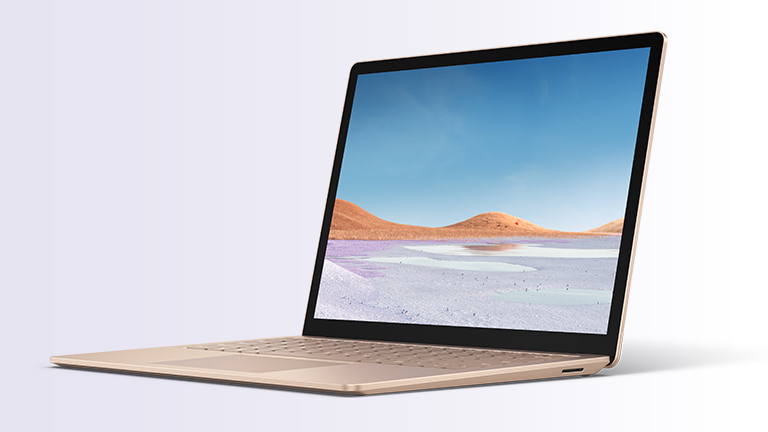 Microsoft Surface Laptop blends cutting edge technology with a pure aesthetic form to redefine productivity on-the-go.
The Surface Laptop empowers everyone from students to entrepreneurs to create the 'world of tomorrow' today. Luxuriously thin and light, yet powerful — the Surface Laptop strikes a harmonious balance between portability and performance. The Surface Laptop 3 now comes in two sizes and two elegant keyboard finishes.
Surface Go 2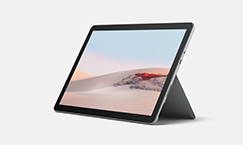 The 10.5" Surface Go 2 is perfect for all of your daily tasks, giving you laptop performance with tablet portability, 10 hours of battery life, and a stunning edge-to-edge hi-res touchscreen. It also comes with the security you need and the Windows you know.
Microsoft Surface Book 3 13.5"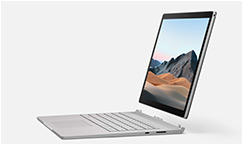 Power through every day with the fastest Surface laptop yet. Tackle intensive tasks, edit large video files, be heard loud and clear with enhanced dual far-field Studio Mics and immersive Dolby Atmos® sound, and enjoy the best gaming experience yet on Book 3.
Surface Pro 7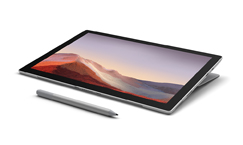 More from the Pro you know. More powerful than ever, Surface Pro 7 features laptop-class Intel® Core™ processor, all-day battery, 1 Instant On, improved graphics, and more multi-tasking connections.
Surface Studio 2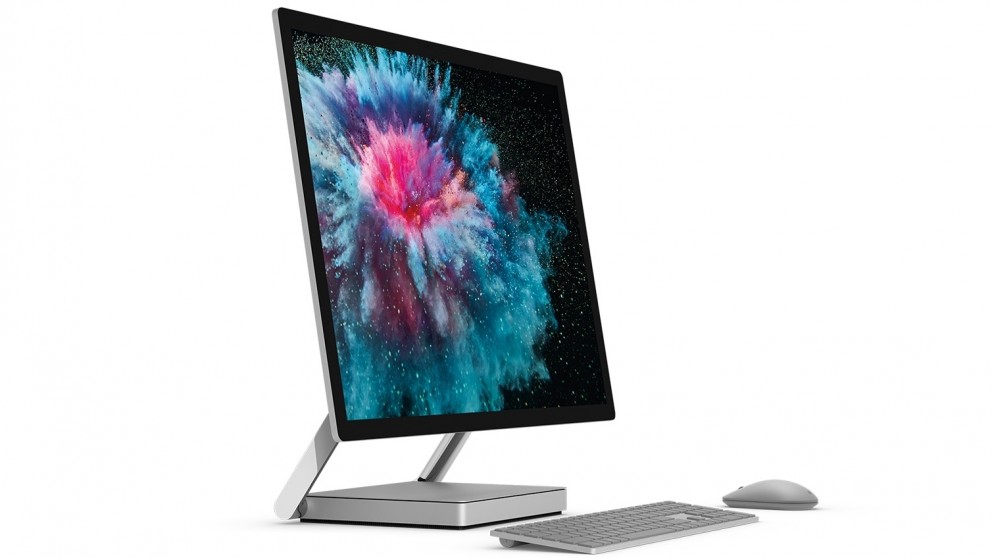 Microsoft Surface Studio offers a whole new class of power, in desktop form.
Turn your creative idea into a visually impressive digital artwork with the Microsoft Surface Studio. Specifically designed for professional artists and designers, the Surface Studio features a stunning, huge 28" PixelSense display as your canvas and can be used upright or like a drafting table, helping to bring your projects to life.
Surface Accessories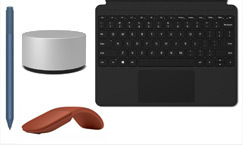 Microsoft offers a number of accessories such as Surface Dial, wireless mice, styli and keyboard covers that take the Surface user experience to the next level.
The Surface Dial lets you explore your creative limits with natural gestures. The Surface Pen gives users the freedom to take notes with a pen. The Surface Type Cover protects the tablet's screen and provides the familiarity of working on a conventional keyboard. Combine these with the likes of the highly portable Arc Touch Mouse and the Surface can provide all the functionality of a laptop or desktop in the form of a tablet.
About Surface
About Surface
The Surface is Microsoft's first device to integrate its own hardware with the Windows operating system. With large storage space of up to 512GB, up to 16GB RAM, full-size USB 3.0 port and a micro SD reader, the Surface delivers the ultimate in productivity on-the-go.
Microsoft's newest laptop, the Surface Book, delivers amazing versatility and portability as a 2-in-1 device that can function as either a tablet or traditional laptop. Featuring Intel's new 6th gen Skylake processor and a stunning 13.5" PixelSense display, Surface Book truly is the ultimate laptop computer.
Surface Pro tablets can be combined with a number of accessories such as the Surface Pro Type Cover, which functions as a conventional keyboard and protects the touchscreen when not in use, and the Surface Pen which allows users to take hand written notes on documents and presentations.
*Type Cover and Microsoft Office sold separately.
Compare Surface Computer

Surface Go 2
Perfectly portable.
Also available with 4G LTE 6
10.5-inch Touchscreen with pen input 8
Intel® Pentium® 4425Y
Intel® Core M (8th Gen
Windows 10 Home in S Mode

Surface Laptop 3
Style and speed.
13.5-inch Touchscreen with pen input 9,10
15-inch Touchscreen with pen input 9,10
Platinum
Black
Cobalt Blue
Sandstone
10th Gen Intel® Core™ i5 and i7
AMD Ryzen™ 5 and 7 Microsoft Surface® Edition
128GB SSD
256GB SSD
512GB SSD
1TB SSD (Black only)
Intel® Iris™ Plus Graphics 950
AMD Radeon™ Vega 9 and RX Vega 11 Graphics

Surface Pro X
Ultra-thin & always connected.
Comes standard with 4G LTE7
13-inch Touchscreen with pen input 8
8GB LPDDR4 x
16GB LPDDR4 x
128GB SSD
256GB SSD
512GB SSD
Adreno™ 685 GPU
Microsoft® SQ1™

Surface Pro 7
Ultra-light and versatile.
12.3-inch Touchscreen with pen input8
10th Gen Intel® Core™ i3, i5 and i7
128GB SSD
256GB SSD
512GB SSD
1TB SSD
Intel® UHD Graphics (i3)
Intel® Iris™ Plus Graphics (i5, i7)

Surface Book 3
Powerhouse performance.
13.5-inch Touchscreen with pen input9,10
15-inch Touchscreen with pen input9,10
10th Gen Intel® Core™ i5 and i7
8GB (13.5" only)
16GB
32GB
256GB SSD
512GB SSD
1TB SSD
Intel® Iris™ Plus Graphics (i5)
NVIDI A® GeForce® GTX 1650 (i7)
NVIDI A® GeForce® GTX 1660 Ti (i7)
13.5" Up to 15.5 hours
15" Up to 17.5 hours

Surface Studio 2
The ultimate creative studio.
28-inch Touchscreen with pen input
256GB SSD
512GB SSD
1TB SSD
NVIDI A® GeForce® GTX 1070 (i7)