Dining Room Furniture Buying Guide
Purchasing Dining Room Furniture
Consider the following when shopping for dining chairs, dining tables and sideboards:
If you choose to buy individual pieces of furniture and not a suite, look for a design feature that unites them all. For example, if you opt for a rectangular table, look for chairs with rectangular backs.
Shop for furniture that matches your lifestyle. If you have a young family, for example, opt for hard wearing furniture and upholstery that won't stain easily.
Measure the space and the entries to your home carefully to avoid disappointment when the furniture arrives.
If you live in rented accommodation, opt for furniture in neutral colours. This will ensure that it looks as good in your next home as it does in your current residence.
Types of Dining Room Furniture
Dining Tables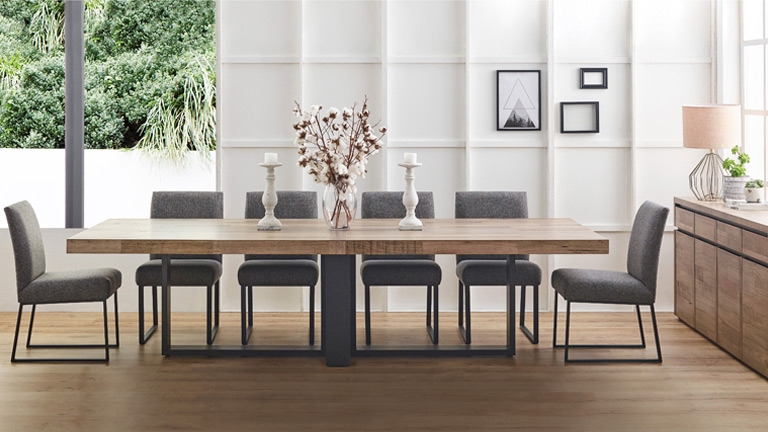 A dining table is arguably the most important piece of furniture in any dining room as it is often where your eye is drawn first. Ensure you get the table that's right for you by following these guides:
Establish how many diners you need to seat at your table. Remember that each diner will require around 50cm of space at rectangular tables and around 75cm at a round dining table.
Round dining tables can comfortably seat as many diners as rectangular tables yet feature a smaller footprint. This makes them ideal for modest dining rooms.
Extendable dining tables allow you to save on space and still have room for guests when you need it. Tables with butterfly extensions, which store the extra leaf under the table top, offer maximum style and efficiency.
Dining Chairs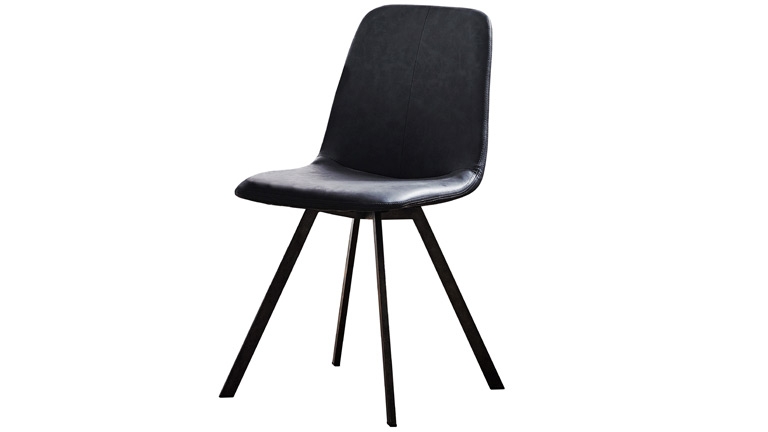 Dining chairs can be the difference between an enjoyable meal and an uncomfortable experience. Ensure your dining room chairs don't detract from your food by following these tips:
The ideal width for a dining chair is around 18-20". Similarly, dining room chairs that are between 20" and 24" deep will be comfortable for most users.
If you decide to opt for carver chairs (dining chairs with arms) be sure to allow for an extra 10cm of room on either side so your diners can sit comfortably.
High back chairs can create a formal look but are probably best suited to larger rooms as they occupy more visual space. Low back chairs are ideal for families with young children.
Stools & Bar Stools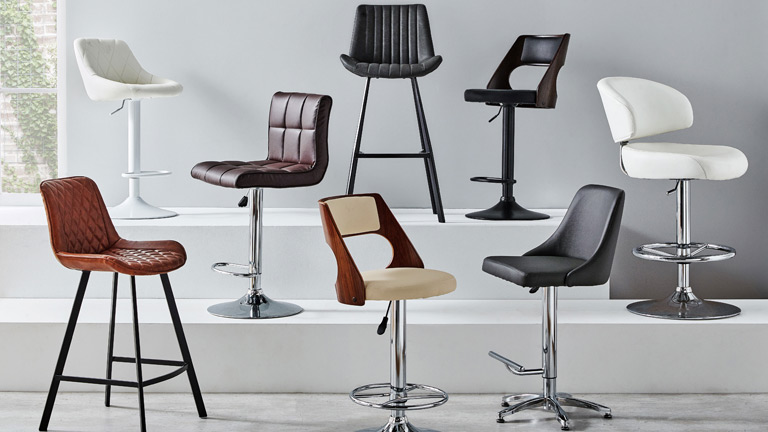 If dining chairs don't suit your taste or your dining room layout, stools and bar stools are a great way to create a relaxed, informal atmosphere in your home.
There are 4 common stool heights: table height (16-23"), counter height (24-27"), bar height (28-33") and extra tall (33-36"). Ideally, the stool should be 5-8" below the height of the table or countertop.
Stools with a raised back offer greater support than those without. Remember, though, that buying stools with a back will limit your storage options as you won't be able to stack them.
Diners will need around 25" of space between the centre of their stool and the one beside them to sit in comfort. Aim to leave between 10-15" between the centre of the last stool and the table or counter's edge.
Sideboards & Buffets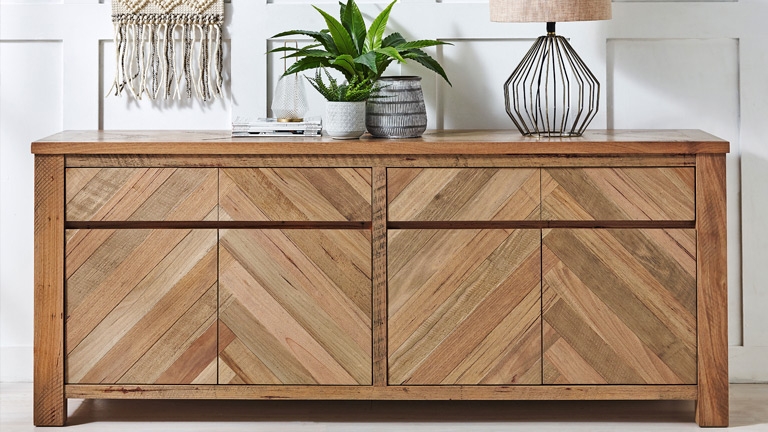 Sideboards & Buffets enable you to store all your dinnerware, crockery, glassware and even drinks in your dining room so you have everything you need on hand.
Opt for a sideboard that meets your storage needs. For example, if you need to house crockery and cutlery in the dining room, choose a sideboard with cupboards and drawers.
If your dining room is smaller than average, consider a buffet with sliding doors as this will mean you have more space to work with when you are taking items out or putting items into the sideboard.
Sideboards with a built-in glass cabinet can help to create a visual break in wall space. This also allows you to show off your best wares.
Dining Room Design
Furniture Style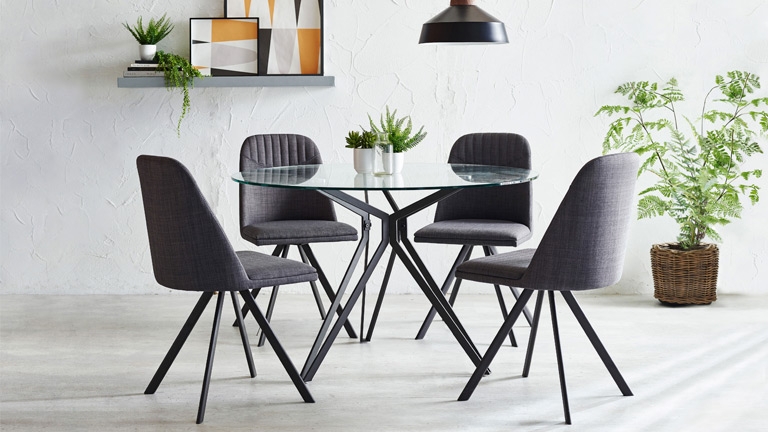 It can be difficult to know how to achieve the look you want and what will look best in the layout of your dining room. Consider the following tips when making your choice:
Warm shades and chunky legs add a traditional feel. Very dark or very pale woods are good for a modern feel.
Glass table tops create an illusion of space and also add a modern, contemporary feel to a room.
Marble or a marble effect with strong lines will add a luxurious feel to any dining room and create a sense of arrival that is simply unforgettable.
How to Choose the Right Frame Material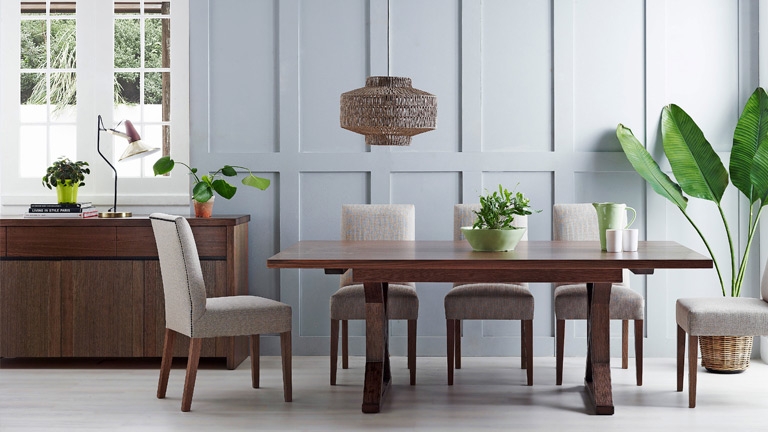 Frame material impacts upon the look, feel and lifespan of your purchase. Most choices are likely to be dictated by preference and budget but each type has its own strengths.
Solid wood furniture has a sturdy feel and is built to last. The grain of the wood used makes every piece totally unique and spills or stains can be removed by sanding the piece back and re-applying the finish.
Veneer furniture is constructed using MDF, which is then covered with thin pieces of wood. It tends to be lighter and more affordable than the other alternatives.
Metal is the sturdiest of all the furniture materials and can add a modern feel to a dining room. It is also the easiest to maintain and offers outstanding longevity.
Measuring the Space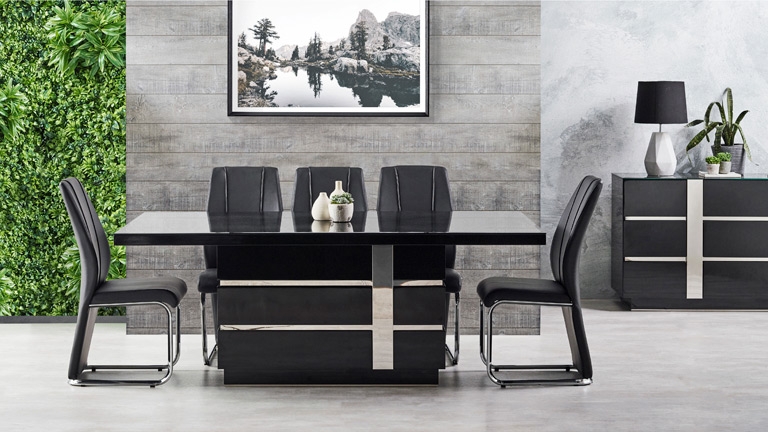 It is essential to measure all available space before purchasing any furniture. The following are a few tips that can help you buy the right pieces:
To get an idea of how furniture will sit in proportion with the rest of the room, consider marking out the piece's dimensions with newspaper.
Always remember to measure out extra space around furniture so you don't obstruct any doors or drawers and so you can move around the room freely.
Remember to measure access points to make sure the furniture will fit into your home and the room itself. Factor in immovable objects like bannisters.
Furniture Care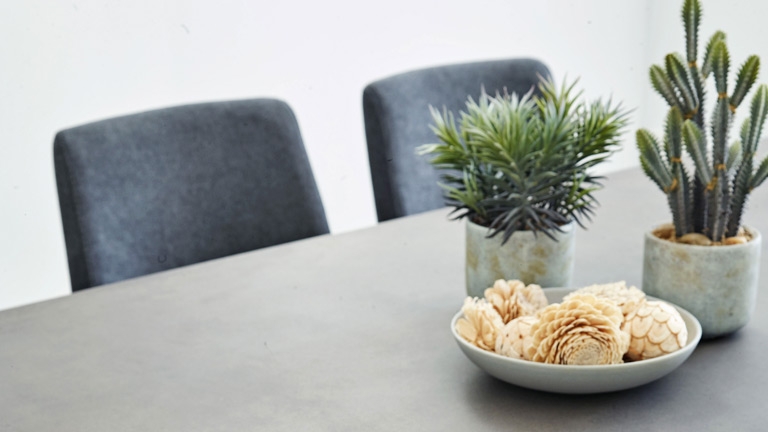 If you care for your furniture correctly it can last you a lifetime. Here are a few tips for keeping your pieces at their best:
Use glass cleaner and newspaper when wiping down glass table tops as this will prevent any unsightly streaks from appearing.
Dust wooden furniture with a soft, dry cloth and try to keep pieces out of direct sunlight as this can cause discolouration.
Clean leather with specialist care products as they can help maintain its supple feel for years to come. Never scrub at spills or stains as this can degrade the leather.
Choosing the Right Upholstery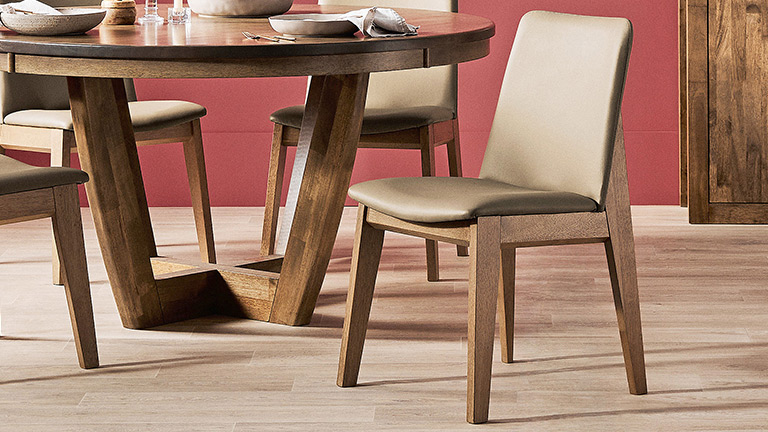 Upholstery plays a big role in how furniture looks, feels and how long it lasts. It is important to think about the upholstery choice before making a purchase.
If you have young kids in your house, avoid light colours and choose a durable material such as leather or ultrasuede.
Plain, neutral colours are more versatile than patterned upholstery so furniture will still look great if you decide to re-decorate. They are also timeless so they'll never go out of fashion.
If you do opt for delicate upholstery, consider purchasing removable seat covers for everyday use. This will help you protect the fabrics so they look at their best when you are entertaining.