Dishwasher Buying Guide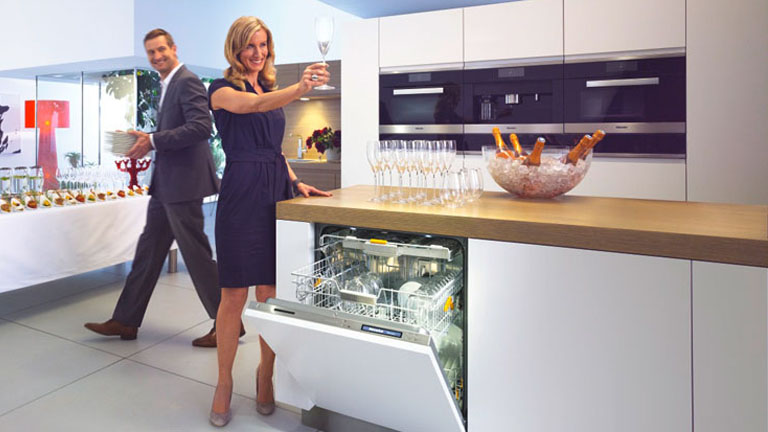 Consider the following when shopping for a dishwasher:
Measure the space for your dishwasher carefully. Pay close attention to dishwasher dimensions.
Shop for a dishwasher that suits your lifestyle. If you live alone, you could save yourself money by opting for a compact or slimline model.
It is advisable to install your dishwasher as close to the sink as possible in order to keep the plumbing together.
Never fit your dishwasher in front of your stop tap as you may, at some point, need quick access to it.
Dishwasher capacity is measured in place settings. One place setting is a complete set of crockery and cutlery provided for one person at a meal (10 items).
Types of Dishwashers
Freestanding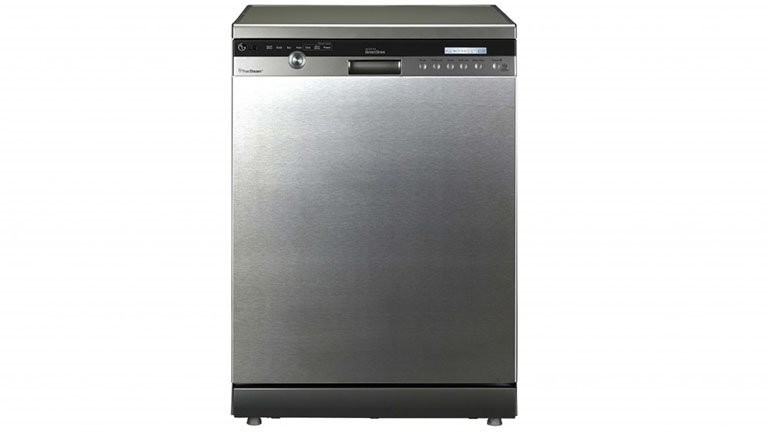 A Freestanding dishwasher can be located almost anywhere in your kitchen so long as it can be plumbed in.
Freestanding dishwashers require no complicated installation. Simply plumb them in, turn them on and you're ready-to-go.
You can find freestanding dishwashers available in full-size, slimline and compact models meaning they are a viable option for almost any kitchen.
If you live in rental accommodation, a freestanding dishwasher may be a good choice as you can more easily take it with you.
Built-In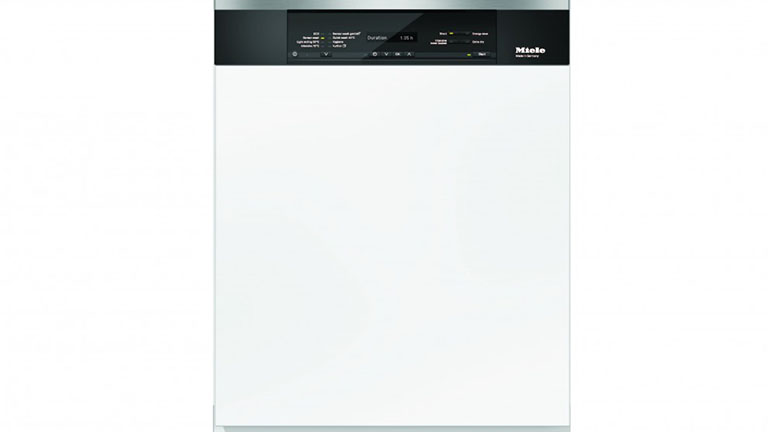 Integrated and semi-integrated dishwashers are intended to be permanent fixtures in your kitchen. They are installed into a custom shell and cannot be used as a standalone appliance.
These dishwashers do not have finished sides or tops as they will remain hidden once the appliance has been installed.
The front of a built-in dishwasher remains uncovered. Integrated dishwashers, however, are hidden behind a door that matches the rest of your kitchen décor.
Semi-integrated dishwashers are similar to integrated models except that control panel remains visible.
Dishwasher Features
Dishwasher Sizes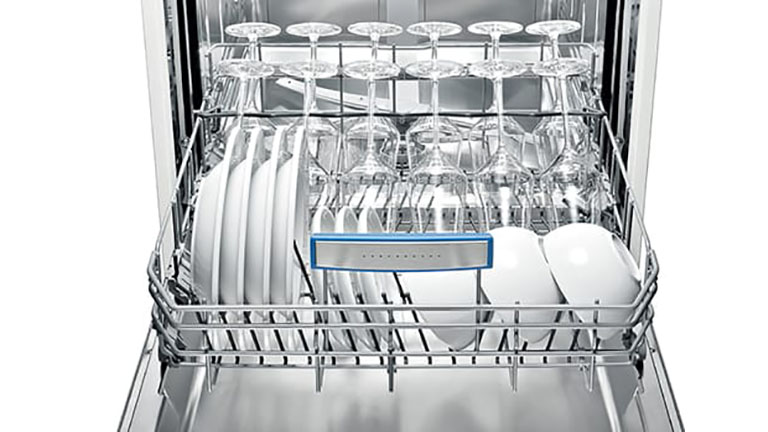 Dishwashers come in a range of sizes and capacities. It is important to be aware of your options to ensure you get the best dishwasher for you.
The standard size for a dishwasher is 60cm wide. This is often referred to as a full-size dishwasher and has the capacity for between 12 and 15 place settings.
Slimline dishwasher are usually around 45cm wide and have enough capacity for 9 place settings. Compact dishwashers generally offer enough space for 6 place settings.
If possible, shop for a dishwasher with adjustable racks or collapsible prongs as this will allow you to modify the available space to suit your load.
Drying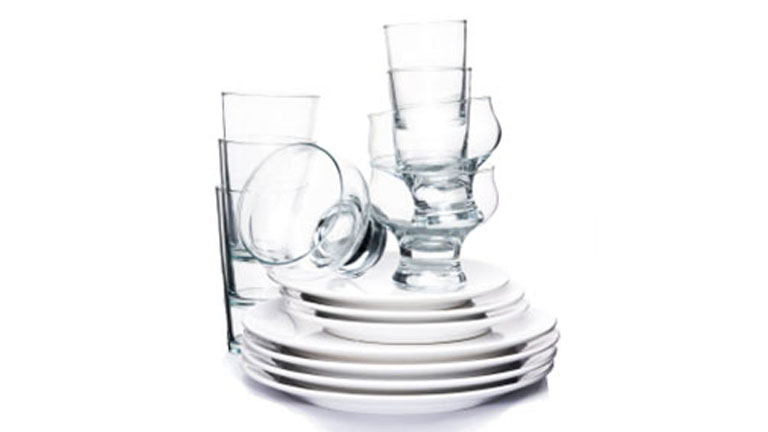 Dishwashers feature a number of different drying options, some of which are more efficient than others. Look out for the following:
Residual heat drying is an efficient option insofar as it does not use any additional energy after the washing cycle is complete. It is, however, likely to be less effective than other modes.
Most dishwashers offer fan-assisted and heated air drying. These modes use energy but can produce first-rate results.
Higher-end dishwasher offer specialised modes such as zeolite drying which uses crystals to absorb moisture and radiate heat – without any external energy.
Efficiency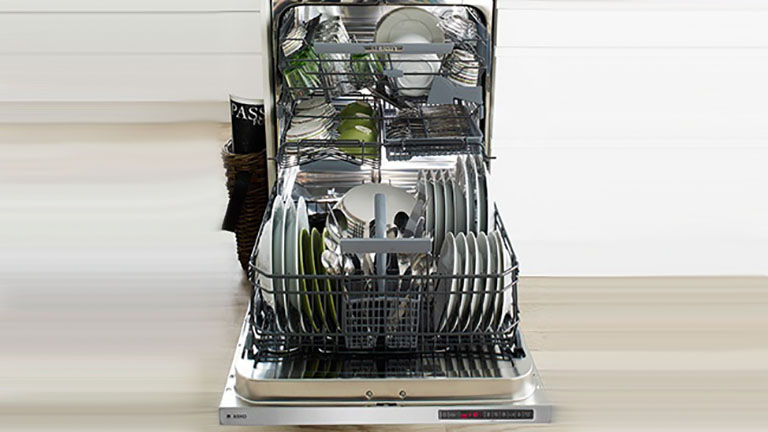 Shopping for an efficient dishwasher can reduce your bills and the environmental impact of your household. Efficiency is measured using an index that rates the dishwasher's energy and water use against the size of the appliance.
Water efficiency (WELS) is an indication of how much water the dishwasher uses per cycle. It is measured in stars, from 0-6. The more stars a dishwasher has the more efficient it is.
Dishwasher energy efficiency (The Energy Star Rating) is also measured in stars from 0-6. Again, the more stars a dishwasher boasts the more efficient it is.
Shopping for a dishwasher with a delay timer could help you run your appliance for less as you can set it to run through the night when electricity charges are at their lowest.
Features to Look For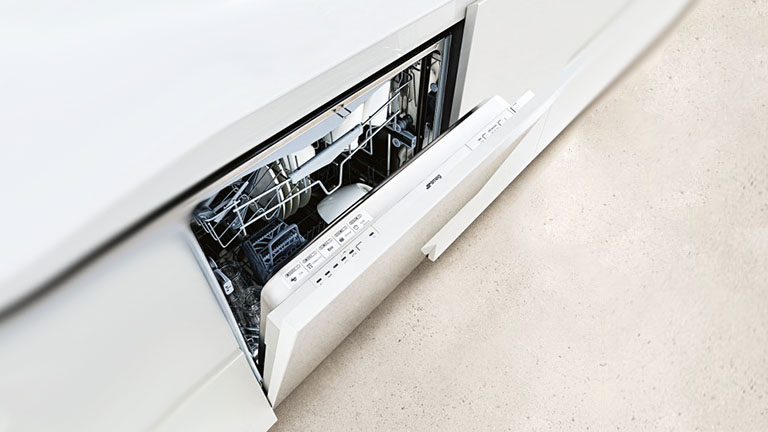 Extra features can make your life even easier when it comes to clearing up after a meal. Look out for the following when shopping for your dishwasher.
Dishwashers with multiple programs help take the guess work out of washing the dishes. Simply choose the appropriate function, press start and relax.
Some dishwasher include quiet modes that reduce noise operating levels to as low as 42dB — about the same noise levels as found in a library.
Look out for safety features such as child locks and flooding protection, which cuts off the water supply if a change in pressure is detected at the inlet.