Fabric & Leather Lounge Buying Guide
Purchasing Fabric or Leather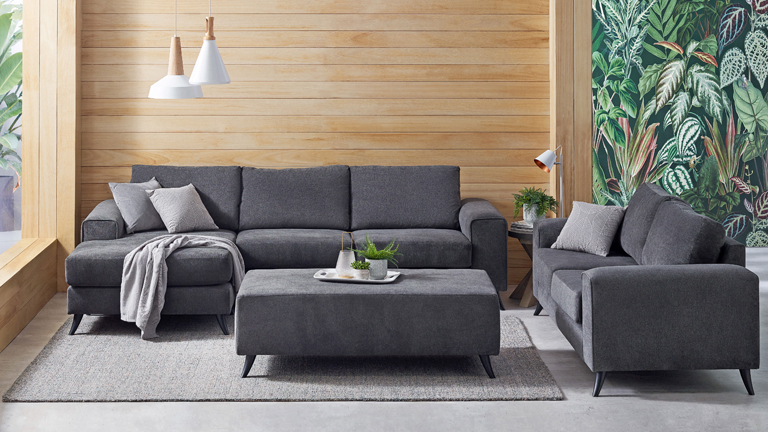 Consider the following when choosing upholstery fabric:
Choose the upholstery that matches your lifestyle. If you have young kids or pets in your house, avoid light colours and opt for the durability of leather or the easy maintenance of a fabric lounge with removable, machine washable covers.
Plain, neutral-coloured furniture is more versatile than patterned upholstery. This means your lounge will still look great even if you re-decorate or move house.
Unless you are planning a complete overhaul of the furniture in your living room, opt for a lounge that ties in with the pieces you already own. If in doubt, opt for something timeless like dark brown leather.
Types of Upholstery
Fabric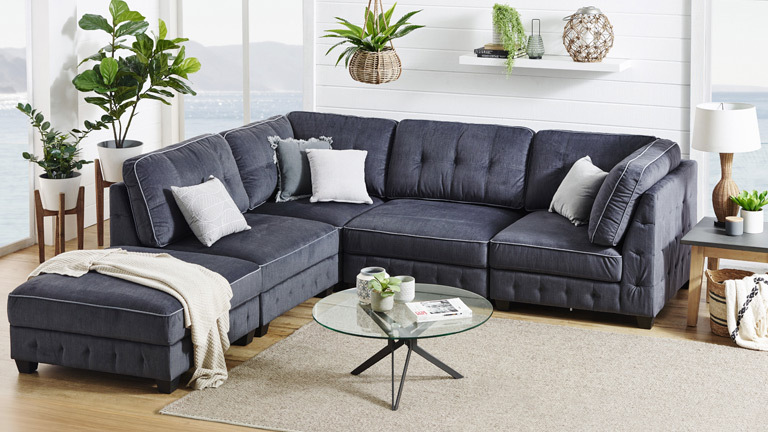 A fabric sofa creates a warm, comfortable, cosy feel that is hard to beat. Fabric sofas are available in an almost endless amount of styles and colours so you can be sure to find the one that's right for you.
One of the main choices you will have to make when shopping for a fabric lounge is whether you want one with fixed or loose covers. Loose covers are ideal for those with young families and pets as they can be removed for easy cleaning.
For the ultimate in versatility, consider a lounge with reversible covers. This will allow you to change the look and feel of your living room easily.
Fabric sofas do not cool down in the same way as leather sofas so they can always offer instant comfort in any season. This makes them ideal for anyone living in a milder climate.
Leather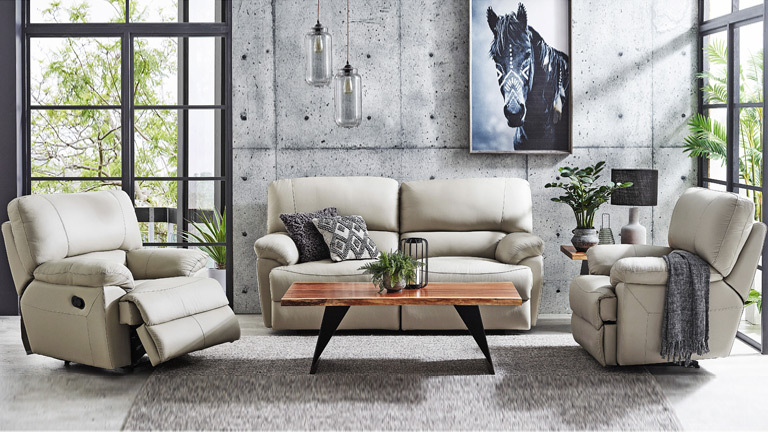 Leather is extremely durable, comfortable and always in fashion. With the correct care and regular cleaning, your product will give you years of stylish comfort making a leather lounge an investment and not just a piece of furniture.
Leather upholstery is a durable choice that will ensure an easier maintenance, yet, like any product used on a daily basis, care needs to be taken to avoid excessive wear and tear.
Any piece of leather furniture you buy will age and develop over time. Not only does this add to its character, it also means that you will have a lounge that is totally unique to you.
Protect your leather with our five year GreenGard leather protection and enjoy it for years to come. Leather care is important to protect your furniture from harmful body oils and some medications that can adversely affect the surface of leather. See our Furniture Care Guide in store for more details.
Upholstery Maintenance
Caring for Fabric Upholstery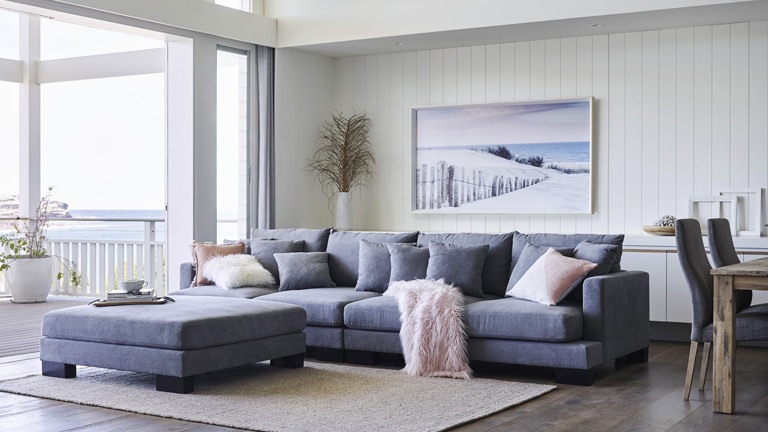 Fabric upholstery looks and feels great in any and every season. However, it can be susceptible to scuffs, marks and stains so be sure to do the following:
Keep your fabric looking fresh by vacuuming it on a weekly basis and use an upholstery attachment where available.
Before washing any piece of removable covers, read the label care first, to ensure that the proper cleaning method is applied to that specific fabric. Some fabrics can be washed in the washing machine, others need to be dry cleaned.
Spills must be treated immediately. Blot up the excess liquid and avoid scrubbing the fabric with detergents as this can cause lasting damage and increase stain.
Harvey Norman has an excellent 5 year fabric care program which offers peace of mind for years to come.
Caring for Leather Upholstery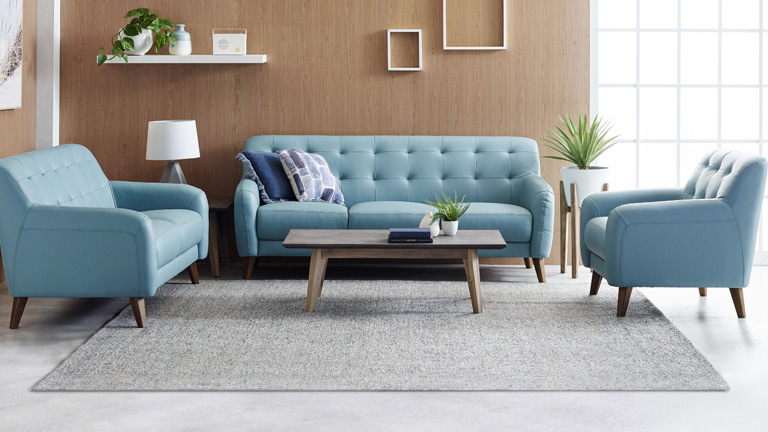 Leather care is much easier than most people realise. By performing a few minor tasks on a regular basis and some more extensive ones once or twice a year, your furniture will get better with age.
Regularly wiping down leather surfaces with a damp, soft cloth goes a long way to keeping your lounge or chair looking and feeling great. Never use soaps, detergents or solvents.
To keep the leather feeling supple and resplendent, apply specialist leather conditioner once or twice a year. Always follow the instructions on the packaging.
Light-coloured leather is susceptible to discolouration by dye transfer from materials such as denim. Never allow damp or wet clothes to come into contact with your leather surfaces.
Havey Norman has an excellent 5 year leather care program which offers peace of mind for years to come. Please check in store for further details.
Choosing Upholstery Colour & Style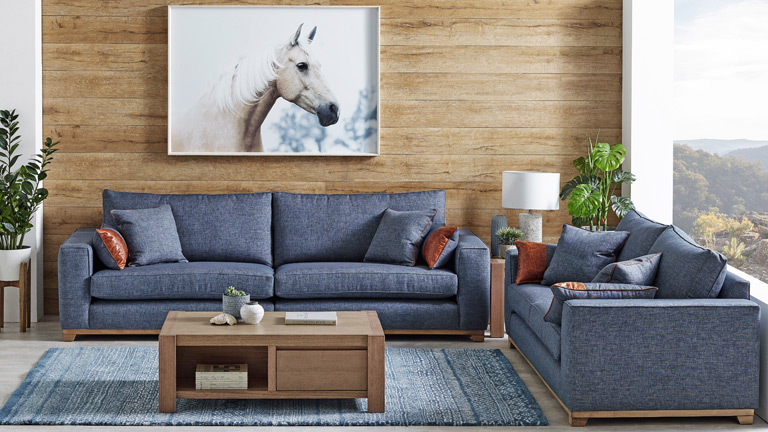 With so many options available, choosing a lounge colour and design can be overwhelming. If you are struggling to decide, bear the following in mind:
Upholstery with clean lines will help you create a contemporary feel in your living room. Decorative scrolls and other ornate patterns can help you create a more traditional look.
If you live in a rental property or if you are unsure about which colours will work best, consider opting for neutral-coloured upholstery as it will match almost any décor scheme.
Consider the size of the lounge when choosing colours and patterns. Larger scale patterns are likely to look better on larger lounges. Conversely, bold colour on large sofas can be overwhelming.
Lounge Accessories
---
Cushions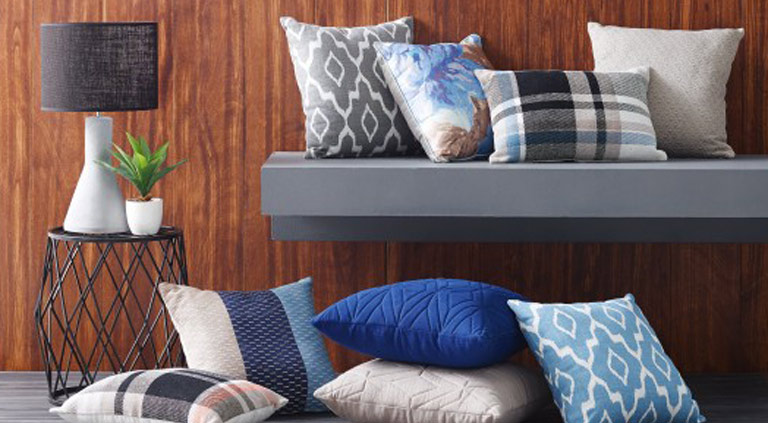 Cushions add the finishing touches and an extra layer of comfort to your lounge. Cushions are available in a range of styles, sizes and colours so you can be sure to find the ones that match your décor.
Coffee Tables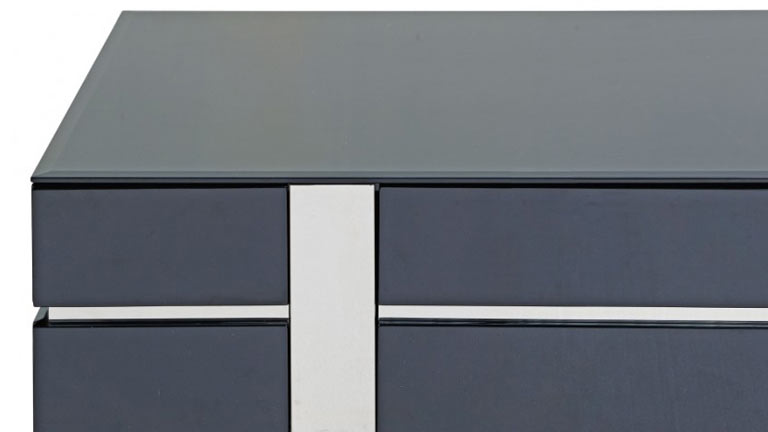 Coffee tables give you somewhere to place food, drinks and magazines without taking over your living room. Choose from wooden, veneer and metal tables to find the perfect fit for your space.
Lamps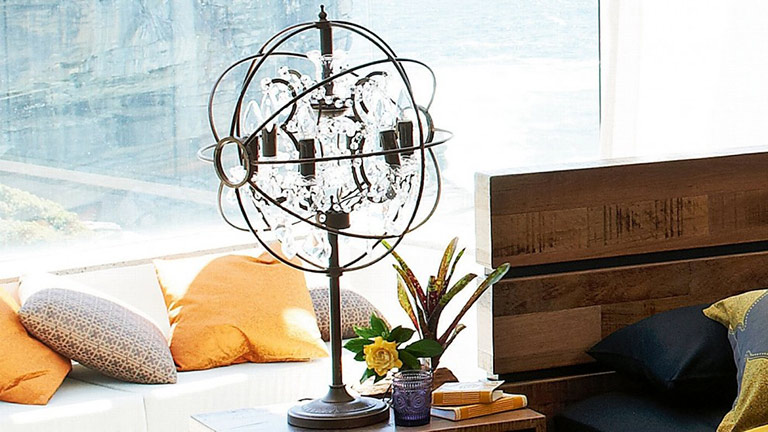 Lighting can make all the difference to the ambience in a room. Illuminate darker corners or create a warm, intimate feel by adding a stylish table or floor lamp to fill in the space.