Freezer Buying Guide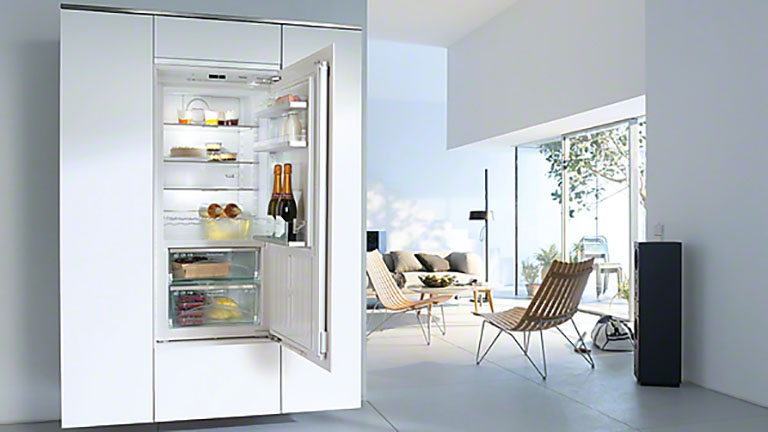 Bear the following in mind when shopping for a freezer:
Always shop for a freezer according to the size and the shape of the space in which it will sit. For vertical freezers, check which side the door is hinged on.
Be sure to allow an extra 50mm at the top, back and sides as this allows the heat produced by the freezer to escape.
It is advisable to measure the entries and hallways in your home to make sure that you avoid any issues when the freezer is delivered.
Consider opting for a freezer with a power failure feature. This will keep your food good for up to 24 hours after the power is cut.
Types of Freezers
Chest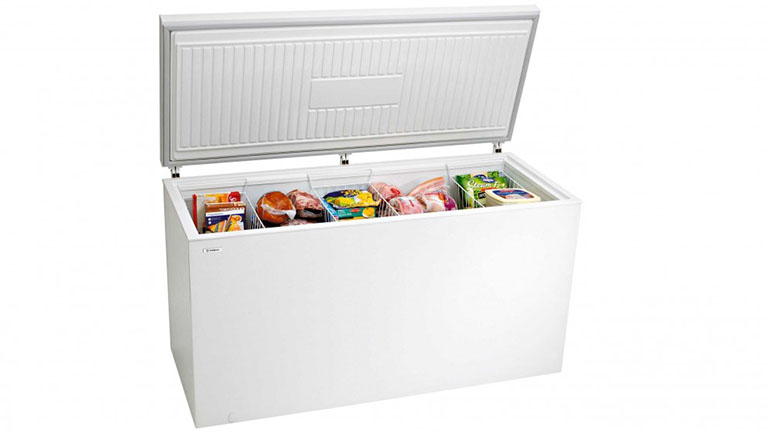 Chest freezers are a favourite of families who like to buy their food in bulk and freeze it for use at a later date. Chest freezers are available in a range of sizes to suit your home and your shopping habits.
Always look for a model with frost-free technology. If your budget can't stretch to one, look for a chest freezer with a front drain as this will make defrosting the freezer quick and painless.
Aim to purchase a model with a spring-loaded lid. This will facilitate taking food out or putting food into the cavity and reduce the strain on your back.
Chest freezer storage space is not as easy to organise as it is in vertical models. As such, it is always a good idea to purchase a model with internal lighting as this will help you see what is stored towards the bottom of the freezer.
Vertical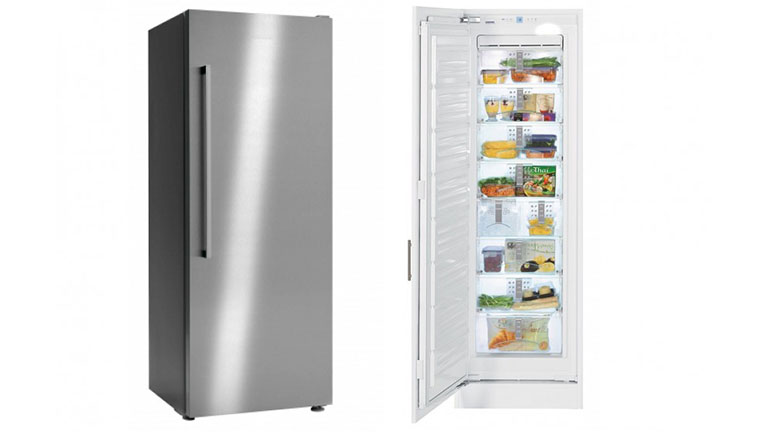 A vertical freezer can fit seamlessly into your kitchen décor so you can keep all your food right where you need it. Vertical freezers come in a range of designs to suit almost any preference and budget.
Vertical freezers tend to offer more storage options than chest freezers. Look out for models with transparent drawers, adjustable shelving and even baskets to help you organise your food.
Like the idea of cold drinks on demand? Look for models with a plumbed in ice maker so you can have ice cubes at the push of a button.
Purchasing a vertical model with touch controls and a digital display ensures you always know what is happening inside your freezer.
Freezer Features
Capacity & Efficiency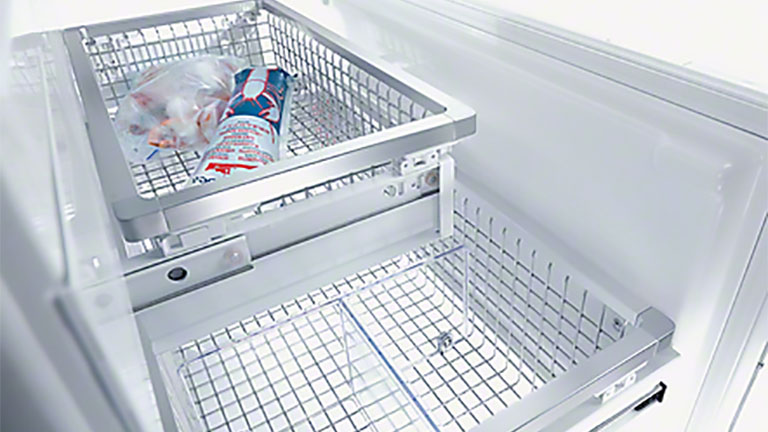 Freezer capacity (measured in litres) and energy use (kWh) play a pivotal role in establishing how much a freezer costs. You could save money on the initial spend and on the running costs by choosing an efficient freezer.
There is no hard rule as to how much freezer storage space a household needs as this will be dependent on shopping and eating habits. As a guide, 2L is roughly enough space for 1kg of food.
Freezer efficiency is determined using an index which compares energy consumption with the appliance's internal volume. This means that freezers of a different size can have the same efficiency rating.
Freezer efficiency is displayed using a star system. More stars mean a freezer costs less to run and is better for the environment. Freezers can obtain between 1 and 6 stars.
Other Features to Look For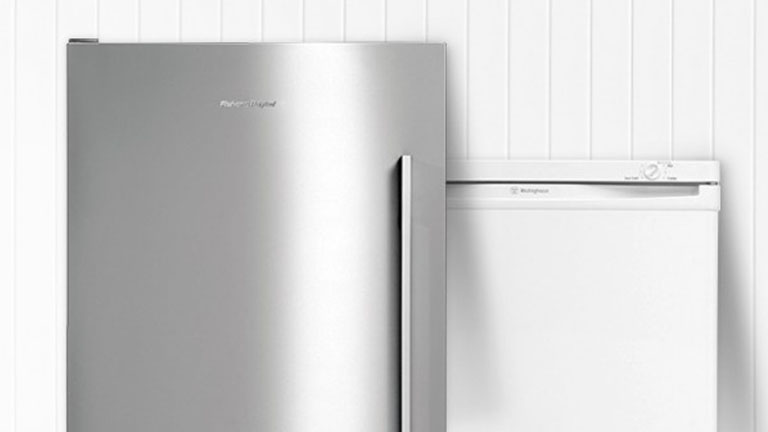 Freezer features make it easier for you to use your appliance. However, they often come at a premium so it is important to establish which, if any, you expect to use.
Inverter Compressor: inverter technology reduces the number of moving parts in the compressor. As a result, it extends the lifespan of the freezer and reduces operation noise.
Frost-free: this technology prevents the build-up of ice within the freezer cavity so you don't have to waste time defrosting it on a semi-regular basis. Manual defrost is an alternate option to consider.
Door Alarm: this feature sounds an alarm if the freezer door is left open for an inappropriate amount of time. This could save your food from turning and spare you the cost of replacing it.
Auto Fast Freeze: Lock in the freshness of your food faster with a freezer that quickly cools your food.
Freezer Companions
---
Fridge Only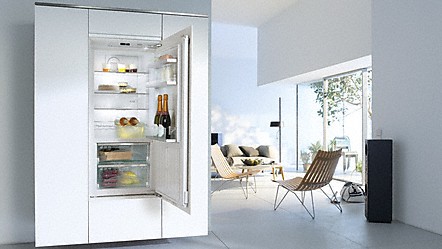 The perfect companion for your freezer, a fridge only appliance gives you more room to keep food cool but not frozen. If you have the space, consider purchasing both.
French Door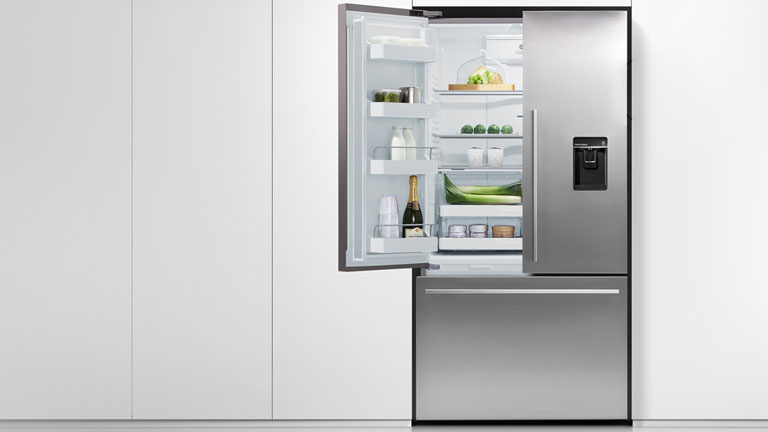 If you'd rather an all-in-one option, a French Door fridge combines a freezer and fridge and turns the appliance into a design feature of your kitchen.
Mini Fridges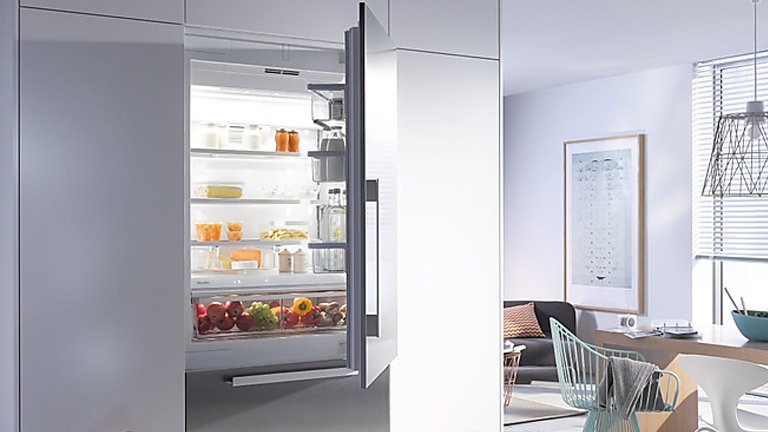 Mini fridges are perfect for anyone looking to keep drinks cool anywhere. Their compact size means they can be used throughout the home.