Just Cause 3
Take on the roll of Rico Rodriguez once more and unleash explosive justice in the third entry of the Just Cause series. Set on the Mediterranean island of Medici, Rico must once again take down a brutal dictator by using every weapon in his arsenal along with all new technology. Fire dozens of different guns, hijack land and air vehicles, throw explosives, travel by grappling hook and take to the skies on the all-new wingsuit to liberate Rico's homeland. With over 400 square miles to explore, Just Cause 3 takes open-world action to new heights.
PRE ORDER NOW!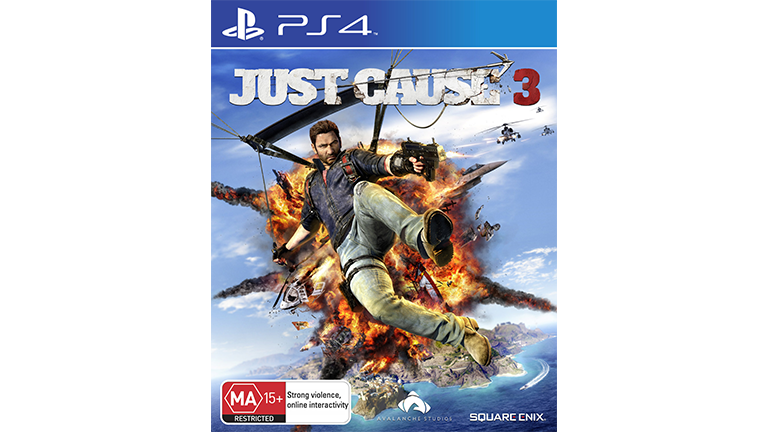 Just Cause 3 on PS4
Explore an open-world Mediterranean island with wingsuit and grappling hook and use a huge arsenal of weapons to set it free from the tyrannical grip of General Di Ravello in Just Cause 3.
Add to cart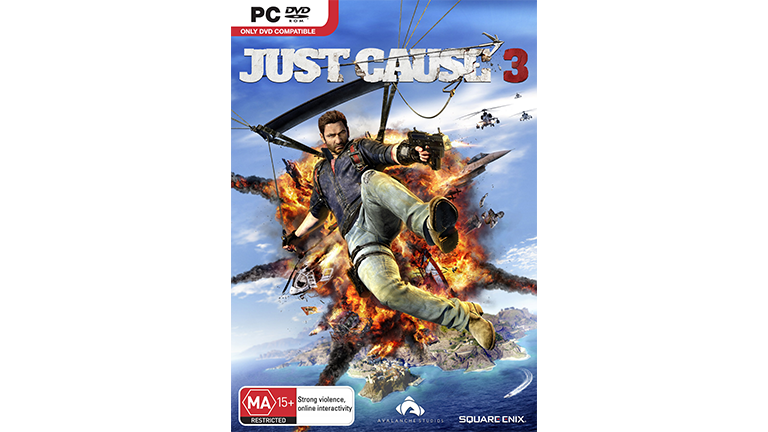 Just Cause 3 on PC
Unleash powerful weaponry, explore a 400 square mile world and take on an evil dictator in Just Cause 3. Packing realistic graphics and animation, this is the most intense Just Cause game yet.
Add to cart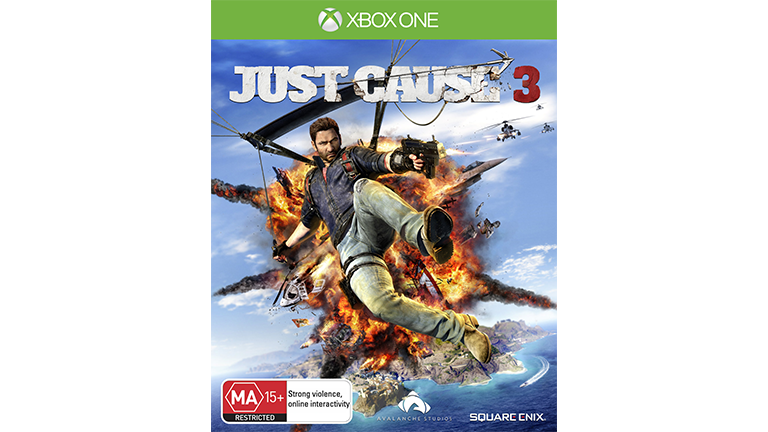 Just Cause 3 on Xbox One
Hijack fighter jets, speed boats, tanks and more as you unleash chaos against the army of a brutal dictator in Just Cause 3. With a huge open world, Just Cause 3 is filled with targets to destroy.
Add to cart
---
Key Features
Take to the Skies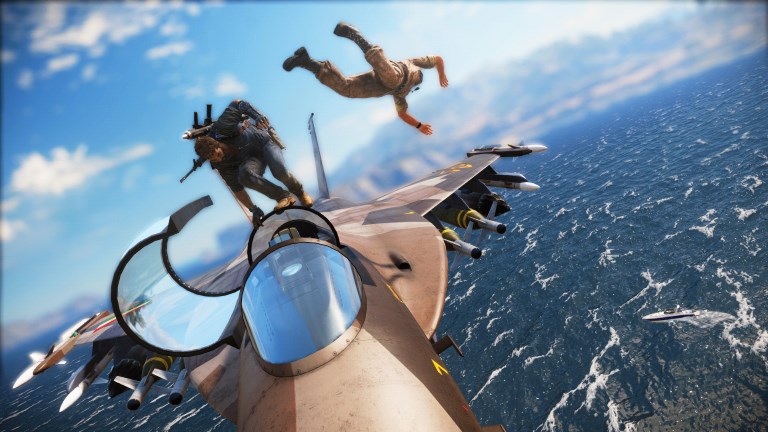 Just Cause 3 adds an all-new tool to Rico's arsenal: the wingsuit. Soar through the sky to explore Medici and ambush soldiers from above or drop down behind unsuspecting opponents. The winsguit can be upgraded so you can shoot while flying or cancel it in mid-air to land anywhere. For better air versatility the parachute also returns so you can freely jump from planes and land safely, even while returning fire. By combining the wingsuit and parachute you can set up intense sky combat and take out your targets from above.
Explore a Massive Open World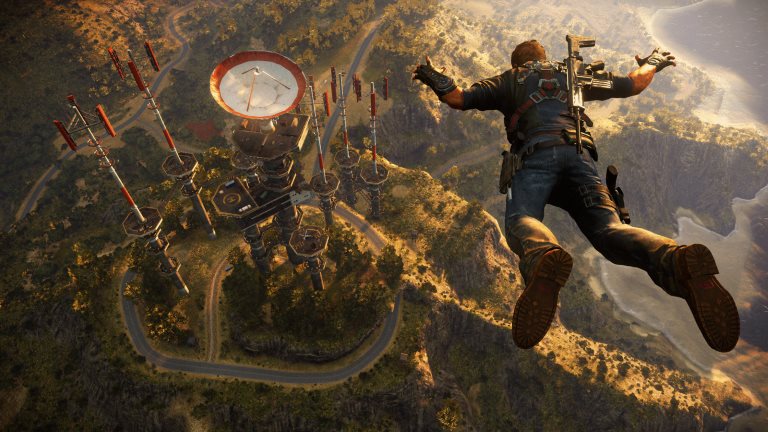 400 square miles of the sun-drenched Mediterranean island of Midici is yours to explore and conquer in Just Cause 3. Packed with tiny villages, coastal cities, mountains, jungle and more, the open-world of Just Cause 3 is filled with interesting locations to explore and tasks to undertake. Destructible terrain allows you to leave your mark as you take on Ravello and his army across the island and destroy key military targets like radars, buildings and army bases. In Just Cause 3, the world is yours.
Execute Explosive Justice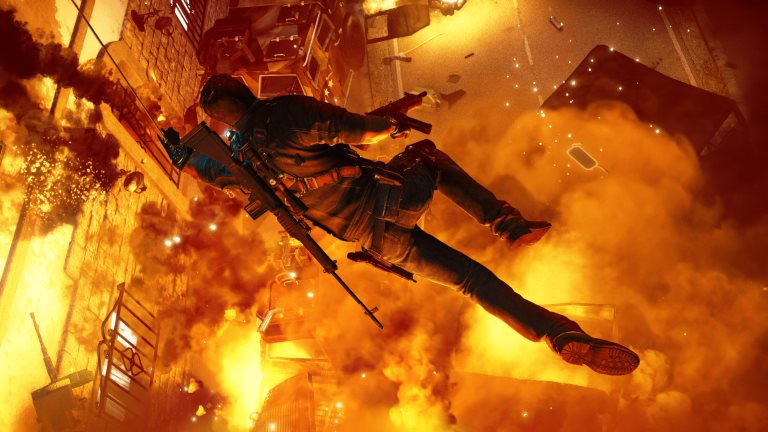 Charge into battle packing pistols, machine guns, rocket launchers, grenades and more in your quest to liberate Medici. With Rico's gun rack you can carry up to 3 weapons at a time and start shooting whether you're running, free-falling or parachuting. You can swap weapons in and out of the gun-rack as you find them so you're prepared whether you're taking on platoons of armed troops or armoured vehicles like tanks. Just Cause is all about action-packed explosions, and Just Cause 3 has more than ever.
Experience Unbelievable Action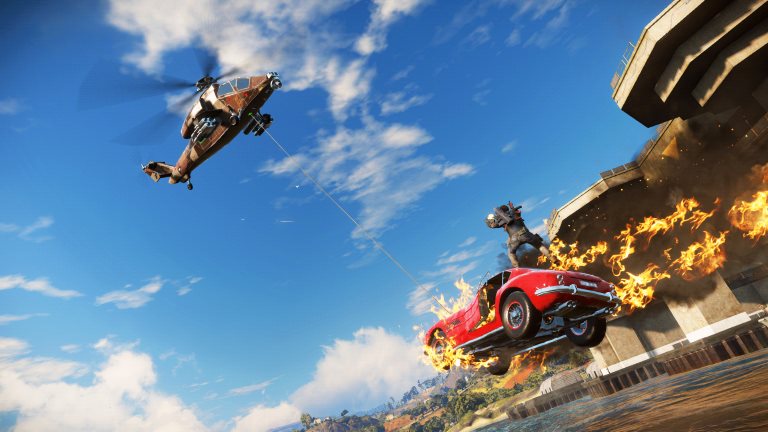 Rico's grapple hook is back in Just Cause 3 and more versatile than ever before. Using the hook you can grapple to any surface at any time or set up tether connections by attaching the back end to a different object. Grapple on helicopters to take off, attach it to a speeding car to slingshot forward or scale a cliff. As you upgrade the hook you can even rope soldiers to exploding fuel tanks, smash a helicopter into the ground and more. Just Cause 3 is all about those wow moments as you watch the intense, unbelievable action unfold.