Uncharted 4: A Thief's End
Return to the action-packed world of Uncharted and seek your fortune in Uncharted 4: A Thief's End. From mysterious jungles ruins to towns of Madagascar, hero Nathan Drake will once again need to puzzle, shoot and climb his way through deadly traps and dangerous foes. Uncharted 4 features the fast-paced shooting and good humour the series is known for, along with puzzle-solving and exploration elements. The first PlayStation 4 release for the series, Uncharted 4 immerses you in Drake's world with unprecedented graphical realism.
PRE ORDER NOW!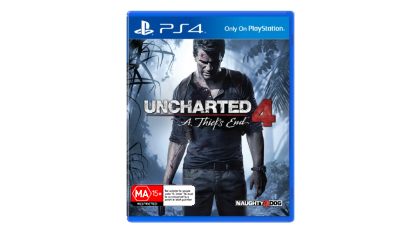 Uncharted 4: A Thief's End - PS4
Exclusive to PS4
Exclusive to PlayStation 4, Uncharted 4: A Thief's End follows Nathan Drake and his friends on an action-packed, fast-paced adventure in search of a mythical pirate utopia and its lost treasure.
Add to cart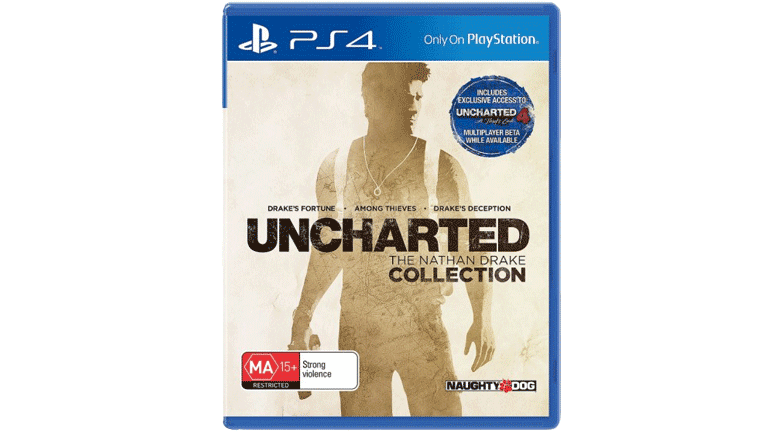 Uncharted The Nathan Drake Collection
Exclusive to PS4
Experience the beginning of Nate's story in Uncharted: The Nathan Drake Collection on PS4. Follow his journey across the first 3 games and prepare yourself for the new adventures of Uncharted 4.
Add to cart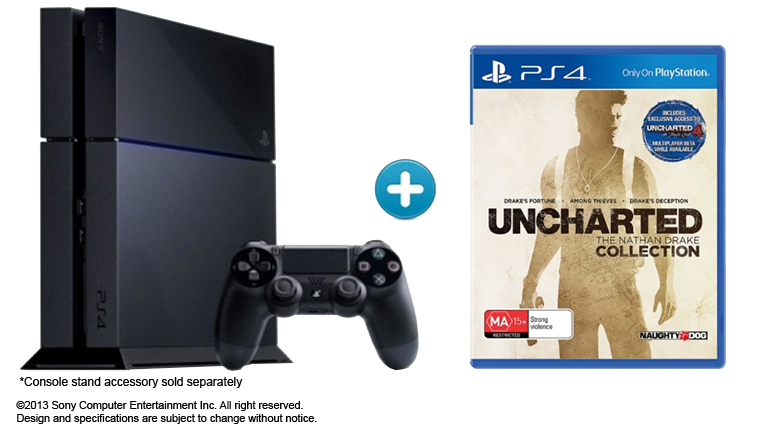 Uncharted The Nathan Drake Collection Bundle
Exclusive to PS4
Relive the epic stories of Uncharted 1, 2 and 3 in Uncharted: The Nathan Drake Collection Bundle. Bundled with a PS4 console, the Uncharted Collection features upgraded releases of the PS3 titles.
Add to cart
Uncharted 4: A Thief's End
Taking place 3 years after Uncharted 3, Uncharted 4: A Thief's End drags treasure hunter Nathan Drake back into adventure with the appearance of his long-lost brother, Sam. Running from new foes and finding help from old friends, Nate will once again journey around the globe in search of long-forgotten riches.
Harnessing the power of the PlayStation 4, Uncharted 4 delivers unprecedented realism in its graphics, animation and sound. Aiming for a realistic experience, Nate's clothes look drenched after swimming, his skin colour changes during intense action and he animates fluidly using motion-capture technology. Developer Naughty Dog want players to experience Drake's story in an immersive way only possible through video games.
---
Key Features
Action-Packed Combat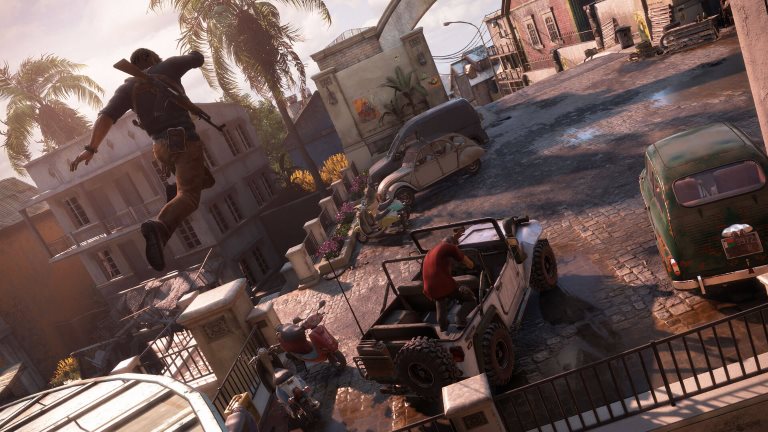 Sprint through dusty streets and dense jungles in Uncharted 4 as you run from or chase after dangerous enemies. Equipped with a variety of weapons like a handgun, assault rifle, shotgun and grenades, you can approach fights with an all-out assault or spend time sneaking around to stealthily dispatch your foes. Climb up the side of buildings and scamper across rooftops to get an edge in combat, and all-new destructible terrain adds brand new strategic elements to combat. Play online and you can even enjoy multiplayer arena battles with friends.
Follow Nate's Story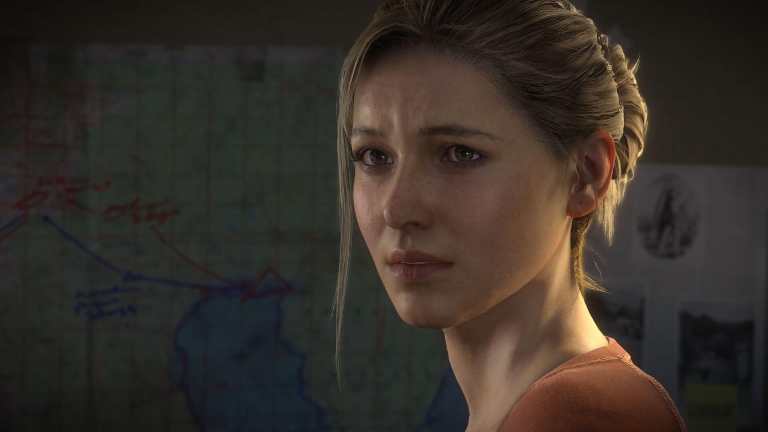 Uncharted 4 doesn't compromise its story for edge of your seat action, and Nate's fourth adventure takes him around the world on another intriguing adventure narrative. On the trail of pirate treasure, Nate teams up with his brother Sam, his old friend and mentor Sully, and long-time romantic flame Elena. Beautiful cut-scenes with lifelike graphics drive home the epic story, powered by motion capture for realistic animation and facial expressions. Uncharted 4: A Thief's End is like a classic adventure film you get to play for yourself.
New Ways to Play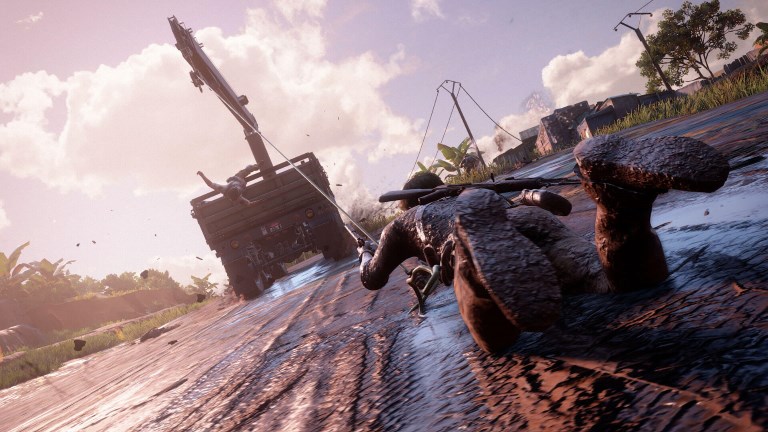 Combining intense third-person shooting action, exploration-based platforming and puzzle-solving, Uncharted 4 retains the core gameplay mechanics the series is known and loved for. Naughty Dog have given A Thief's End brings some new tricks, like Nate's new grappling hook that can be used to scale walls, dodge enemy fire and attack. Improved puzzles now require Nate to gather clues and add them to his journal, his flashlight can be turned on and off at any time, and new stealth features allow him to flee from enemies before mounting a counter-attack.
Exploring Stunning Locations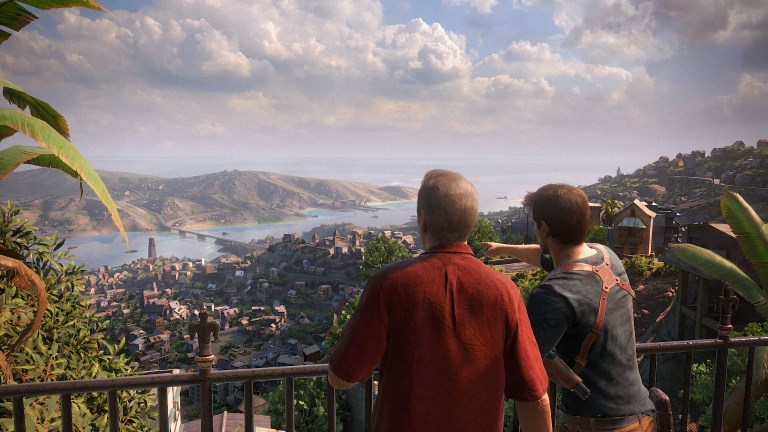 Experience the power of the PlayStation 4 with Uncharted 4's stunning landscapes, sweeping vistas and lifelike villages. A Thief's End takes players on a journey through ancient jungles enveloped in mist, exotic villages filled with interesting people and places, and long-forgotten ruins armed with traps and puzzles. Harnessing advanced next-gen technology, Nate can look drenched after swimming, covered in mud and sweaty after long runs. Uncharted is the epitome of the action-adventure genre, and Uncharted 4 delivers an immersive experience unlike any before.