Reimagine what you can do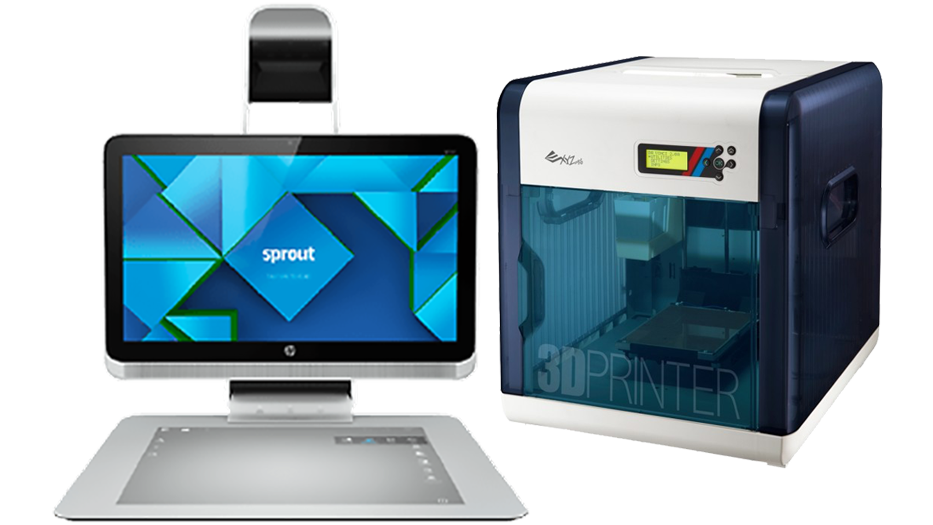 Sprout is the all-in-one computer and the heart of your 3D creative imagination
Let your imagination be unleashed
Watch a Video
Specifications
Add a whole new dimension to your creativity
Sprout is now a fully integrated desktop 3D scanning solution with 3D object capture, editing and multiple streamlined 3D print options. Now anyone can grab something from the real world, manipulate it in the digital world, and bring it to life in physical space.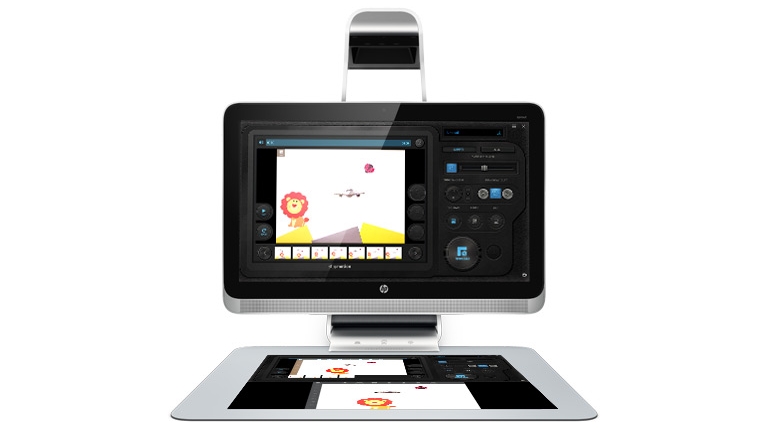 Stop motion
Stop Motion makes it easy to create stop motion animation videos using assets from your computer or captured from the Sprout mat. You can use high-quality digital images to create a professional animation, or make a quick and fun Claymation video with art supplies you have on hand.
Snapfish
Works with Sprout Workspace to print your projects on mugs, magnets, phone cases and prints.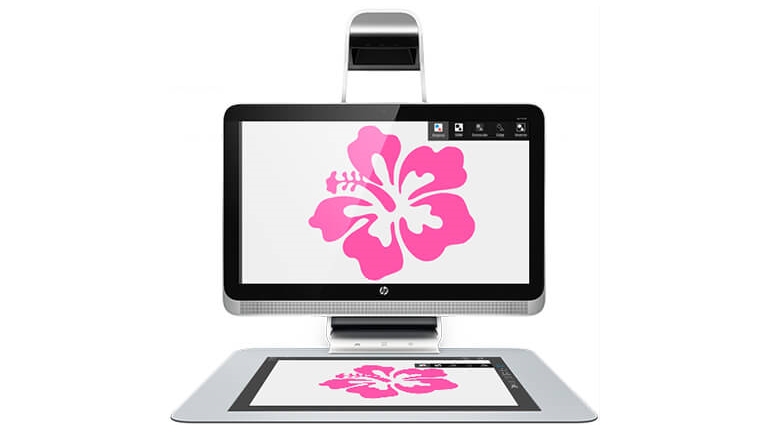 Light Stencil
Easily scan, edit, project, and trace images for projects.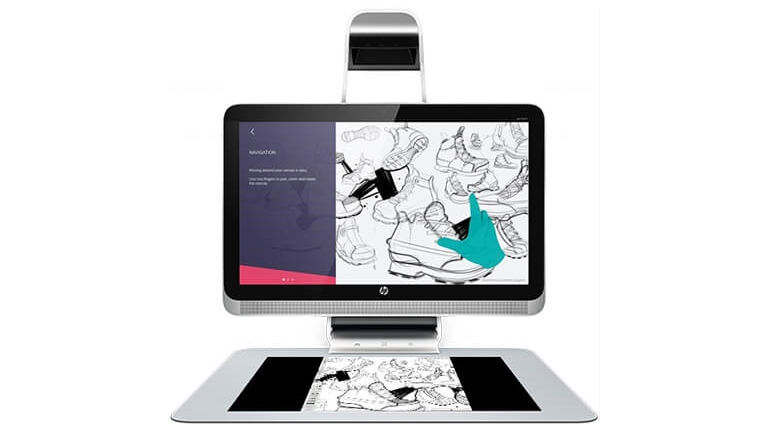 Mischief Drawing
Explore endless ideas or create impeccable detail on artwork.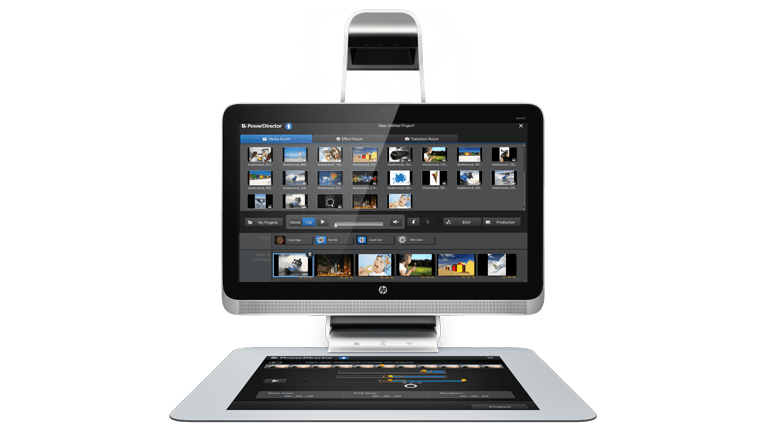 PowerDirector
Turn your family memories into all-time favorite movies.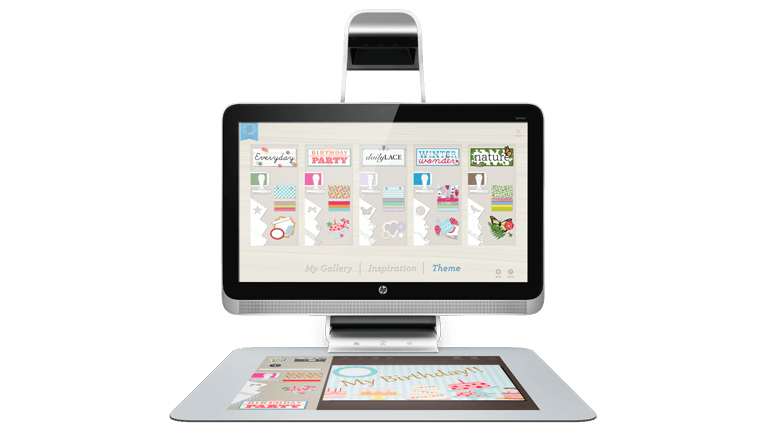 Martha Stewart CraftStudio
Create, print and share personalized cards, invitations, scrapbook pages and more!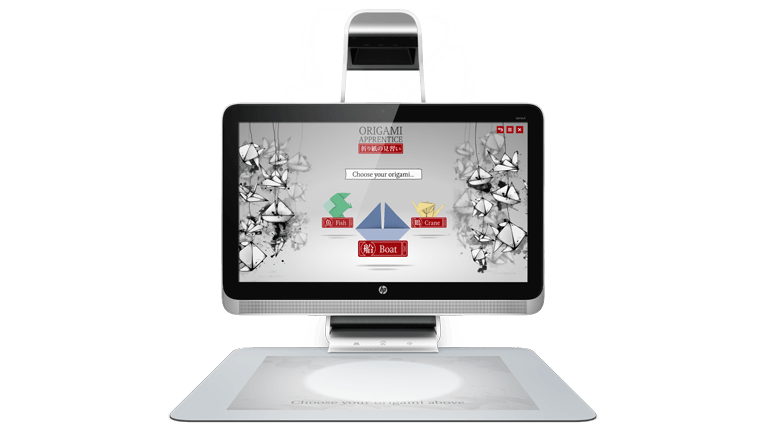 Origami Apprentice
Origami Apprentice guides learners through the process of folding origami models. Projected instructions on the Sprout's unique mat take the user step by step through the folds while the upper screen provides animated and verbal instructions.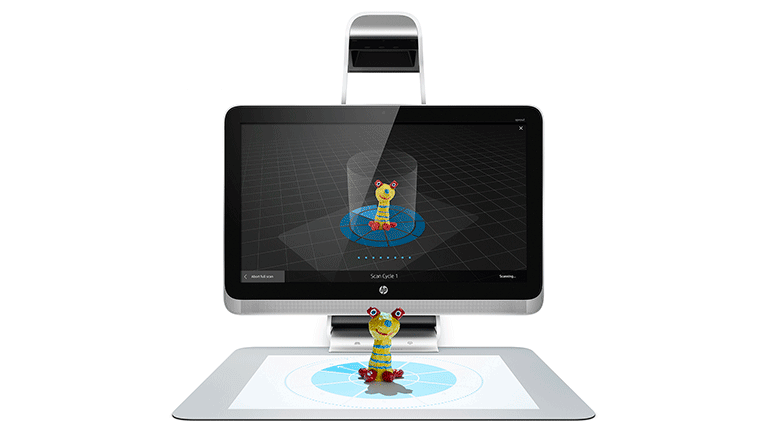 3D Capture
Sprout's 3D Capture app produces high-resolution, full-color scans with just a few simple taps.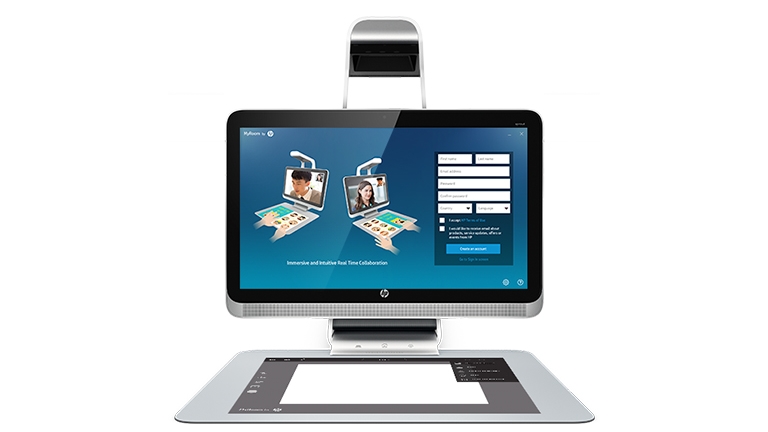 Myroom
Collaborate like never before – work together on projects in real-time, share your screen, mat and application while talking to your counterpart in a full screen view instead of a thumbnail.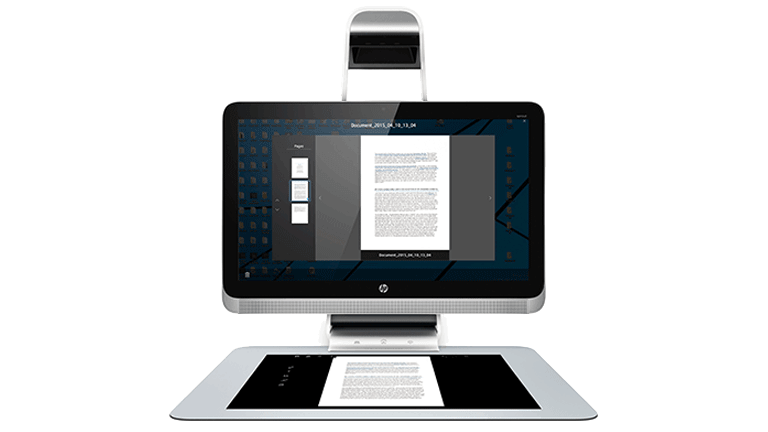 Docscan
Scan books, documents and handwritten notes and turn them into PDFs. Easily markup and highlight scans and archive or share them with anyone.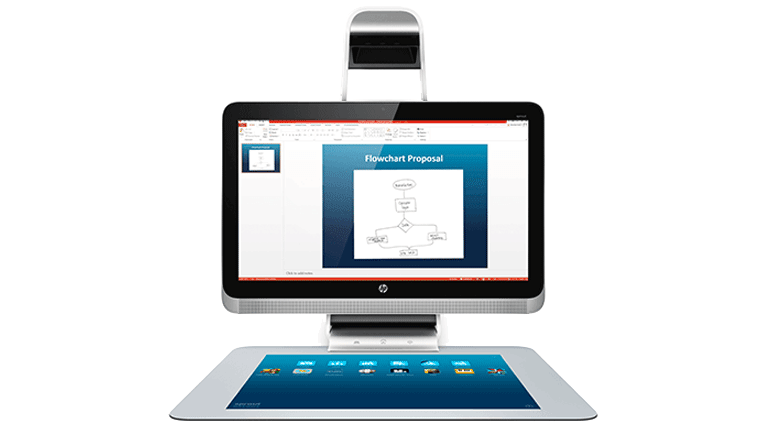 Microsoft Office Plugins
Instantly add photos and text to your presentation or document by placing items on the mat and capturing them.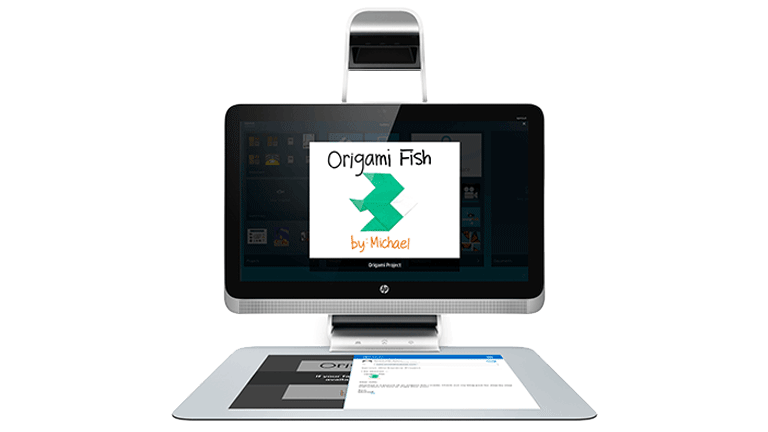 Scan-to-mail
Capture one or several objects, add notes and comments and share with your collaborators in a quick and streamlined way.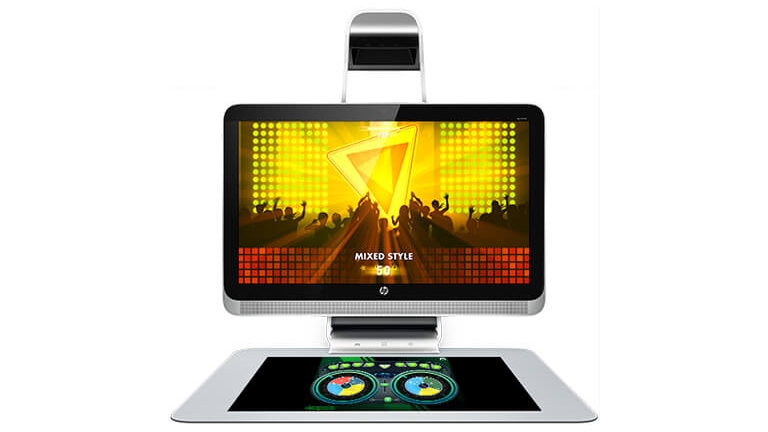 Crayola DJ
Crayola DJ is a fun music creation and performance tool.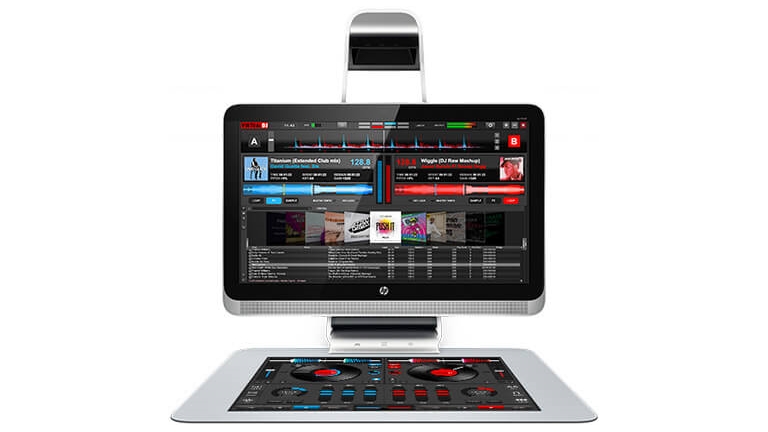 Atomix Virtual DJ
Mix & scratch your favorite music just like a real DJ.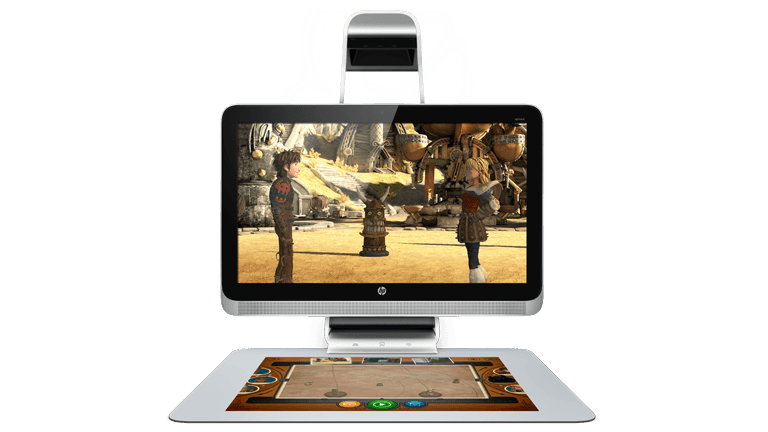 StoryProducerDreamworks Edition
Take control of the action and create DreamWorks Animation movie scenes your way.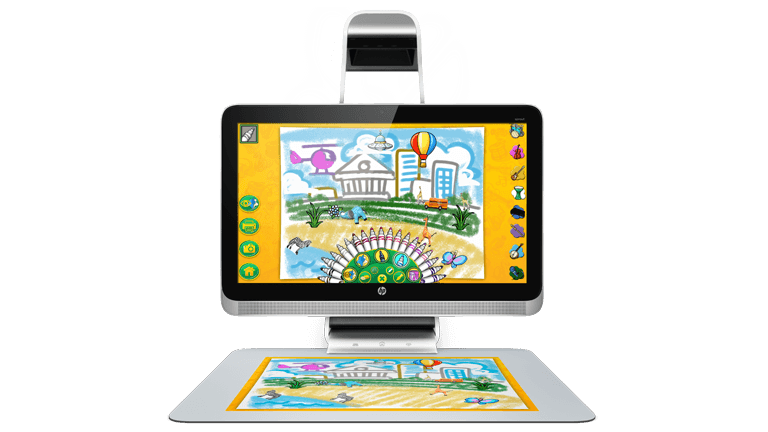 Crayola Color Draw & Sing
Draw and color with music! A fun, creative, and educational experience for kids!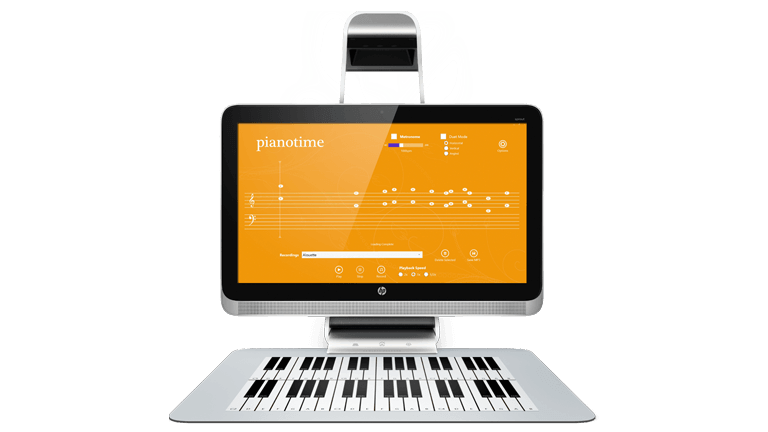 Pianotime
Pianotime is a multi-touch virtual piano application with engaging features.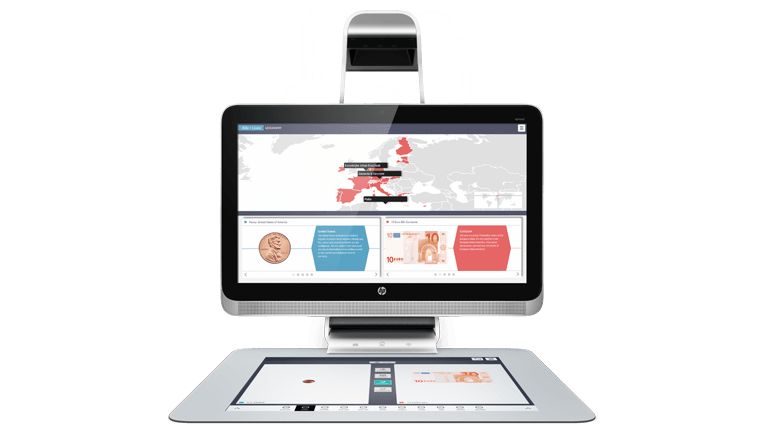 Bills & Coins
Sprout's camera can identify real bills and coins, or the user can choose virtual currency, to explore conversion data, geographical information, the history of the currency, and the materials from which the money is made.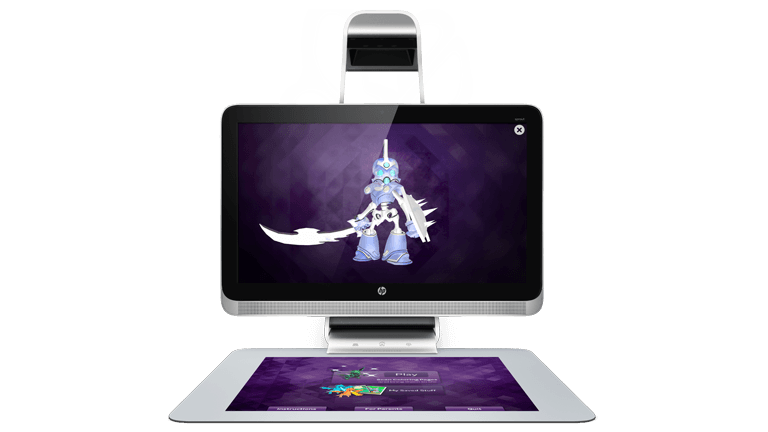 Crayola Color Alive!
Pairing an innovative 4D app with exclusive Crayola Color Alive Action Coloring Pages, Color Alive gives parents and kids the ability to interact with their real world creations like never before.
Spruzzle
Instantly capture your own photo, art, or project to create your own unique timeless puzzle.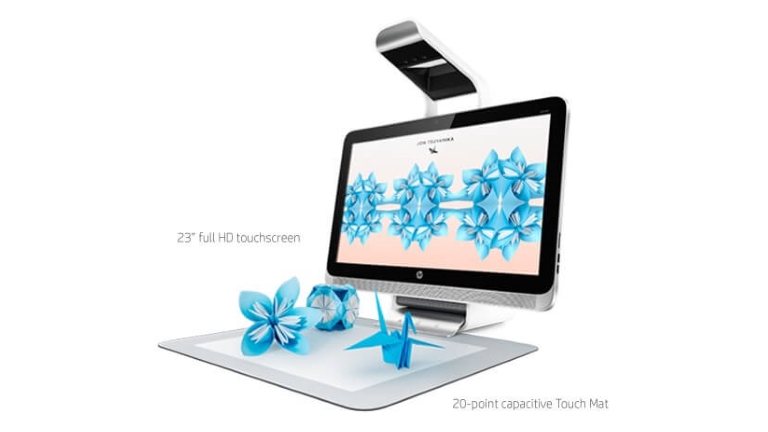 Groundbreaking user interface
Sprout's revolutionary all-touch user interface lets you control your content directly with your hands on either the 23" Full HD touchscreen or the projected display on the 20-point capacitive Touch Mat.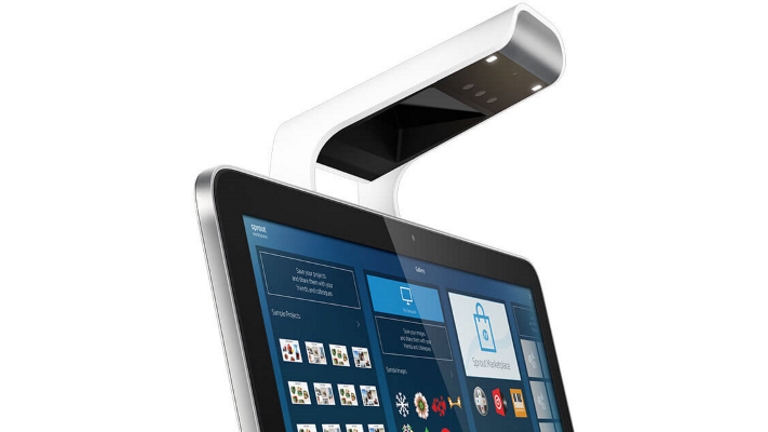 Blending the physical and digital
The Illuminator is the heart of Sprout. It houses the Intel® RealSense™ 3D camera and projection engine, which allow you to scan 2D or 3D objects and instantly display them on the Touch Mat.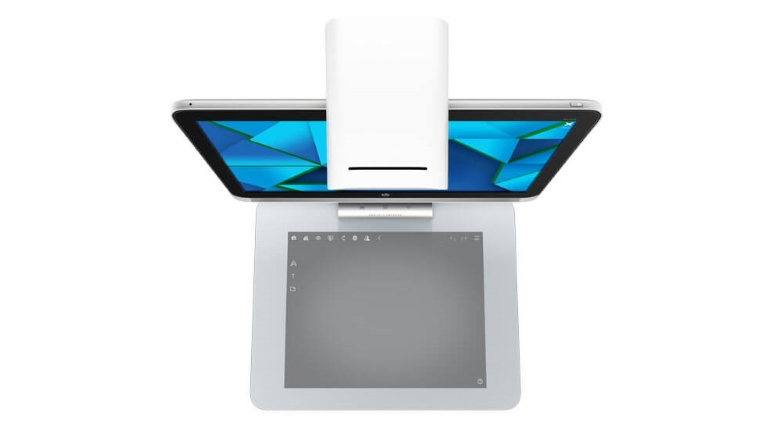 High performance all-in-one
At its core, Sprout is a high performance computer with an Intel® Core™ i7 Processor, 1TB of storage and Windows operating system. So it has plenty of power for everything from the office to the studio.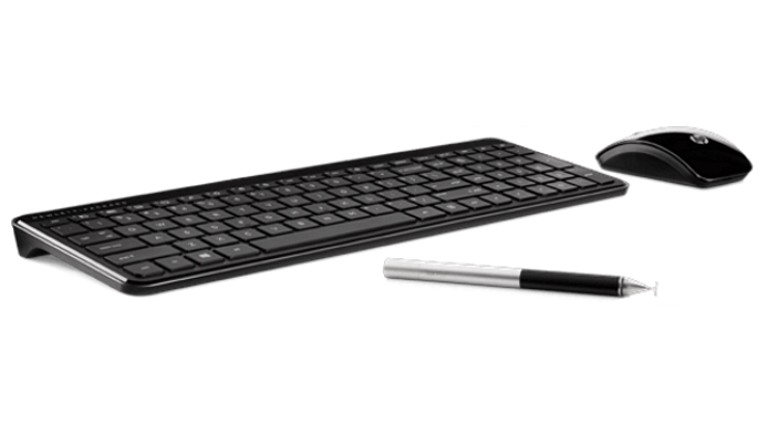 There when you need them
Every Sprout comes with an Adonit Jot Pro Stylus and Bluetooth® connected keyboard and mouse to ensure you have all the tools you need to express yourself and get work done.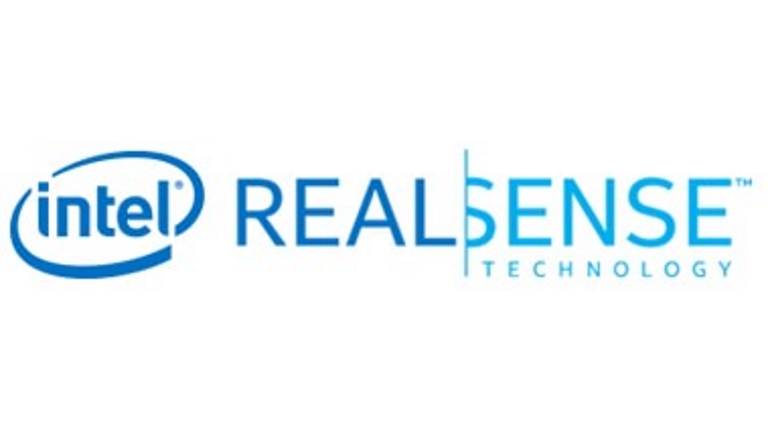 Change the way you create forever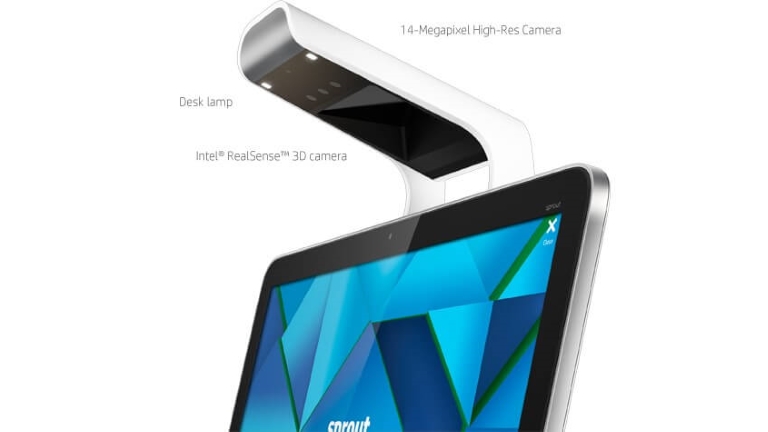 The creative heart of Sprout
The Intel® RealSense™ 3D camera is breakthrough imaging technology with three lenses that can infer depth and track human motion. The additional 14-Megapixel High-Res Camera has the capacity to capture 220-dpi color scans for more natural colors. There's even a desk lamp!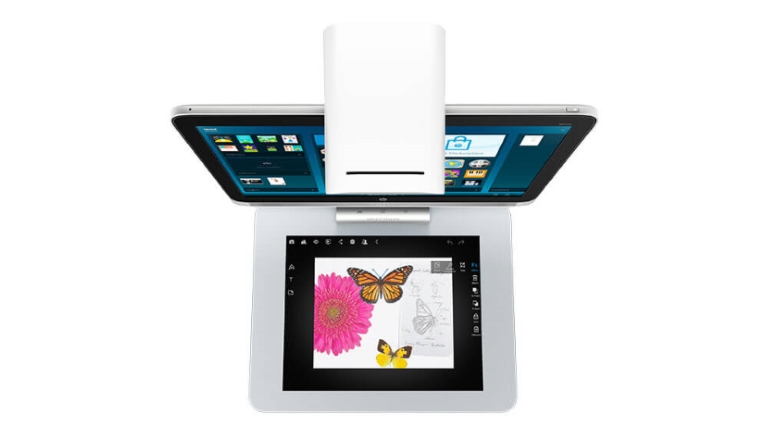 Creativity in a whole new light
The projection engine creates the unique touch display with custom high brightness mode for truer projections, transforming your desk's surface into a digital-physical workspace.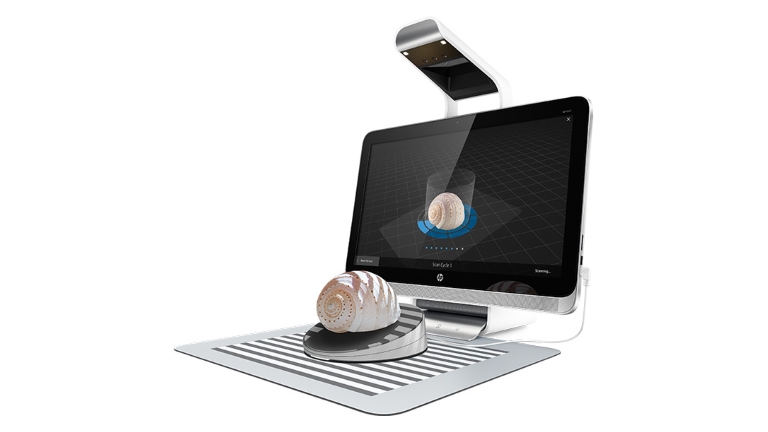 From thought to physical creation
Sprout's breakthrough technology combines the digital and physical worlds, allowing you to capture any object, reimagine it digitally, and then bring your creation to life in the real world. Grab, mash, and make whatever you can imagine—it's really that easy.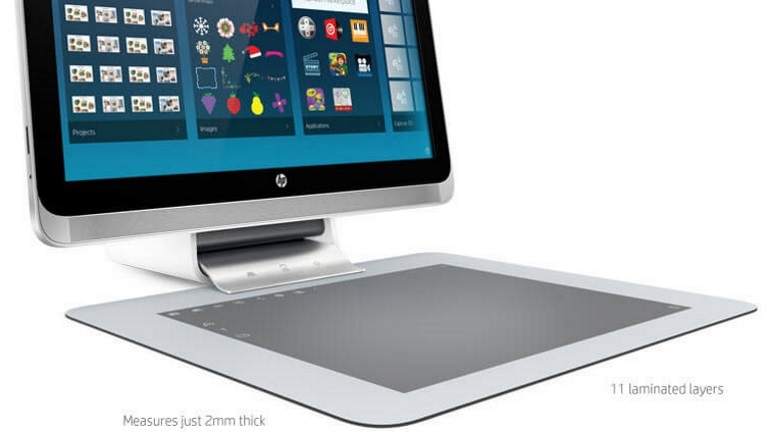 Get hands on
The incredibly thin Touch Mat allows for 20 points of contact, making it the perfect tool for effortless interaction. It's finished with a silky-smooth matte texture that's scratch-resistant, spill-proof and brilliantly durable.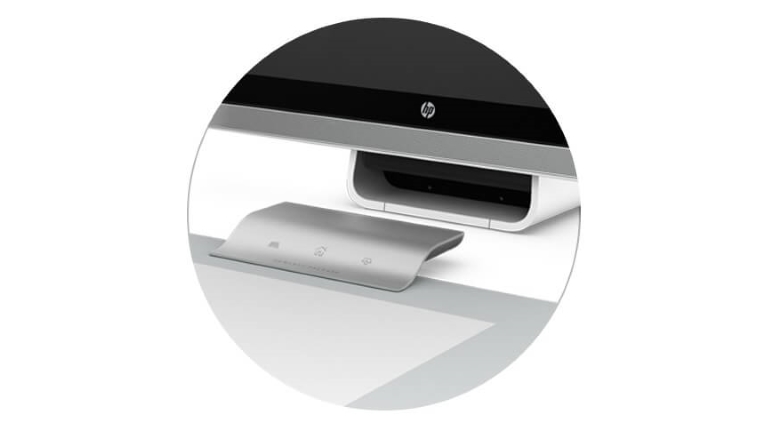 Snap
The Touch Mat connects easily with a magnetic dock at Sprout's base. Three dedicated touch buttons let you easily control the keyboard, workspace and projector.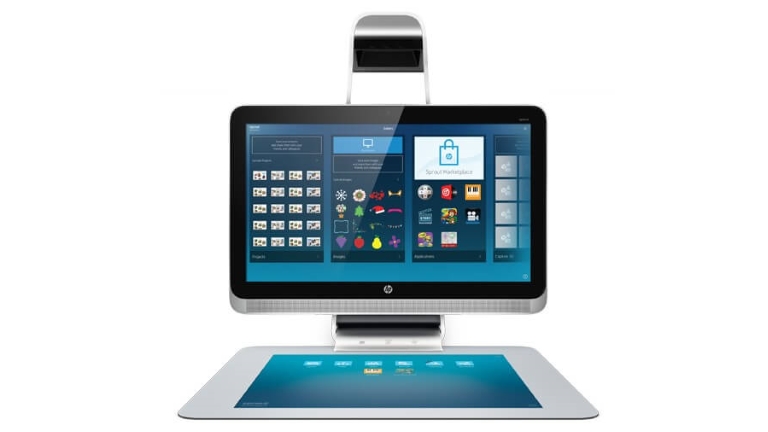 Introducing sprout workspace
Sprout's unique operating environment helps you realize the full potential of touchscreen creativity. Workspace runs alongside Windows and extends its capabilities to take advantage of sprout's breakthrough technology and unique suite of apps.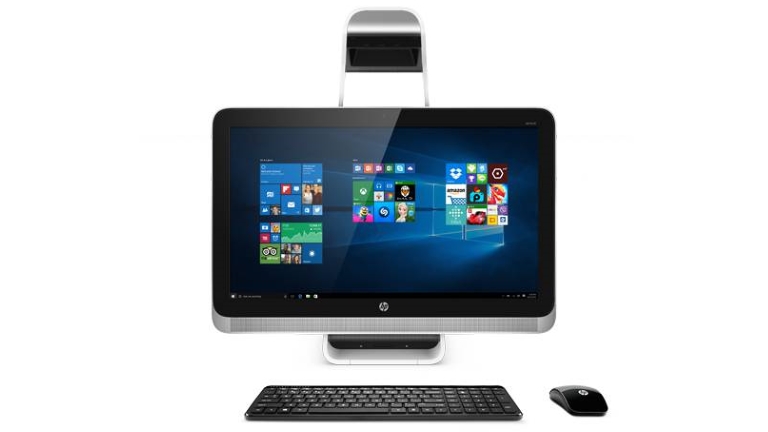 A high performance all-in-one
Windows 10
Windows 10 gives you the freedom to work or play however you want. It senses what you're doing and automatically adjusts the screen for touch or type. It's is the best combination of the Windows you already know, plus lots of great improvements you'll love. The best Windows experience yet was designed with productivity and usability in mind, and optimized by HP to run smoothly on Sprout.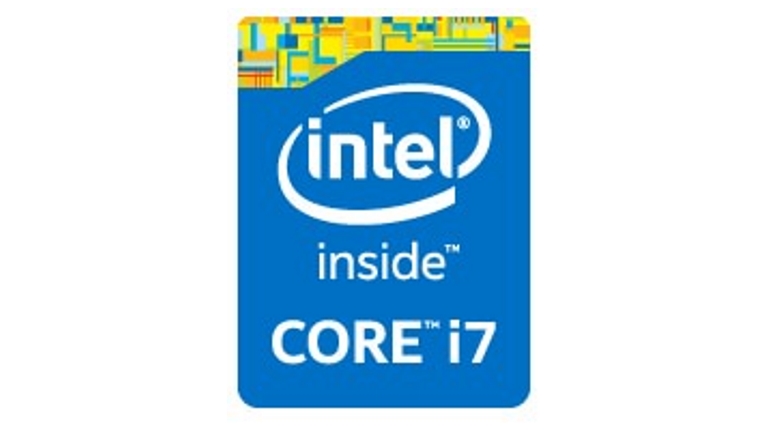 Intel® Core™ i7 Processor
The 4th generation Intel® Core™ i7 Processor delivers top-of-the-line performance, with improved graphics, power efficiency and security. Intel® Hyper-Threading technology allows for smooth multitasking and Iris graphics give you stunning 3D visuals and more advanced editing.

SSD
1 TB hybrid SSD hard drive. The perfect combo of power and storage.

Memory
8GB of RAM to effortlessly run multiple programs simultaneously.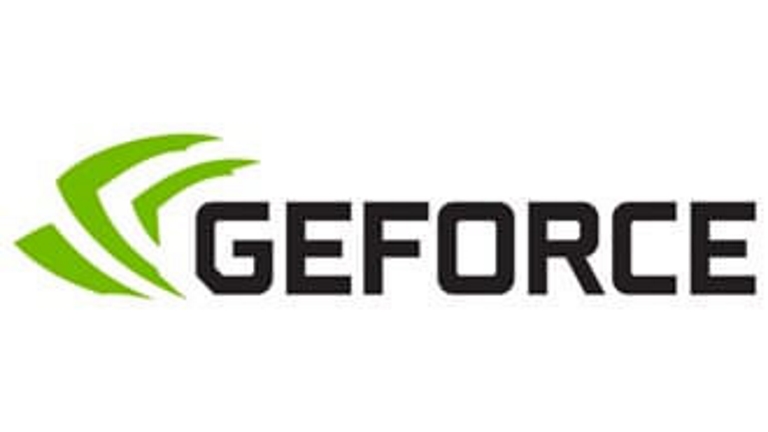 Supercharged graphics
NVIDIA™ can handle your most graphically intensive tasks, from gaming to design. NVIDIACUDA™ technology unlocks the power of the GPU's processor cores to accelerate the most demanding system tasks, delivering incredible performance improvements over traditional CPUs.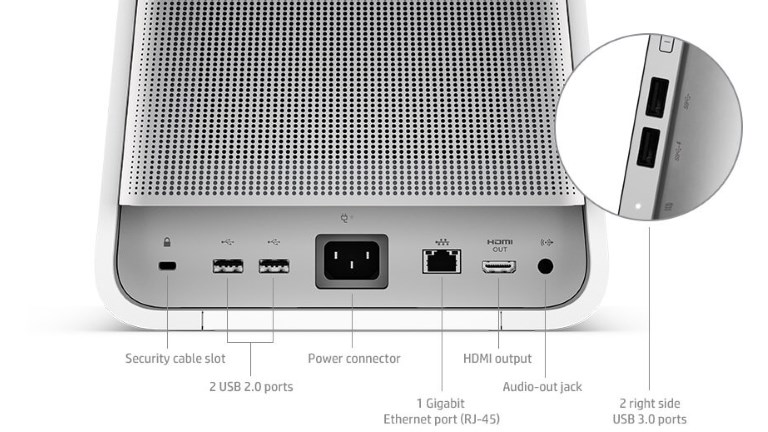 Connectivity
Buy Now
HP Sprout is only available at select stores. Please contact your nearest HN store for more details.
Start Shopping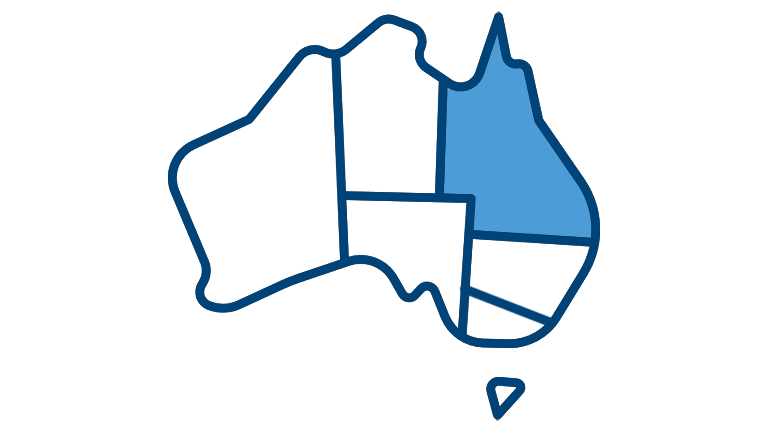 Queensland
Aspley
1411-1419 Gympie Road, Aspley QLD 4034
T:(07) 3834 1100
F:(07) 3834 1199
---
Bundall Superstore
29-45 Ashmore Road, Bundall QLD 4217
T:(07) 5584 3111
F:(07) 5538 3685
---
Oxley
2098 Ipswich Road, Oxley QLD 4075
T:(07) 3332 1100
F:(07) 3332 1199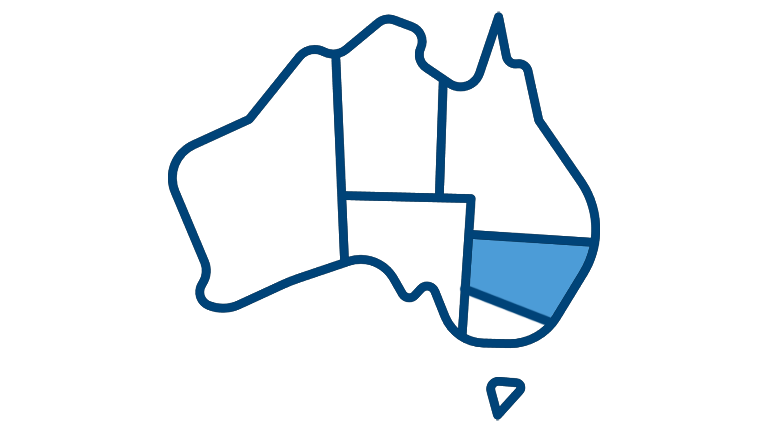 New South Wales
Auburn Superstore
Harvey Norman Centre, 250 Parramatta Road, Auburn NSW 2144
T:(02) 9202 4888
F:(02) 9202 4595
---
Bondi Junction
Shop 5016, Westfield Bondi Junction, 500 Oxford Street, Bondi Junction NSW 2022
T:(02) 8305 8800
F:(02) 8305 8899
---
Caringbah
HOMEWORKS Caringbah, 220 Taren Point Road, Caringbah NSW 2229
T:(02) 9589 8800
F:(02) 9589 8999
---
Alexandria
84 O'Riordan Street, Alexandria NSW 2015
T:(02) 8339 7000
F:(02) 8339 7299
---
Moore Park
Shop 1 Level 2, Supa Centa Moore Park, Cnr Todman Avenue & South Dowling Street, Kensington NSW 2033
T:(02) 9662 9888
F:(02) 9313 8246
---
Bennetts Green
Harvey Norman Centre, 7 Abdon Close, Bennetts Green NSW 2290
T:(02) 4944 5000
F:(02) 4944 5099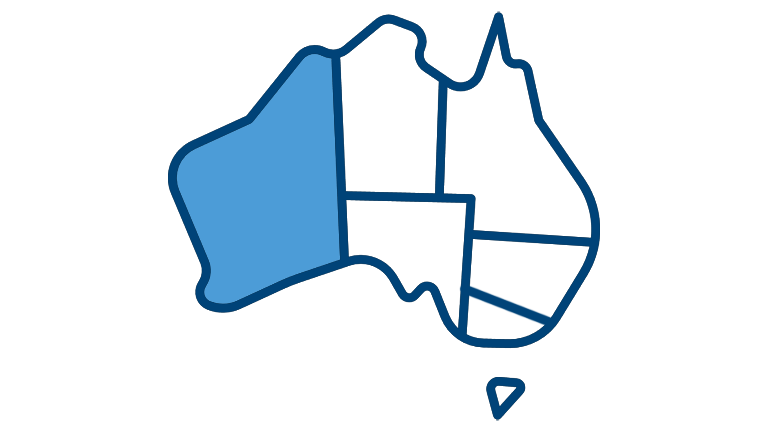 Western Australia
Cannington
Cnr Greenfield Street & Albany Highway, Cannington WA 6107
T:(08) 9311 1100
F:(08) 9311 1199
---
Osborne Park Superstore
475 Scarborough Beach Road, Osborne Park WA 6017
T:(08) 9441 1100
F: (08) 9441 1199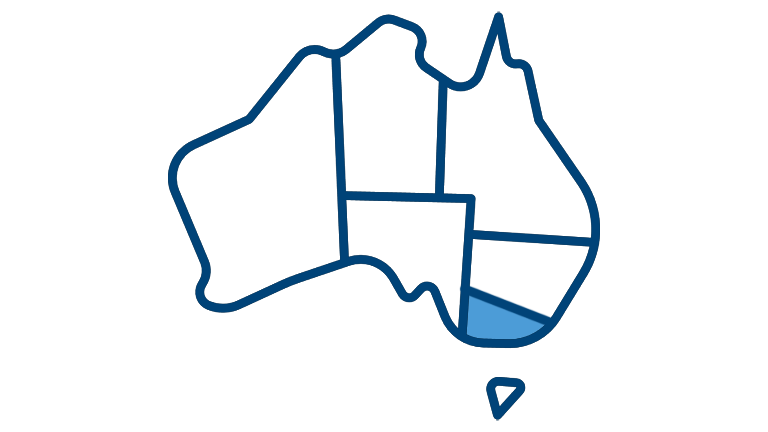 Victoria
Chadstone
699 Warrigal Road, Chadstone VIC 3148
T:(03) 9567 6666
F:(03) 9567 6699
---
Nunawading
400 Whitehorse Road, Nunawading VIC 3131
T:(03) 9837 1200
F:(03) 9872 6280
---
Melbourne City
Upper Terrace Level 4, QV, 210 Lonsdale Street, Melbourne VIC 3000
T:(03) 8664 4300
F:(03) 8664 4399
---
Springvale
Shop 9&11 Ground Level, Springvale Homemaker Centre, 917 Princes Highway, Springvale VIC 3171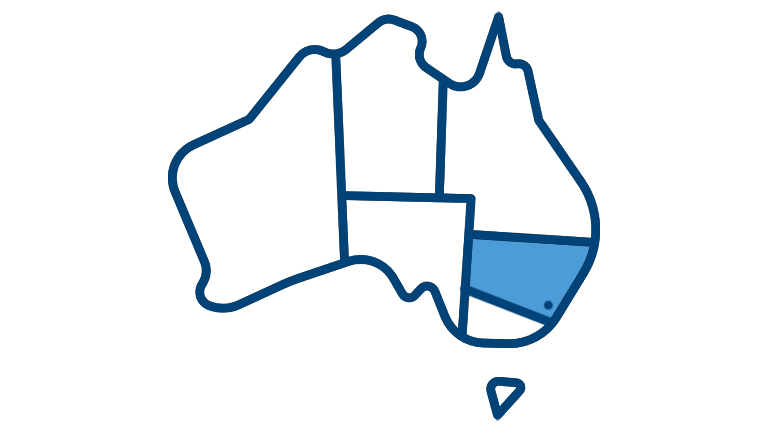 Australian Capital Territory
Fyshwick
Cnr Ipswich & Barrier Streets, Fyshwick ACT 2609
T:(02) 6283 1200
F:(02) 6280 4468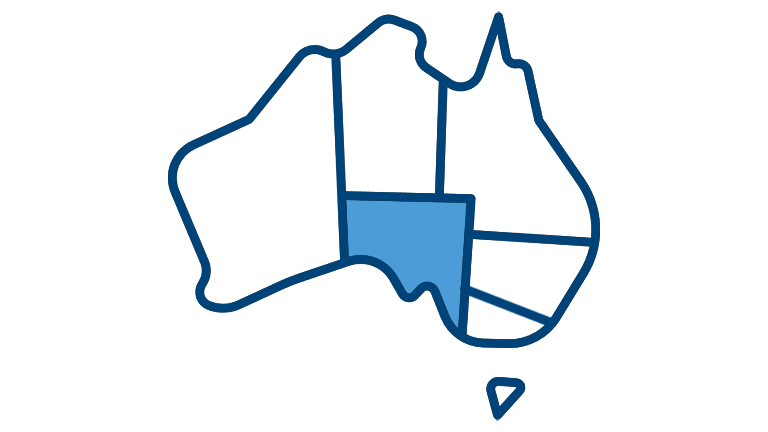 South Australia
Gepps Cross
Gepps X, 750 Main North Road, Gepps Cross SA 5094
T:(08) 8342 8888
F:(08) 8342 8899
SPECIFICATIONS
Operating System
Windows 10
HP Illuminator
HP Illuminator, powered by the HP DLP Projector, the HP High-Resolution Camera with up to 14.6 megapixel resolution and the Intel® RealSense™ 3D Camera for instant capture of 2D and 3D objects, along with an LED desk lamp
HP Touch Mat
20" diagonal, 20-point touch-enabled touch mat with an ultra-resistant top coating
Stylus
Adonit Jot Pro stylus to write and draw comfortably. It can be attached magnetically to the upper-right side of the Sprout display.
Processor
4th generation Intel® Core™ i7-4790S Processor
Graphics
NVIDIAâ"¢ GeForce GT 745A with 2GB DDR3 dedicated memory
Integrated Display
23" diagonal, 10-point touch-enabled, Full HD (1920x1080) Wide Viewing Angle, White-LED backlit LCD Display
Memory
8 GB DDR3-1600 (expandable to 16 GB)
Hybrid Drive
1TB SATA Solid State Hybrid Drive with 8GB flash acceleration cache offers SSD-like Speed & HDD capacity
Webcam
HP High Definition 1MP Webcam
Sound
DTS Sound™
Wireless
10/100/1000 Base-T Network and Integrated Bluetooth® 4.0 and Wireless LAN 802.11a/b/g/n featuring Dual-band (2.4GHz and 5GHz) 2x2 MIMO technolog
USB Ports
Dual USB 2.0 ports and dual USB 3.0 ports, including a powered port to charge phones or other USB devices
Memory Card Reader
HP 3-in-1 Media Card Reader - Supports SD, SDHC, SDXC
Keyboard and Mouse
Premium wireless chiclet-style keyboard with volume control, Windows 8 hot keys and optical mouse
Sprout Workspace
The app for capturing, creating and sharing your ideas