Outdoor Furniture Buying Guide
Purchasing Outdoor Furniture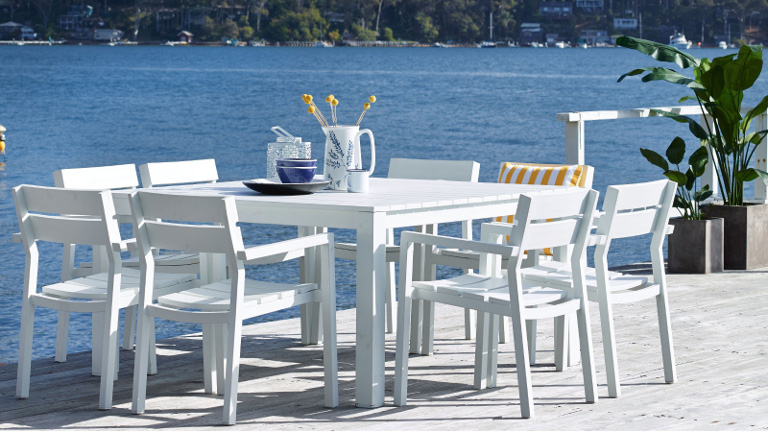 Consider the following when shopping for outdoor furniture:
Measure the available space carefully and be sure to pay close attention to the dimensions of the furniture when making a purchase. To get an idea of how the furniture will look in situ, mark out those dimensions in newspaper.
Always opt for outdoor furniture made from hardwearing, weatherproof materials. If you expect to use said furniture infrequently, look for low maintenance options like resin wicker chairs with an aluminium frame.
Opt for furniture that suits the size and layout of your outdoor areas. For example, a bistro table with foldable chairs will be perfect for a small balcony but lost on a large patio.
If you plan to store your furniture through the winter, be sure to check you have sufficient space to do so. To reduce your workload, look for lightweight furniture that will be easy to lift and move.
Consider outdoor furniture that develops design themes present in your indoor furniture. This will help you create a sense of continuity and flow as you move from one space to the other.
Types of Outdoor Furniture
Outdoor Dining Settings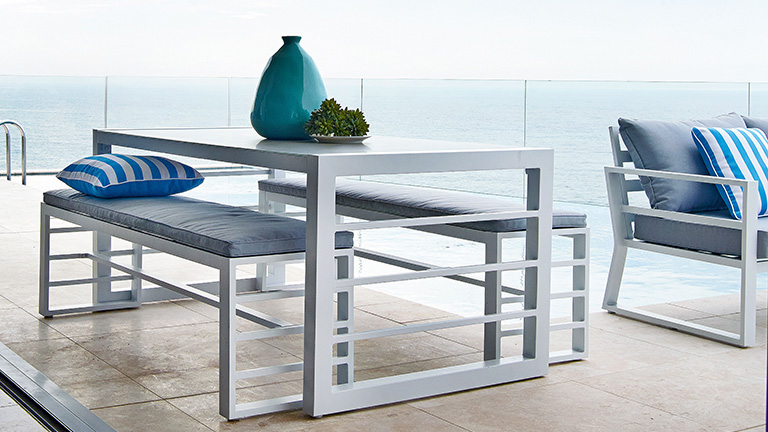 Outdoor dining furniture can help you enjoy the delights of al fresco dining in total comfort. The type of outdoor table and chairs you need is dependent on the space and how you use it. Consider the following when making a purchase:
Choose a dining table that matches the size and layout of the available space. Know that circular tables and extending tables are perfect for getting the most out of small or tight spaces.
Similarly, opt for an outdoor dining setting with chairs that suit your yard, deck or patio. Smaller spaces, for example, are likely to benefit from the addition of stackable chairs or benches that fit neatly under the table when not in use.
For the ultimate in convenience, look for outdoor dining tables that feature one or more Lazy Susans as this will allow everyone to access dishes and serving plates from wherever they are seated.
Outdoor Lounge Settings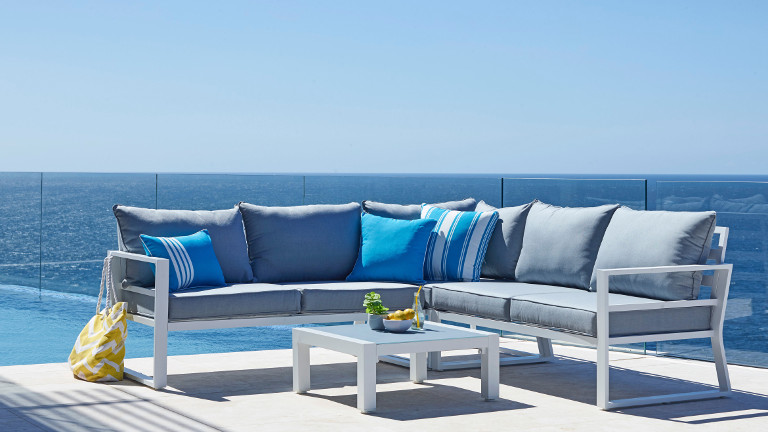 Outdoor lounge settings help you bring creature comforts from the living room into your yard. Comfortable, durable and likely to be used extensively, outdoor lounges are essential garden furniture.
Outdoor lounge settings are available with a wide range of pieces in a variety of combinations. Choose the suite that suits your space, who will be using it and how likely you are to receive guests.
Modular outdoor lounges are perfect for tailoring your space to suit your needs as they offer greater flexibility than fixed lounges. Corner lounges help minimise dead space whilst creating a visual break between one outdoor area and another.
Pay attention to the cushioning on a sofa as this will dictate how comfortable it is to use. Most outdoor lounges lack cushioned arms so if you want to stretch out, look for a chaise lounge or factor the cost of scatter cushions into your budget.
Outdoor Recliners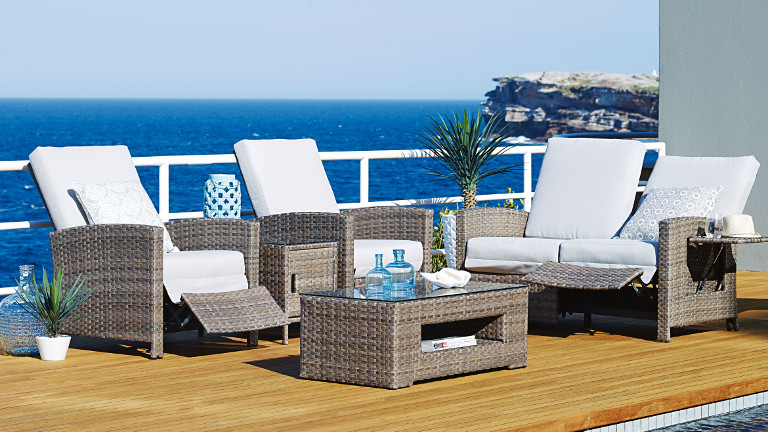 Outdoor recliners take chilling under the sun to the next level. Featuring a reclining mechanism and a built-in foot rest, these versatile outdoor chairs help you make the most of clement weather.
If you are shopping for a recliner lounge, consider models that boast independent reclining sections. This will enable you to lay back while anyone you are sharing the sofa with can remain sitting upright.
Always check that the back of an outdoor recliner is tall enough to offer you, or anyone else who will use it, head and neck support. Comfort levels will be affected if seat backs are too low.
If possible, check to see the angle of recline before you make a purchase as some chairs go back further than others. Your choice between them should be dictated by preference and how much space you plan to leave behind the seats.
Sunloungers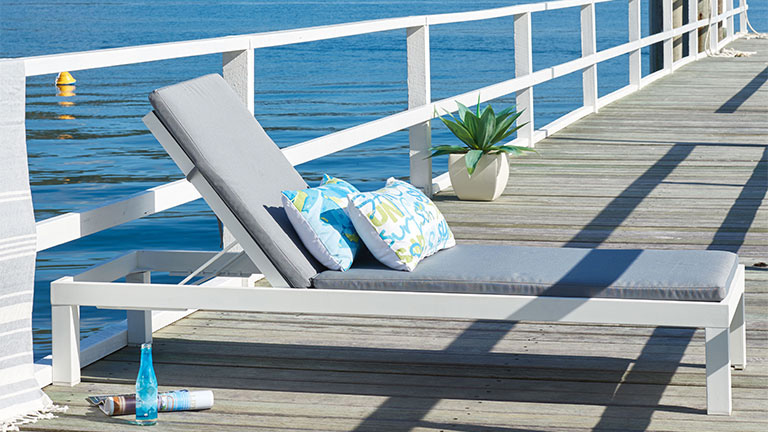 Sunloungers are a staple of any well-conceived outdoor area. Easy-to-set up, move and store, loungers are the perfect accessory for a stress-free day under the sun.
For the best value, look for sunloungers that can be set to recline to a variety of positions. This will help you find the perfect angle for every activity.
Pay attention to the thickness and the type of cushioning featured on any sunlounger as this will have a direct impact on comfort levels. Unless the lounging area is suspended, look for a lounger with a thick foam or foam/fibre fill cushion.
If you love nothing more than catching some rays, look for loungers with built-in wheels so you can easily chase the sun around your yard throughout day.
Outdoor Furniture Essentials
---
Umbrellas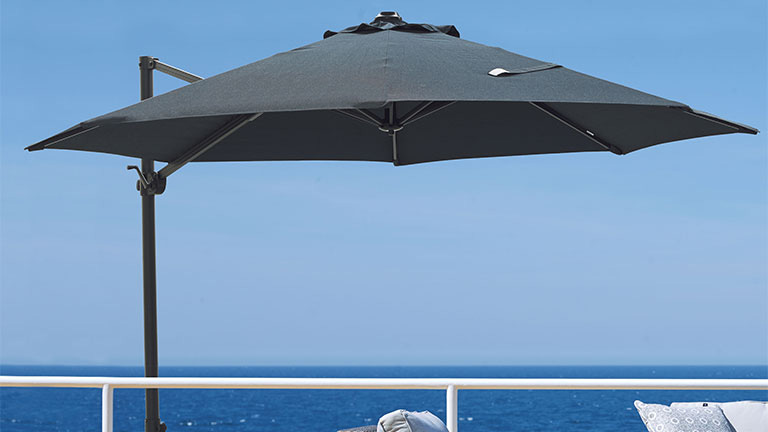 Get some welcome respite from the heat of the sun with an umbrella. Umbrellas and parasols come in a range of styles so you can be sure to find the one that matches your outdoor living set up.
Pizza Ovens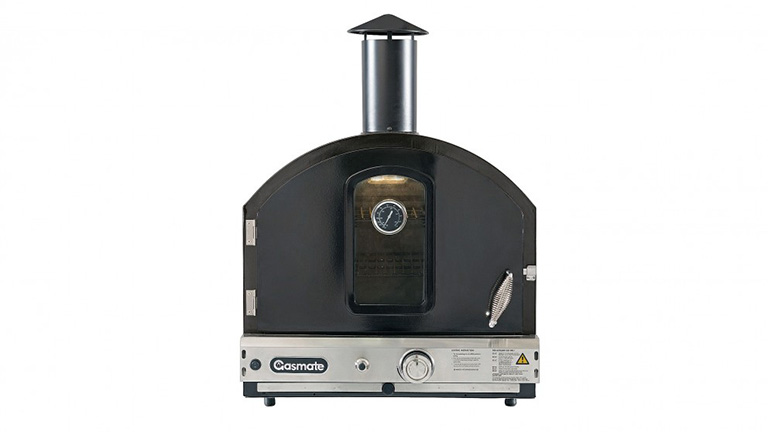 Cook delicious, fresh pizzas in your garden or yard with a pizza oven. Uncomplicated and hugely effective, pizza ovens will enable you to feed gatherings of all sizes with relative ease.
BBQs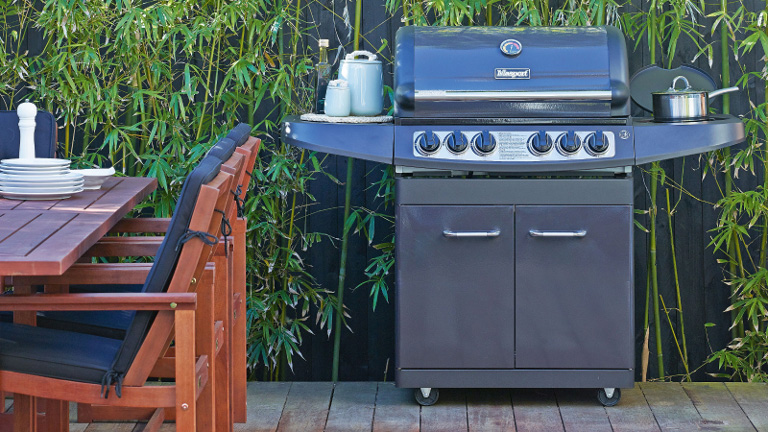 No Australian yard, deck, patio or garden would be complete without a BBQ. Shop a wide range of gas, electric and charcoal BBQs and find what you need to cook up a storm under the summer sun.