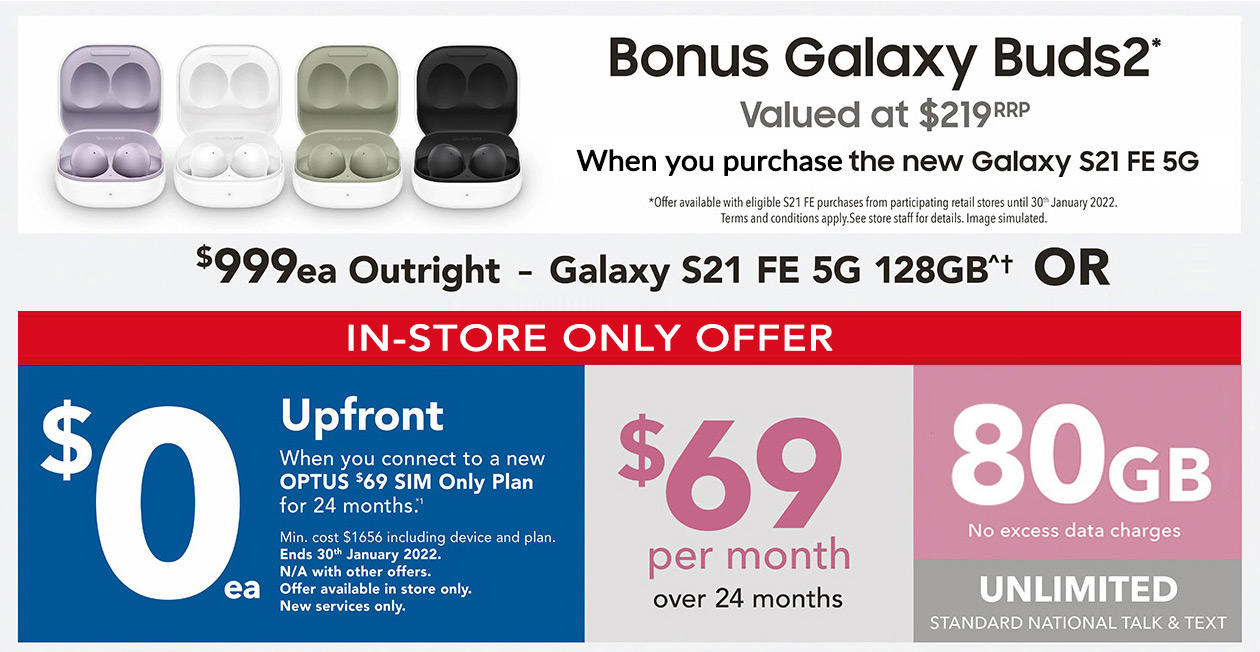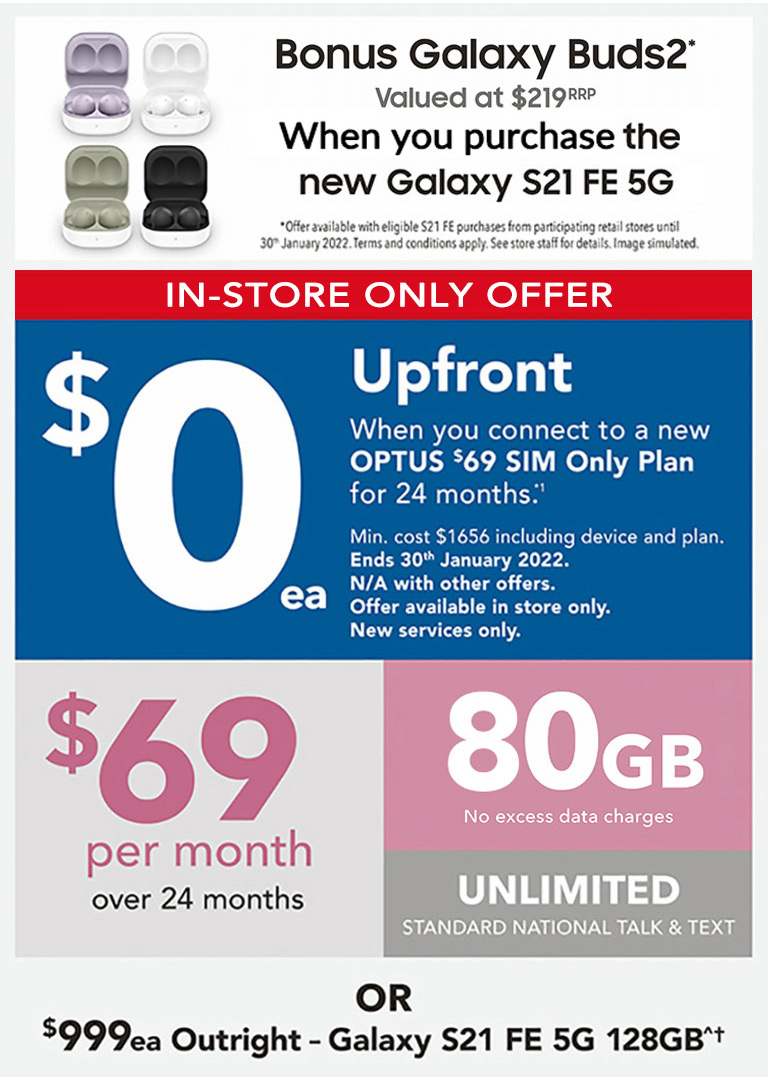 ^Available in selected stores. ✝Colours may vary between stores. *1 In store only. Plan and device must be purchased at the same time. Limit of 1 per service, up to a max. 5 per customer. Not available to TechFund and Fleet customers. Recontracts and rate plan changes are excluded. Plan cancellation fees apply. Optus Fair Go Policy applies. Full T&C's available at hn.com.au/optus-BYO
Display

GALAXY S21 FE 5G

6.4" Infinity-O Display Full HD+ (2340 x 1080) Dynamic AMOLED 2X 120Hz Refresh

GALAXY S21 ULTRA 5G

6.8" Infinity-O Display Quad HD+ (3200 x 1440) Dynamic AMOLED 2X Adaptive 120Hz Refresh

GALAXY S21+ 5G

6.7" Infinity-O Display Full HD+ (2400 x 1080) Dynamic AMOLED 2X Adaptive 120Hz Refresh

GALAXY S21 5G

6.2" Infinity-O Display Full HD+ (2400 x 1080) Dynamic AMOLED 2X Adaptive 120Hz Refresh

Rear Camera

GALAXY S21 FE 5G

12MP (Wide, F1.8) 8MP (Telephoto, F2.4) 12MP (Ultra Wide, F2.2)

GALAXY S21 ULTRA 5G

108MP (Wide, F1.8) 10MP (Telephoto, F2.4) 10MP (Telephoto, F4.9) 12MP (Ultra Wide, F2.2)

GALAXY S21+ 5G

12MP (Wide, F1.8) 64MP (Telephoto, F2.0) - 12MP (Ultra Wide, F2.2)

GALAXY S21 5G

12MP (Wide, F1.8) 64MP (Telephoto, F2.0) - 12MP (Ultra Wide, F2.2)

Front Camera
Camera Features

GALAXY S21 FE 5G

Space Zoom (30x Digital) 3x Hybrid Optic Zoom 4K Video Recording @ 60fps Night Mode Single Take -

GALAXY S21 ULTRA 5G

Space Zoom (100x Digital) 10x Optical Zoom 8K Video Recording @ 30fps Night Mode Single Take Laser Auto Focus

GALAXY S21+ 5G

Space Zoom (30x Digital) 3x Hybrid Optic Zoom 8K Video Recording @ 30fps Night Mode Single Take -

GALAXY S21 5G

Space Zoom (30x Digital) 3x Hybrid Optic Zoom 8K Video Recording @ 30fps Night Mode Single Take -

S Pen Support
Storage

GALAXY S21 FE 5G

256GB 128GB No mSD Support

GALAXY S21 ULTRA 5G

512GB 256GB 128GB No mSD Support

GALAXY S21+ 5G

256GB 128GB No mSD Support

GALAXY S21 5G

256GB 128GB No mSD Support

Memory
Audio

GALAXY S21 FE 5G

Stereo speakers Dolby Atmos

GALAXY S21 ULTRA 5G

Stereo speakers Dolby Atmos

GALAXY S21+ 5G

Stereo speakers Dolby Atmos

GALAXY S21 5G

Stereo speakers Dolby Atmos

Battery

GALAXY S21 FE 5G

4,500mAh (Typical) 25W Super Fast Charging (Sold separately) 15W Fast Wireless Charging Wireless PowerShare

GALAXY S21 ULTRA 5G

5,000mAh (Typical) 25W Super Fast Charging (Sold separately) 15W Fast Wireless Charging Wireless PowerShare

GALAXY S21+ 5G

4,800mAh (Typical) 25W Super Fast Charging (Sold separately) 15W Fast Wireless Charging Wireless PowerShare

GALAXY S21 5G

4,000mAh (Typical) 25W Super Fast Charging (Sold separately) 15W Fast Wireless Charging Wireless PowerShare

Chipset
Security

GALAXY S21 FE 5G

Optical In-screen Fingerprint Facial Recognition Secured by Knox

GALAXY S21 ULTRA 5G

Ultrasonic In-screen Fingerprint Facial Recognition Secured by Knox

GALAXY S21+ 5G

Ultrasonic In-screen Fingerprint Facial Recognition Secured by Knox

GALAXY S21 5G

Ultrasonic In-screen Fingerprint Facial Recognition Secured by Knox

Ingress Protection
Operating System
SIM Type

GALAXY S21 FE 5G

Single SIM (eSIM not supported)

Network
Product Dimensions
Product Weight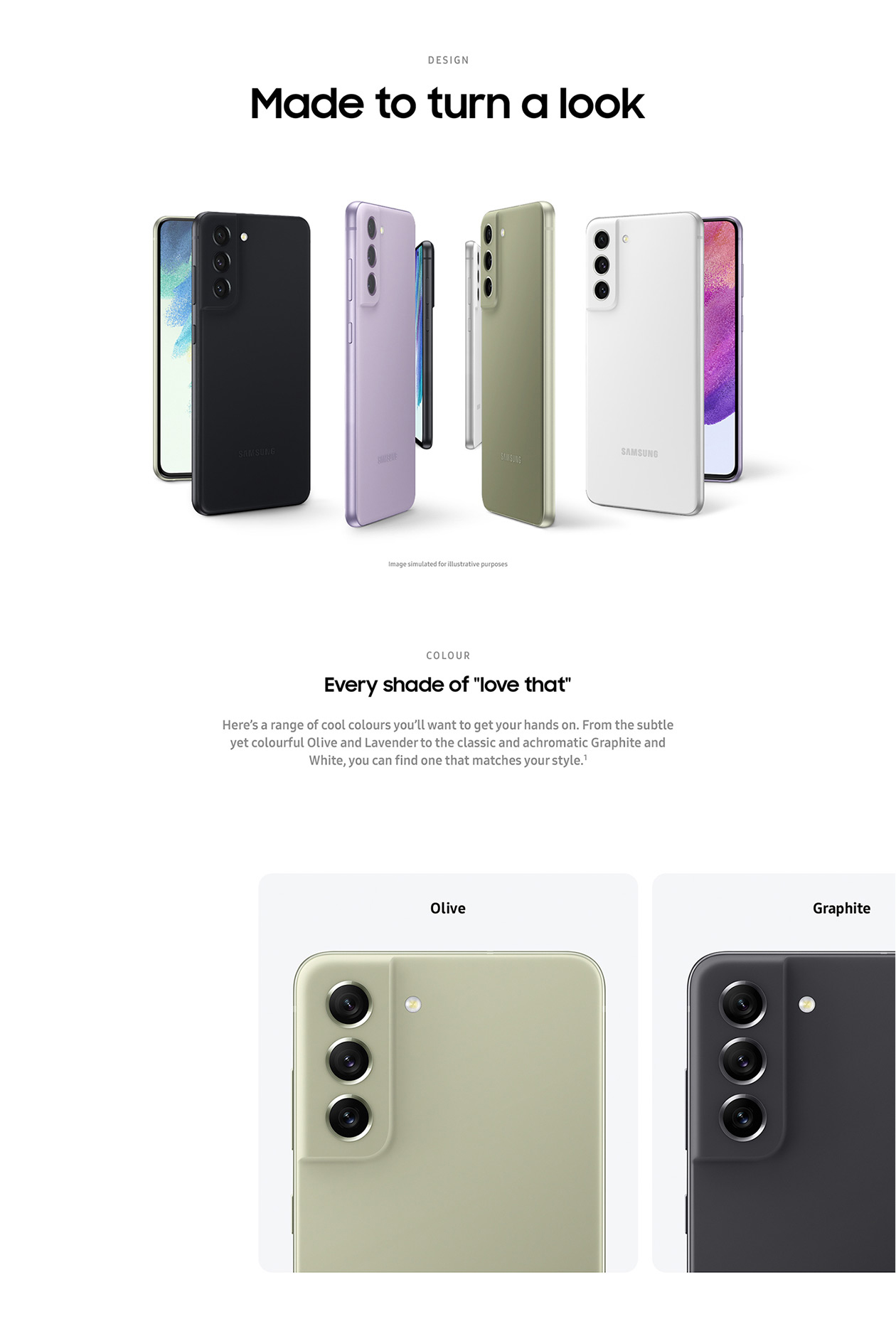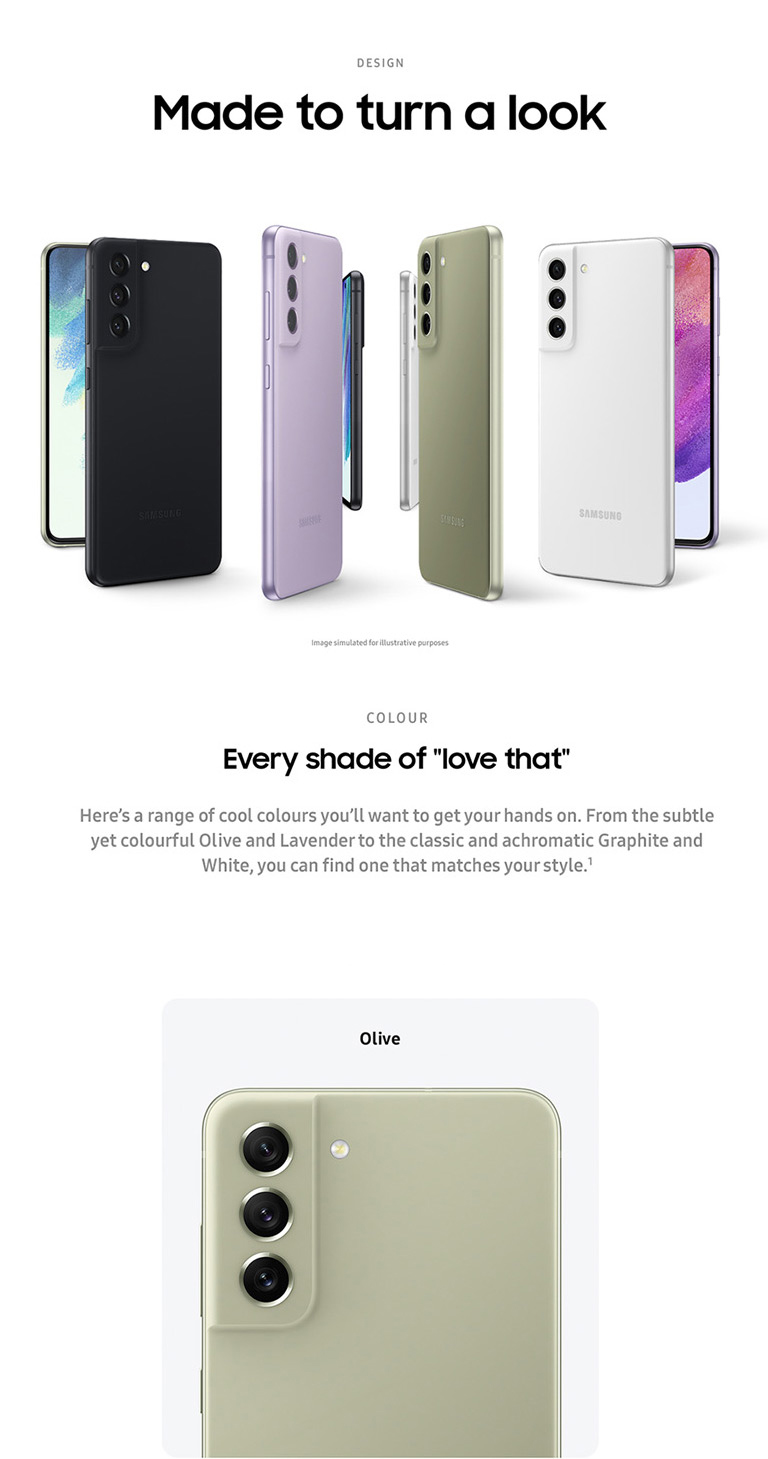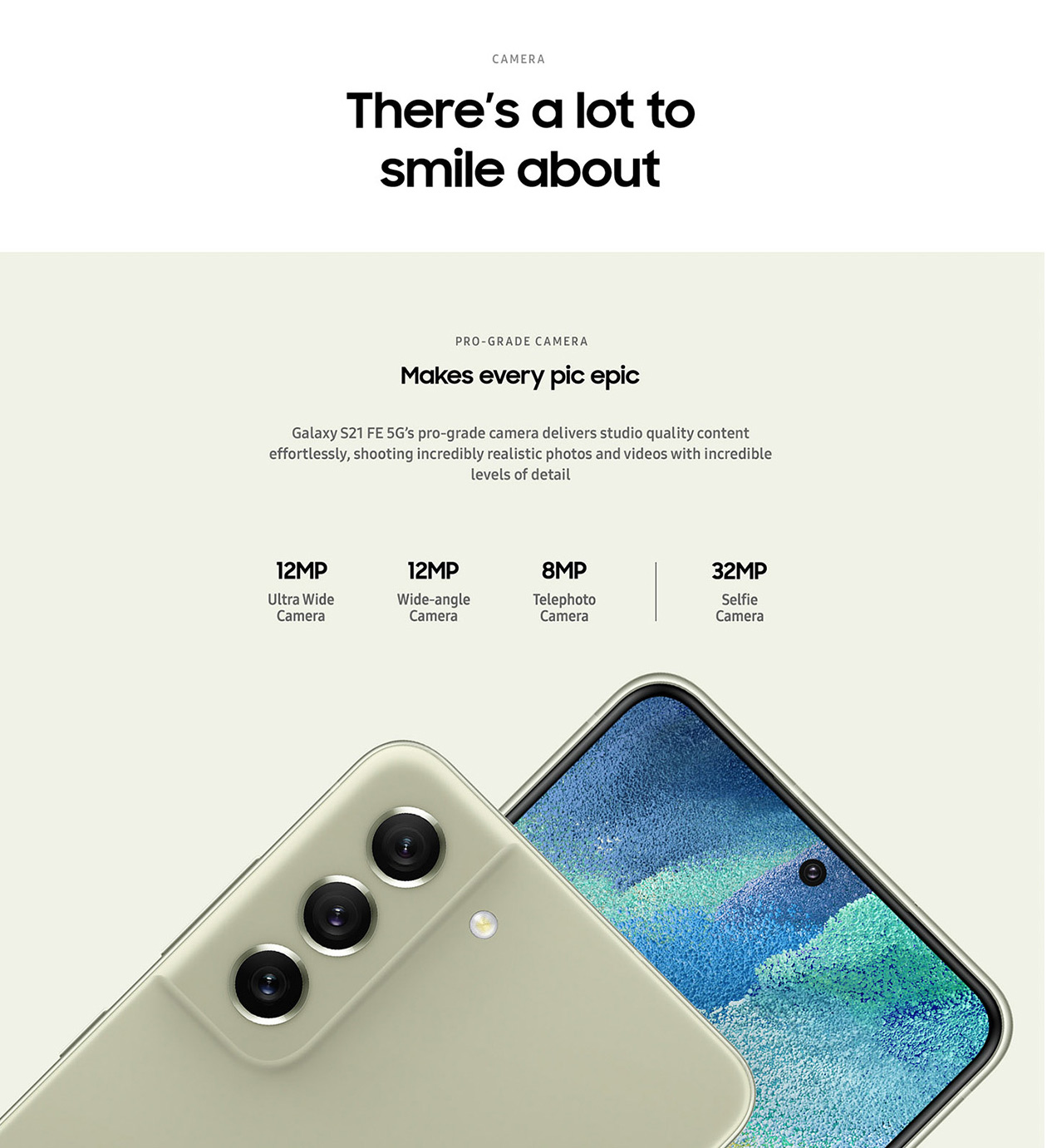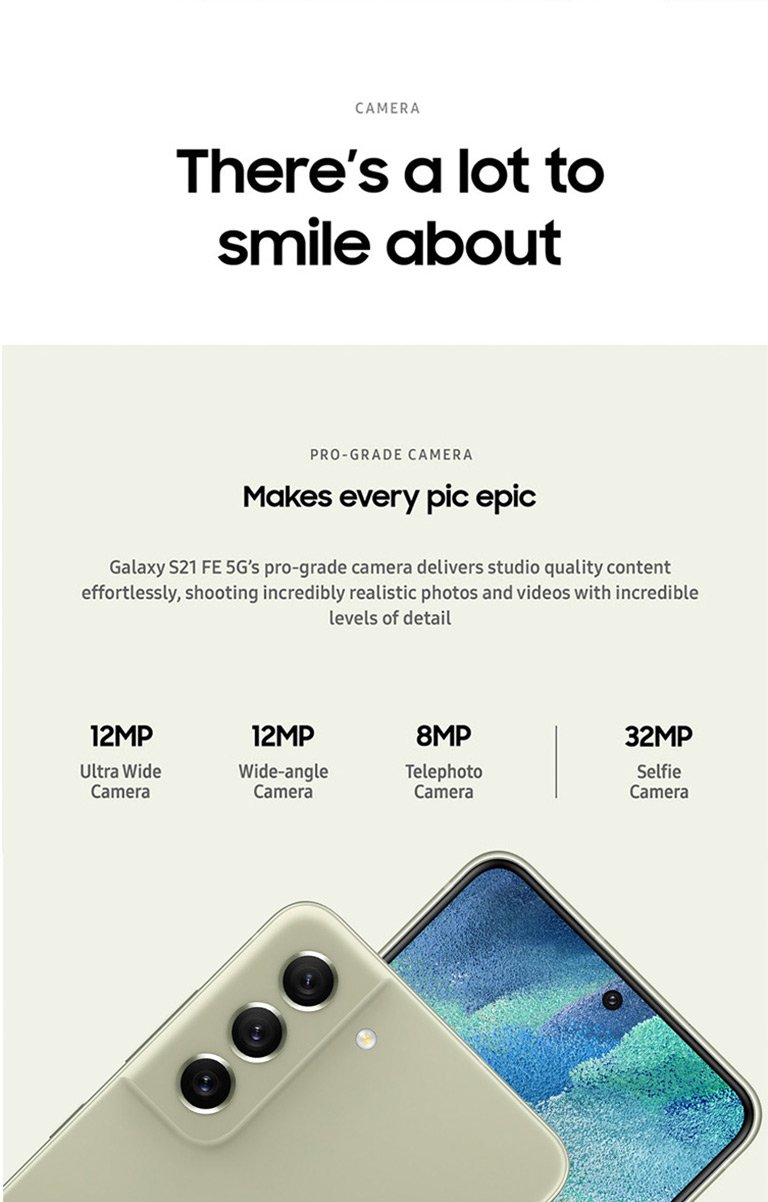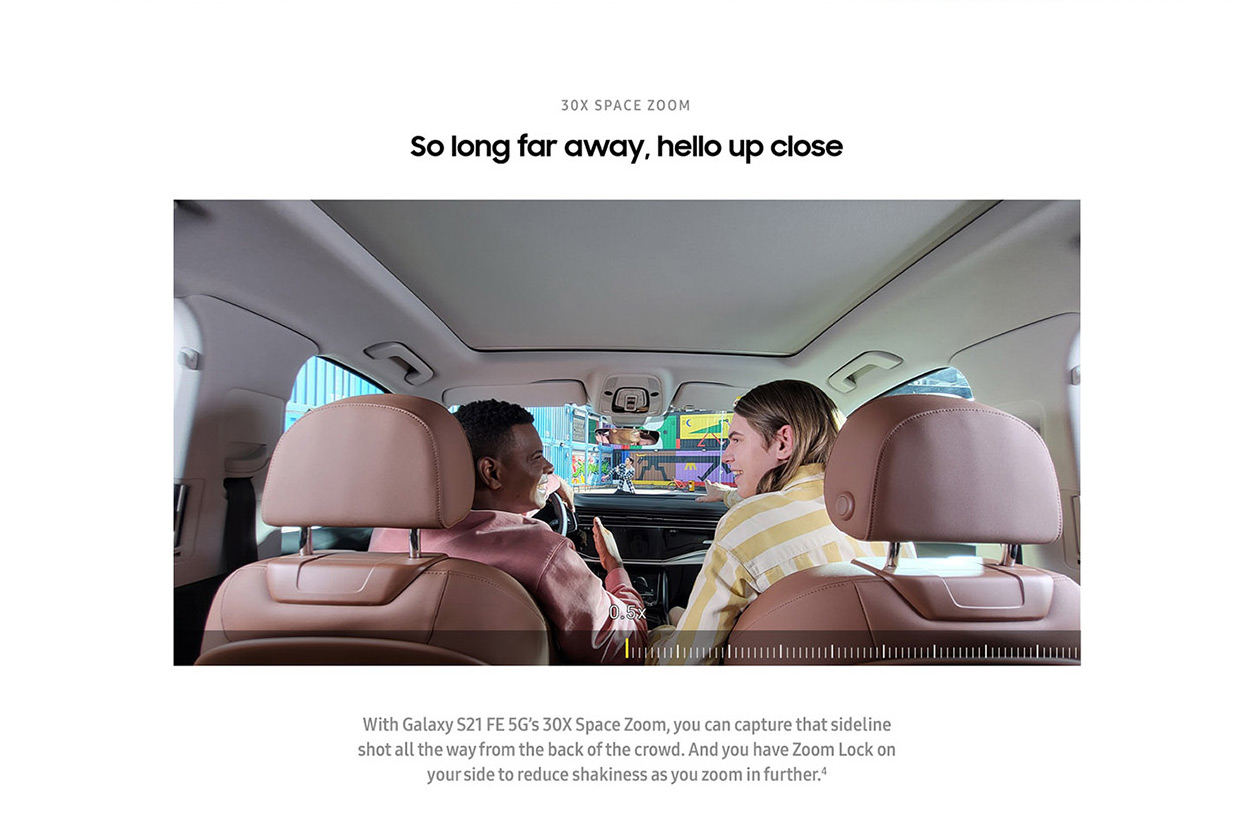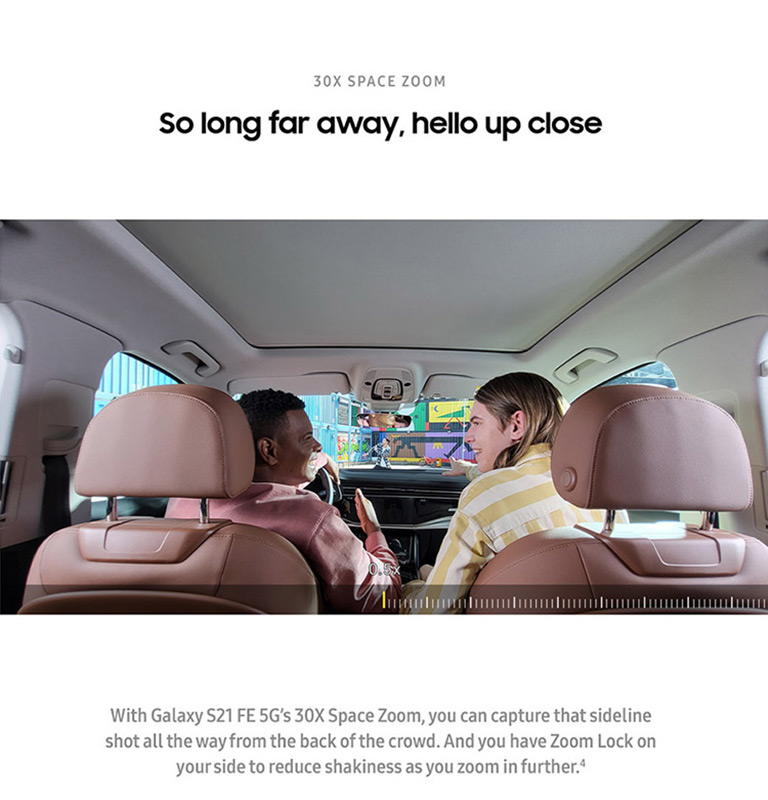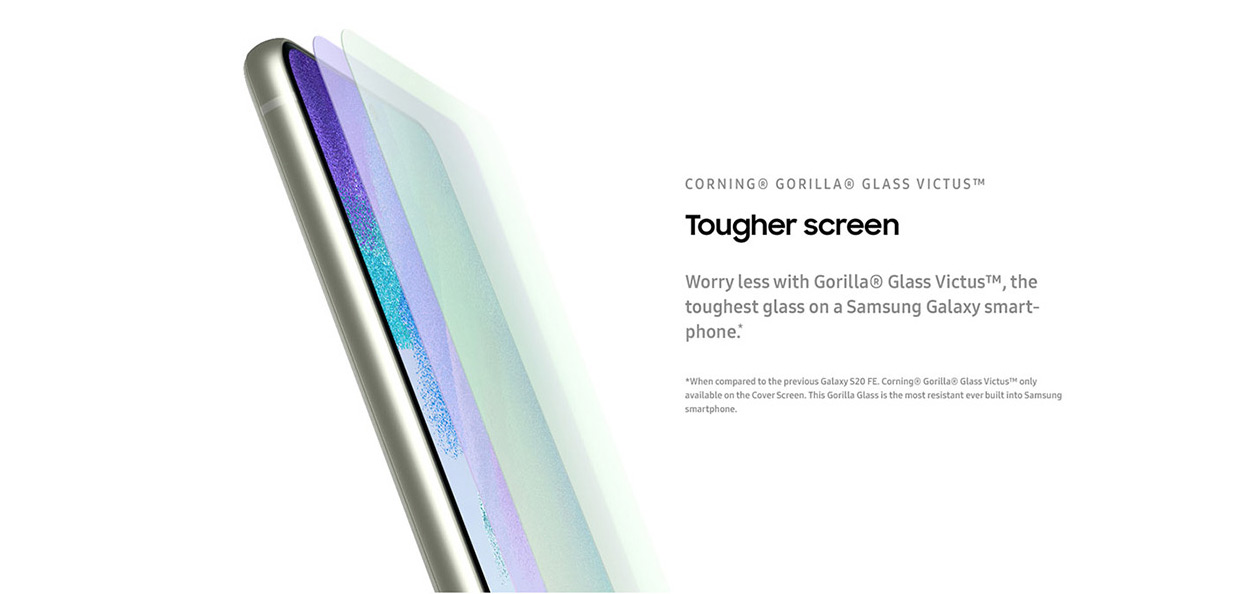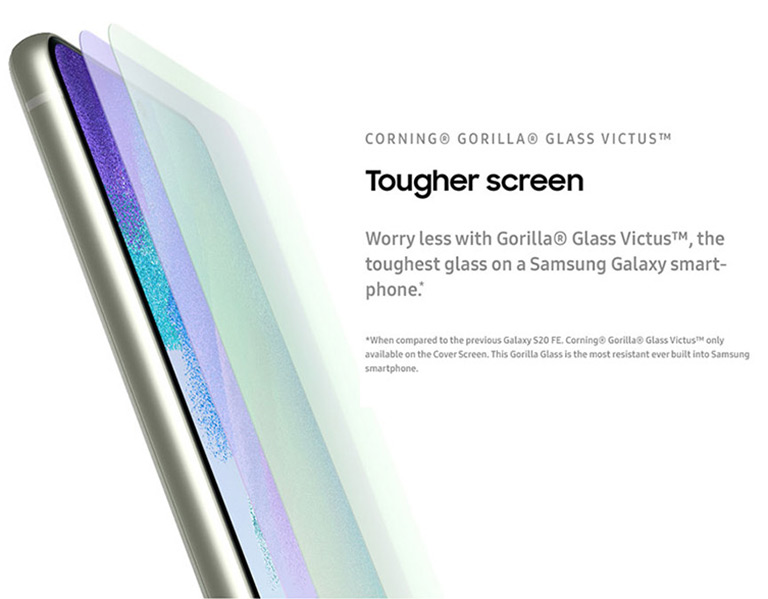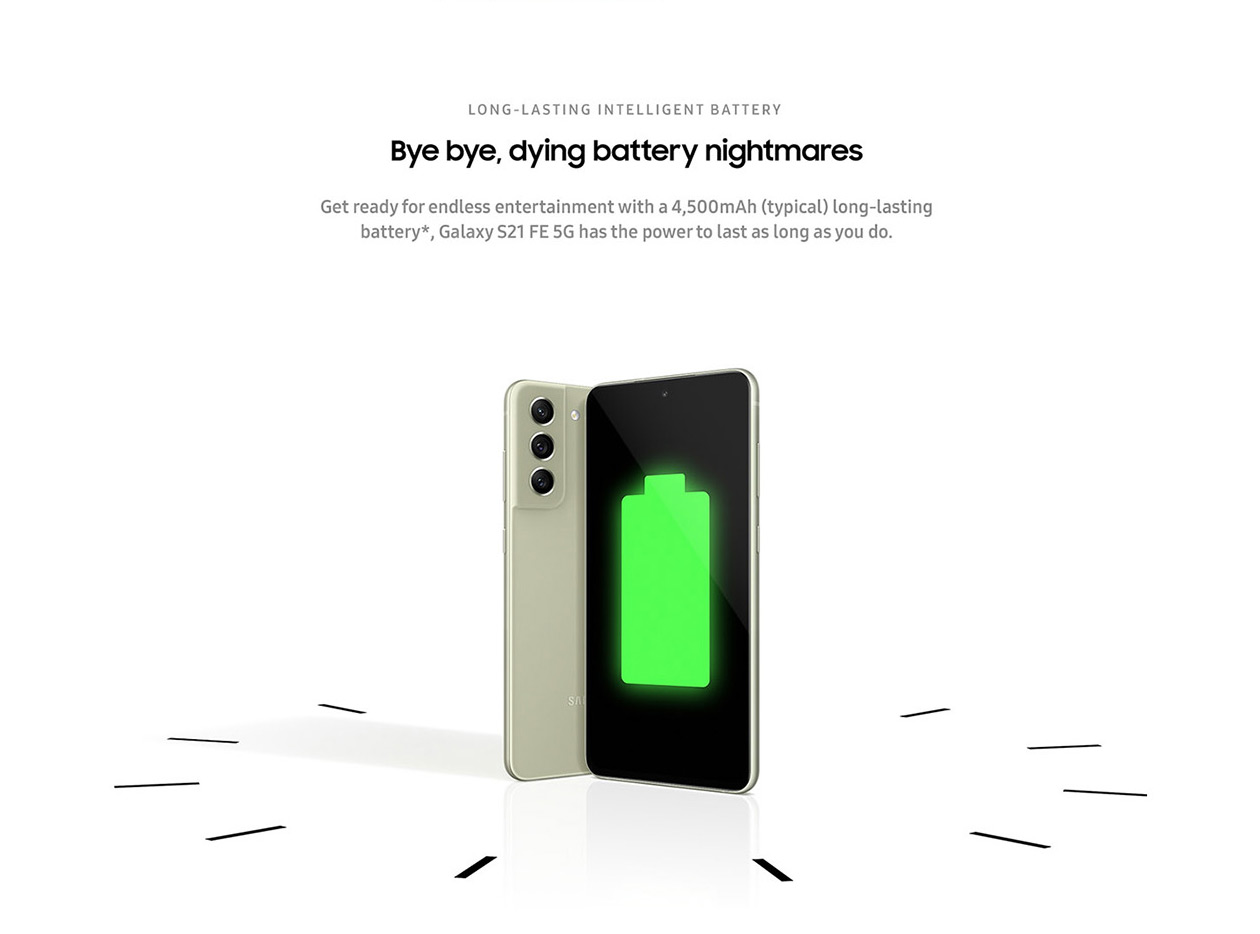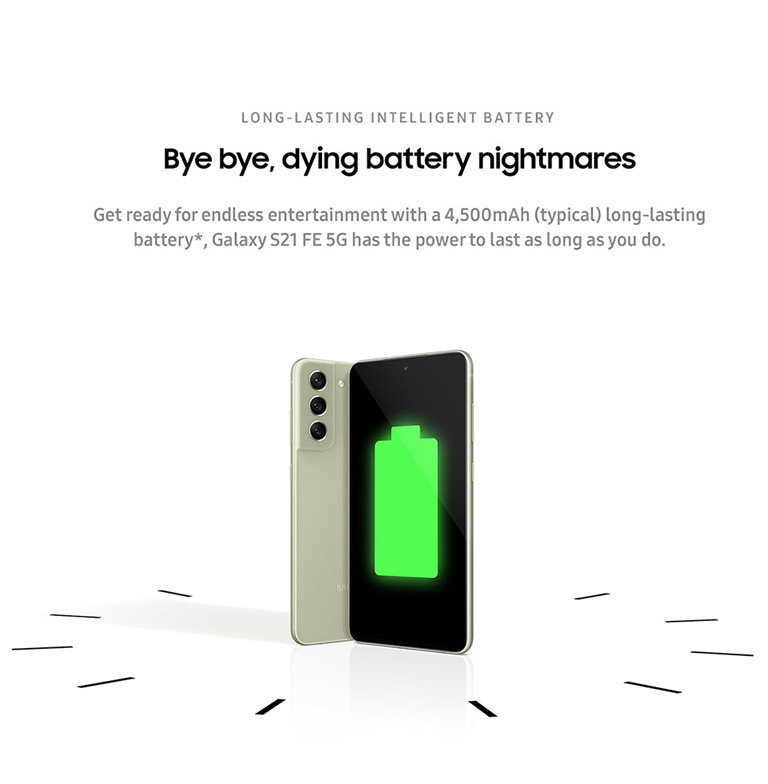 *3 Actual rated (minimum) battery capacity is 4.370 mAh. Acutal battery life may very depending on network environment, usage patters and other factors.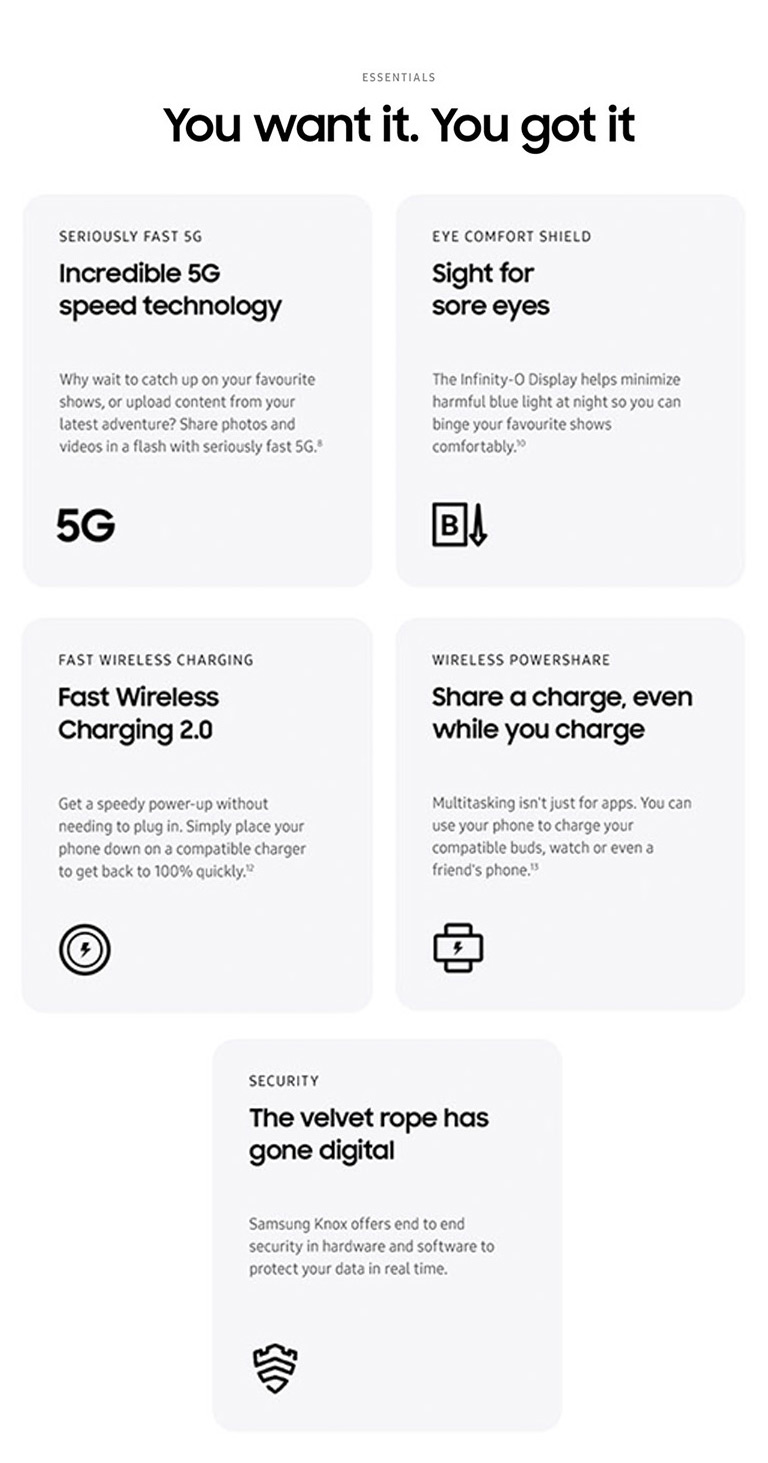 1. Color availability may vary depending on country or carrier.
4. 30X Space Zoom includes 3x Optical Zoom and up to 30x Super Resolution Zoom. Zooming in more than 3x may cause some image deterioration.
8. Requires optimal 5G connection. Availability and actual speed may vary depending on country, carrier and user environment.
10. Eye Comfort Shield is 'off' by default, and must be turned on in Settings.
12. Fast Wireless Charging 2.0 at 10W or higher is currently available with Wireless Charger Stand (EP-N5200) and Wireless Charger Duo Pad (EP-P5200). Wireless Chargers sold separately. Other wireless chargers compatible with WPC support wireless charging under 5W. Actual charging speed may vary depending on the actual usage, charging conditions and other factors. Wireless charger requires power connection. Recommend using Samsung charging cable and/or travel adapter for optimal performance.
13. Limited to Samsung or other brand smartphones with Qi wireless charging, such as Galaxy Z Fold3 5G, Galaxy Z Flip3 5G, Galaxy S21 5G, Galaxy S21+ 5G, Galaxy S21 Ultra 5G, Galaxy Z Fold2, Galaxy Note20, Galaxy Note20 Ultra, Galaxy S20, S20+, S20 Ultra, Z Flip, Note10, Note10+, S10e, S10, S10+, Fold, S9, S9+, S8, S8+, S8 Active, S7, S7 edge, S7 Active, S6, S6 edge, S6 Active, S6 edge+, Note9, Note8, Note FE, Note5 and wearables such as Galaxy Buds Pro, Galaxy Buds Live, Galaxy Watch3, Galaxy Watch Active2, Galaxy Watch Active, Gear Sport, Gear S3, Galaxy Watch and Galaxy Buds. If battery power is lower than 30% Wireless PowerShare may not function. May not work with certain accessories, covers, other brand devices or some Samsung wearables. May affect call reception or data services, depending on your network environment.
Read More About the Latest Samsung Galaxy S21 Series
You've heard the hype about Samsung's Galaxy S21 Series — now check out the specs of the new Galaxy S21 FE 5G!
Pro-grade triple lens camera makes every pic epic with three lenses to choose from – ultra-wide, wide and telephoto. Plus, an impressive 32MP front camera for studio quality selfies.
Portrait mode analyses your surroundings in real time, using AI to give images perfect lighting and DSLR-like clarity.
Dynamic AMOLED 2X display1. The large, intelligent and immersive 6.4-inch dynamic AMOLED 2X display1 delivers vibrant colour and brightness, all while helping to minimise battery strain.
Long lasting battery2 for endless entertainment. An intelligent 4,500mAh battery2 has the power to last as long as you do, while 25W super-fast charging3 can get you back to full power within minutes.
Seriously fast processor and 5G4. Next-gen Exynos 2100 chip enables lasting power and performance, perfect for graphic-heavy gaming or multi-tasking. Incredible 5G speed technology supercharges streaming, sharing, and downloading.4
Night mode shoots like a pro, even at night. Galaxy S21 FE 5G has a large image sensor size, giving you more detail, clarity and brightness even in low light.
Space Zoom camera5 gets up close and personal from far away with minimal pixelation using 10x hybrid zoom or 30x Space Zoom.
4K Video + Dual Recording. Up your game with seriously professional looking video. Switch between front and back cameras while filming or shoot in one take with dual recording.
Impressive Security. Designed with an entire chip dedicated to security, Galaxy S21 FE 5G features Samsung Knox, optical in-screen fingerprint protection and facial recognition to safeguard your device from the inside out.
Massive Storage*6 – with the option of 128GB or 256GB built-in storage, there's plenty of room to keep all your photos and important files.
Measured diagonally, the screen is 6.4" in a full rectangle but actual viewable area is less due to the rounded corners and camera hole.
Actual rated (minimum) battery capacity is 4,370 mAh Actual battery life may vary depending on network environment, usage patterns and other factors.
25W Super Fast Charger and sold separately.
Available on selected plans on eligible 5G networks. Current availability is limited to major capital city CBDs and other select high traffic areas. Actual speeds achievable will vary depending on service availability and other factors.
30x Space Zoom includes digital zoom, which may cause some image deterioration.
User cannot access entire memory capacity due to pre-installed content.