Selecting the Right Size
---
Your chosen sheets should correspond to your mattress size. Fitted and flat sheets typically come in single, king single, double, queen, king and super king across a range of colours and blends. Pillow top mattresses may require custom linens, designed with deep corners to accommodate the cushioning of the ensemble.
Flat or Fitted?
---
Sheets are available in sets or separates. Sets commonly comprise of a flat sheet, a fitted sheet and two matching pillow cases depending on the size, while separates offer a cost effective alternative if you specifically require one or the other.

Fitted sheets have elastic sides and corners, providing a smooth surface for you to sleep on. Flat sheets lie on top of the fitted sheet, under the coverlet and over you, providing further insulation in winter or doubling as a light blanket in summer.
Thread Count
---
What is Thread Count?
Thread count is calculated by the total amount of vertical (warp) and horizontal (weft) threads per square inch. Separate strands are counted to determine the final number you see on the packaging. As an example, 200 threads run lengthwise over 200 weft threads produce a soft, durable 400 thread count sheets.
Which Thread Count Is Best For You?
As a general rule, higher thread counts signify the ultimate in luxury and sleep time softness.
Any sheet over 800 threads is comparable to a five star experience in your own home.
Sheets around the 300 to 400 mark offer exceptional levels of durability and comfort without the outright cost
200 thread count sheet is a great starter for couples or singles hoping to expand their linen closet.
Remember, softness, quality and longevity are your key concerns in selecting long-lasting sheets; investing in durable linens now may save money down the track.
Material
---
Pure Cotton:Cotton is breathable, resistant and channels sweat away from your skin, making it the perfect year-long material. Warm and soft to touch, pure cotton is perfect for buyers with sensitive skin.
Cotton Blend:

A cotton blend integrates the strengths of two or more fibres to manufacture an eye-catching, comfortable and resistant material. Blended cotton sheets are often mixed with environmentally friendly fibres like bamboo, common materials like polyester or opulent combinations like silk.

Flannelette:

Flannelette sheets are a lightweight, soft, fuzzy cotton fabric. The flannelette fabric is commonly brushed on each side and created with loosely spun yarn making it beautifully soft to the touch.
Weave
---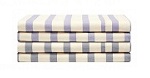 The weave of a sheet is responsible for the feeling and tactile aesthetic of the fabric. Most sheets are made from percale weaves, forming a bonded, gloss-free surface and crisp finish. Sateen sheets gain their glossy sheen from a close weave near the surface of the fabric.