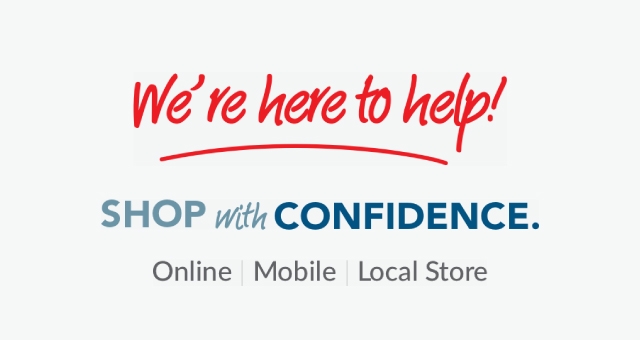 Delivery
Online Shopping Delivery
From same day and scheduled delivery on weekdays to standard delivery with online tracking - enjoy more control of your order with flexible options to suit your lifestyle.

Standard Delivery
Direct to your door with online tracking
Standard delivery is available Australia-wide
Just follow these simple steps:
1. Add products to your cart
2. Select 'Standard Delivery' and enter your delivery postcode
3. Checkout online
4. Confirmation of your order is emailed to you
5. Your order is prepared and packed for delivery
6. Once dispatched you will receive a notification letting you know your delivery is on its way
7. If you have a Harvey Norman online account you can track your order online
8. Once your order is delivered you will receive a tax invoice email
Sign up for My Account to track your order.
Got a question? Contact us online or in store.

Same Day Delivery
Order before 1pm any weekday*
Need your items today?
Select the 'Same Day Delivery' option in the shopping cart and enter your postcode to view delivery times and pricing.
With delivery windows available as late as 10pm, simply place your order by 1pm any weekday, choose your delivery time and enjoy your products that day.
Missed the cut-off time? Try Scheduled Delivery or use our free Click & Collect option to pick up your order from your local store in as little as 2 hours. If your delivery is delayed, we'll let you know as soon as possible and refund your delivery fee.**
*Same Day Delivery is currently available in selected areas only and for products up to 22kgs. Check if your order qualifies for Same Day Delivery in the shopping cart when you place your order.
** If you select the Same Day Delivery option and, after receiving your order, Harvey Norman Online determines that we are unable to deliver your order at the scheduled time, Harvey Norman Online will contact you by phone or email to arrange an alternate time for delivery, and will refund the price you paid for delivery. Harvey Norman Online will also give you the option of cancelling your order and receiving a full refund of the price you paid for those goods if you are not satisfied with the alternative delivery time.
Common Delivery Questions
Local Store Delivery
Shop at one of the 170+ Harvey Norman franchised stores Australia-wide and take advantage of a range of convenient delivery services at your local store.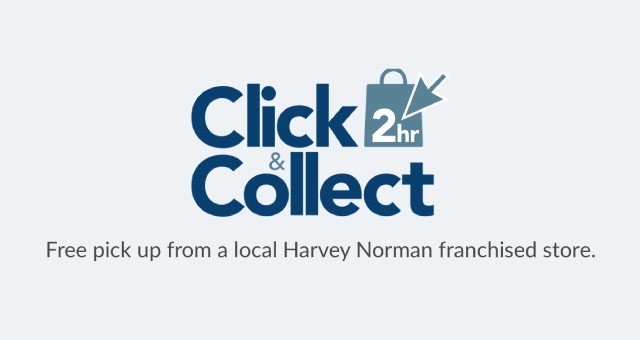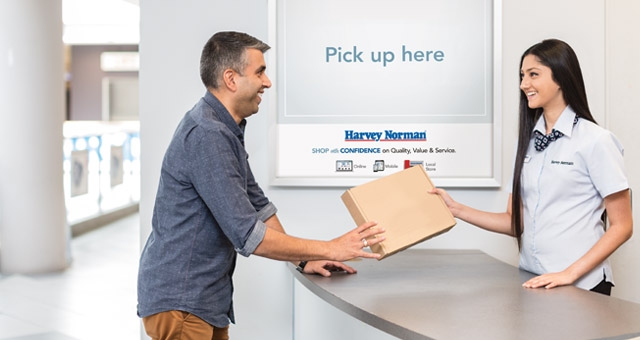 No matter where you live - with 170+ Harvey Norman franchised stores Australia-wide, enjoy free local store pick up on a huge range of products.
2 Hour* Click & Collect
Want it today? Buy in-stock products from Harvey Norman Online® before 3pm for same day pick up*. Available every day!*Terms and conditions apply.
Not in a hurry? Your purchase is available for pick up from your selected store for up to 3 weeks.
For the avoidance of doubt, when you elect to use Click & Collect, you are purchasing from The eComm Store Pty Limited A.C.N. 145 985 815 (trading as Harvey Norman Online®) (Harvey Norman Online®). Your purchase from Harvey Norman Online® can be collected from your local Harvey Norman® franchised store for convenience.
Purchases from Harvey Norman Online® are governed by these Terms and Conditions, and the Harvey Norman Online® Terms and Conditions of Sale available here.
2 Hour Click & Collect is only available where your purchase from Harvey Norman Online®:

is finalised on a day on which your nominated Harvey Norman® franchised store is open for business;
is finalised a minimum of two (2) hours before your nominated Harvey Norman® franchised store closes for that day;
is finalised before 3pm on that day (being 3pm at the location of your nominated Harvey Norman® franchised store);
is categorised as being 'In Stock' by Harvey Norman Online® during the purchase process;
is not affected by an event outside the reasonable control of Harvey Norman Online®; and
is not categorised as 'Currently Unavailable' or 'Pick up not available'.

Click & Collect may not be available for products marked as 'Pick up not available'.
The opening hours of Harvey Norman® franchised stores are specific to each Harvey Norman® franchised store. You will need to verify the opening hours of your nominated Harvey Norman® franchised store (including in relation to public holidays).
Please use the Store Finder functionality on the Harvey Norman Online® website, or alternatively contact your nominated Harvey Norman® franchised store or 1300 GO HARVEY (1300 464 278) to find out the opening hours of your nominated Harvey Norman® franchised store.
If your purchase is finalised after 3pm on a day that your nominated Harvey Norman® franchised store is open for business (being 3pm at the location of your nominated Harvey Norman® franchised store), your purchase will be attended to the next day that your nominated Harvey Norman® franchised store is open for business.
If you make your purchase from Harvey Norman Online® or seek to collect your purchase from Harvey Norman Online® outside of the opening hours of your nominated Harvey Norman® franchised store, your purchase will be attended to the next day that your nominated Harvey Norman® franchised store is open for business.
Each Harvey Norman® franchised store within a Harvey Norman® complex is owned and operated by an independent franchisee that is granted a franchise by a subsidiary of Harvey Norman Holdings Limited to use certain intellectual property including the trade mark Harvey Norman®, pursuant to the terms of a franchise agreement.
The Click & Collect App is published by Harvey Norman Online®. Use of the Click & Collect App is subject to the Harvey Norman Online® Click and Collect App Terms of Use and Harvey Norman Online® Click & Collect App Privacy Policy available here.
How does 2 Hour Click & Collect work?

Add your selected products to your cart and proceed to check out;
Select the 'Free pick up in store' option and select your preferred collection location by entering your preferred postcode or location where you wish to collect your purchase from Harvey Norman Online®;
Once you have selected your preferred collection location, a status will be displayed next to your selected products which will be either: 'In Stock': this means your products will be available at your preferred pick up location, and are able to be picked up on the same day you purchase your products from Harvey Norman Online®. 'Currently Unavailable': this means that your products cannot be collected from your preferred pick up location on the same day you purchase those products from Harvey Norman Online®. The 'Currently Unavailable' products should be available for pick up from your preferred location at a later date. 'Pick up not available': this means your products are not available for collection at your preferred pick up location and will not become available at your preferred location. The products you have purchased from Harvey Norman Online® may, however, be available for collection at other pick up locations or via a delivery method.
Finalise your purchase from Harvey Norman Online®;
Receive confirmation email from Harvey Norman Online® regarding your purchase from Harvey Norman Online® (at which time title in the products you have purchased has passed to you); and
Pick up your Harvey Norman Online® purchase from your nominated Harvey Norman® franchised store for convenience.

Your purchase from Harvey Norman Online® is subject to a fraud analytic pre-screening that is undertaken during the payment process. Your payment to Harvey Norman Online® is assessed by Harvey Norman Online® and will be deemed to be either (1) 'accepted', (2) 'under review', or (3) 'rejected'. You will be contacted by the Harvey Norman Online® Security Team to discuss the status of your purchase if it is either (2) 'under review', or (3) 'rejected', or alternatively you can contact the Harvey Norman Online® Security Team at security.online@au.harveynorman.com.
The ability of Harvey Norman Online® to organise the collection of your purchase, including within the specified time frames, is subject to anything outside the reasonable control of Harvey Norman Online®.
If you elect to use Click & Collect, you will receive the following from Harvey Norman Online®:

a Confirmation email confirming your purchase from Harvey Norman Online® (please note that title in the products has passed to you at this time);
Back Order email confirming that Harvey Norman Online® has ordered the products you have purchased from Harvey Norman Online® (if your products are 'Currently Unavailable');
a ready to pick up email (if your products are ready to pick up); and
an email attaching your tax invoice from Harvey Norman Online®.

To the extent that these Click & Collect Terms and Conditions conflict with or are contradictory to the general Harvey Norman Online® Terms and Conditions of Sale, these Click & Collect Terms and Conditions prevail to the extent of any inconsistency.
Common Click & Collect Questions

Need advice? We're here to help
Whether you're shopping online or at your local store, our experienced staff are ready with expert advice.

Live Chat
Chat with one of our staff members online, Sunday and Monday: 6:00 AM - 12:00 AM
Tuesday to Saturday: 6:30 AM - 10:00 PM
Real People, Real Passion
Just like your local store staff, our Harvey Norman Live Chat team are real people with a real passion for finding the right product for your needs. Our Australian-based teams are here to help you even after stores close.
Look for our 'Chat Now' icon at the bottom right of our website.
Live Chat Hours: Sunday and Monday: 6:00 AM -12:00 AM, Tuesday to Saturday: 6:30 AM - 10:00 PM (Australian Eastern Standard time)
Our Live Chat team can help you:
Learn more about a specific product
Find something you're looking for
With any customer service enquiries

Local Specialists
Meet the team of specialists at your local store
Local People, Local Knowledge
You will find a Harvey Norman store in over 170 locations across Australia, each offering you a great, local shopping experience. Visit your local store for demonstrations and advice across a great product range - for every lifestyle and every room of your home. For added peace of mind, you can contact your local store for assistance with products you purchase from Harvey Norman online.

Contact Us
We're always happy to help with any questions you have
Need help? Contact us today!
Phone:
Online Enquiries: 02 9763 6899
Store Enquiries: 1300 GO HARVEY (1300 464 278)
Online
Complete the Contact Us form and we'll assist with your enquiry
Let's Connect
We're on all your favourite social networks

Reserve online. Ready in store.
Choose your products online and, where available, reserve them at your local store to see them before you buy.