Wash your delicate woollen and 'hand wash only' items of clothing in your machine at home - safe in the knowledge that your garments will retain their shape, texture and quality for years to come. Simply look for a machine with a wool care programme. This means it has been certified to have premium performance when it comes to woollens. With specially-designed wash programmes, the chance of shrinkage is minimised and the integrity of the knit is preserved - meaning you can wash with complete confidence.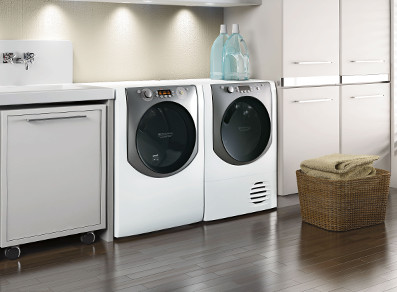 Appliances with the Woolmark Apparel Care Blue logo have been independently tested and deemed safe for garments which specify 'hand wash' in their care instructions. This certifies that the gentleness of hand washing is effectively replicated through the use of temperature, efficiency and performance to eliminate the chance of shrinkage or damage to your garments.
Appliances with the Woolmark Apparel Care Green logo have gone through the same testing and certification as products with the Blue logo, while also indicating that the appliance delivers a high level of water and energy efficiency - a big plus in terms of monetary savings and minimising resource consumption.