Xiaomi Mi Electric Scooter Pro 2 Mercedes AMG Petronas F1 Team - Limited Edition
5076162 6934177726217
Loading...
The Customer Direct range is not available in store.
Loading...
Please select a product option to continue.
Usually ships in 3 - 5 business days
Offering smooth, luxurious rides, the Xiaomi Mi Electric Scooter Pro 2 Mercedes AMG Petronas F1 Team combines race car aesthetics with excellent scooter performance.
---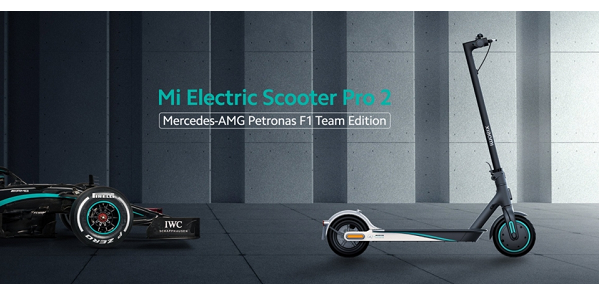 ---
Note: The laws regarding the use of electric motorised scooters vary from state to state. Please consult the laws in your state before riding. Always wear full safety equipment when riding electric motorised scooters.
Specs
| | |
| --- | --- |
| Barcode (GTIN) | 6934177726217 |
| Product Type | Electric Scooters |
| Brand | Xiaomi |
| Model | 30371 |
| Colour | Black |
| Manufacturers Express Warranty (months) | 12 |
If you feel your product has failed a Consumer Guarantee (as defined by Australian Consumer Law) then you can:
Return it to your local Harvey Norman store to initiate an inspection / service call.
If it is a downloadable product (software or e-Gift Card) please Contact Us at Harvey Norman Online.
For flooring products: Returns are accepted for change of mind or oversupply quantities in the follow circumstances. (Excludes floor, wall and feature tiles)

in full pack quantity only
in original packaging
undamaged/unopened

Please Note: Customer Direct products cannot be returned at Harvey Norman franchised stores. For all Customer Direct purchases, please Contact Us at Harvey Norman Online.
Either complete the details below or chat to a staff member online.