Concrete styles aren't set in stone but sure are fun – pardon the pun but we're loving the concrete and stone dining looks that are trending these days!
Home décor at the moment is all about subtle shades and bold designs – the sharper the angles and the more striking the contrast, the better. Not to mention celebrating the industrial edge of raw material-inspired dining tables to achieve a unique look that you wouldn't expect to find in the average dining room.
As a result, Harvey Norman have perfected the art of balancing contrasting textures and innovative materials to bring you this season's hottest range of trending concrete and stone-inspired looks with accents of natural wood – guaranteed to make your dining space look like something off your 'Dream Home' Pinterest board!
Check out our top 5 looks below.
1. Concrete Connection

Invite some style and substance into your dining space this season with the gorgeous concrete-look and warm timber tones of the 'Charleston' Dining Suite that's available in multiple configurations. The 5-piece round dining setting is perfect for smaller, more intimate gatherings, while the rectangular dining table can be mixed and matched with chairs or benches to suit your style.
The 'Charleston' features dramatically angular table legs, which pairs perfectly with the spectacular style of the white concrete-look tabletop – this concrete look is also available in grey to give you that more natural cement look. The bucket-style seats create an inviting and inclusive feel with its upholstered, ashen-grey fabric, sculptured armrests and plush cushioning.
This setting will be at home in any dining space thanks to its reclaimed timber look coupled with neutral tones, making it the perfect blend of comfort and practicality.
2. Mottled Marble-Like Magic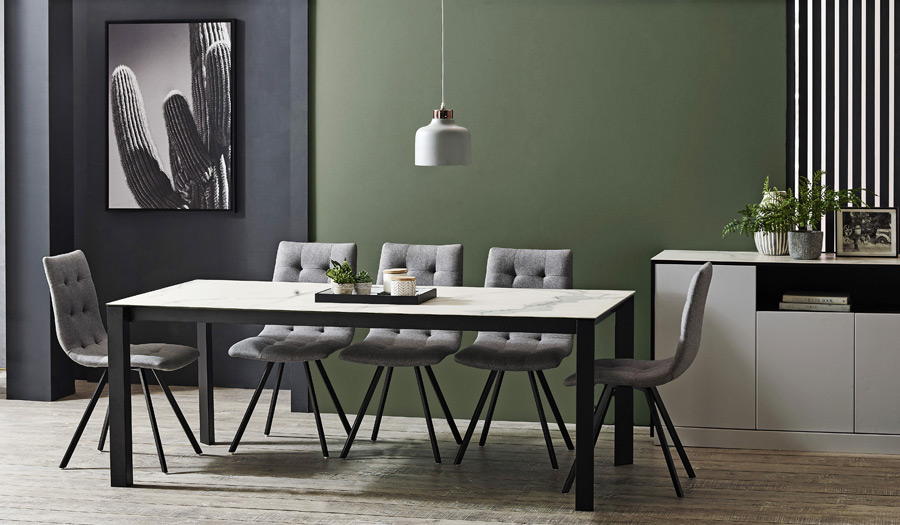 At first glance the 'Lunar' 9-Piece Dining Suite may seem to be fairly simple and straightforward but, like a painting, the longer you look the more there is to see. The minimalistic overall design makes it versatile for a range of dining room sizes. Its dark metal frame maintains the slender feel while still accommodating for a total of up to eight people. The button-tufted chairs feature a curved backing to provide ample support and cushioning for all your guests.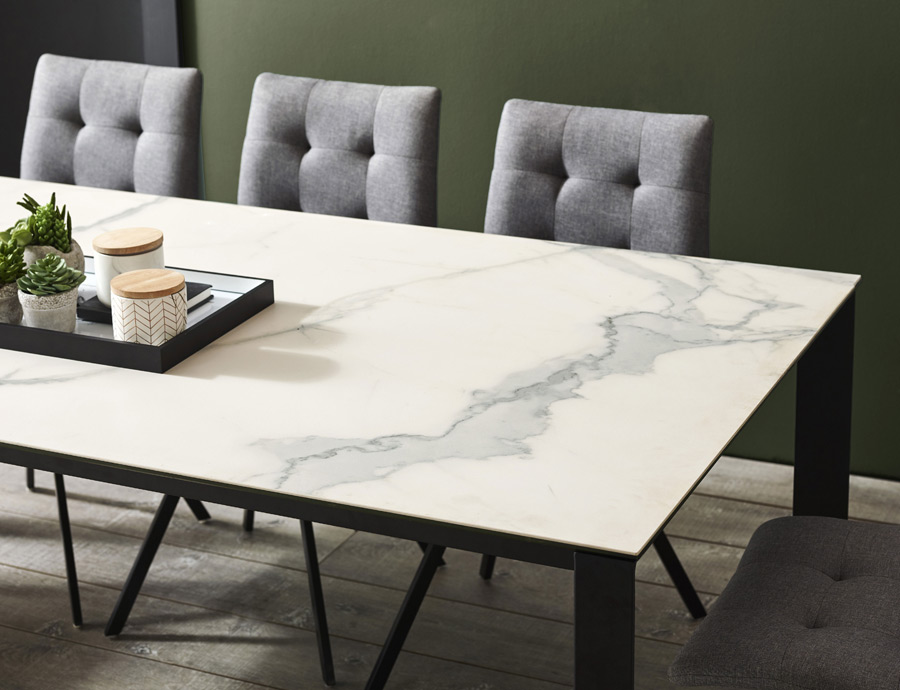 And let's not forget the pièce de résistance – the stunning tabletop. This is more than just an eating space. The contemporary grey and white marble-effect is an easy-to-clean surface (so any accidental spills and splatters can be easily wiped away!) that creates a style statement across a seemingly minimalist surface which your guests will marvel at in awe.  With a trendy dining suite like the 'Lunar' you will be ready to entertain in no time. It truly is a work of art!
3. The Height of Sophistication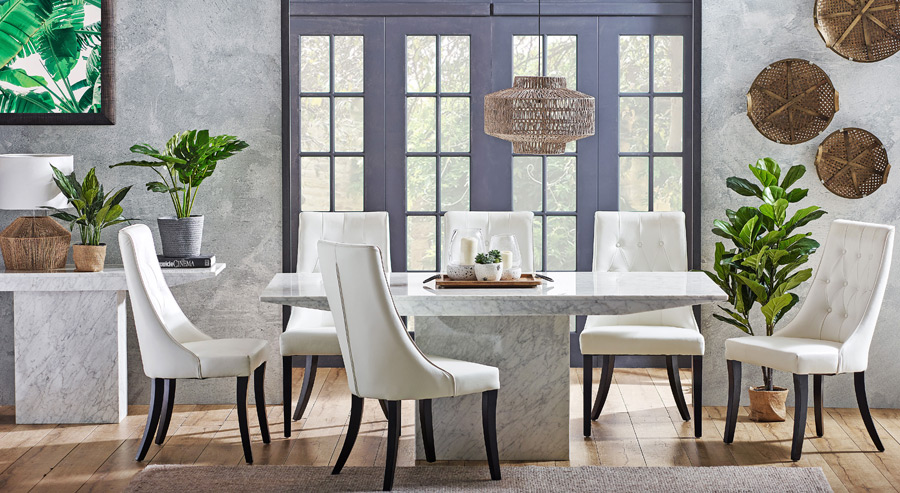 Dining suites don't get more show-stopping than the 'Elba' 9-Piece Dining Suite.
Italian made and designed for the refined home, this collection features a large marble-inspired dining table surrounded by eight exquisite dining chairs.
The effect is further enhanced by the immaculate button-tufted leather chairs with black tapered legs that exude elegance and are sure to be the focal point of your dining room and the dinner conversation.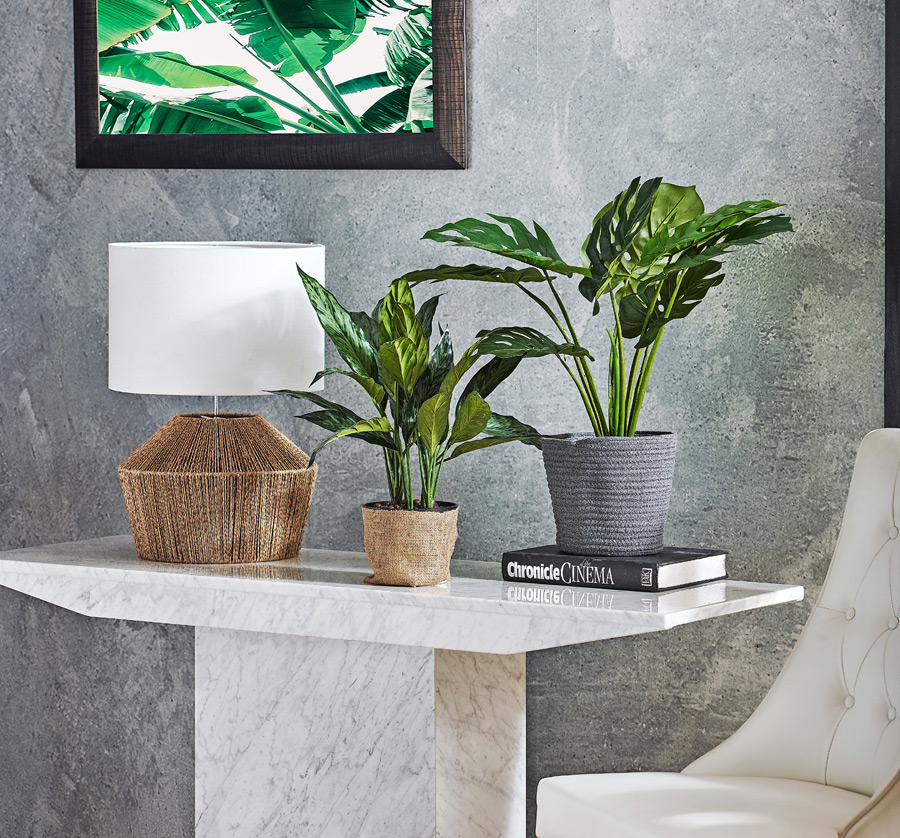 Introduce a sense of freshness and complete the look by adding texture and vibrance with our leafy and lush greenery range, which will be hitting the stores at the end of this month! We also love the Sands Table Lamp and Banana Leaf print, pictured above – both available at Harvey Norman.
4. Art-Deco Designs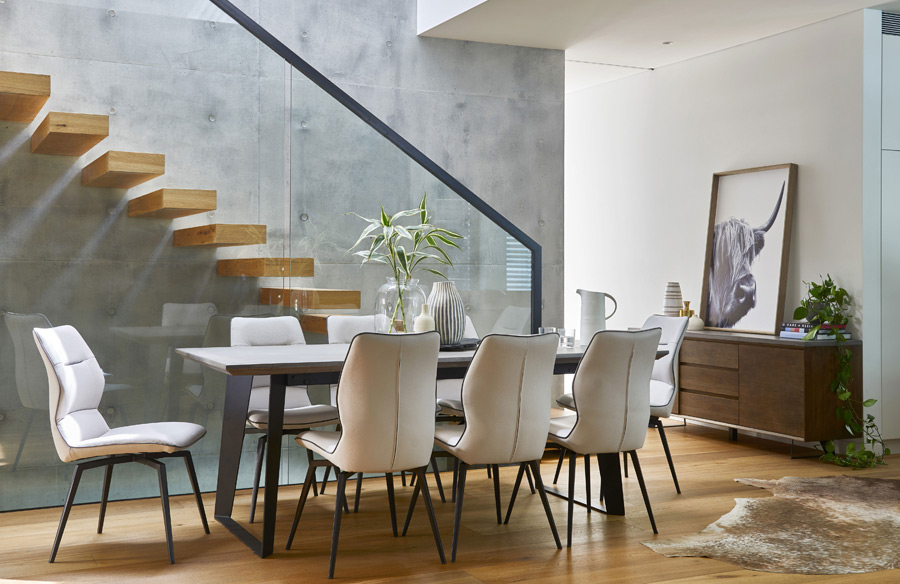 Concrete offers an industrial-chic aesthetic like no other material and is perfect for adding character and charisma to your home. When paired with the right fabrics, lines and shapes, concrete can invoke a polished feel to modernise even the most outdated spaces. Add the New Generation Bull Print in your home for that extra chic feel.
The 'Amaroo' 9-Piece Dining Setting provides ample seating and incorporates a smooth, dark tabletop with a refined concrete-look to draw the eye naturally to the geometric angles of the table framing and chair legs.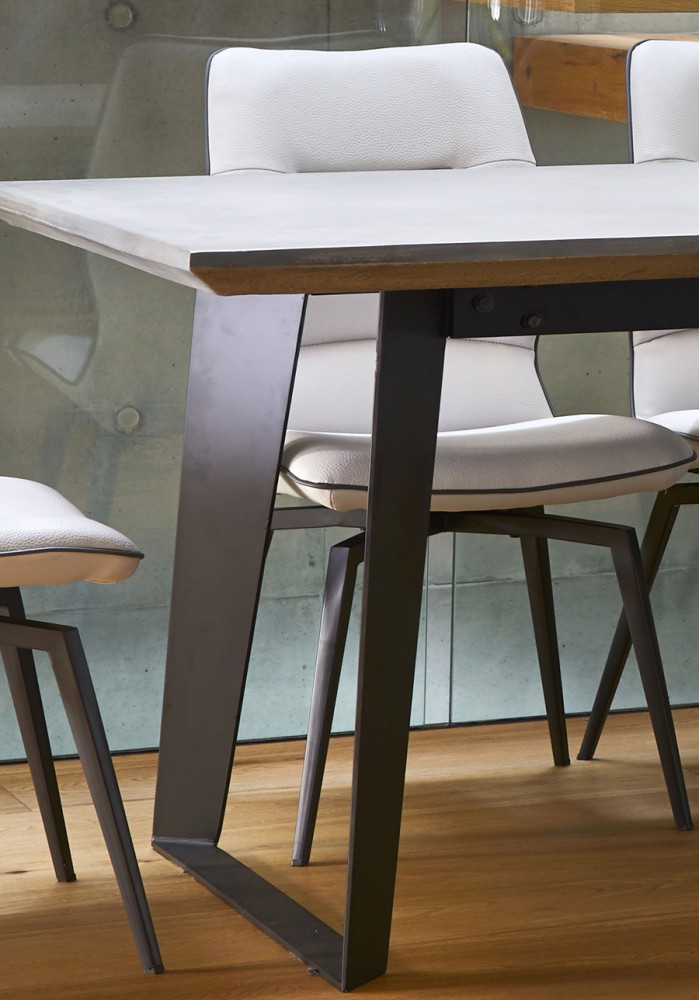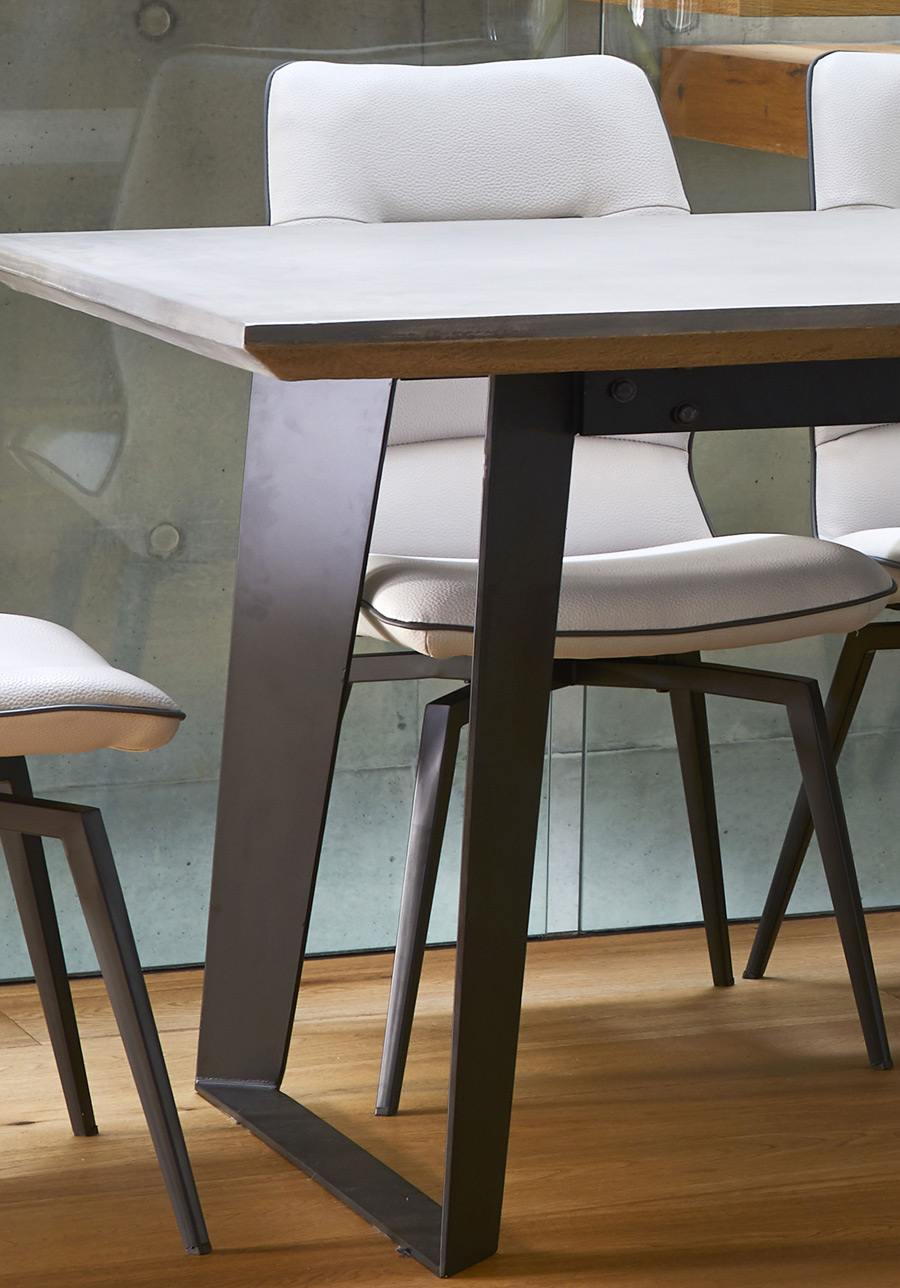 The black piped edging creates a smart and classy vibe, contrasting with the contoured cushioning and striking grey material of the 'Amaroo' dining chair while also accentuating the metal legs.
 5. Stylish Simplicity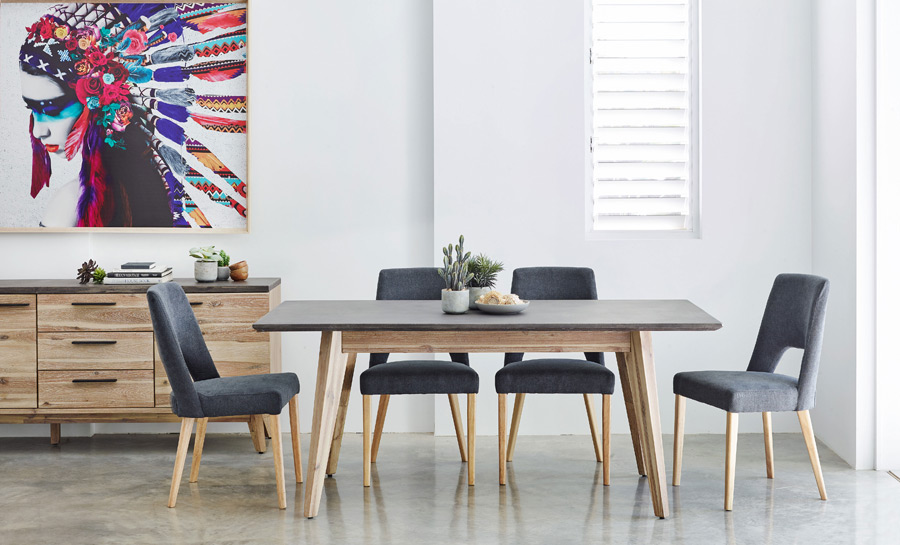 The 'Slimline' 7-Piece Rectangular Dining Suite offers plenty of functional and aesthetic appeal. The tabletop's down-to-earth concrete-inspired design will be an eye-catching addition to any dining room.  This setting is comprised of six chairs that feature an abstract cut-out back and dark upholstered fabric, complementing the dark tabletop.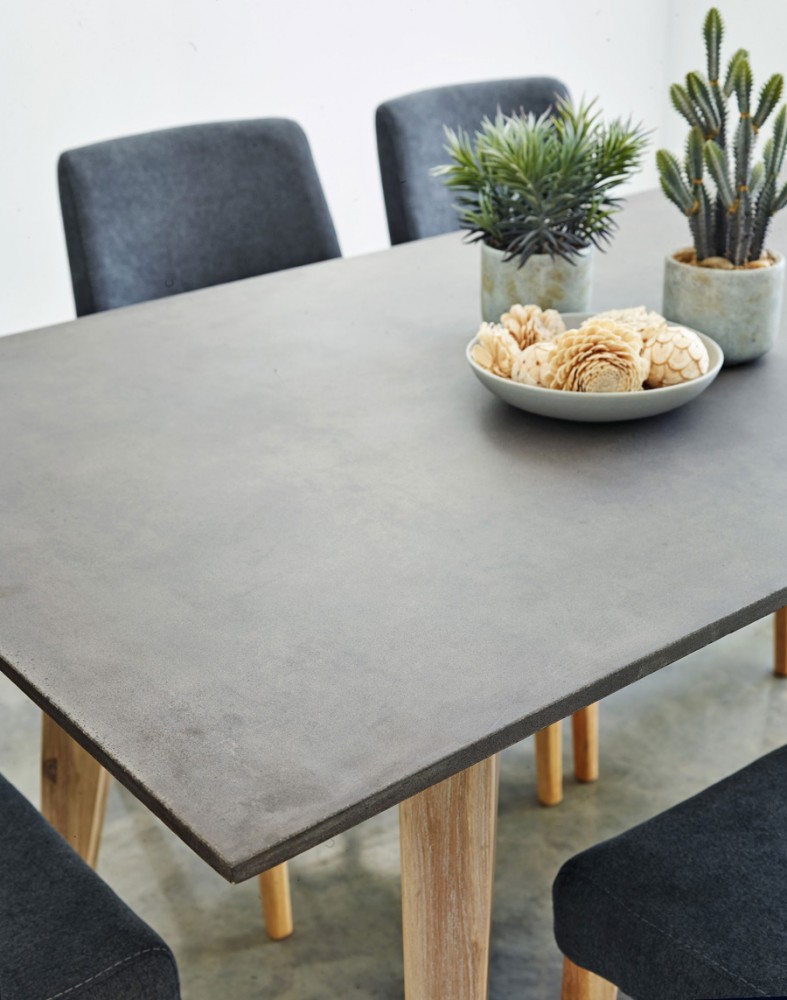 A natural concrete look is perfect for adding texture to your home, and this gorgeous stone-like dining table also adds a sense of contrast between the dark materials and the light wooden table and chair legs. The tapered legs are both sturdy and eye-catching, tying the whole look together to be something warm, fresh and yet timeless. Pair it with the striking Spectrum Indian Print to add a bright pop of colour to your dining room.
That's just five of the latest industrial-inspired looks we have on offer in the Harvey Norman dining range. There are many more designs, configurations and materials to choose from so why not check out our full range online or head in store for a chat with our friendly furniture specialists.