When the chill of winter arrives, there are those who see it as a sign that the outdoor entertaining season has ended. Lazy outdoor lunches with the family and nights spent with friends on the balcony are consigned to a memory of the past – glorious moments from a summer long since faded.
But we shouldn't be so quick to call it a day.
In this gorgeous country of ours, there's no reason why we can't entertain and create magical memories in our outdoor spaces all year round. A change in the air does not signal the end, but rather a cosy new beginning; because, any al fresco space can be transformed into a warm winter sanctuary with the right outdoor heater.
Available from Harvey Norman, the following outdoor heaters each promise to turn your place into a winter entertaining paradise:
1) Goldair Outdoor Radiant Heater
2) Excelair 2.2kW Ceramic Glass Outdoor Heater
3) Bliss LPG Portable Outdoor Heater
4) IXL Fresco Aurora Outdoor Halo Heater
To help you decide which outdoor heating option is perfect for you, join us as we explore what each brings to the table. Soon, you'll be gathered with your friends and loved ones – eating, laughing and celebrating under the winter stars.
It's fair to say that your location's specific climate will influence the type of outdoor heater you're after – as will the layout of your outdoor space. If your home is located in a place that gets particularly cool, you should set your sights on a more powerful heater. At the same time, if your al fresco area is intimate, you may prefer a smaller, more compact device.

Fabulously, the Goldair Outdoor Radiant Heater comes in three models – each a different size and with a different power output – offering you the ability to choose an outdoor heater that specifically suits your winter entertaining area.
With a lower price point, the 1800W model has a sleek and slim design, which is perfect when space is at a premium. The 2400W and 3000W models – also featuring beautiful black, wave designs – provide progressively more power output, meaning you can ensure things stay toasty no matter where you live.
Ultimately, each version of the wall-mountable Goldair Outdoor Radiant Heater delivers instant heat, letting you take a seat outside whenever the moment strikes. Equipped with a digital LED display, you can easily monitor heat-levels, while the included remote lets you adjust settings without having to leave your conversation.
With an IP44 rating, you'll be happy to know these heaters are dust and water resistant, making them ideal for all sorts of weather conditions.
A truly special outdoor entertaining heater will turn your al fresco area into a snug winter retreat and will also bestow upon it a wonderful sense of style. The Excelair 2.2kW Ceramic Glass Outdoor Heater does exactly that with its en vogue ceramic glass finish.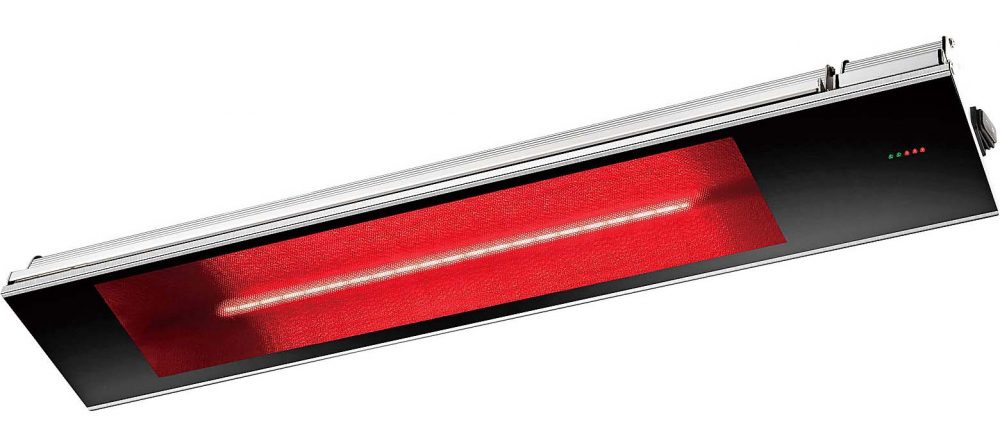 This finish also provides excellent heat conductivity, helping this outdoor heater produce a very high heat output. Undoubtedly, this is particularly welcome news for those living in areas more than prone to the occasional blast of Antarctic winds!
Featuring a wall-mountable design, the Excelair 2.2kW Ceramic Glass Outdoor Heater provides three temperature settings – so you can adjust to suit current conditions. There's no need to get up to change those settings either – simply use the remote.
With a 3-hour timer, you can schedule the heater to switch-off after your last guest has left – and with an IP65 rating, this is again an outdoor heater that is resistant to both dust and water.
When it comes to outdoor entertaining, the party doesn't always happen in the same spot! One night you might be having an intimate family dinner on the patio, and the next, a big birthday bash out in the backyard. In winter, that can mean taking the heater with you – and with the Bliss LPG Portable Outdoor Heater, changing locations is as straightforward as it gets.
Fitted with wheels, simply roll it to your desired spot. Once there, the powerful 34MJ output can circulate heat across a huge 16 square meter area – keeping all your guests feeling nice and comfy.
The Bliss LPG Portable Outdoor Heater's pull-cord start-up makes it particularly easy to turn on, while its protective grille, reflector, tilt safety switch and flame failure device make sure it is very safe to use.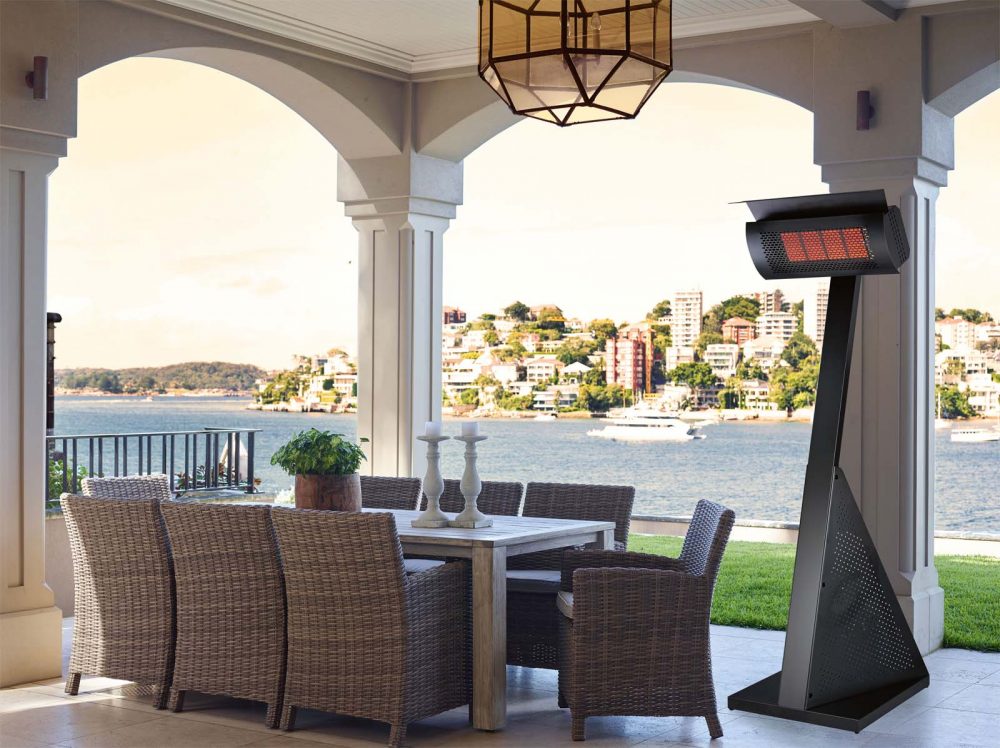 With a high/low heat option and a multi-directional design, you can tailor the warmth to suit the occasion.
Made right here in Australia, the IXL Fresco Aurora Outdoor Halo Heater has been designed with Australian conditions in mind. Whether you live up the coast, inland or down the tip of chilly Tassie, the IXL Fresco Aurora is a heater that will let you enjoy this country's gorgeous outdoor vistas all throughout the season.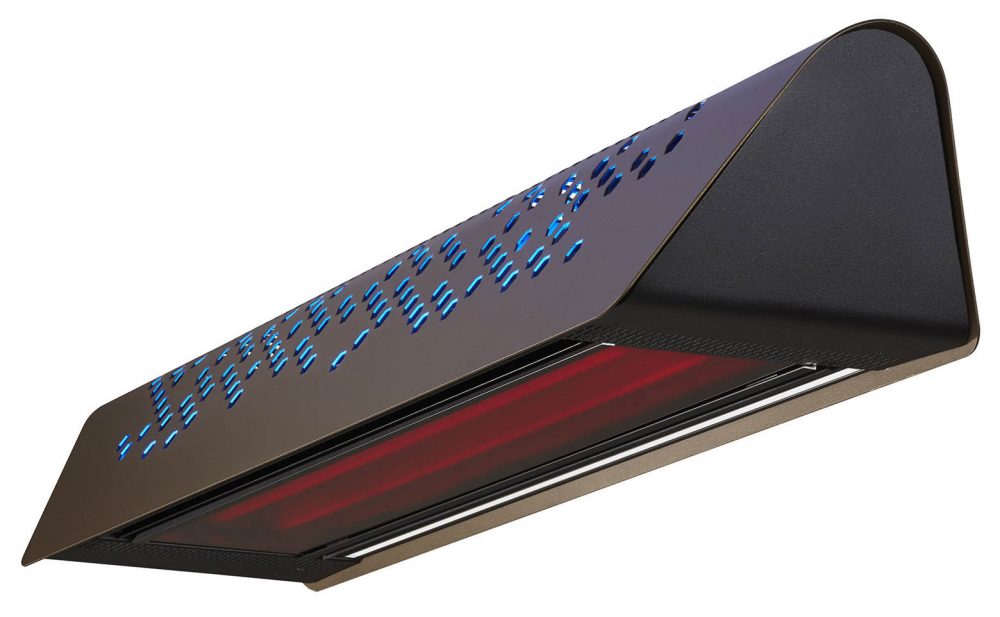 Equipped with ingenious Halo Heat™ technology, this outdoor heater offers rapid warmth thanks to medium-wave, infrared, carbon fibre elements. These elements will efficiently heat both people and objects, without any affect from change in wind conditions.
One thing that's really cool about this heater is that it can be controlled by an app on your phone (as well as the included remote). Simply download the free app from Google Play or the App Store and show your friends what it can do – it's going to be a more popular app than Insta at your next party!
The IXL Fresco Aurora Outdoor Halo Heater's built-in programmable timer will let you set it to stay on for up to ten hours. Of course, if you're not currently planning for your event to go into the wee hours, simply use the three hour set-and-forget option ('currently' being the keyword there!).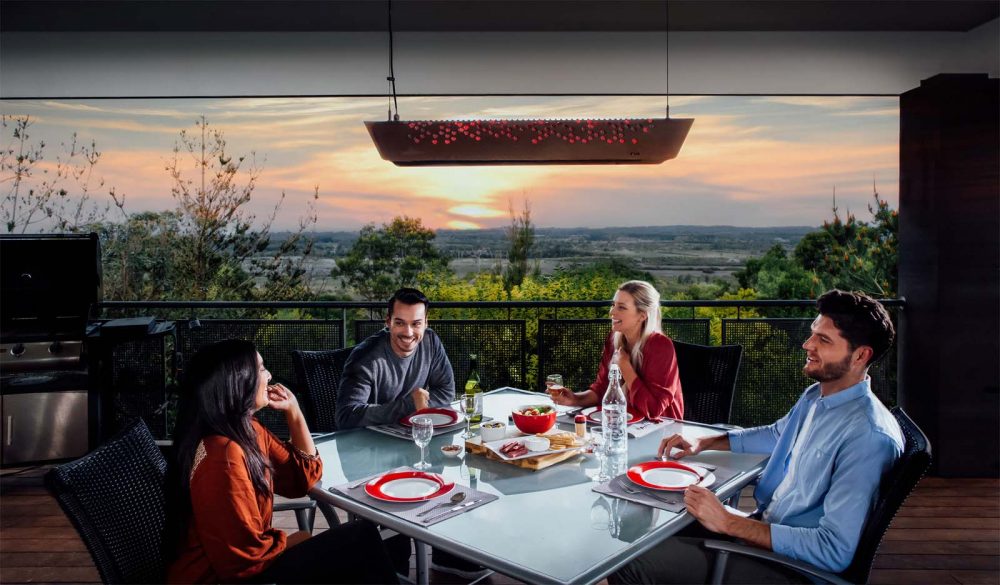 Finally, perhaps the most stunning thing about this outdoor heater is its striking design – which includes a task light that features two LED dimmable strip lights and show-stealing mood lighting. That's right – this outdoor heater has programmable, coloured mood lighting, so you can set the stage with an ambience that will elevate your outdoor winter entertaining.
Which outdoor heater is the best for you?
Hopefully we've helped you discover an outdoor heater that's perfect for your winter entertaining needs. Of course, if you'd like to learn more about outdoor heaters before making a decision, our friendly, expert staff would love to speak with you at your local Harvey Norman store. They'll help you with all your outdoor heating queries and show you our full outdoor heater range in person – or, for added convenience, simply shop outdoor heaters online.