This pizza is layered with fresh and flavoursome ingredients, including fragrant basil pesto, thinly sliced zucchini, stretchy mozzarella and crumby ricotta. And once you've seen how easy it is to make the dough using the dough hook attachment  on the Smeg 50s Style Stand Mixer from Harvey Norman, you won't ever go back to store bought pizza bases ever again!
Serves 6
Ingredients
Dough
1½ cups (375ml) warm water
2 tsp (7g/1 sachet) dried yeast
Pinch of caster sugar
4 cups (600g) plain flour
1 tsp salt
¼ cup (60ml) olive oil, plus extra for brushing
Topping
½ cup basil pesto
1 cup (100g) grated mozzarella
2 large green zucchini, ends trimmed, sliced thinly using the Slicer/Grater attachment
250g fresh ricotta, crumbled
2 tbs fresh rosemary sprigs
1 tbs olive oil, plus extra for brushing
Freshly ground pepper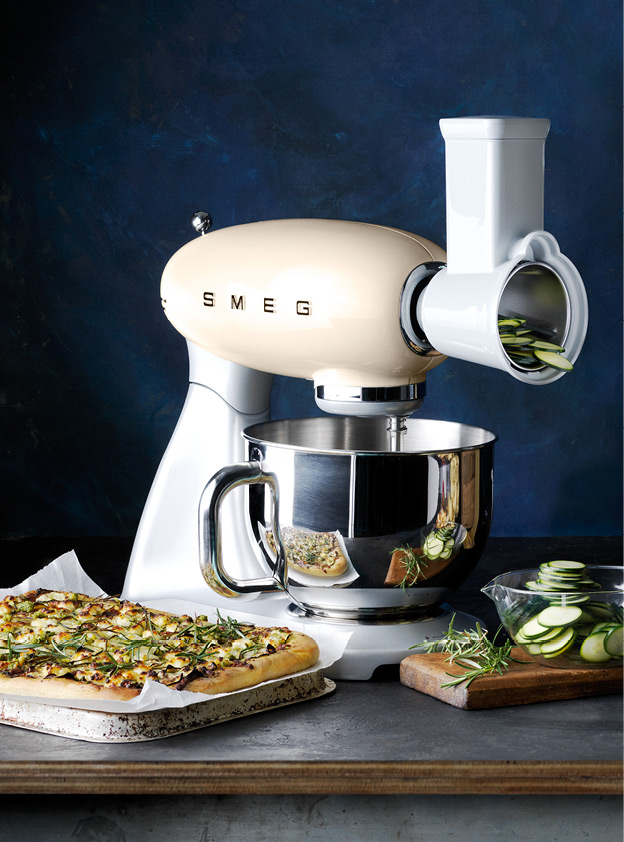 Method
1 Combine the water, yeast and sugar in a small bowl. Set aside for 5 minutes or until foamy. Combine the flour and salt in a large bowl and make a well in the centre. Add the yeast mixture and oil. Use a round-bladed knife in a cutting motion to mix until the mixture is combined. Use your hands to bring the dough together in the bowl.
2 Brush a bowl lightly with oil. Turn the dough onto a lightly floured surface and knead for 10 minutes or until smooth and elastic. Place in the prepared bowl and turn to coat in oil. Cover with plastic wrap and set aside in a warm, draught-free place to rise for 30 minutes or until dough doubles in size.
3 Meanwhile, preheat oven to 240°
4 Brush a baking tray with oil. Roll out half the dough portion on a lightly floured surface to a 25 x 35cm Swiss roll pan. Place on the prepared tray. With the topping ingredients, use half on the first base and remaining ingredients on the second. Spread the pesto evenly over the base. Sprinkle over the mozzarella. Arrange the zucchini slices, over the base. Dot the ricotta randomly over the zucchini. Sprinkle with the rosemary and drizzle with the remaining oil. Season with pepper. Repeat with remaining dough and toppings. Bake for 12-15 minutes or until golden brown. Cut into wedges to serve.